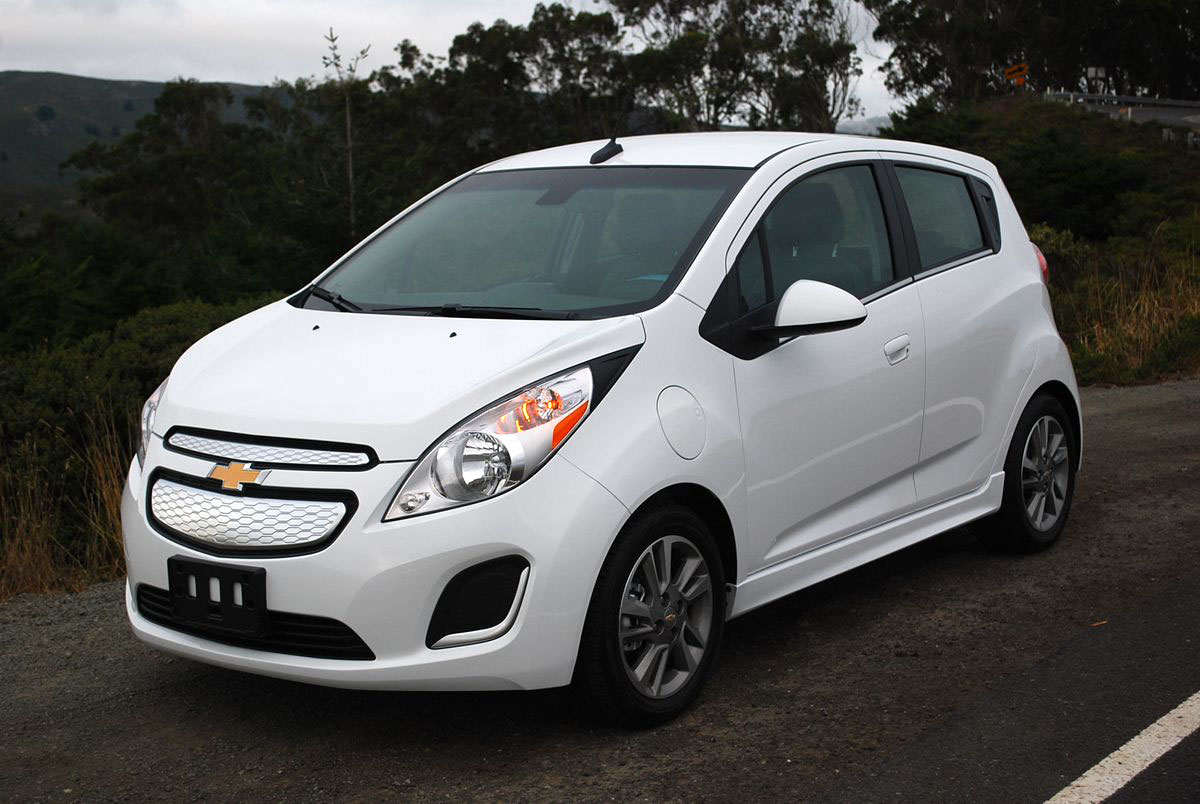 By David Colman
Hypes: Perfect 10 on the Greenhouse Gas Scale
Gripes: Impractical Range, Rubbery Suspension
Home, home on the range anxiety. The electric motor Spark EV, which is sold only in California and Oregon, is a great idea whose time has not yet come. Without any back-up source of power, the Spark is dead when its lithium ion battery runs out of charge. This problem limits your range to at most 80 miles of real world driving. If your destination lies more than 40 miles distant, and you plan on returning without delay, you'd better leave the Spark home, tethered to its recharge umbilical, while you take a real car instead.
We set off on a 50 mile one way drive with more than 50 miles showing on the range indicator. 25 miles into the drive, the remaining range suddenly dropped from 25 miles to 11 as we crested a long hill. The system emitted a warning "Bing" and dashboard lights flashed the disconcerting information that we needed to "Recharge Soon." Okay, so we pulled off the highway and, luckily, found a shopping plaza with an ARCO gas station, Starbucks cafe and KFC restaurant. Little did we know we would be spending the next 3 hours stuck here as we tried unsuccessfully to recharge the Spark. Chevy provides a 120V recharging unit with a 3 prong plug which we inserted into the wall receptacle of the ARCO station, with kind permission from the manager.
After an hour of purported recharging, we returned to find that nothing was gained because the wall socket was apparently dead. So we found another socket, plugged in the charger and were unpleasantly surprised to find that although this socket had juice, the fussy Spark charger refused to operate, illuminating a red light to indicate failure to charge. Apparently, the recharger will not operate in all live outlets. Nor can you use an extension cord to connect it.
After 2 hours of phone calls, we were able to locate a Charge Point station within our now 8 mile range, drive there, only to find ourselves stymied by lack of the Charge Point affinity credit card needed to dislodge the charging wand for use. More phone calls finally got electrons flowing into the Spark. We then had to hitch a ride home with a friend, who also drove us back to retrieve the partially recharged Spark some 5 hours later.
Once you accept this EV for what it is – basically the ideal mail delivery vehicle for a six block square housing subdivision – you'll be happy with your cute, puppy faced Spark. After all, it scores 10 on the EPA's "Fuel Economy and Greenhouse Gas Scale" as well as 10 on the "Smog Scale." It also carries a rating of 119 MPGe, which means its theoretical rating exceeds its real world range by about 40 miles. The EPA also rates its recharge time as 7 Hours. Unless you have a 240 Volt recharge station at your disposal, you can expect to spend about 20 hours recharging depleted Spark batteries. We estimated that the charge rate at our 110 volt garage outlet was good for about 4 miles of range for each hour of charge time. Grass grows faster than Spark recharges itself.
Chevy has tried to jazz up the interior of the Spark EV with stylistic cues taken from the Volt. Inside the tiny cabin, you'll find hard touch surfaces for radio and climate controls. The dash sports random directional slashes incised into its surface to impart a feeling of energy and brash individualism. The seats pick up the party line with their free form dot conga lines. The door panels and dash spine use blue-grey plastic inserts to lighten the interior and imbue it with further playfulness. The shiny plastic housing of the instrument cluster reflects itself distractingly in the windshield and side mirrors. Living in the Spark EV is like spending time inside an Igloo drink cooler.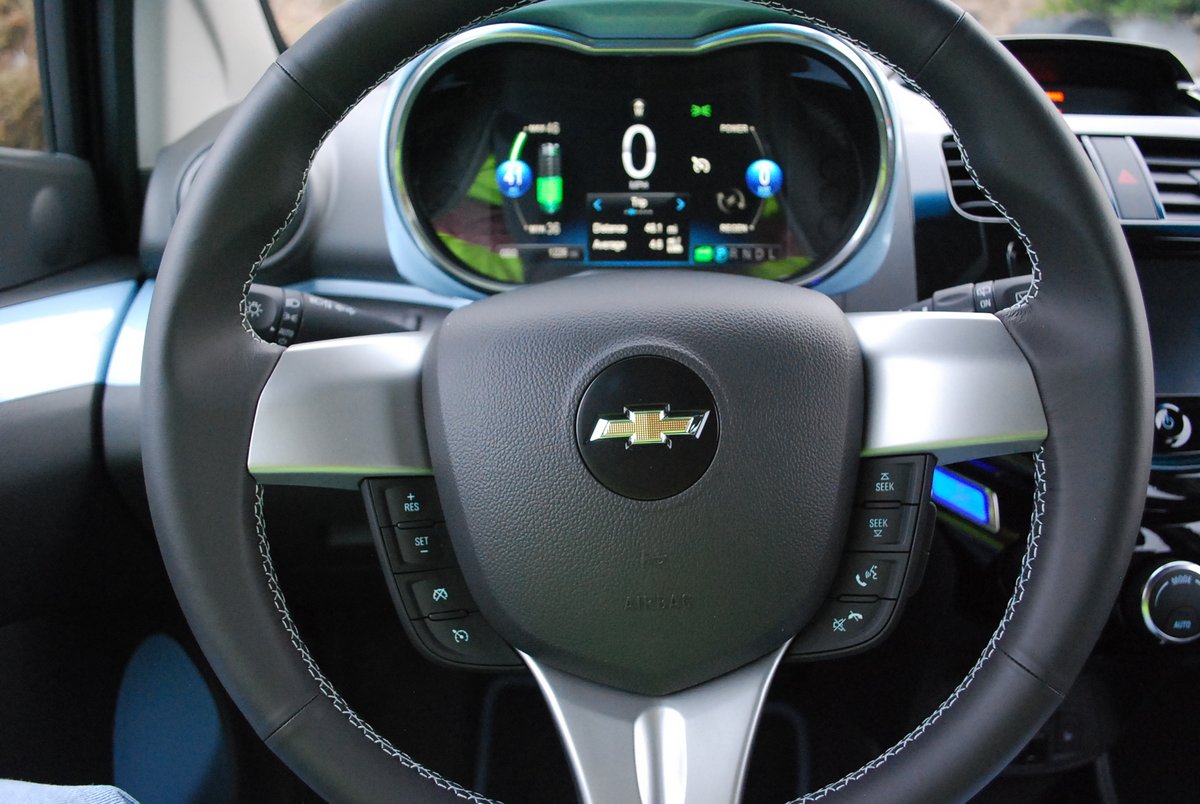 The one feature electric motors are best at providing is torque. The Spark EV produces an instant wallop of 400 lb.-ft. the second you floor the accelerator. So impressive is this launch from a standing start that the Spark's front wheels go light as weight transfers to the tail end. Lightness is the byword of Spark handling. With teeny (185/55R15), hard shell (370 Tread Wear Rating) Bridgestone Ecopia tires, Spark's connection to the pavement is tenuous at best. If you engage the "Sport" setting on the central console, handling improves marginally. However, you will not mistake this diminutive sedan for a sports ride under any circumstances. The Spark lives to do only one thing well: travel short distances while avoiding gas stations altogether.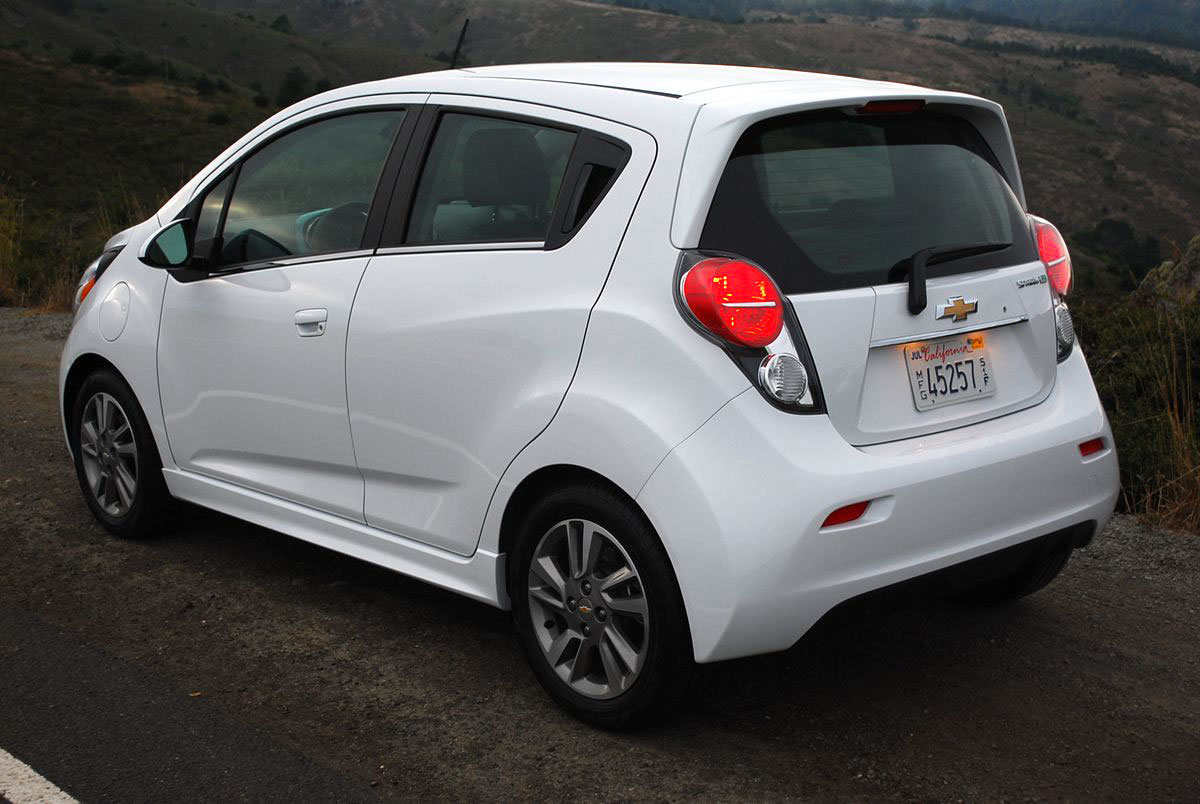 2014 Chevrolet Spark EV
Engine: GM Electric Drive System with 21kWh Lithium Ion Battery Pack
Horsepower: 140hp
Torque: 400 lb.-ft.
Fuel Consumption: 119 MPGe
Price as Tested: $28,570
Star Rating: 5 out of 10 Stars
Related posts: