Time for another Father's Day. Is your dad a car guy, a gearhead, a knuckle-busting shade-tree mechanic sort? Then here are some suggestions for you.
The Bacon Wallet
Dads love bacon, dads get pulled over by cops when speeding and other traffic infractions, here is the way to combine both. The bacon wallet, what else do you need to know?

Bob Earl Virtual Racing Chassis
Does dad like racing games? You know, Gran Turismo and Forza2 and that sort of thing. If that's so, then check out the Virtual Racing Chassis from Bob Earl (yes, that Bob Earl). Fits most of your aftermarket wheels and pedal controllers, and most people, and makes those games a LOT more fun.
Alcor Gift Certificate
OK, so let's say that dad has a little bit of a lead foot and he's more than a little accident-prone. As we all know, what used to be a life-threatening incident 60 years ago is easily reparable today. So if your dad is one of those sorts that you're SURE is going to end up wrapped around a tree, why not ring up the good folks at Alcor Life Extension Foundation, and see if they can help out.
Magazine Subscriptions
Sure, we know, print is dieing off, but if you're a car nut, there are plenty of great car magazines you should have. For starters, every car dad should have a subscription to Road & Track Magazine at the very least. Dad likes to do a little racing? Get him a subscription to Grassroots Motorsports, cause everyone should have a subscription to that one. Has dad been really, REALLY nice? Then only one "magazine" subscription will do: Automobile Quarterly.
Tires
Yeah, we know, what a lame gift … but not really. Tires are the most important part of your car. Without them, you're sunk. Big motor and worn out rears? Good luck putting that power to the ground? New shocks, springs and a chassis re-tune with clapped out rubber? Wasted your money bub. I wont even go into how those big breaks are pretty much useless if your tires are bald. Try Tire Rack, they have gift certificates.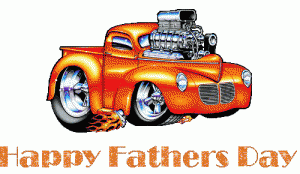 Photo from Flickr user BarelyFitz
Related posts: