By David Colman
Hypes: Tremendous Range, Low Speed Torque, Luxury cabin
Gripes: VW lags competitors in JD POWERS IQS (Initial Quality Survey)
It's really too bad that you can't use your X-ray eyes to look through the engine shroud covering VW's all new turbo diesel EA288 engine. If you could, you would realize just how much more sophisticated this new diesel is than its predecessor, the EA189. Only the cylinder bore center dimension remains the same. Everything else about the EA288 is new and improved. Inside you'll find a cast iron block mated to an aluminum cylinder head, with overhead camshafts operating both intake and exhaust valves from the same cam. This novel arrangement promotes greater air delivery and swirl in the combustion chambers. Net result to you is improved performance and better mileage than before. The new diesel bumps horsepower output to 150 hp (from the EA189′s 140 hp). Torque is abundant, with a wallop of 236 lb.-ft. hitting home at just 1,750 rpm. Best of all, the new diesel's intelligent architecture yields an eye popping mileage dividend. If you order your TDI with 6-speed manual transmission, expect 44MPG on the highway and a cruising range of 814 miles between refueling stops.
Our test TDI was equipped with VW's dual clutch automatic DSG gearbox, a no-charge option on the SEL Premium model. Although the DSG slightly lowers highway mileage to 42MPG, you can still expect 34MPG in overall driving. The DSG is unquestionably one of the best automatic transmissions on the market today. Like the manual, it also offers 6 speeds, with an opportunity to select individual ratios by slotting the floor mounted stick into the manual segment of its gate. However, because the diesel affords so much torque so low in its rpm range, manual gear control is hardly ever necessary. Just press the accelerator and feel that gratifying rush of instant torque.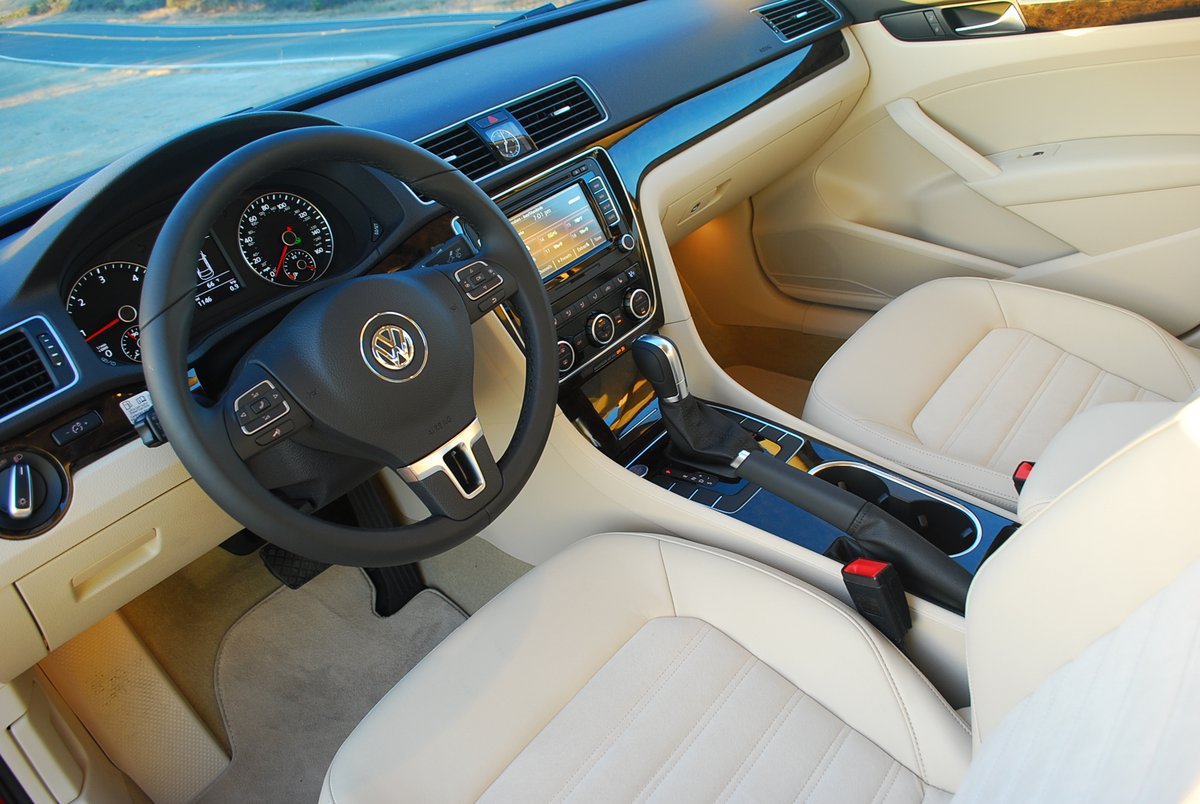 The rich interior of the Passat SEL belies its reasonable $33,585 window sticker. If you opt for the SEL Premium version, you will receive leather, rather than vinyl seating surfaces, comfort sport seats, rain sensing wipers, Fender premium audio with 8 speakers and sub woofer, RNS 510 navigation system, 8 way power seats for both driver and passenger, and wood grained dash and door trim. In other woods, the appropriately named "Corn Silk Beige" cabin of this Passat matches up well with BMW and Mercedes products costing twice as much. We put the Fender audio to the test by slipping Linda Ronstadt's new Starbuck's CD into the dash slot and cranking the volume way up. The 8 speakers and sub woofer translated her old standards into concert hall sound while conveniently displaying the name and time of each cut on the navigation screen panel. In an increasingly digitized world, the Passat's interior strikes a calming classic note, with its analog clock face prominently displayed atop the center stack of the dash. Large, round, easily read instrument faces of the 6,000rpm tachometer and 160mph speedometer also fly in the face of the flashy, confusing TFT dials that have become so popular today.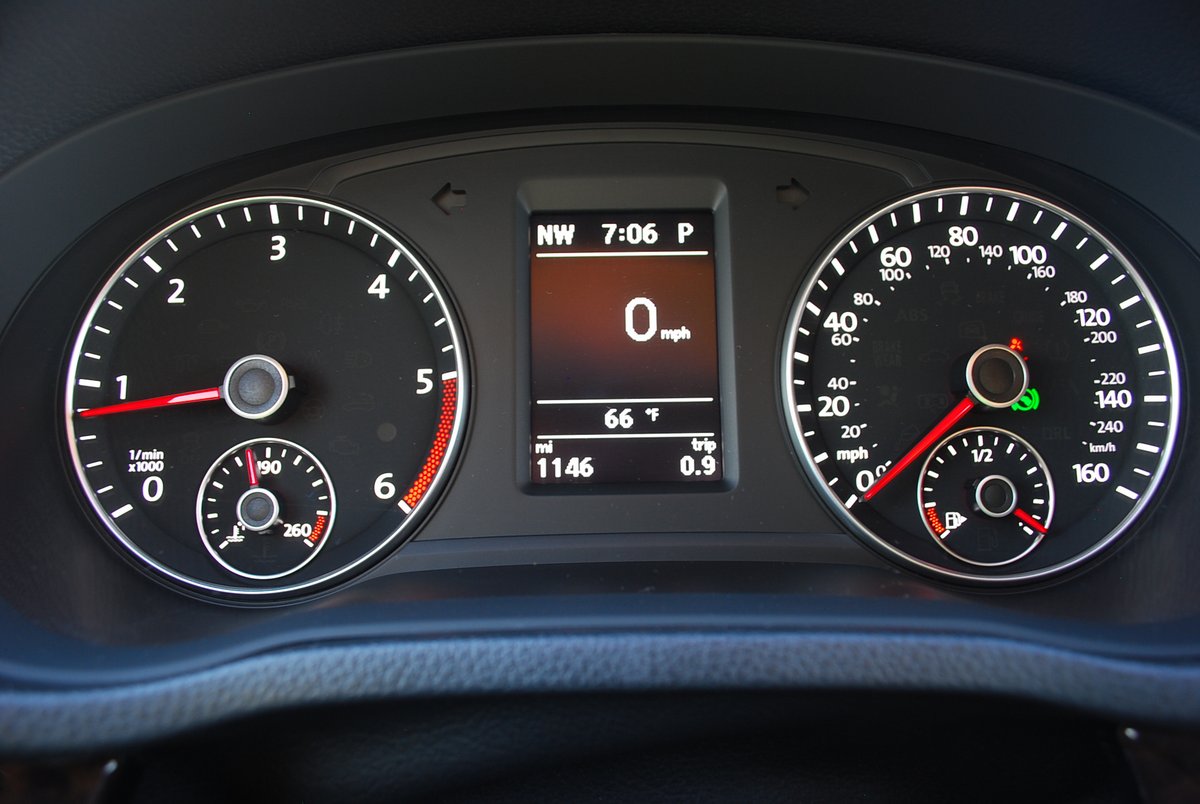 Handling has long been a VW asset, and the latest Passat continues the tradition, with its finely balanced strut front/multi-link rear independent suspension design. Ride comfort is excellent, thanks in part to the cushy all-season Continental Pro Contact tires (235/45R18) which stress bump absorption over ultimate grip. New for 2015 is electro-mechanical power steering, which places a premium on feedback and precision. Turning radius of the Passat is a scant 36.4 feet, making this sizeable four door feel more like a sports car than a ponderous sedan.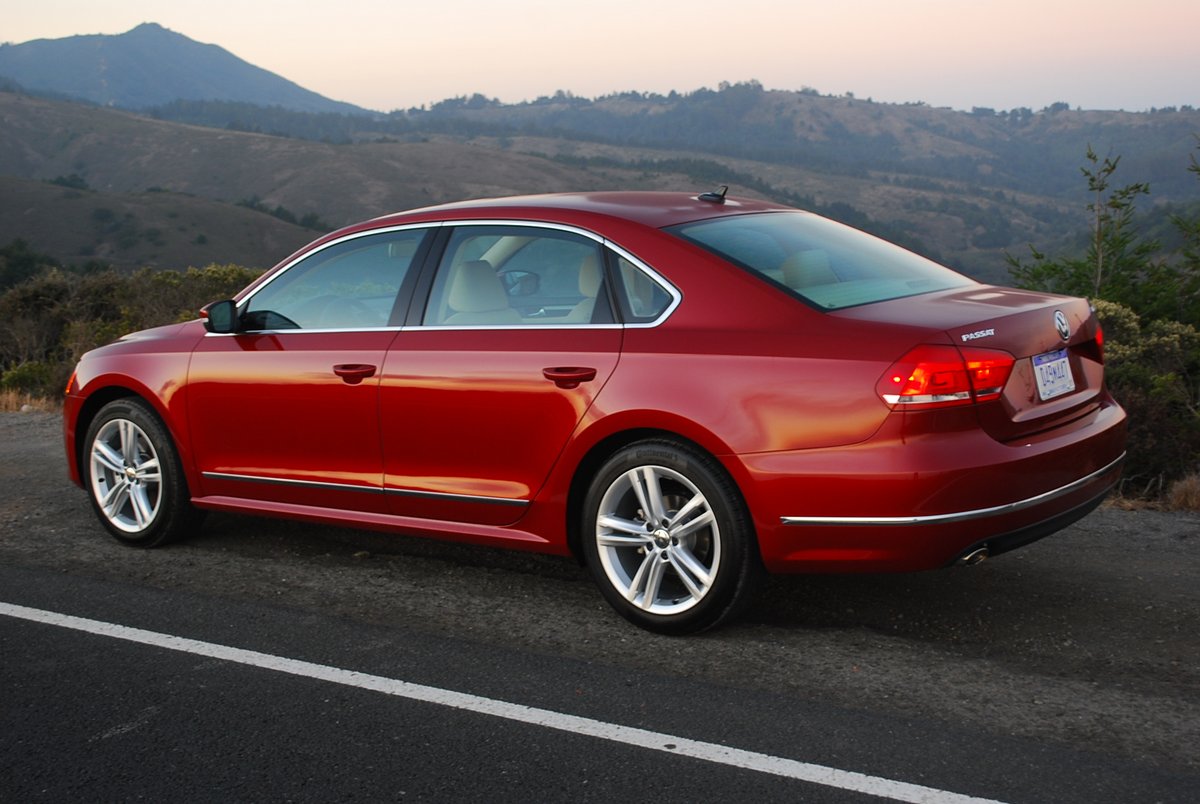 VW stresses horizontality in the styling of the Passat. Strong chrome grill bands emphasize the sedan's substantial 72.2 inch width. A swept back roofline culminates in a nearly flat rear window which gives this sedan coupe-like grace. Understated elegance characterizes the interior and exterior design language of the Passat. There is a certain timeless quality to good design, and the latest Passat enjoys that ephemeral virtue. Build quality from VW's new plant in Chattanooga, TN matches the best output from Wolfsburg, Germany. Doors open smartly to pre-determined detents, interior trim surfaces mate precisely, even the glovebox door glides open slowly and deliberately. No obvious corners have been cut in fabricating this VW.
2015 Volkswagen Passat TDI SEL
Engine: 2.0 Liter inline 4 diesel with Direct Injection and turbocharging
Horsepower: 150ho @3,500rpm
Torque: 236lb.-ft.@1,750rpm
Fuel Consumption: 30 MPG City/42 MPG Highway
Price as Tested: $34,405
Star Rating: 9 out of 10 Stars
Related posts: