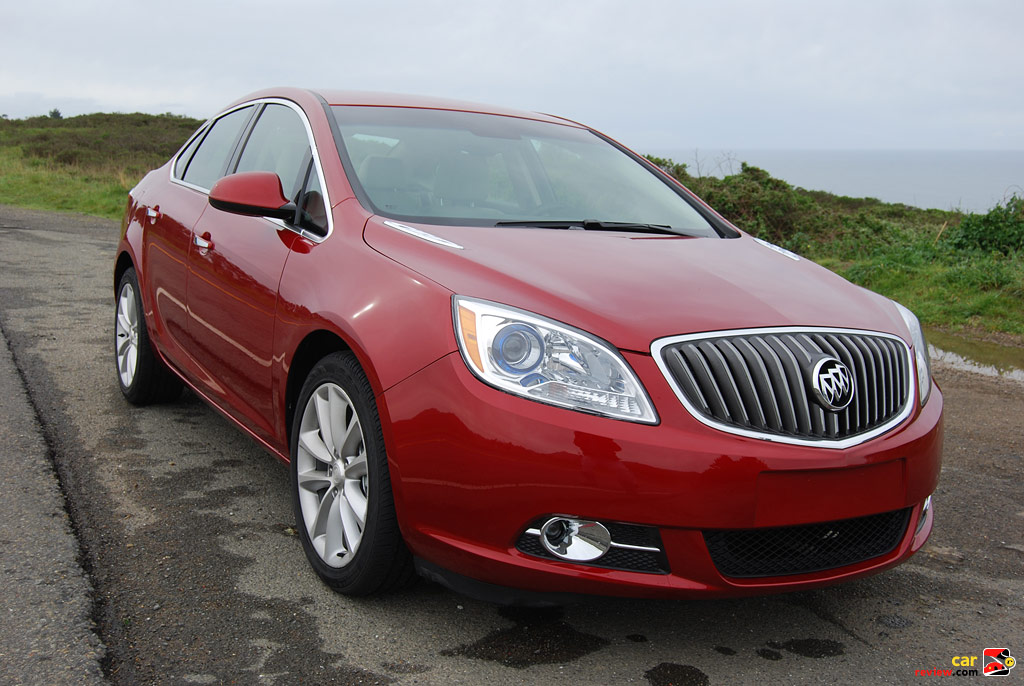 By David Colman
For: Practical, Affordable, Made in USA
Against: Limited Side Vision
The best way to learn about a car's aerodynamic efficiency is to wash it by hand. Does your sponge snag on trim? Does the car's shape shed water or retain it? When I finished washing and drying this nifty little Buick sedan, I was impressed by the unimpeded flow of its skin, the cleanly sculpted face it presents to the wind. Good mileage figures (21 MPG City/32 MPG Highway), as well as a sepulchrally quiet interior, bear testament to the efficacy of the Verano's air management program.
A lot of keen features belie the Verano's bargain basement price of $25,965. Cabin furnishings head the list of surprises, with leather trim, dual zone climate control, express window lefts at all 4 doors, and 3-month free XM Satellite Radio subscription, all making for driving satisfaction. Best of all, the Verano, which is based on Chevy's Cruze platform, uses a superior engine unavailable in the Cruze. That would be Buick's Ecotec 2.4 liter, 4-cylinder unit good for 180hp. Coupled to its standard 6-speed automatic, this engine provides quietly adequate motivation under all circumstances. Leave the floor mounted stick in Drive, and the Verano will putter around town in high gear while returning excellent mileage. But if the sporty mood overtakes you, slap the stick into its manual gate and tap it backwards for downshifts, forward for upshifts. Buick doesn't give you steering wheel paddles, but their absence is moot because the floor shift method works so dependably.
The standard equipment, 9 Speaker, Premium Bose Audio system really knocks out the tunes, with duplicate controls for mode and volume available on the spokes of the steering wheel, on the face of the dash, and via a 7 inch color touch screen that also serves to monitor cabin temperature. Three stage heated front seats make for cozy winter driving. Seat design is handsome and comfortable. Full sized rear doors ease access to the back seats, which conveniently fold flat when extra storage space is needed. The rear windows drop into the doors with less than an inch of glass exposed when down. Even the rear windows feature express up control.
Driving the Verano is pleasurable. It handles succinctly, with slightly over boosted steering feedback, and a larger turning radius than you might expect from such a diminutive package. But when you press it hard on sequential curves, its 18 inch "Machine Faced Alloys" and Continental ContiProContact (235/45R18) tires prove ready to tackle the twisties. Without making a bravura show of its competence, this Buick's handling is nevertheless resolute and predictable. In the very wet week that I spent with the Verano, its impeccable handling never let me down or surprised me even once.
This Buick has but one notable drawback. What used to be called windwings or vent windows have long since departed the automotive scene. It fact, it was Buick's parent outfit, GM that introduced the Wraparound Windshield back in the 1950s. But that lesson of expanded frontal vision eluded the Verano's designers, because they've seen fit to provide tiny windwing like panes behind each A-post. A supplemental strut aft of these panes contains the rear view mirror on its outer side, and an air vent on its inner face. All this busywork means you can't see squat when looking to your immediate left front. In fact I almost clobbered a car I never saw thanks to this far-from-Wraparound Windshield.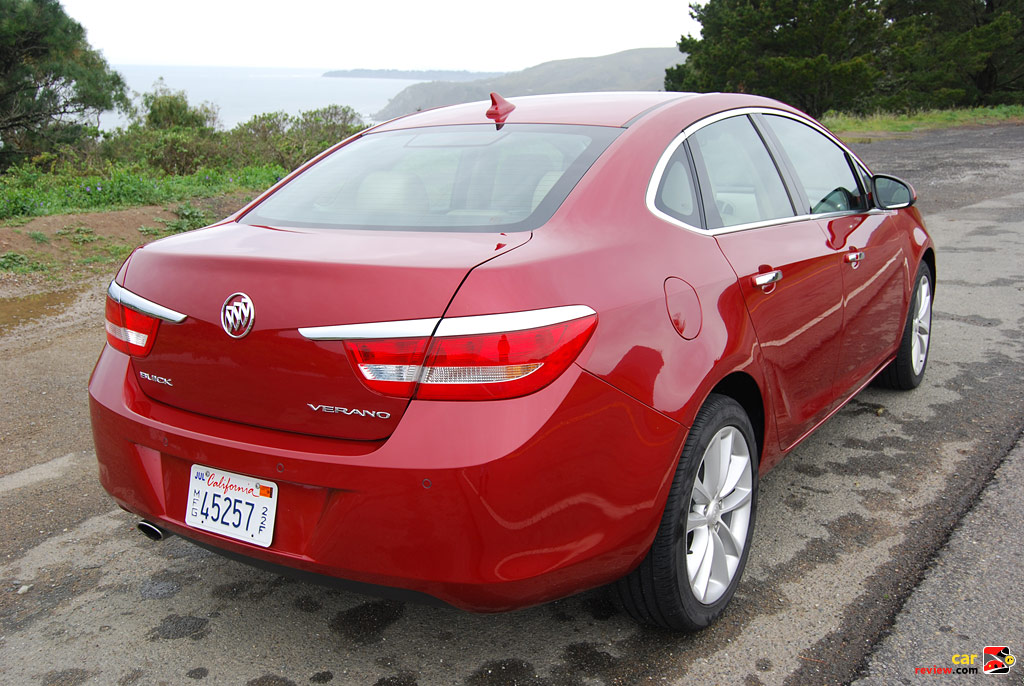 But once you become acclimated to this admittedly annoying idiosyncrasy, the Verano provides an eminently livable and affordable solution to your family transportation needs. If there's any doubt this is a Buick, just look for the vestigial portholes chromed into the back corners of the hood.
2012 Buick Verano FWD 1SL
Engine: 2.4 liter DOHC inline 4
Horsepower: 180hp
Fuel Consumption: 21 MPG City/32 MPG Highway
Price as Tested: $27,175
Star Rating: 8.5 out of 10 Stars
Related posts: