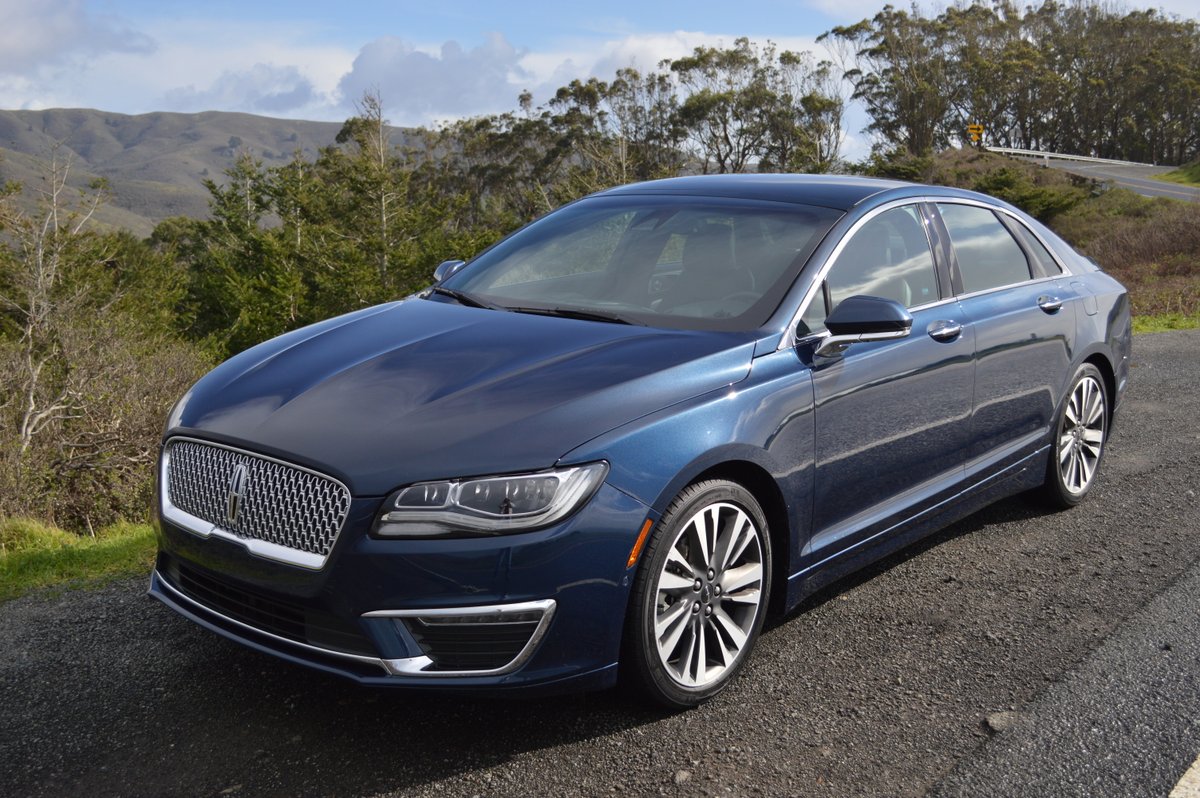 By David Colman
Hypes: Powerful but Economical Motor, Huge Panoramic Roof
Gripes: 240hp is nice but a new 400hp twin turbo V6 is nicer
The big news at Lincoln this year is the return of the Continental, a storied 77 year old nameplate now attached to an all new luxury sedan for 2017. A lot of the Continental's $60,000 luxury has also surfaced in Lincoln's completely revamped 2017 MKZ, a five person luxury sedan restyled both inside and out this year. The MKZ is based on the Ford Fusion platform. But its Continental styled grill, sumptuous interior, and lively drivetrain move the MKZ into a class well beyond Fusion level.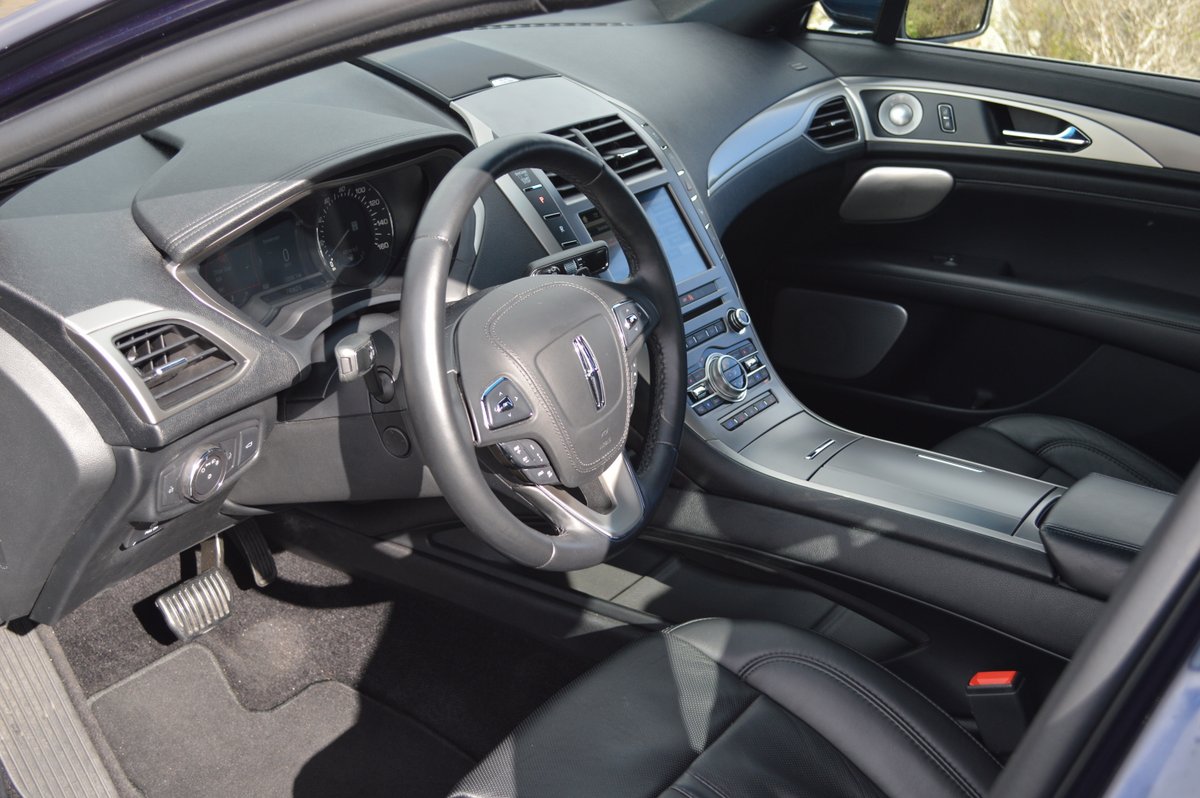 Lincoln finally abandoned their upswept butterfly trademark grill on the new MKZ for a revised prow that looks much sleeker. Not coincidentally, the perforated mesh screen establishes the MKZ's close familial ties to the new Continental. Inside our handsome Midnight Blue Sapphire Metallic test car, the spread of Ebony leather looks understated and elegant. Both front "Multicontour" seats feature 10 way motor-driven adjustability, with heating and ventilation standard. Rear seats are heated as well. The interior is dominated by the most expansive retracting sunroof I can recall. This huge swath of gleaming black glass fully retracts in two stages: first the interior screen cover slides aft, followed by retraction of the entire glass roof. This "Panoramic" roof puts on quite a show while insuring that claustrophobia will never figure in your MKZ trip plans.
After having driven a Hybrid Fusion during the week preceding my stint in the MKZ, I found the Lincoln's interior to be preferable on several counts. Foremost is the irrefutable logic of the controls in the new Lincoln. For 2017, the MKZ eliminates the capacitive touch-based system of the previous model, instead using more knobs and buttons than slide switches. This advance alone makes it ever so easy to adjust seat temperature, cabin climate and steering wheel heater with the simple push of a button. In the Fusion, steering wheel heat requires going through a menu and locating a virtual button on a complicated video screen. Likewise, the Lincoln's 6-speed SelectShift automatic gearbox, which offers a manual mode with paddles, is controlled by a series of large PRNDL buttons stacked vertically adjacent to the steering wheel rim, a placement that is much easier to use than the Fusion's new rotary gear selector wheel.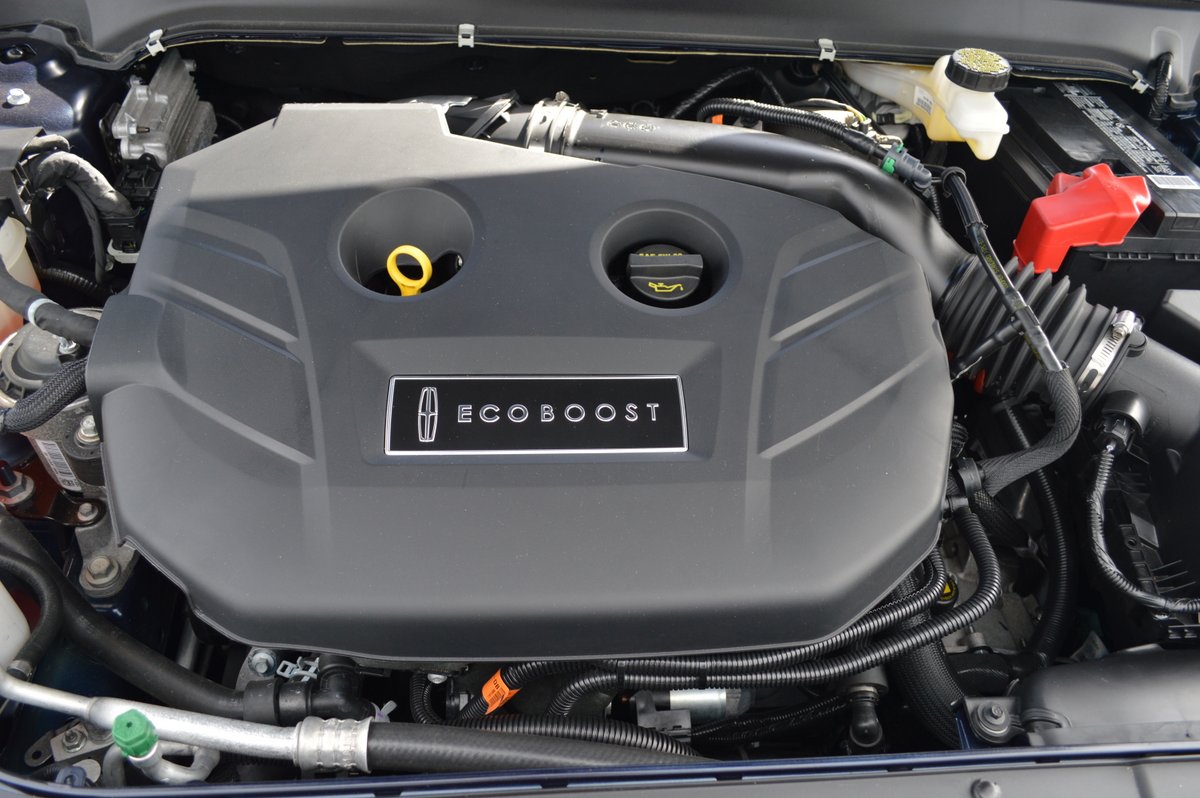 Our base model Lincoln utilized a 2.0 liter turbocharged inline 4 cylinder "GTDI" direct injection engine that provides really strong performance considering its diminutive displacement. Both torque (275lb.-ft.) and horsepower (245hp) have increased by 5lb.-ft. and 5hp over the 2016 model. With the aid of the paddles to select just the right gear ratio of the 6 offered, the new MKZ really flies. The all-wheel-drive system harnesses the engine's strong output, judiciously channeling just the right amount of drive to each Michelin Primacy MXM4 tire (245/40R19). The alloy rims of our test MKZ, which Lincoln describes as "premium painted aluminum wheels with painted pockets and chrome inserts" looked particularly spiffy. They will, however, prove labor intensive to keep clean.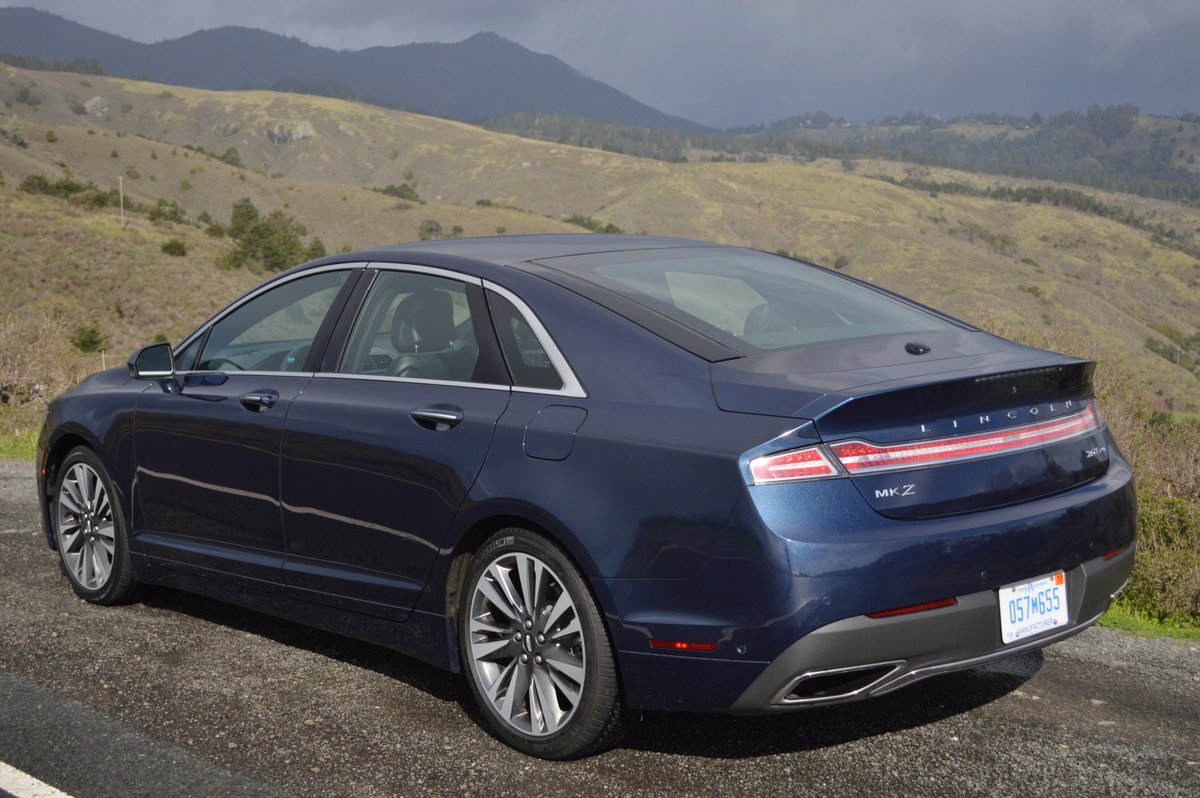 Last year, Lincoln introduced a comforting premium program for customers seeking concierge level design tweaks. For example, you can fit your MKZ with Vintner's Wood inserts complemented by Merlot leather seating surfaces. This "curated" Black Label program also extends to special after-sales attention, offering complimentary car washes after service, and access to special food and entertainment events. Clearly, this is an effort by Lincoln to match the customer friendly trappings Lexus and Infiniti owners have come to expect. At a base price of just $35,170, the redone MKZ already has a big financial advantage over its more expensive Japanese competitors. The Black Label program is just more icing on an already rather delectable piece of cake.
2017 Lincoln MKZ Reserve AWD
Engine: 2.0 liter inline 4, GTDI, turbocharged
Horsepower: 240hp
Torque: 275lb.-ft.
Fuel Consumption: 20 MPG City/28 MPG Highway
Price as Tested: $36,507
Star Rating: 9 out of 10 Stars
Related posts: