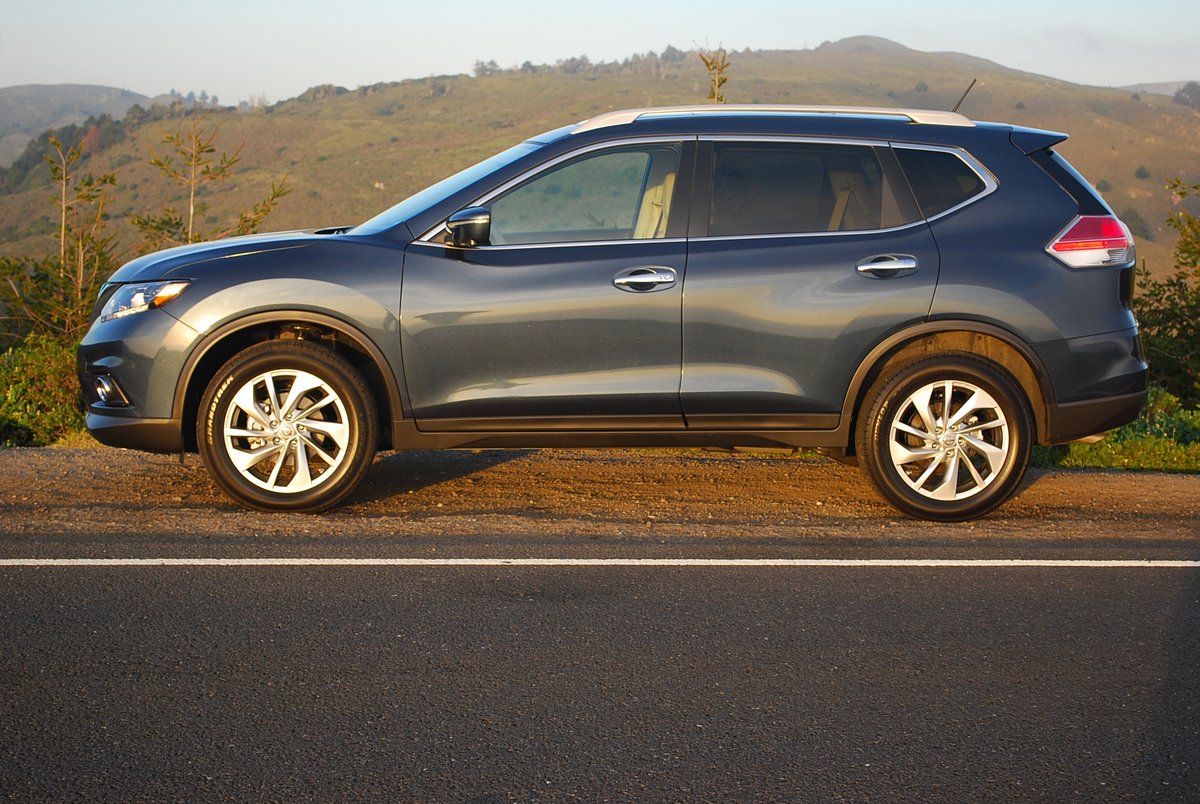 By David Colman
Hypes: Furnishings Belie Price, Spacious Smart Interior
Gripes: Needs More Motor, Real Gearbox, Thinner & Less Obstructive A Pillar
Because Nissan redesigned the Rogue last year, the 2015 version remains unchanged, save for the enticing new shade of Arctic Blue Metallic paint that graced our test vehicle. Combined with a fetching almond leatherette interior highlighted by replica carbon fiber inserts on doors and dash, the Rogue looks substantially more expensive than its affordable base price of $29,630. After a week which saw us put this Versa-based crossover to repeated transit tasks, we developed a growing affection for its all purpose usefulness.
For example, seating for five adults is well looked after, both front and rear, with ample knee room in back, and plump stuffed front buckets with 3 stage heating elements an unusual standard feature. For $1,045 extra, you can order your Rogue with a third row pair of seats (called the "S Family Package"), converting the Nissan into a true 7 person transporter (but you lose your spare tire). Contributing significantly to the airy ambience of the cabin is a vast "Power Panoramic Moonroof" that opens up the interior like an Amtrak lounge car. This sliding and tilting unit is included in Nissan's $1,990 SL Premium Package," which brings such other refinements as auto-leveling LED headlights and a bevy of warning chimes to alert you to blind spot lurkers, lane deviation, impending front collision, and detection of moving objects. The chime note selected by Nissan is restrained enough to be informative rather than annoying.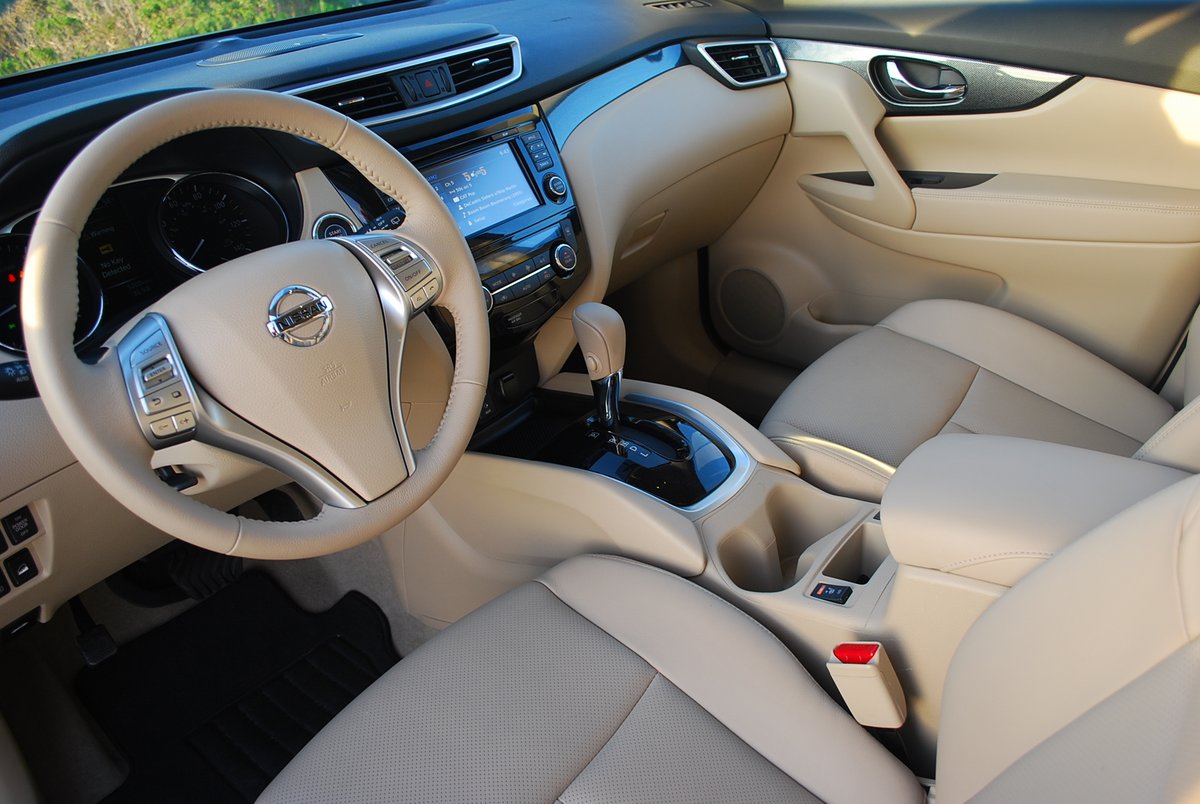 In addition to its people hauling proclivity, the Rogue is exceptionally adept at transporting large and bulky items. On one run, we slipped a pair of sizeable rugs from IKEA into the aft compartment, noting with pleasure the low loading deck height, as well as the presence of an automatic tail gate lift which can be remotely controlled from the key fob. Later in the week, we discovered how easily a bicycle could be stowed after dropping the 40/20/40 second row seats flat without needing to consult the owner's manual for guidance. In many such ways, this Nissan is an intuitive and useful companion. At no extra cost, it's loaded with a bevy of convenient features, from its keyless entry, and auto stop/start ignition switch to its dual zone automatic temperature control.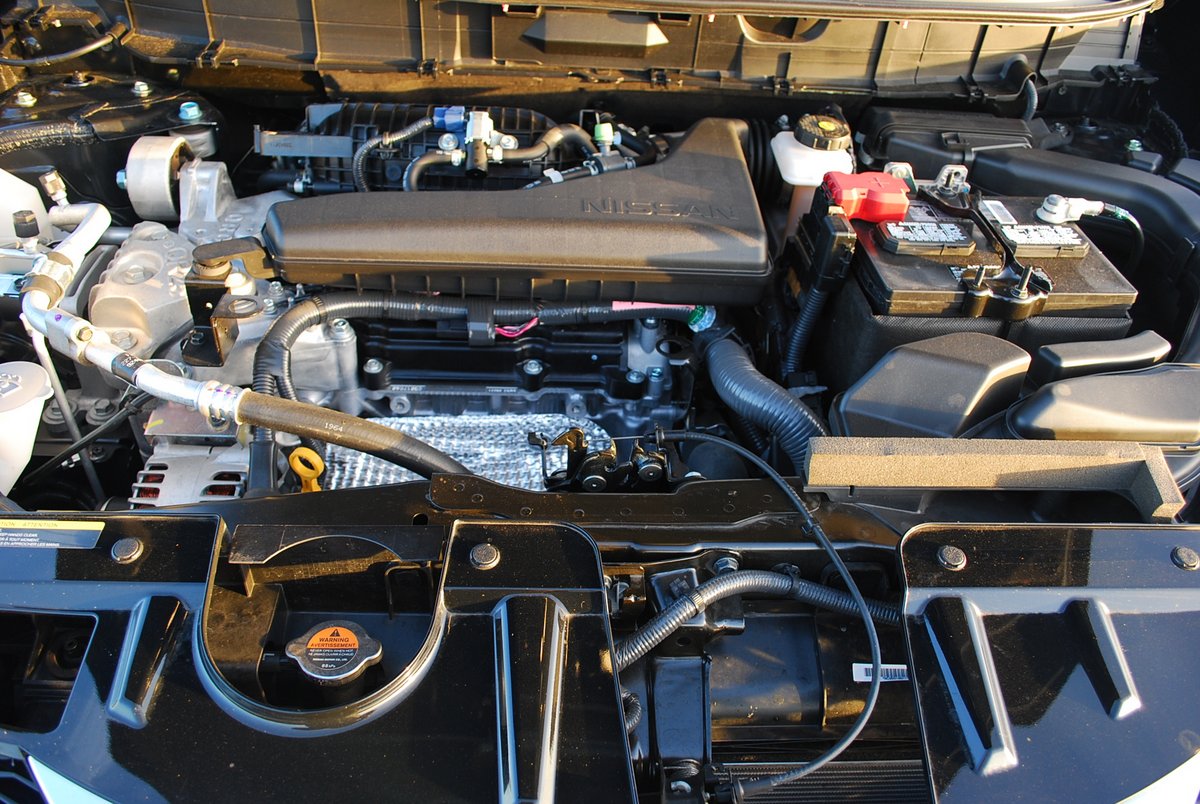 Unfortunately, the Rogue is not loaded with horsepower nor torque, and since Nissan offers but one power train, you're stuck with a 170hp engine making just 175lb.-ft. of torque. The standard continuously variable transmission (CVT) does nothing to alleviate the problem, since you can't even slot it into a proper gear to maximize acceleration. Nissan offers what they term Sport and Eco modes for this "Xtronic" CVT, but the Sport button is little more than a placebo offering no noticeable extra performance. Likewise, if you position the CVT in the "M" setting, engine rpm and ambient noise both soar without any appreciable increase in thrust. Though the Rogue is based on the Sentra platform, with identical length and wheelbase numbers, the big difference is weight. The SUV weighs 3,590 lb. versus just 2,835 lb. for the Sentra. The Rogue's burdensome power to weight ratio of 21 pounds per horsepower explains its lethargic straight line performance. The upside of the equation is this Nissan's excellent fuel economy, with an EPA rating of 28 MPG overall.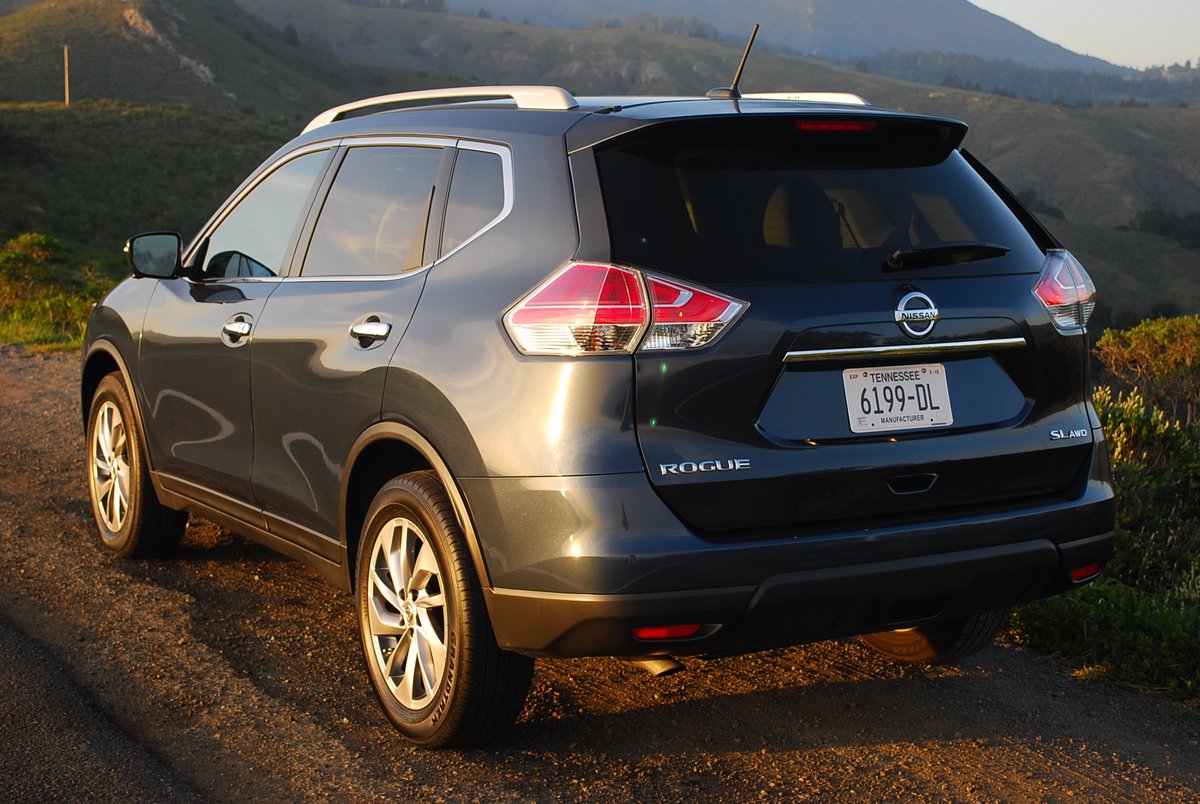 The Rogue is softly sprung and thus comfortable over speed bumps, potholes and other road surface irregularities. But the price you pay for ride comfort is somewhat sloppy handling. In NASCAR parlance, the Rogue exhibits a fair amount of "push" in corners, with the front end's grip departing so early in the curve that you'll want to lift your foot off the accelerator to re-establish equanimity. The Dunlop Grandtrek ST30 tires (225/60R18) are partially responsible for this behavior, providing limited grip, and making a lot of noise in the bargain. But really, if you're looking for an SUV that puts the emphasis on "sport" rather than "utility" you won't be shopping for a Rogue. Rather, this Nissan tips the equation heavily in favor of utility. Where else can you buy a compact SUV with so many practical virtues for a base price under $30,000? Will Rogue carry a bike in the back? Check. Will it carry 7 people? Check. Will it post a freeway mileage rating of 32 MPG? Check. If you want to save money when buying an all purpose hauler, and have no interest in zippy performance, the Rogue will punch your ticket.
2015 Nissan Rogue SL AWD
Engine: 2.5 liter DOHC inline 4
Horsepower: 170hp
Torque: 175lb.-ft.
Fuel Consumption: 25 MPG City/32 MPG Highway
Price as Tested: $32,480
Star Rating: 7 out of 10 Stars
Related posts: