By David Colman
Hypes: Makeover Deluxe, Killer Seats, Curve Hungry
Gripes: Nav Panel Too Bright At Night
The first time I saw a Juke I wanted to puke. But before I could issue a stern rebuke, I discovered that Nissan's fluke has became kind of a nuke. Rhyme time aside, NISMO, the motorsports arm of Nissan, has managed to transform the Juke from an ugly frog into a snappy swan. Monochromatic Sapphire Black paint morphs the Juke's hunchback posture into visually tolerable awkwardness. While the fender top headlights remain protuberant, special NISMO front and rear fascia panels and hatch top spoiler convert the base Juke's clownish countenance into a grimace that's purposeful if not ferocious. A "Signature Red Accent Stripe" circles the lower circumference of the revised bodywork, visually reducing the Juke's tall proportions. Matching red mirror covers tie disparate elements of the styling theme together.
Step inside the NISMO's refettled cabin and you're in for an even more pleasant surprise. The front seats have been bolstered to feel like Swedish massage chairs. They're so good that you can't wait to get in and hate to get out. Each one features a NISMO inscription on the headrest which matches similar logos affixed to the shift console and gauge faces. Best of all, a special competition-style steering wheel covered in Alcantara and leather sports a dead giveaway of NISMO's racing heritage: a red leather marker ring stitched to the 12 o'clock position on the wheel – so you never lose visual track of where top dead center is located. Porsche saves this trick for its $150,000 GT3. The Juke's rear seats are usable thanks to ingenious rear doors actuated via small release handles embedded in the rearmost C posts. The back seats are 60/40 fold down splits which work well in conjunction with the Juke's sizeable rear hatchback door. Not only is the revised Juke handsome, but practical as well.
But this hot hatchback was designed primarily to please the enthusiast driver, and it succeeds estimably in that mission. The NISMO Juke makes you want to spend the day at the race track. The handling of this lightweight buzz bomb is impeccable, thanks in part to a retuned NISMO suspension system riding on Continental SportContact 225/45R18 tires. The Contis are mounted on special NISMO black alloy rims with polished outer spoke tips. Nissan engineers have also quickened the Juke's steering ratio and re-tuned the 1.6 liter turbo motor for superior response. Although you're always aware of the Juke's front-wheel-drive layout, there's never any torque steer, and the front tires do a consummate job of providing solid traction and direction information. This hot hatch will scoot with the best in class from VW's GTI to Audi's A3. And the best news is that instead of spending more than $30,000, the base Juke NISMO retails for just $22,990. Equipped with a bargain 5 inch screen Navigation Package ($1,170) the Juke NISMO's out-the-door cost is $25,195. The Navigation Package also includes XM Satellite Radio and Traffic, plus a throaty Rockford Fosgate "ecoPUNCH" premium audio, with subwoofer and USB connection port for iPods. My early rock 'n roll CD of Link Wray and the Raymen, played via the Juke's in-dash slot, seemed tonally suited to the thumping output of the Rockford file.
The NISMO Juke is a joyous little transportation device. While it still looks a bit like a squid on steroids, it has enough tentacles to embrace the racer you, the family you and the bargain you all at the same time. You can't do much better than that, and for this price you can't do all that anywhere else but your Nissan dealer.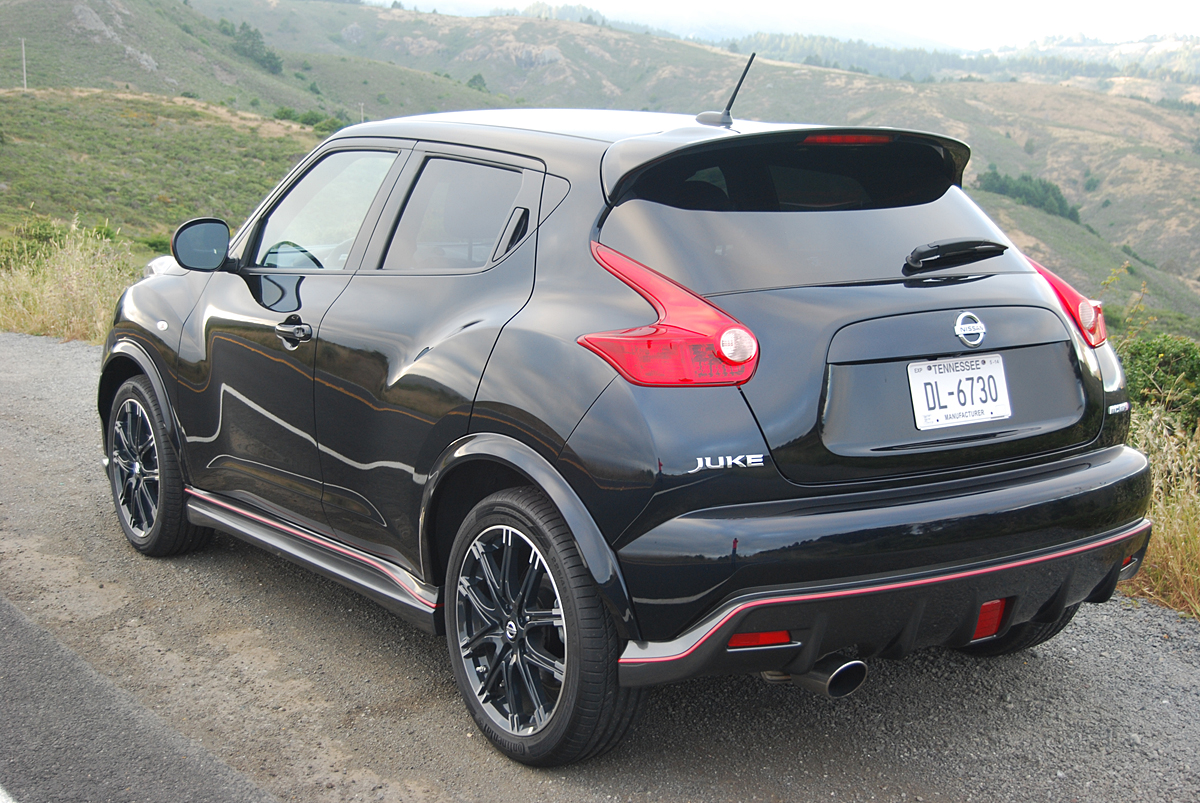 2013 Nissan Juke NISMO
Engine: 1.6 liter inline 4, direct injection, turbocharged
Horsepower: 188hp
Torque: 177 lb.-ft.
Fuel Consumption: 25 MPG City/31 MPG Highway
Price as Tested: $25,195
Star Rating: 9.5 out of 10 Stars
Related posts: