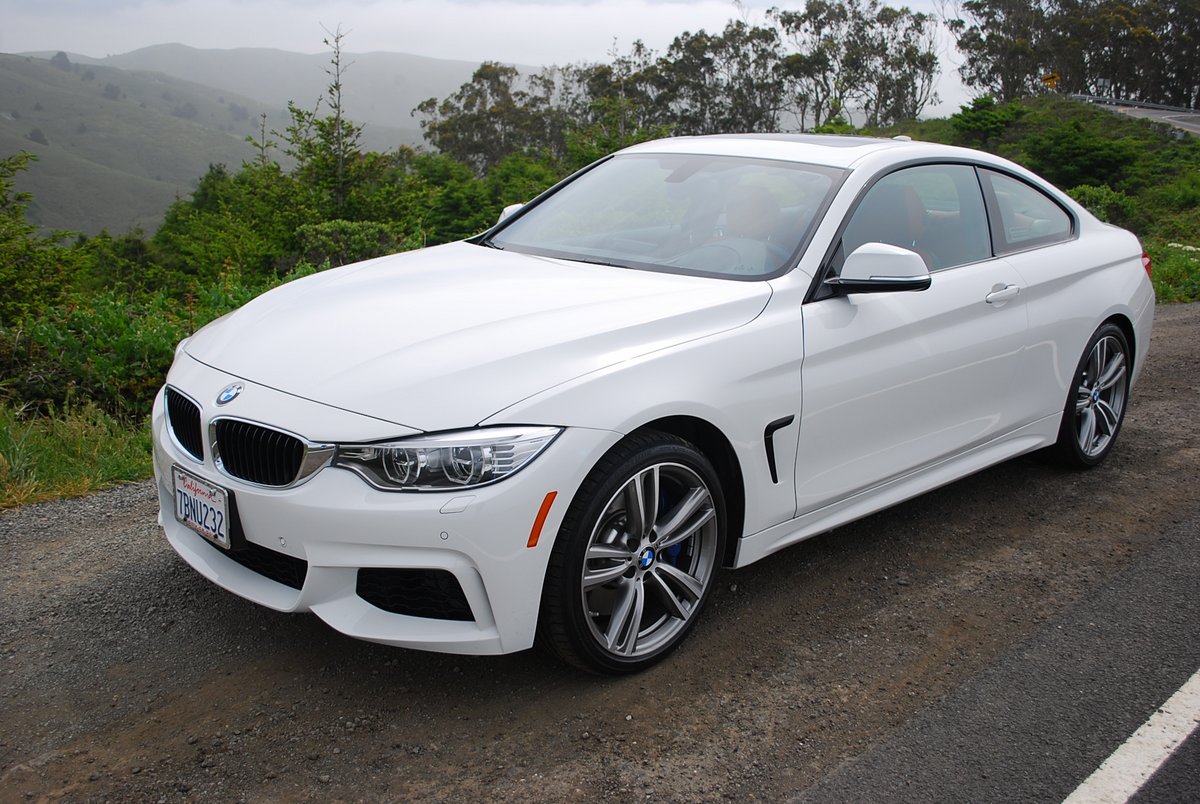 By David Colman
Hypes: Hyper Flashy Interior. 166mph Top Speed
Gripes: For $63K, They Could Put A Screwdriver in the Toolkit
BMW has introduced two new 4 Series coupes for 2014. What differentiates them is choice of engine. The 428i uses a turbo four cylinder engine, while the 435i offers a turbo six cylinder motor. Both are available in either rear wheel drive form or all-wheel-drive trim (which BMW calls xDRIVE). The top version of the 4 Series coupe is the 435i with xDRIVE, and this is the model we spent the last week exercising. Get a tight hold on the reins because it's a mighty quick stallion. The 435 would is definitely the hot ticket for speed lovers. Its 3.0 liter turbo makes 300hp and 300lb-ft of torque. The 3,621 pound 435i, with its superior power-to-weight ratio of 12.07lb/hp, covers the Standing Start quarter mile in 13.7 seconds at 105mph, while posting a 0-60 run of 5.2 seconds.
Though the 428i and the 435i look much the same and share virtually identical structures, they are vastly different vehicles in feel and performance. For comparison purposes, you would do well to think of these two coupes in human terms. They represent the same person at different stages of the life cycle. The 428 is the youthful rebel, rambunctious, ready to party, a real back road butt kicker. But once the 428 gains a few years and a few pounds, it matures into the 435, graying slightly at the temples, a little thicker in the waist and thinner in the reflexes. These BMW coupes reinterpret BMW's "ultimate driving machine" adage from different perspectives. The 428i is ultimate if you're seeking hot laps with your tail and your tongue hung out. The 435i offers ultimate satisfaction if you aim to cover vast distance at a canter rather than a gallop.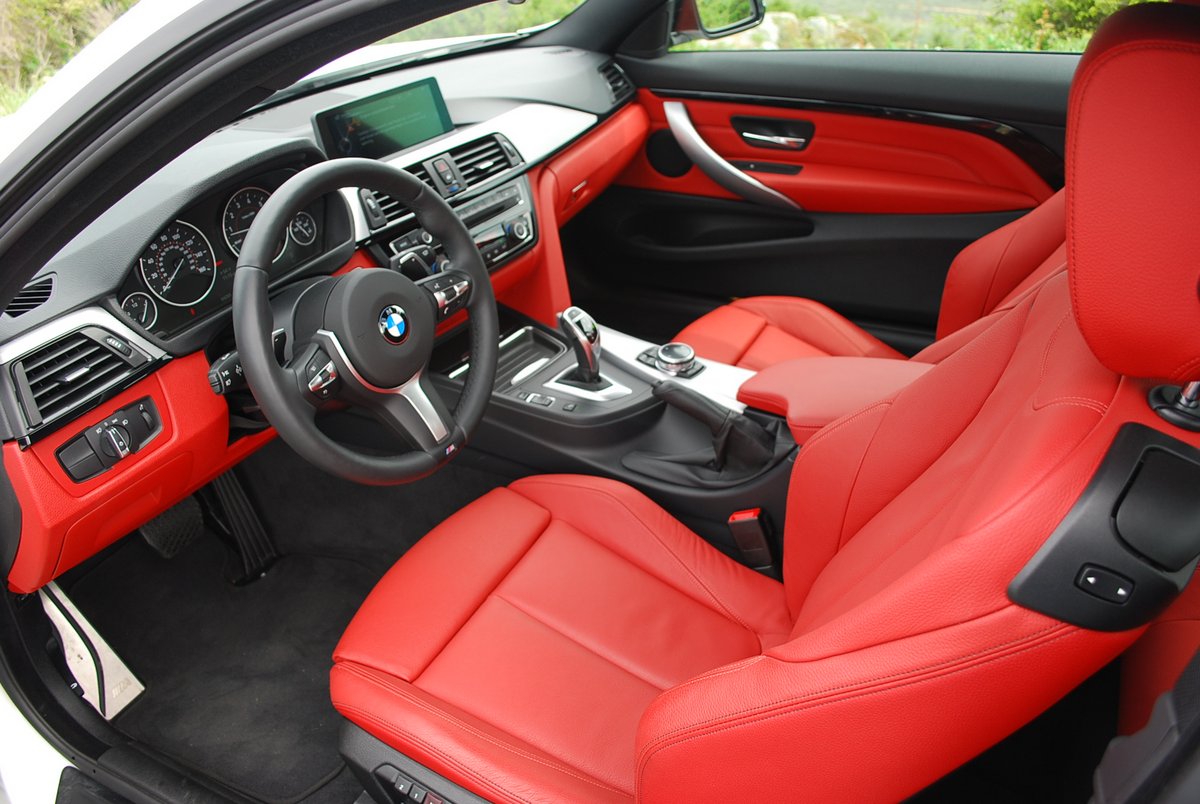 The Coral Red Dakota Leather interior of our 435ix looks positively opulent. Just the thing for the mature swinger who still boogies to the Latin beat of Xavier Cugat. While purists might dismiss this kind of visual flamboyance in such a serious sporting BMW, the red and black combo really knocks your socks off. The heavily pebble grained seat leather adds another dimension to the gripping support afforded by these special seats that are part of the coupe's $3,100 optional M Package. The 435ix carries a reasonable base price of $48,000, but posts a whopping bottom line of $63,725 due to the following additions: the aforementioned M Sport ($3,100), Cold Weather Package ($700), Driver Assistance Package ($950), Dynamic Handling Package ($1,000), Lighting Package ($1,900), Premium Package ($2,200), Technology Package ($3,150), M Sport Brakes (650), Concierge Services ($250) and Destination Charges ($925). I don't know about you, but if I'm paying an extra $250 for "Concierge Services," I expect a warm croissant and a cafe au lait be delivered to my Coupe every morning.
But these many additions do bring multiple benefits, such as a heated steering wheel, heated front seats, retractable headlight washers (Cold Weather Package); adaptive full LED lights, automatic high beams (Lighting Package); comfort access keyless entry, lumbar support, satellite radio with 1 Yr. subscription (Premium Package); navigation system with touchpad, Head-up display, remote services, BMW apps, enhanced smart phone (Technology Package). The heated steering wheel is a particularly welcome addition on chilly mornings, a most worthy substitute for that missing concierge. The graphics of the navigation system maps are spectacular, showing 3D topographical details that will take your breath away. The Head-up display, on the other hand, is something of a mixed bag. It plays your speed on the windshield, right under your nose. So there's no excuse for pretending you didn't know how fast you were going when the officer arrives to hear your tall tale. It also keeps you apprised of your cruise control setting, and instantly notes any changes to your prescribed speed. Unfortunately, the mirror face of the Head-up unit reflects itself in the windshield during sunny conditions, so you get a helping of glare with your order of info.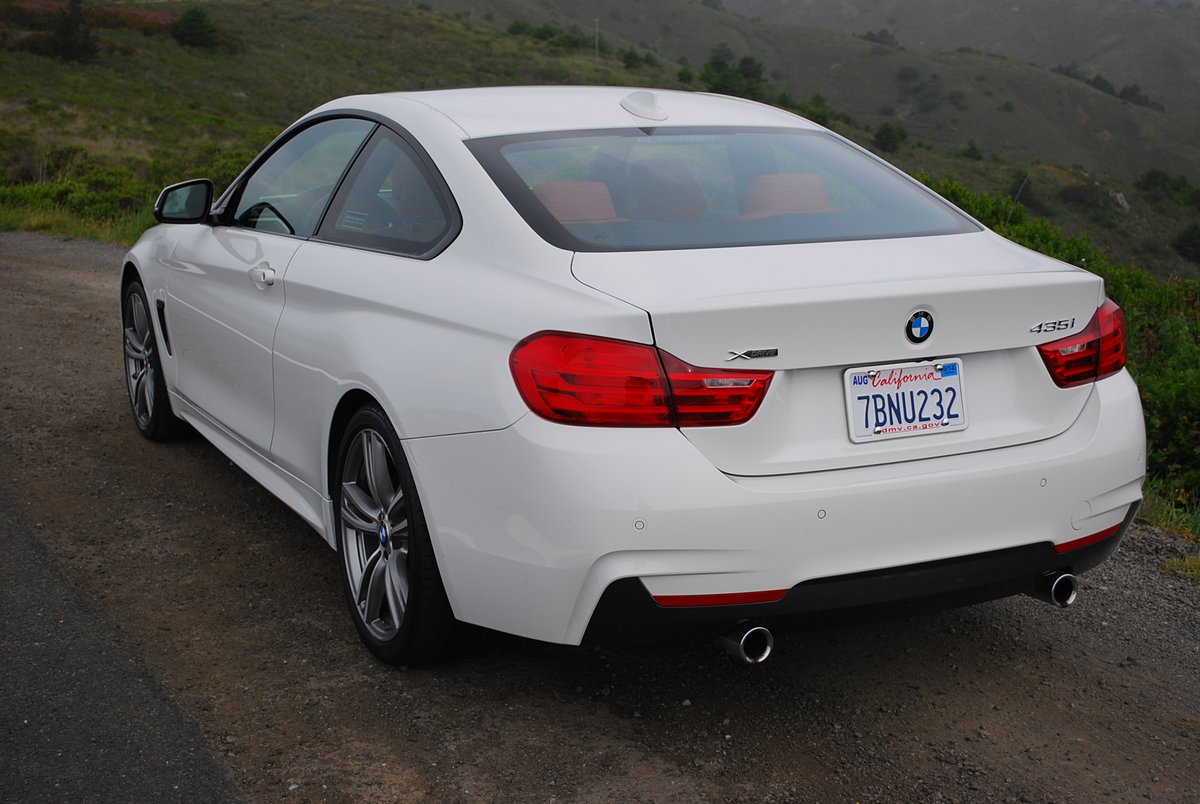 Although the 435i is slightly heavier, taller and more front weighted than its cheaper sibling, our test coupe had one big ace in the hole that was missing from the 428′s arsenal: all-wheel-drive. California State Route 175 connects the rural outposts of Hopland and Lakeport with 18 miles of the best driving roads you've ever traversed. On a midweek day, there was virtually no traffic in either direction to distract me from pushing the big BMW as hard as I dared. While it never seemed as light or agile as the 428i, it felt more planted and predictable than the four cylinder model when pushed to the limit. With the 19 inch Bridgestone run flat S001 tires (225/45R19 front, 255/40R19 rear) generating significant side bite, the 435ix refused to lose its tenacious grip on the pavement, no matter how hard I tried to conjure drift angles. While it may be lacking in drift challenge showboat potential, the 435ix is the BMW 4 Series coupe I'd chose for a cross country trip with bad weather in the forecast.
2014 BMW 435i xDRIVE Coupe
Engine: 3.0 Liter inline 6, Turbocharged and Intercooled
Horsepower: 3000hp
Torque: 300lb.-ft.
Fuel Consumption: 20MPG City/30MPG Highway
Price as Tested: $63,725
Star Rating: 9.5 out of 10 Stars
Related posts: