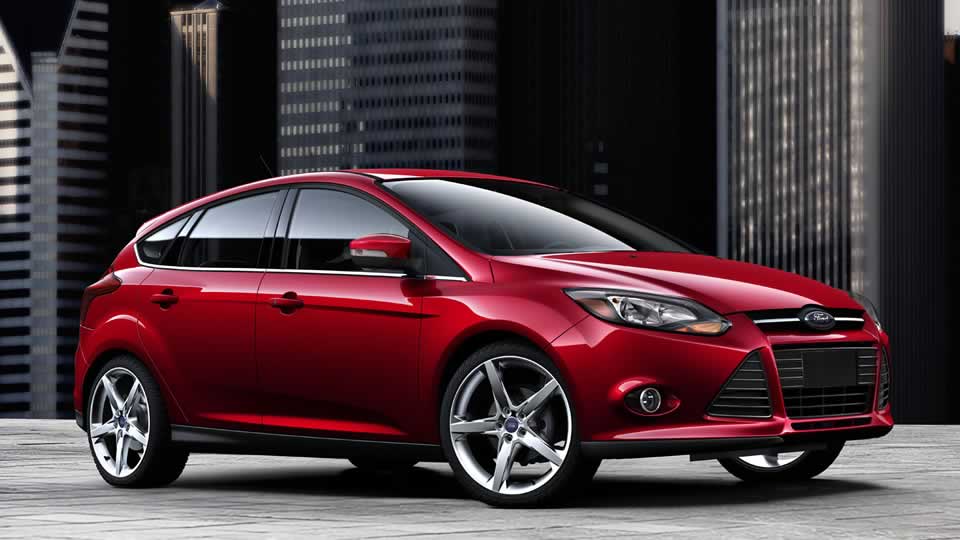 By contributing editor David Colman
Vitals Statistics:
$19095      Focus 5dr HB SE
4-Door Front Wheel Drive , 160 bhp, 146 lb-ft, 5-sp Manual, 26/36 mpg
5 passengers, 2900 lb, 2-liter, 4-cylinder engine, 18.1 lb/bhp
Likes:
Euroslick styling
Gem-like interior fittings
Razor sharp handling
Eager engine that is happy to work hard
Hatchback model has added utility over sedan and looks great
Long list of upgrades and high-tech options
Dislikes:
Lack of paddle shifters for dual clutch automatic
HVAC dials where radio controls should be and vice versa
Driving concentration distracted by Ford Synch GUI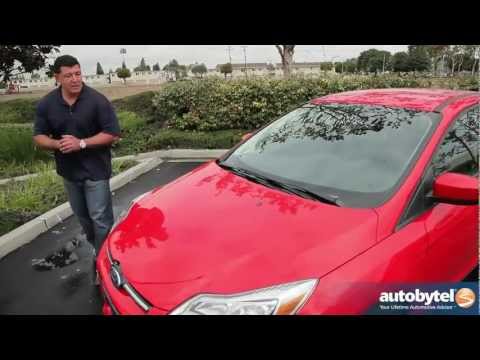 2012 Ford Focus Test Drive & Car Review. This video is brought to you by Autobytel
If you think of the Focus as Ford's VW Golf beater, you're aiming too low. Golf was just the low hanging fruit in Ford's quest to redefine the sport compact sedan. The real target was Audi's A3, a loftier goal indeed. Has Ford succeeded in outdoing the A3? Not quite, but close enough to give Audi reason to be concerned. If you want to build a better sport sedan than Audi, you'd best hire Germans to design it, and that's just what Ford has done. The Focus was conceived in Germany, and has been on sale across Europe for more than a year. It has already established a successful track record in World Rallye competition as well as World Touring Car track contests. While Focus may be new to the US, it is by no means an unproven entity abroad.
Looking at this svelte sedan from outside, you are first struck by the clean-lined ethos of its design. The snout sits low while the butt remains slightly elevated to impart a feline rake to the static posture. Horizontal detailing around the front grill is handsome without being fussy. The side view looks racy and succinct, with windshield A pillars so extravagantly flattened that the sedan version posts a stellar wind tunnel coefficient of 0.297. Although the Cx of the five-door hatchback we drove is slightly higher than that, the hatch chassis is stiffer because the five door openings require added structural chassis reinforcement. The solidity of the platform, which Focus shares with the European C-Max minivan, is indisputable. Over the worst road irregularities, the Focus evinced no squeaks, groans or deflections. The interior remains ethereally silent no matter what racket the road surface beneath promises to impart.
Handling of the base model Titanium hatchback is responsive and predictable. The steering is perfectly weighted, with lots of road feel passed back to you through the fat rimmed, two-tone steering wheel. Continental SportContactPro tires measuring 215/50R17 are standard, but if you wish to upgrade handling, the Titanium handling package, including stiffer anti-sway bars, springs and 18 inch wheels and rubber, is available for an extra $595. Even without that package, the handling of the Titanium Focus is strong enough to justify sticking with the base suspension system.
Performance of the 2.0 liter Duratec four cylinder motor is hardly scintillating, especially when coupled to the slow-shifting 6-speed dual-clutch gearbox. If you want more pop underhood you should wait for the 247hp turbo motor, coming sometime in the next year. In the meantime, opt for the 5 speed manual gearbox model to coax the most performance out of the Duratec base motor.
Where Focus really shines is inside the cabin. All 4 seats are Posturepedic, with the fronts luxuriously supplied with multiple electric positioning controls. Even the fixed rears are acceptably comfortable for long day trips. The interior of our test Focus, finished in a pleasing medley of burgundy and black, mimics the cabins of much more expensive vehicles like (no surprise) the Audi A3 or the BMW 1 Series. If you're in the market for a small sedan with fit, finish and handling comparable to cars costing twice as much, be sure and give the new Focus a test drive. You'll be amazed at how far Ford quality has come since they hit bottom several years ago.
2012 FORD FOCUS TITANIUM HATCHBACK
ENGINE: DOHC, 16 valve in-line 4, aluminum block and head
HORSEPOWER: 160 @ 6,500 rpm
TORQUE: 146 lb.-ft. @ 4,450 rpm
TRANSMISSION: 6-speed Powershift automatic transmission
FUEL CONSUMPTION: 25 City MPG/ 36 Highway MPG
PRICE AS TESTED: $23,490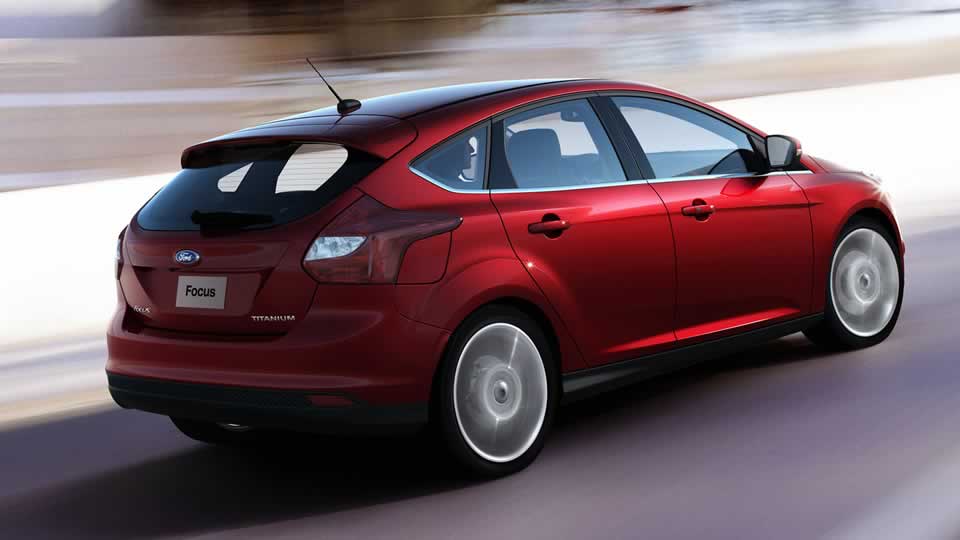 Ruling: The redesigned Ford Focus comes out with impressive changes to its exterior and interior styling. And it is also more fun to drive than the previous generation.
The 2012 Ford Focus has been completely redesigned and it looks good. The interior redesign was first on the list and it now features more high tech options that assist the driver and keep them connected to their electronic devices. Available with the 2012 Focus are the MyFord and MyKey systems. MyFord integrates entertainment, navigation, and communication into a touch screen console. MyKey is a safety feature that restricts vehicle speed and stereo volume while your teen drives.
Looking sportier and more aggressive than a Honda Civic or Toyota Corolla, the exterior updates for the 2012 Focus move far away from the vanilla sedan look and is much more satisfying to drive.
Standard engine for the entire Focus line for 2012 is an all-new 2.0-liter direct-injected four cylinder engine that makes 160 horsepower and 146 pound-feet of torque. The engine is paired with either a 5-speed manual or six-speed PowerShift dual clutch automatic. Fuel economy with the automatic transmission is 28 city / 38 highway /31 combined mpg. The sedan outfitted with the SFE package is estimated to get 28 mpg in the city, 40 mpg on the highway, and 33 mpg combined.
A Focus five-door hatchback model is also available.
###
David Colman has been writing vehicle tests for 25 years. His work has been featured in AutoWeek, the San Francisco Chronicle, San Francisco Examiner, and Marin Independent Journal. In 1987, he helped start Excellence, The Magazine About Porsche, which he edited for many years. He has been an active participant in racing and Solo events since 1961. More car reviews written by Colman can be found at autoeditor.com
Related posts: