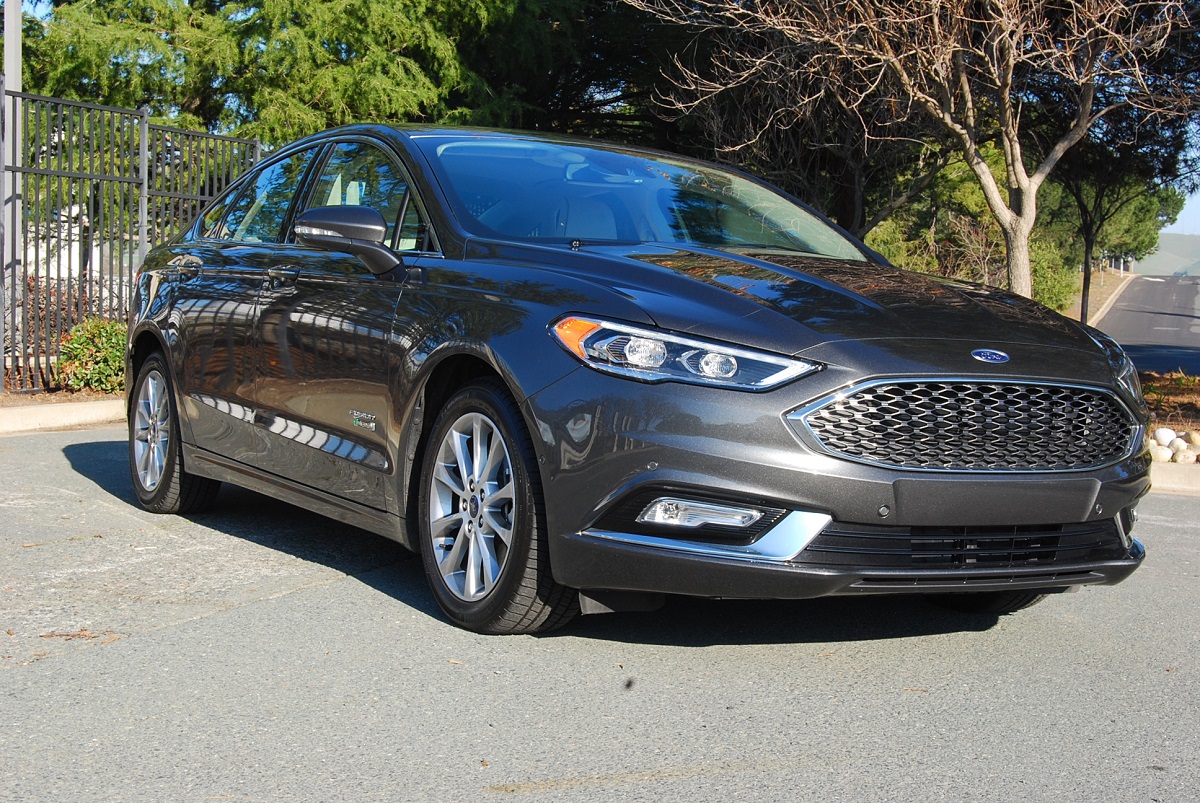 By David Colman
Hypes: Luscious Interior, Reams of Unexpected Standard Features
Gripes: 188hp Insufficient
For 2017, Ford offers more flavors of Fusion than Ben and Jerry makes ice cream. At the top of the long list is the all new for 2017 Sport version, with a 325hp, 2.7 liter V6 powering all four wheels. Moving down the range, Ford also offers a turbocharged 2.0 liter inline 4 making 240hp. At the bottom of the horsepower rankings – but the top of the mileage offerings – is the 2.0 liter inline 4 of the Fusion Energi we tested. This one's gas engine makes just 188hp in consort with its electrical motor, but yields 42 MPG in combined city/highway driving. In electric-only mode, the Fusion Energi will carry you just 21 miles. But those miles produce an EPA rating of 97 MPGe. In combined electric/gas operation, this greenest of all Fusions will take you a whopping 610 miles on one tank of gasoline.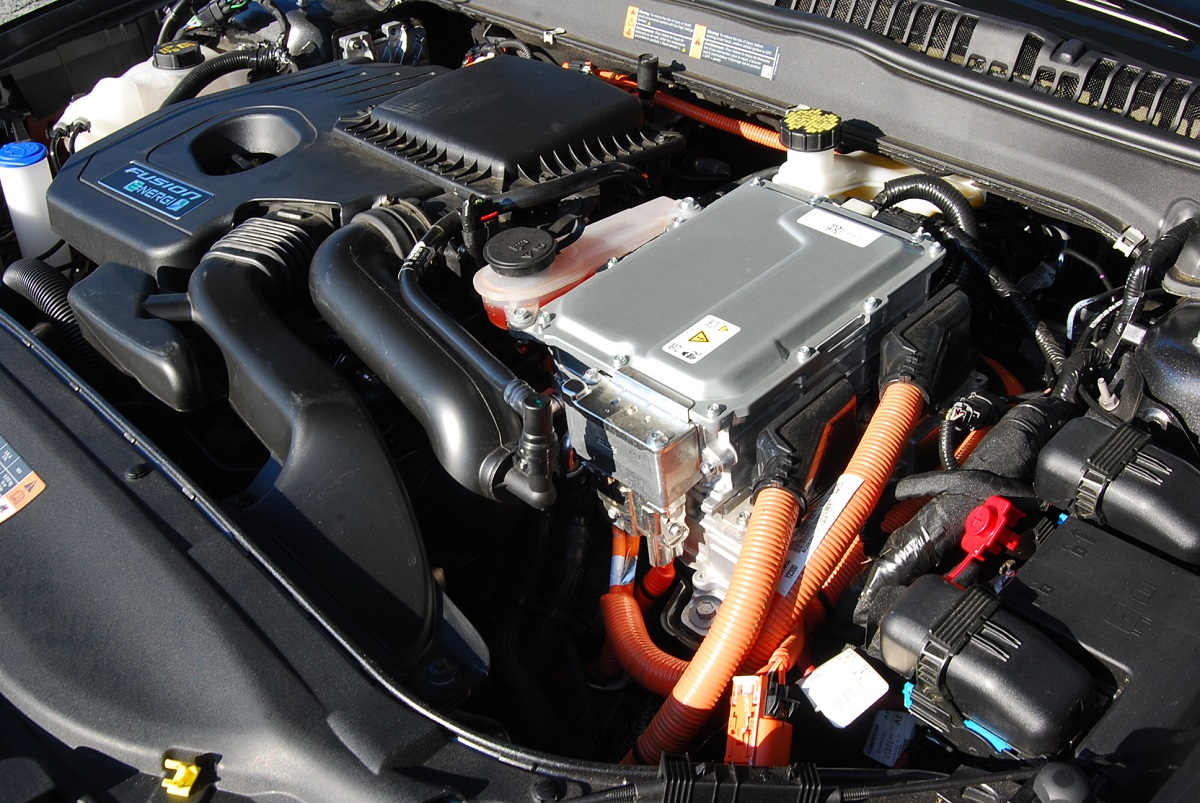 With that kind of range, it would be nice if the Fusion Energi provided a first class interior for you to while away those extended driving hours. The Energi's Platinum interior does just that. Taking a cue from hyper priced cars like Bentley and Maserati, Ford designers have spiced up the look of this Fusion with large swaths of diamond patterned upholstery inserts. The front and rear seat bolsters sport this material, as well as all four upper door panels. Our test example featured an inviting shade of cream leather called "Medium Soft Ceramic" that looked and felt inviting but showed a fair amount of grime after 7,000 miles of test driving. The quilted door and seat inserts are neatly set off by black piping which adds a note of elegance to the overall design. The seats themselves are supremely comfortable up front and passably accommodating in back.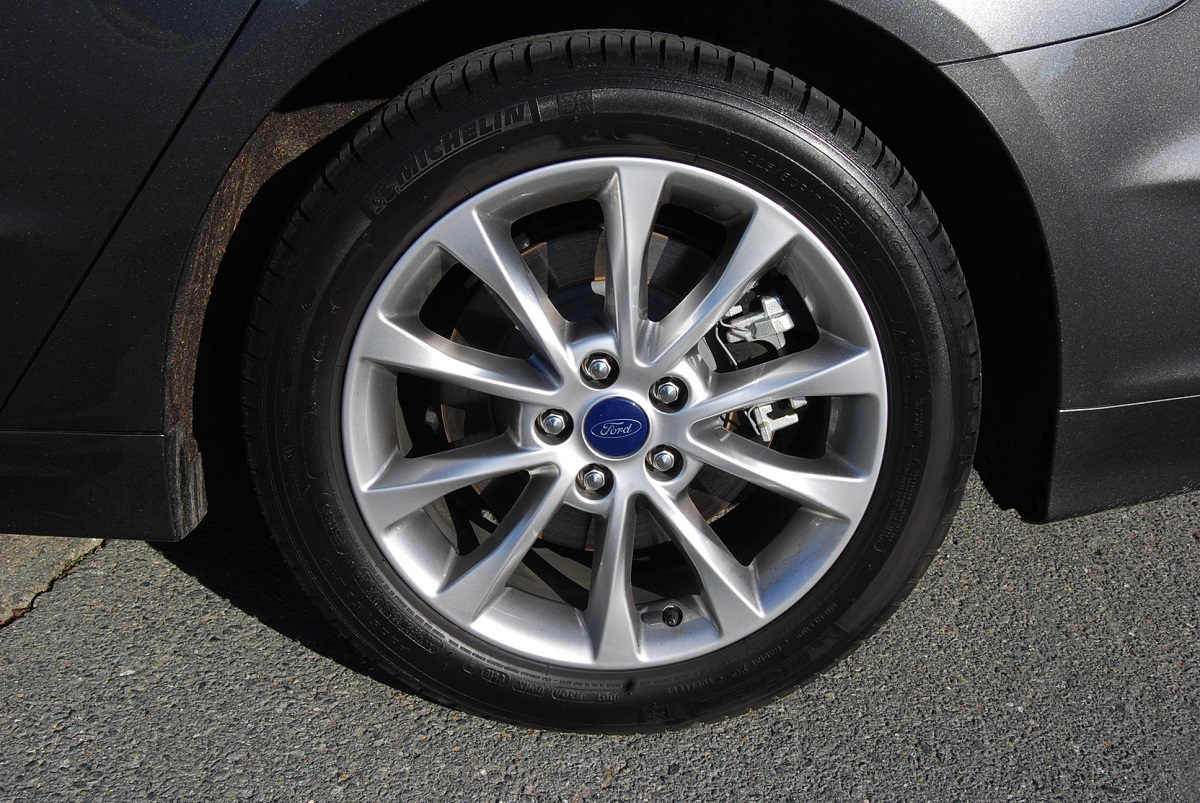 The Fusion's 112 inch wheelbase and 73 inch width make for a spacious and airy cabin, further augmented by a standard power moonroof. A foursome of six footers front and rear will never find themselves crowded into discomfort inside a Fusion.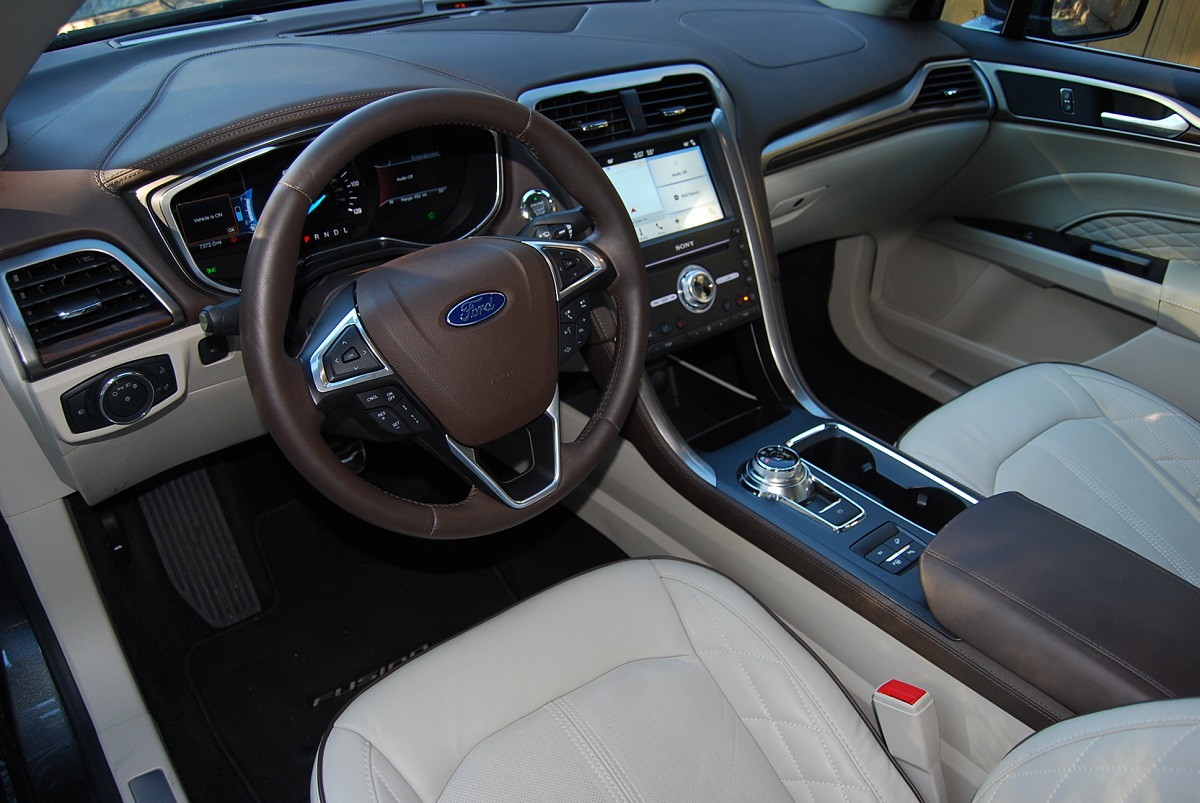 The cockpit is replete with thoughtful attention to detail. For example, the vertical and horizontal adjustment for the multifunction steering wheel is electrically controlled, a nicety not often encountered on cars in the sub-$40,000 price range. Another welcome feature is a 2 slot memory system for selecting and retaining your favorite seat/mirror/steering wheel orientation. Again, most vehicles in this class do not offer this convenience. Clearly, a lot of thought has gone into making the Fusion cabin habitable for long distance cruising. The front seats are both heated and ventilated, with four settings available for temperature choice in either mode. Even the steering wheel rim is heated, though it took us awhile to find the on/off switch, which is buried in the climate control Synch3 menu, rather than operated by an actual button.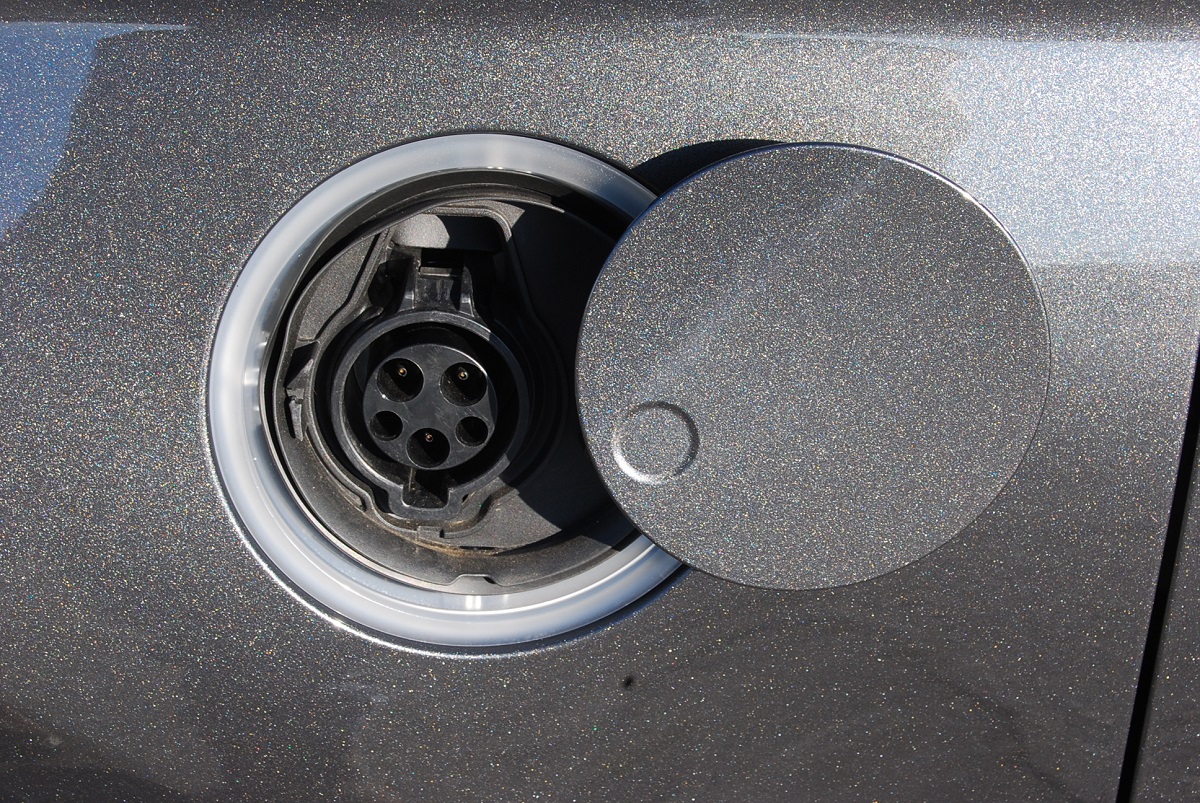 Thankfully, all major climate and ventilation settings are instantly accessible through a series of actual buttons and switches laid out across the base of the center console. Here you will find individual temperature controls for each side of the cabin, plus fan speed and defrost buttons. For other less critical functions, Ford's Synch3 system allows you to tailor your navigation and entertainment needs through pictographs on the 8 inch touchscreen, which oversees everything from radio choice, to apps, to navigation, to general locking protocol and language display. The steering wheel spokes control a wealth of additional information which appears on the instrument panel, next to the 120mph speedometer. You can scroll through "MyView" acceleration/braking/cruising tabulations, fuel economy readouts, two resettable trip computers, EV feedback entitled "Engage" and "Empower," and finally, tire pressure readout. Just the thing to keep you on your toes on Interstate 5.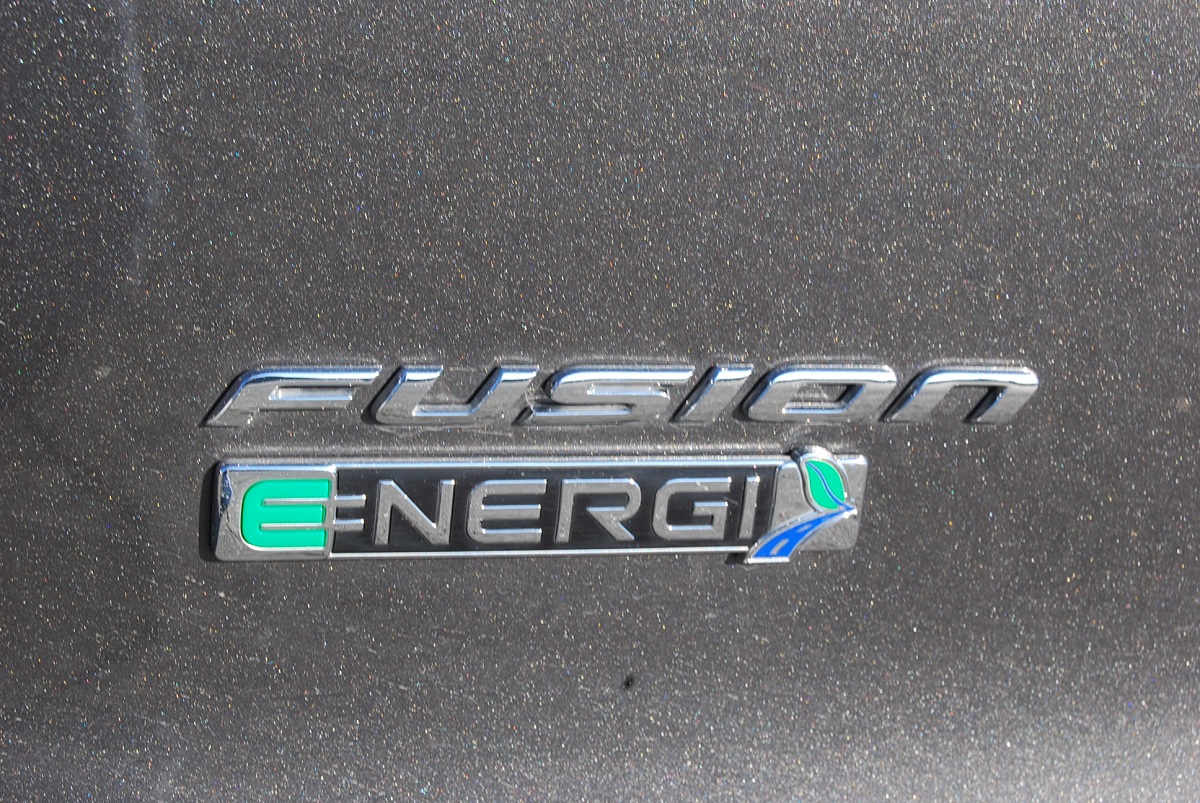 If the Energi hybrid has a drawback, it's lackadaisical performance. 188hp is simply not up to the task of hauling this sizeable 3,505 pound sedan up to passing speed with any margin of comfort. Even with gas and electrical power maxed out noisily at full throttle, the Energi is reluctant to satisfy your need for speed. The ECVT "Powersplit" automatic transmission features a new-for-2017 rotary control dial for gear selection. While this unit does save console space. its operation is difficult to master as it lacks the detents of a conventional shift mechanism.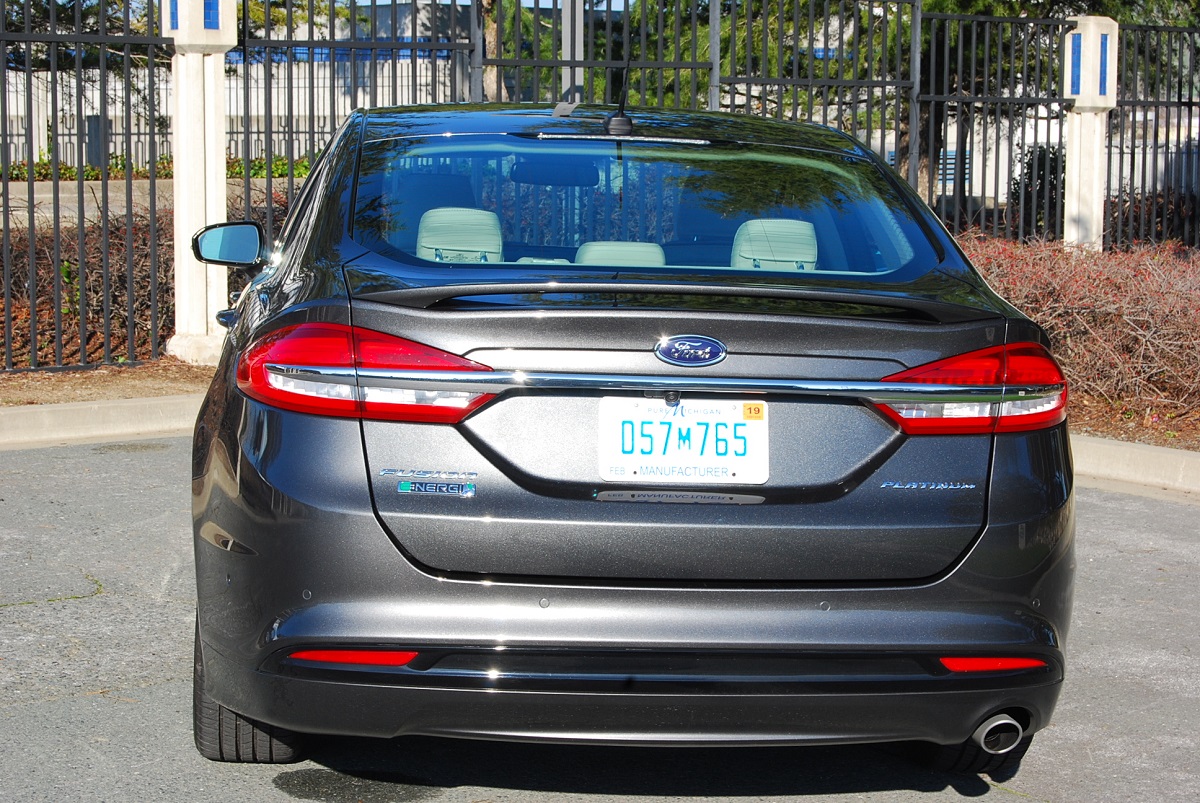 The other drawback of selecting a hybrid is the imprecise, non-linear pedal feel of the regenerative brakes. They react with oversensitive zeal even to slight pedal pressure. The rock hard (treadwear rating: 480) Michelin Energy radials (225/50R17) complicate the brake feedback loop with their tendency to skid. Finally, you'll pay another energy penalty when you examine the trunk of this otherwise full size sedan. While the interior may comfortably hold four passengers, the hybridized trunk will never transport all their belongings. Associated hybrid gear and lithium ion batteries occupy much of the allotted space.
2017 Ford Fusion Platinum Energi
Engine: 2.0 liter inline 4 + electric motor
Horsepower: 188hp
Torque: N/A
Fuel Consumption: 42 MPG Combined, 97 MPGe
Price as Tested: $39,995
Star Rating: 7.5 out of 10 Stars
Related posts: