By Alex Kramer
Pros:
Potent 3.6 L 6-cylinder engine
Off-road capability of an SUV
Luxurious interior
Plenty of cargo room
Excellent value
Cons:
On-road handling is disappointingly soft
Exterior design is a step backwards
Mediocre premium audio system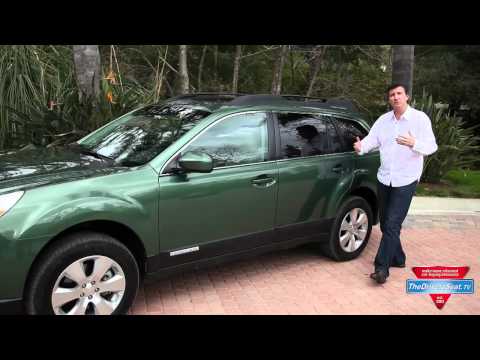 2011 Subaru Outback Review. This video is brought to you by TheDriversSeat.tv
For years Subaru has marketed its Legacy Outback as the SUV alternative for the outdoor crowd, with all the practicality and off-road capability of an SUV, but minus the bad SUV on-road handling. Which makes the fully redesigned 2010 Outback (the Legacy name has been dropped entirely) a bit of a head-scratcher, since it is bigger and more SUV-like in every way, from the increased height, width, and length, to the more SUV style appearance and ride. The increasing popularity of car-based crossovers must have convinced the engineers at Subaru that being an SUV isn't that bad after all.

Earlier this year we tested an Outback 2.5i and found it to be a safe, practical car, especially for folks who need the all-weather and all-terrain capability of all-wheel drive. Unfortunately the base 4-cylinder engine, a 2.5L unit that produces 170 hp, was found to be quite underwhelming. Fortunately we recently had the opportunity to test an Outback 3.6R Limited and we can now safely say that this rugged wagon has the bite to back up its bark.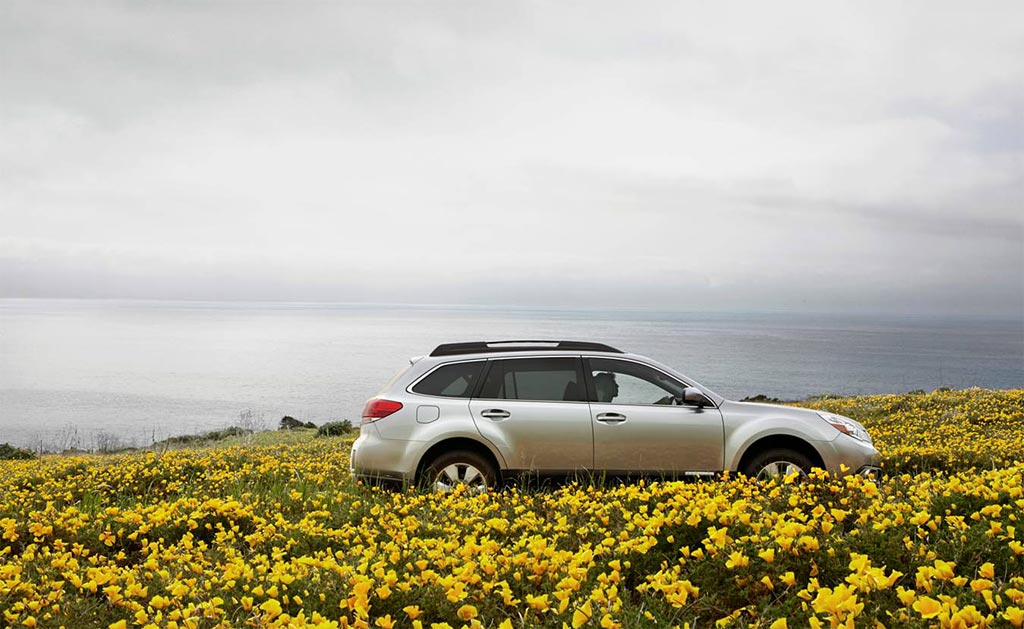 As the 3.6R badge suggests, pop the hood and you'll find a 3.6L horizontally-opposed 6-cylinder engine that produces 256 hp and 247 lb-ft torque. Like most boxer engines, this one has a meaty torque curve, especially in the lower rpm range. Acceleration off the line is strong and the engine willingly pulls to the red line, although output does seem to fall off a bit in the last thousand rpms. Fuel-efficiency is also quite respectable given the responsive engine and size of the car. Even including some hard driving in the hills we achieved close to 22 mpg.
Unlike 4-cylinder models, which either get a 6-spd manual transmission or a CVT, the 6-cylinder engine is mated to a conventional 5-spd automatic. Shifting performance is perfectly acceptable, although with many competitors adding 6 or more gears to their automatics, having just five forward gears seems a bit antiquated. Surprisingly, paddle shifters for manual operation of the transmission are also included. Although these could be helpful during spirited and/or hilly driving, they do look a bit silly inside such an otherwise unsporting and practical car.
Which brings us to the handling performance on the road, which sadly isn't any better than the 2.5i we previously tested. As we noted then, the suspension is quite softly sprung and features a lot of travel, which is great when going over bumps and potholes, but triggers significant pitching and rolling in the corners. The Continental all-season tires also lose traction rather quickly, leading to pronounced understeer when cornering hard and taking the fun out of tight, twisty roads.
This mediocre handling is partially redeemed by Subaru's full-time symmetrical all-wheel drive, which gives the Outback legitimate off-road capability. Ground clearance is now an impressive 8.7 inches, bettering such notable off-roaders as the Jeep Grand Cherokee, Ford Explorer, and Nissan Pathfinder. Although we didn't get to test the Outback in the wild, several short off-pavement excursions, including climbing up a bumpy, grassy hill with at least a 15% grade, indicated that the Outback is more than capable when leaving asphalt behind.
Even more impressive is how much you'll be pampered when tromping through the woods. Subaru isn't typically the first car you think of when it comes to luxury, but slide inside this Outback and you'll see a classy looking black dashboard, elegant wood trim, and luxurious beige leather seats. The only sour note is some rather cheap looking fake brushed aluminum used in the steering wheel and center stack, but overall you could easily be convinced that you're inside a much more expensive luxury sedan. Interior room is also very impressive, with plenty of head and leg room, and enough cargo space to embarrass quite a few mid-size SUVs.
The Limited trim level also comes with plenty of standard features, including power everything, Bluetooth phone connectivity, and heated seats and mirrors. A premium 440 watt harmon/kardon audio system is standard and plays plenty loud, but the sound quality was shockingly unrefined, with a lumpy bass and muddied midrange. Fortunately a fully adjustable parametric equalizer is included and after substantial adjustment the sound became more palatable. Our test car also came with an optional sunroof and navigation system with voice activated controls, which adds an additional $3k to the sticker price.
Which brings us to the question of value. Is this fully optioned not-quite SUV, not-quite family wagon really worth it? Although Subaru can no longer boast that this larger Outback is the anti-SUV, it actually does what SUVs are supposed to do quite well, which is carry a lot of stuff wherever it needs to go, even if that means traveling down a dusty, rutted fireroad for 10 miles. And unlike bigger, boxier SUVs, the Outback still sort of looks like a car, although the overall exterior shape and styling is definitely a step back from the previous generation.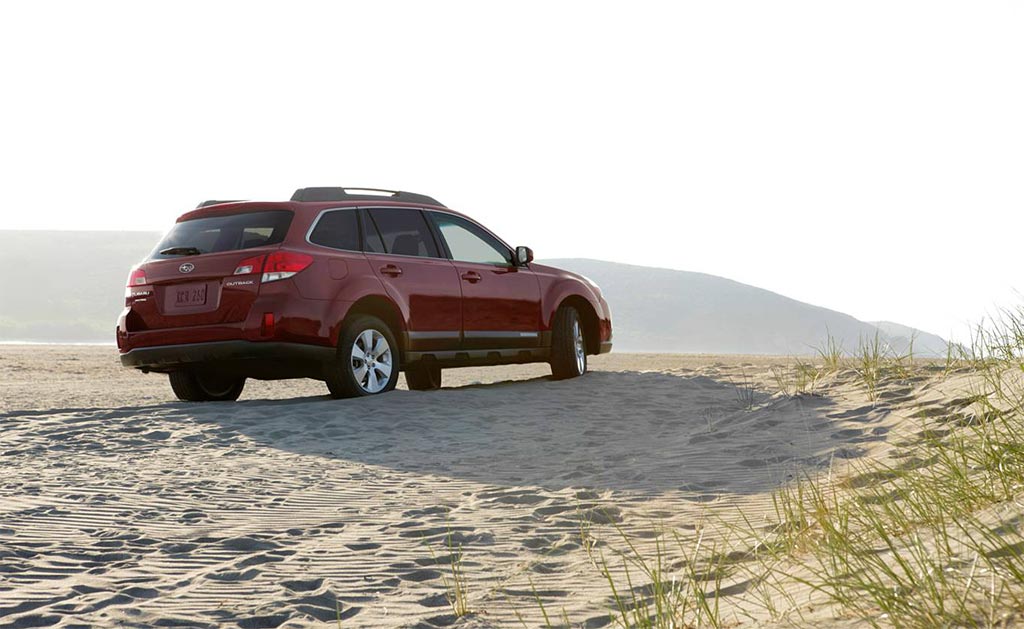 To top it off, it does all this for substantially less than it would cost to buy most mid-sized SUVs or wagons, especially when you add all the options. Skip the moonroof and nav system and the Outback 3.6R Limited only sets you back $30, 995. When you factor in the price, its no wonder the Outback is now Subaru's most popular model and continues to win praise from customers and critics alike.
| | | | | | | | |
| --- | --- | --- | --- | --- | --- | --- | --- |
| | BUILD | INTERIOR | PERFORMANCE | HANDLING | STYLING | VALUE | OVERALL |
| RATING | 4.5 | 4.5 | 4.5 | 3.5 | 4.0 | 5.0 | 4.3 B+ |
2010 Subaru Outback 3.6R Specs

Official website for Subaru of America – www.subaru.com
Related posts: