By David Colman
Hypes: Extra Sensory Handling, Primo Front Seats, To Die For Looks
Gripes: Needs Rear Wiper, Chintzy Manual Steering Wheel Adjuster
Q: When is a 3 a 4? A: When a 1 becomes a 2.
Inside BMW's perplexing name lab, Bavarian linguists have labored mightily to concoct a brave new numbering system sure to confuse and baffle its customer base. This year, the former 1 Series morphs into the new 2 Series, while the coupe and convertible offerings of the former 3 Series have now become 4 Series products. All this from a company once forthright enough to label its 1600cc sedan as a "BMW 1600."
Call the new 4 Series what you will, there's no mistaking its sporting excellence. Not surprisingly, the new 4 covers the dimensions of the existing 3 like a blanket. Overall length remains at 183 inches, as does wheelbase at 111 inches. Thanks to the coupe's svelte roofline, height drops from 56 to 54 inches, while flared fenders cause the width to increase from 71 to 72 inches. Weight drops by 15 pounds, from 3,485 pounds to 3,470 pounds.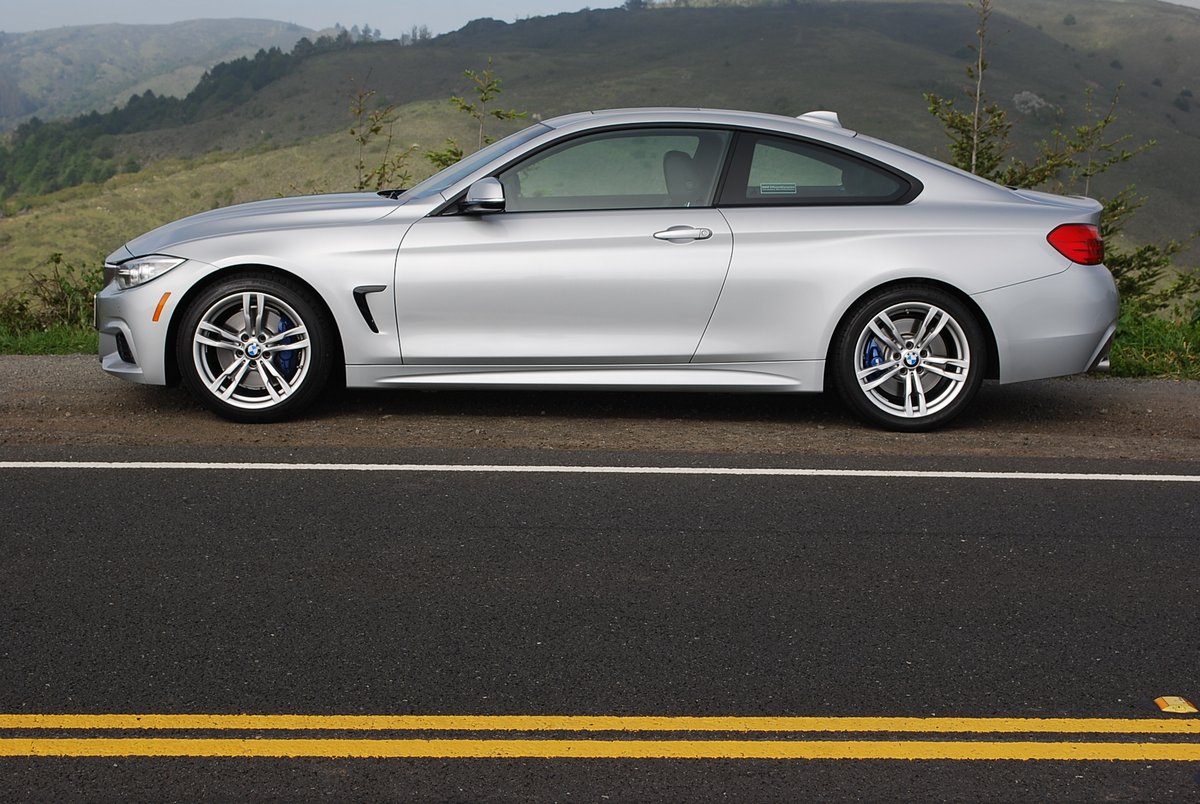 Take advantage of the coupe's wider stance by maximizing rim size. You can do so by opting for the $3,500 "M Sport" package, which confers, among other benefits, a set of double-five spoke, 18 inch diameter M Sport performance alloys that stretch rim width to 8 inches front and 9 inches rear. These rims amply support premium Bridgestone S001 RFT (Run Flat) rubber measuring 225/45R18 front and 255/40R18 rear. Another dividend of the M Sport group is Adaptive M Suspension, a center console controlled system that allows you to select the shock setup you desire by sliding the "Driving Experience Switch" through 4 detents (Eco Pro, Comfort, Sport and Sport+). These options cover the range from green peace to racetrack, and the differences are immediately obvious in terms of steering feedback and bump damping.
Visually, the M Package will also win you over with revamped body panels that channel wind over the coupe's exterior surfaces most efficiently. To that end a revised front fascia eliminates the standard lower fog lamps in favor of increased radiator cooling grills. Normally convex rocker panels acquire intricate concave flutes that help shed boundary layer air currents. If these external clues are so subtle as to provide insufficient gratification, you can always derive satisfaction from plentiful M notations festooning your key fob, dead pedal, threshold plates, and lower steering wheel spoke.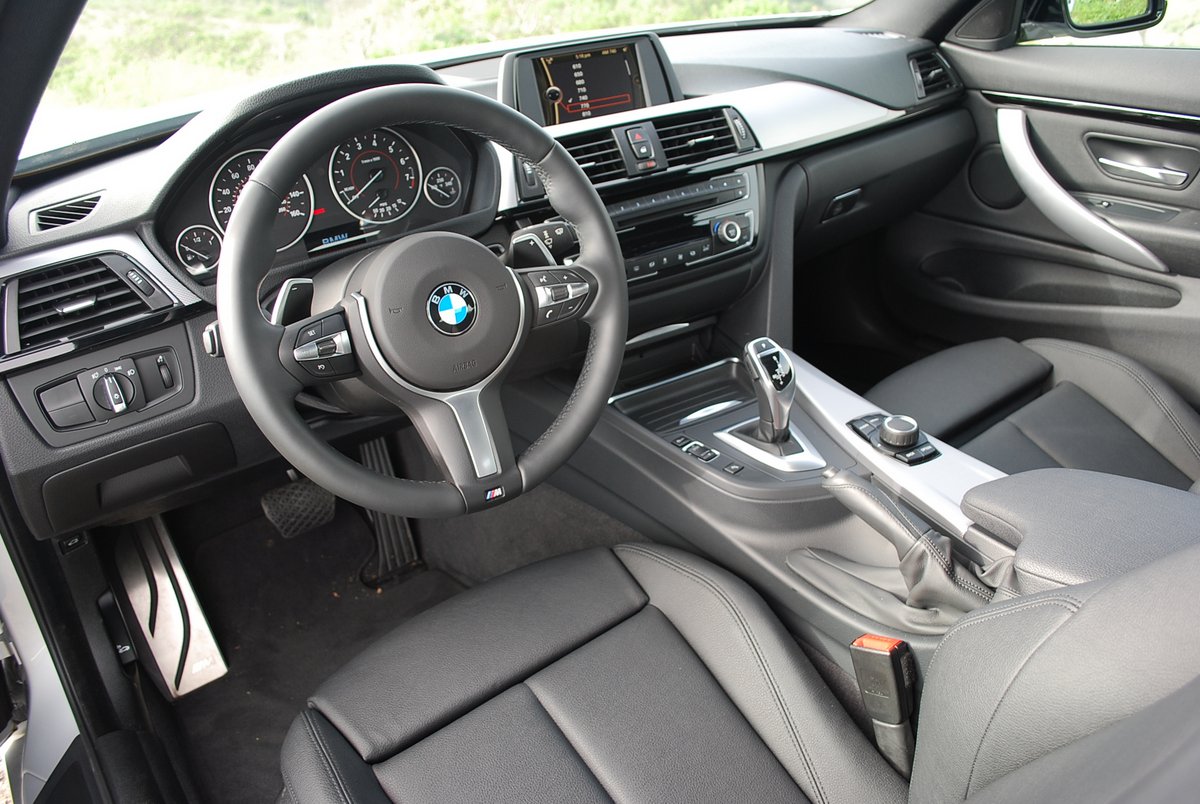 The most beneficial contribution of the M Sport group is a pair of stellar front sport seats that will grab your torso faster than Velcro. These supremely enveloping twin buckets offer more lateral support than anything short of a full race DTM (Deutsche Tourenwagen Meisterschaft)throne. The most telling point of support is their vise grip on your mid-back area. The retention of this vice can be altered by easing off the "Backrest Width" control located alongside the outboard lower cushion. You'll also discover controls for lumbar support, height, backrest tilt, seat tilt, plus a manual slide for thigh support. The front seats leave absolutely nothing on the table in terms of adjustability, conformity or comfort. We spent 9 hours in the cockpit of this coupe during a prolonged foray from the Bay Area to the Sierra foothills without registering a single complaint about cockpit fit.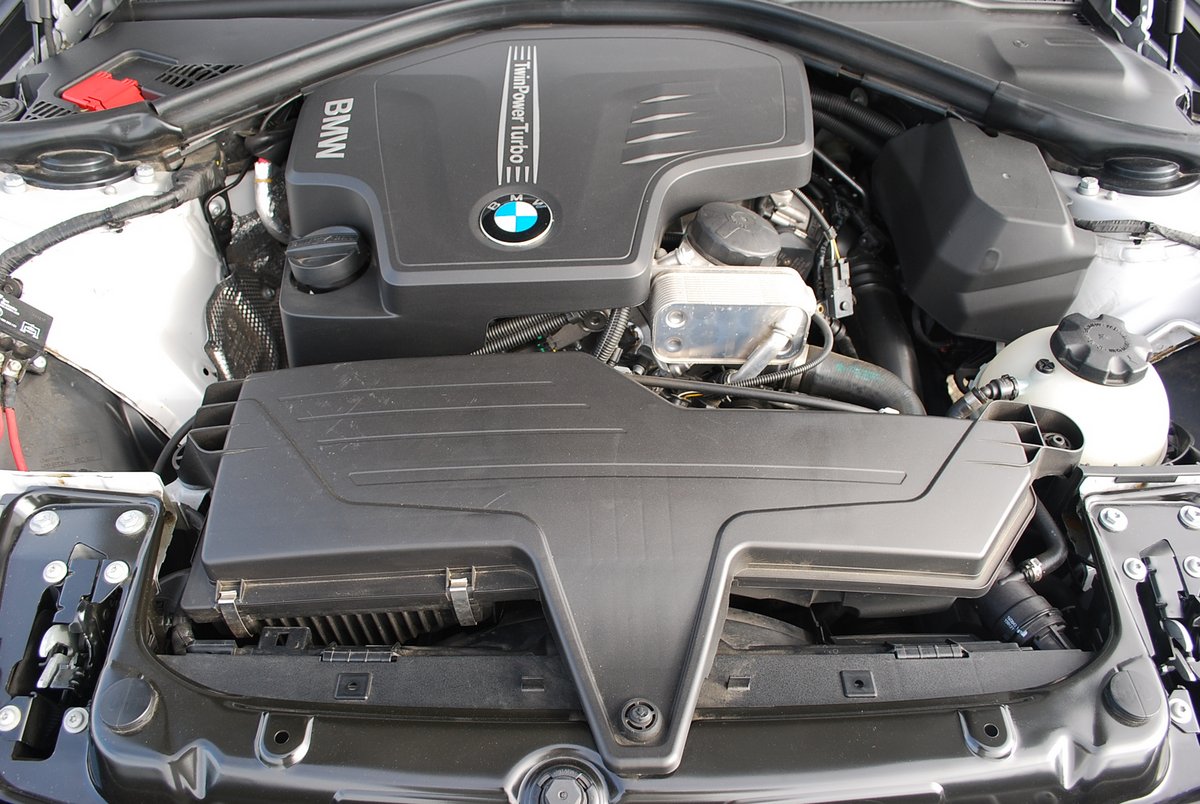 On that same trip we also managed to record 33.5 MPG on a prolonged freeway stint while averaging 75mph. The EPA suggests that the 4 cylinder turbocharged 428i will return 35MPG on such highway drives, and this figure is undoubtedly attainable by reducing speed to 65mph. Overall gas consumption is EPA rated at 26MPG, with 22MPG on tap in city conditions. The intercooled 4 cylinder engine utilizes a pair of small diameter turbochargers to boost performance while maintaining parsimonious fuel burn. You will never find yourself at a loss for forward bite with this coupe. Flooring the throttle launches the 428i on an impressive trajectory that achieves 60mph from a standing start in 5.3 seconds, the quarter mile in 14.1 seconds at 99mph, and a top speed of 158mph. That top speed is attainable in M Sport equipped coupes where normal top speed limitations are eliminated.
In a world where the meanest, least expensive Korean import coddles you with standard niceties like heated seats and navigation, it comes as a bit of a rude shock not to find BMW follow suit. For example, the steering wheel, albeit M-grip thick, must be manually dropped, elevated and telescoped. If you desire heated seats, they can be yours, providing you ante up an extra $635 for the Cold Weather Package. Likewise, BMW will gladly provide a navigation system as long as you check off the $2,885 Technology Package on your order form. All these enhancements we've come to expect as standard items on much less expensive cars will cost you dearly at BMW. But no amount of free inclusions can ever compensate you for an inferior driving experience. If you're after the consummate stint behind the wheel, there is nothing like this BMW.
2014 BMW 428i Coupe
Engine: 2.0 Liter inline DOHC 16 Valve 4, Turbocharged and Intercooled
Horsepower: 240hp @ 6000rpm
Torque: 255lb.-ft. @ 1250rpm
Fuel Consumption: 22MPG City/35MPG Highway
Price as Tested: $48,075
Star Rating: 9 out of 10 Stars
Related posts: