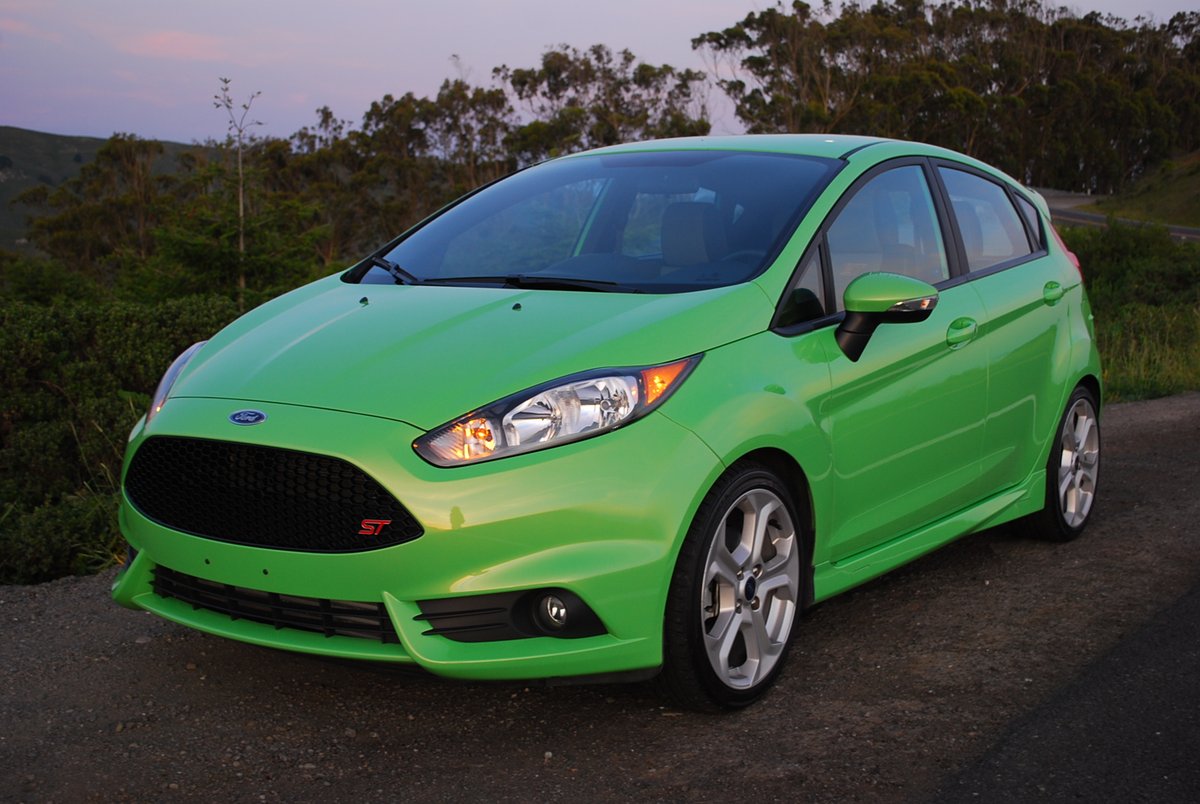 By David Colman
Hypes: Porsche Performance at Motorbike Price
Gripes: Why Carp?
Drivers who still consider a car to be a precision tool rather than a blunt appliance will rejoice that Ford is into the second year of production for the sublimely satisfying Fiesta ST. With its affordable base price of just $21,400, this five door, five passenger hatchback is a slam dunk choice for any automotive enthusiast needing more than two seats. Few competitors in this price range come close to matching the sheer joy of driving the ST on a winding back road. VW's soon to be introduced seventh generation GTI, the hot hatch that started the whole craze back in 1984, will carry a window sticker of $24,395. For that kind of money, you can afford to upgrade the Fiesta ST with the $1,995 optional Recaro seats and still beat the bottom line of VW's standard bearer by a hundred bucks. The other main contender in this sporting market niche is Honda's Civic Si, with a base price of $22,405 and a 201hp engine that overpowers the front wheel drive system.
Despite the fact that the Fiesta ST's turbo motor makes 197hp, you rarely encounter torque steer. This is a beautifully balanced platform designed to handle the instant shove provided by the turbo four's 202 pound-feet of torque. Although you have 6 gears to select in either manual or automatic gearbox form, the ST's turbo spools up so fast that gear choice is almost irrelevant. Still, it is a pleasure to stir the cogs with a slick, short throw linkage that facilitates travel from gate to gate. The manual transmission is finely tailored to enhance the driving experience. Just as finely tailored are the optional and expensive Recaro front seats, which afford full upper torso support unmatched by any other economy sedan. Strap into these ribbed cloth beauties and you'll feel like you're about to take the starting flag at Le Mans.
While this hot hatch's race breeding might leave you starry eyed, don't overlook the fact that the ST is still a Fiesta, with all of that car's innate useful virtues. For example, you've got 4 doors to ease entry to all 5 seating positions. You've got more green house glass than the Crystal Palace, so visibility in all directions is superb. Ford even throws in a rear window wiper at no extra cost and contributes heated front seats for the same price (free). Our test sample boasted a negligibly expensive ($795) navigation system with rather rudimentary graphics. But there's nothing basic about the Sony premium audio system that's standard ST fare, or the similarly standard automatic temperature control that lets you dial cabin comfort without taking your eyes off the road. Try pricing these niceties on some of the German competition, and you'll quickly realize what a cozy financial package the ST represents.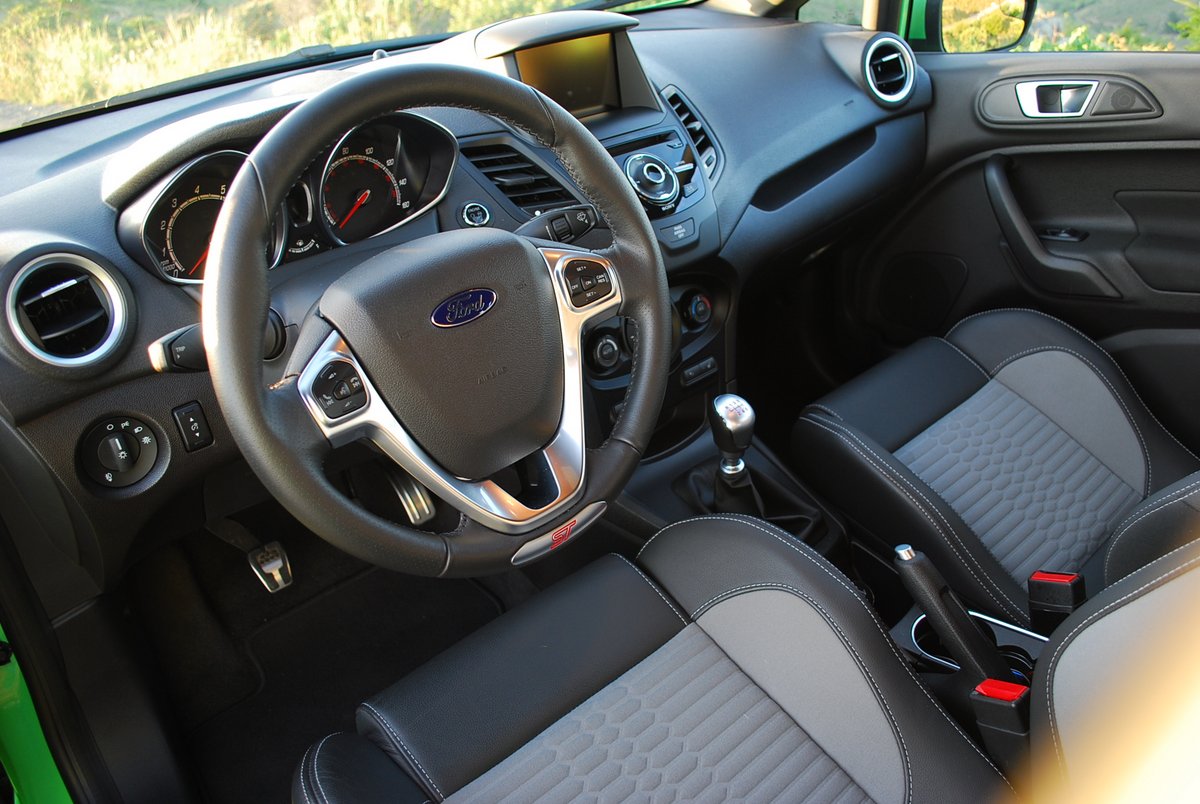 Back in the 1960s, Chrysler Corporation was notorious for devising unforgettably named muscle car colors like Plum Crazy. Ford has happily extended that playful tradition with our Fiesta ST's jarring shade of ($595 optional) Envy Green. Imagine a fresh lime dissolving in a sea of amber Corona beer and you get the idea of Green with Envy. Few cars in any price range own such visual bragging rights. And in the sub $30,000 category, blatant eye currency is virtually unattainable. But Envy Green just laughs at such preconceived expectations.
Better yet, this turbo terror's performance exceeds even the vaunted promise of its flamboyant appearance. No bend is too tight to devour, no straight too short to gobble. Equipped with summer-use-only Bridgestone RE 050A Potenza rubber (205/40R17), the ST will slither through a slalom as fast as you can crank its fat rimmed steering wheel from lock to lock. And between those corner apexes, the turbo lights its afterburner so quick that you'll find yourself dealing with the next apex Right Now. Although the ST masquerades well as a family conveyance, with all of those doors and seats, storage and conveniences, its true merit lies in its exceptional handling. If you're looking for a practical hatchback but secretly hanker for something to autocross or time trial at track days, look no further than the Fiesta ST.
2014 Ford Fiesta ST
Engine: 1.6 liter GTDI inline 4, Turbocharged
Horsepower: 197hp
Torque: 202lb.-ft.
Fuel Consumption: 26 MPG City/36 MPG Highway
Price as Tested: $25,580
Star Rating: 10 out of 10 Stars
Related posts: