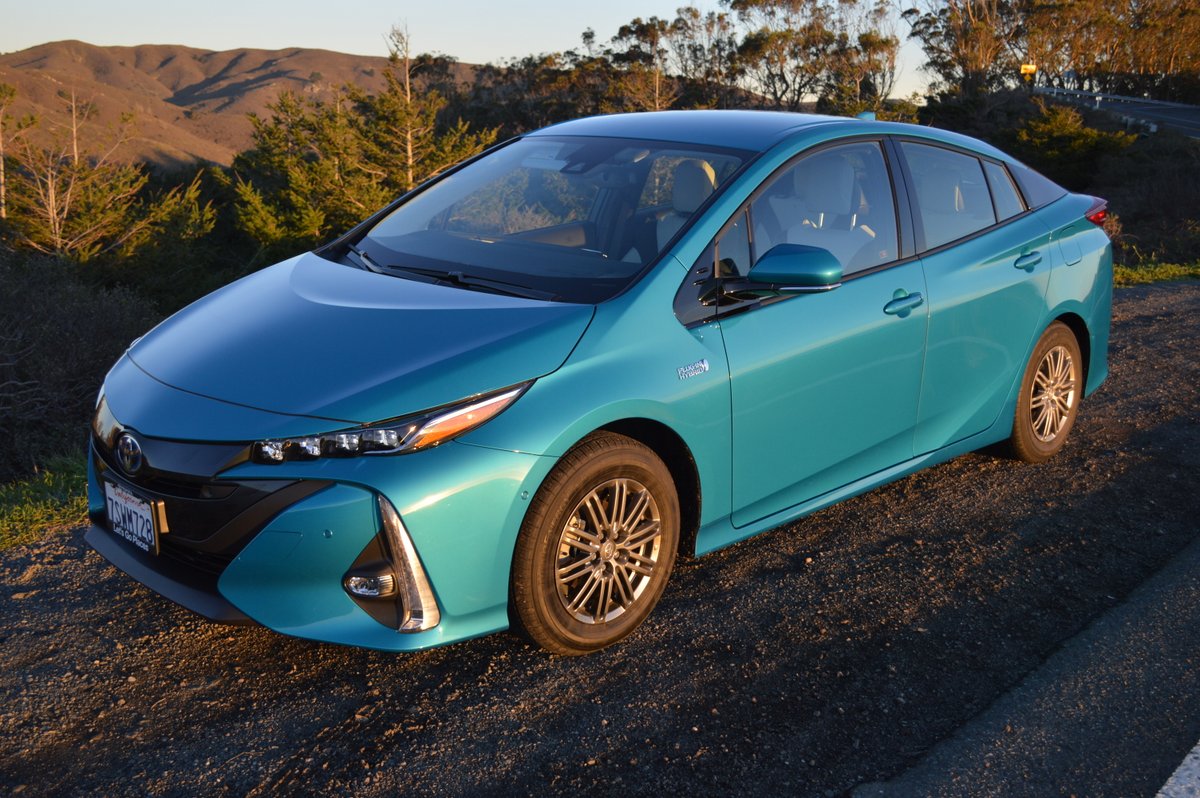 By David Colman
Hypes: Spacey Design, Comfortable Cabin
Gripes: Poor Brake Feel
Toyota has been busy supplementing the Prius line with new versions dedicated to extra space (Prius V), affordability (Prius c), and now, a plug-in version first distributed in fall of 2016 as a 2017 model. This latest entry in the hybrid class, named Prius Prime, looks like a space ship compared to previous Prius designs. Climb into this capsule and you feel like you should be wearing a zero gravity outfit. The conventional dashboard in front of the driver is entirely absent. Instead, you stare at an upholstered ledge behind the steering wheel where the instruments normally reside. The monitor function has been moved to a horizontal panel located just beneath the center of the windshield. Here you will find a huge type-face digital speedometer readout, accompanied by a variety of mode operation displays which you can toggle through via a steering wheel mounted control.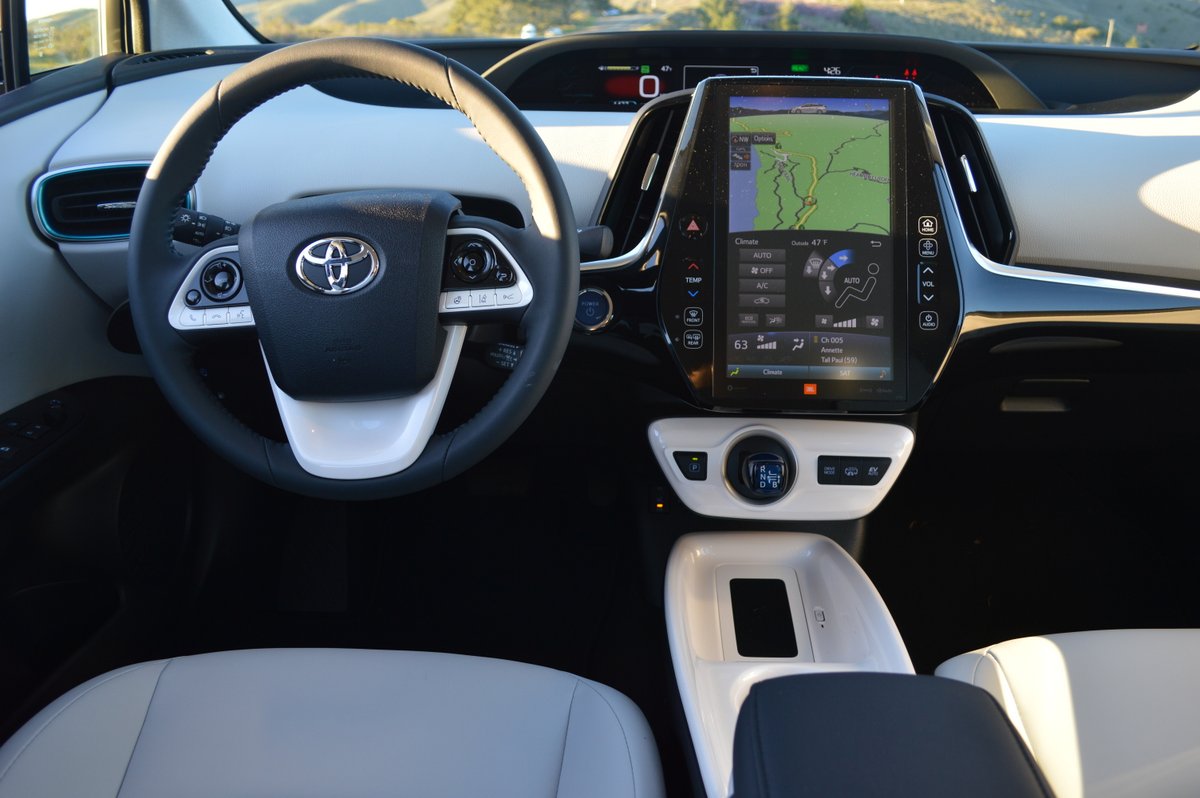 Below this information panel in the Advanced version of the Prius Prime lies a tall, centrally located vertical screen. This aluminum trimmed unit contains a very easy to read 11.6 inch HD Multimedia display panel that is particularly effective in Navigation mode. This screen also provides oversight of most HVAC settings, which are splayed across the lower segment of the panel. Climate control information can be difficult to locate while driving, because the panel contains so much other media and mapping information that the display looks like a TV tuned to CNN.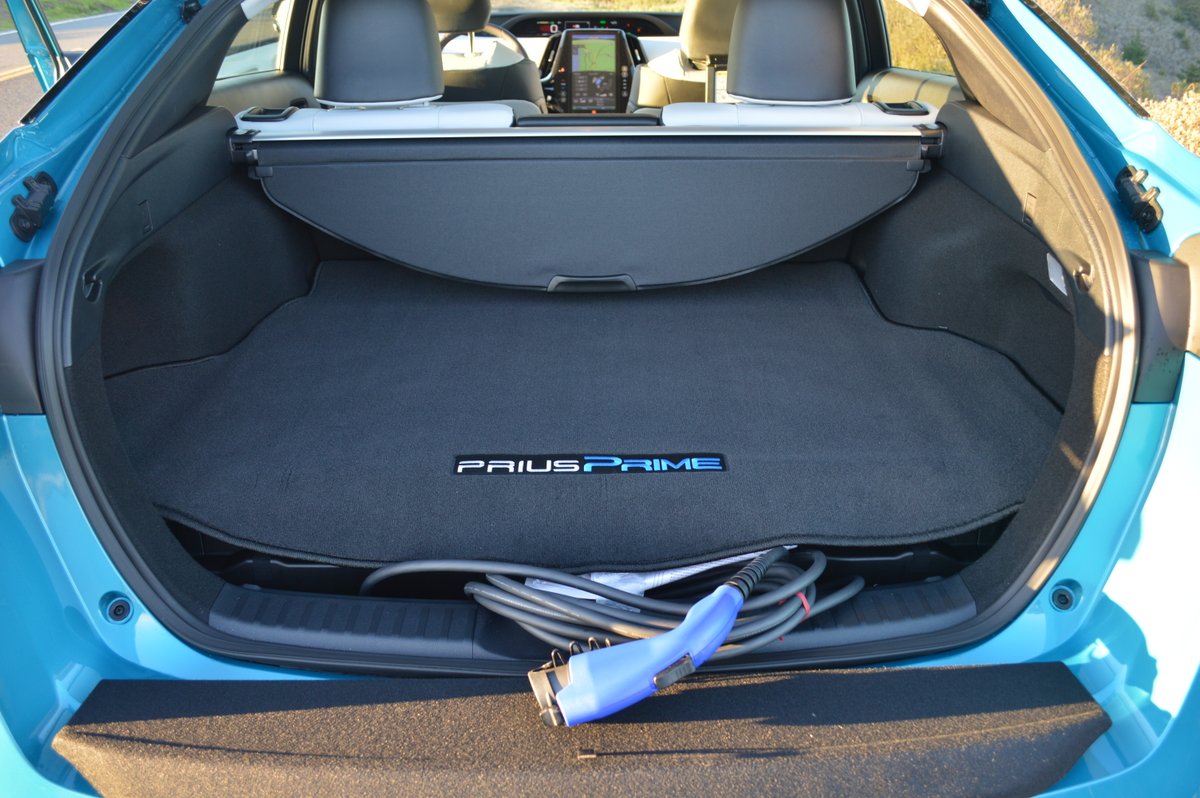 We spent a mostly storm-fraught winter week driving the Prime in very adverse conditions. Since it was really too wet to utilize the plug-in feature safely, we expended the car's 25 mile electric range in short order, then continued to drive it on gas power alone for the remainder of the week. Despite many trips around the Bay Area, we never managed to dislodge the fuel level needle below the 3/4 mark because even in "gasoline only" mode, the Prime racks up an incredible 54MPG. If you utilize the electric recharge feature and drive mostly in electric mode, the Prime will reward you with an astounding 133MPGe in combined electric/gas operation. Toyota estimates that a full recharge of the Prime's battery at 240 volts will take just 2 hours of plug-in time, which makes it perfect for a fuel-free commute to work provided you can access a 240 volt plug at each end of the trip.
While the overall interior design of the Prime will excite cell phone admirers everywhere, the same can't be said for the driving experience of this newest Prius. That's because the car's handling is hobbled by the MPG-generated need to use ultra low rolling resistance tires. In this case, the Toyo Nano Energy rubber is hard to a fault. Their small size and tall sidewalls (195/65R15) exacerbate the problem. Size-wise, the Toyo fitment is more suited to a vehicle from 1970 than 2017. Our test Prius was fitted with extra cost ($899) alloy wheels which looked intriguing, with 20 spokes shining at each corner. But these optional wheels still measured a paltry 15 inches in diameter. The diminutive rollers also subvert braking performance. We experienced premature lock-up even when full pedal pressure was not applied. Since the Prime enjoys independent front suspension and sophisticated double wishbone rear suspension, all the basic ingredients are present for a fine handling package – if you decide to upgrade the wheel/tire package with aftermarket equipment.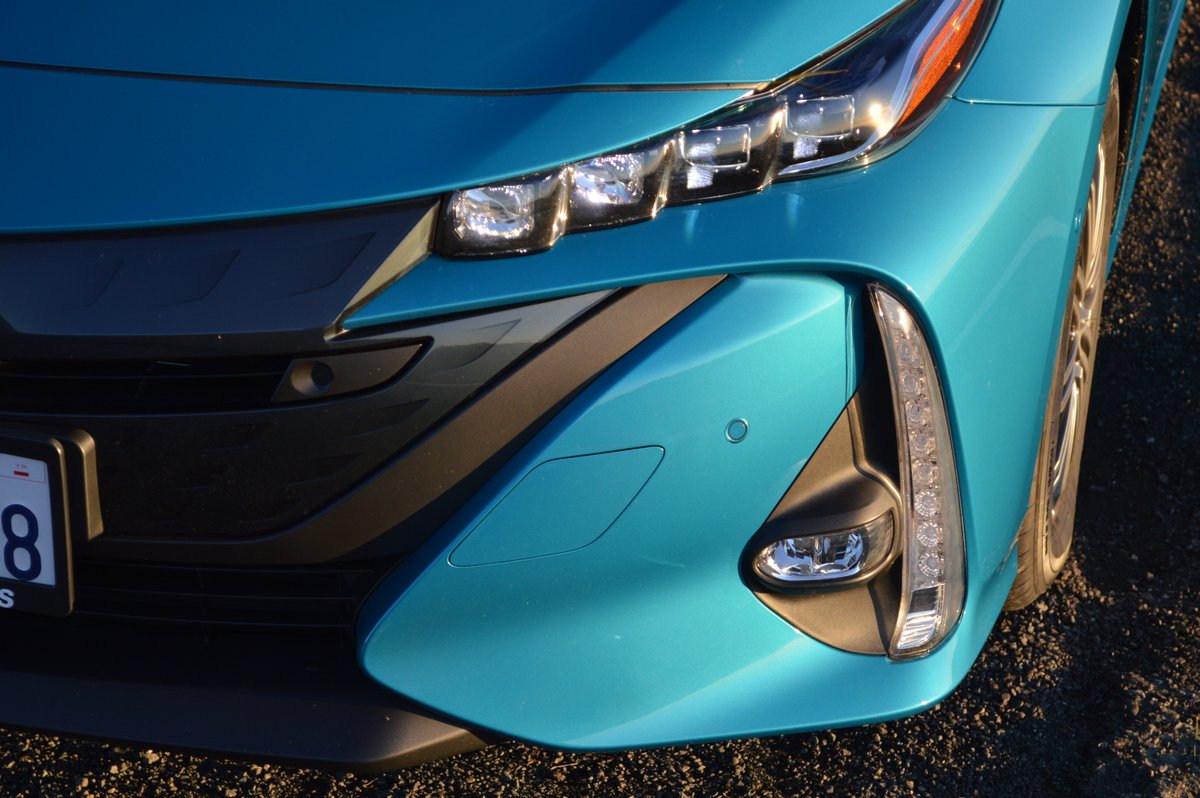 Toyota has lavished this top Prius with a bevy of special features that make it well worth its $33,100 base price. Standard heated seats and steering wheel do a lot to increase inclement weather comfort level. Rain-sensing wipers are a boon. Push-button start and remote entry ease your burden. Quad LED headlights and crescent shaped accent lights not only endow the nose with an unforgettable smile, but really blaze away the dark. The fluted "dual-wave" rear window, mounted in a lightweight, carbon reinforced polymer hatch, distinguishes the tail from anything else on the road. However, in heavy rain we discovered that the valley between the dual flutes accumulates water, and due to this design, a rear wiper is unavailable.
Clearly, the Prius Prime prioritizes efficiency of operation over any other ownership consideration. It provides a comfortable, safe, extravagantly presented tableau for environmentalists who prize, above all else, this vehicle's EPA rating of 10 on a 1-10 scale for "Fuel Economy and Greenhouse Gas Rating."
2017 Toyota Prius Prime Advanced
Engine: 1.8 liter inline 4 cylinder + electric motor
Horsepower: 121hp
Torque: N/A
Fuel Consumption: 54MPG gasoline/133MPGe gasoline+ electric
Price as Tested: $36,305
Star Rating: 7.5 out of 10 Stars
Related posts: