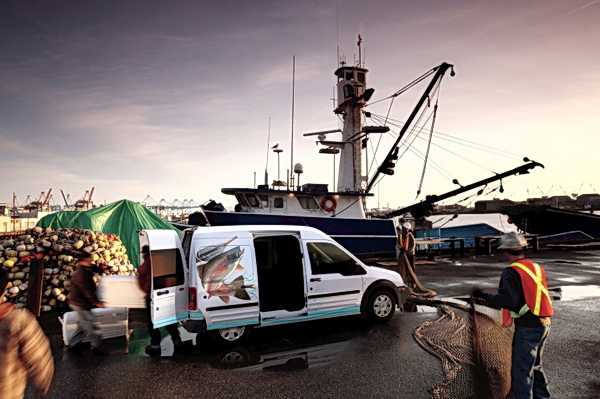 By Derek Mau
Pros
Nimble in the city
A fuel-efficient 2.0-liter engine
Cavernous space given its exterior size
Innovative high-tech options and available Ford Work Solutions™
Low operating and ownership costs
Cons
Turtles are quicker
Modest payload capacity of 1600 pounds
Funky Fusion-meets-Sprinter van styling
Small businesses or someone looking for a blank canvas to do a custom conversion will take delight that the Ford Transit Connect may just be the ticket. The fullsize van has been lost in obscurity from many carmaker's product line up and the Transit Connect is a keen replacement. Boasting a roomy interior that is ripe for customizing towards professional services that need to be mobile, the Transit Connect is a versatile work mule that is compact and economical.
After relying on full-size E-series vans for commercial cargo carrying since the dawn of time, Ford is finally ready to offer North American businesses a more practical alternative. The Transit Connect is a compact, purpose-built van that's been available overseas since 2002, and Ford has sold more than 600,000 of the squat little haulers, with 135.3 cubic feet of cargo space, to businesses abroad over the past seven years. Base price for a Transit Connect van starts at $20,780 and is still pretty affordable for the top-of-the-line model that has glass instead of steel panels.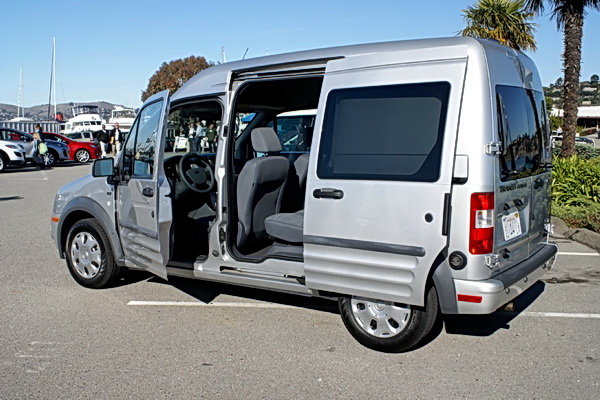 A 2.0-liter four-cylinder engine putting out 136 hp and 128 lb-ft of torque sends power to the front wheels through a 4-speed automatic transmission. According to Ford, since the Transit Connect is designed primarily for urban markets, the lower gear ratios are the ones that will be used most often and Ford wants to keep the price of entry down to appeal to small businesses.
Smaller and more economical than a Dodge Sprinter, the Ford Transit Connect won't put a dent into small business budgets. With very respectable numbers from the EPA, 22 mpg in the city and 25 mpg on the highway, the Transit Connect is not a pup thirsty for gas.  A year from now, Ford will start offering a fully electric version with a choice of two lithium ion battery sizes: the 21 kWh pack will give a range of about 60 miles, while a 28 kWh pack should push the Transit Connect for about 100 miles.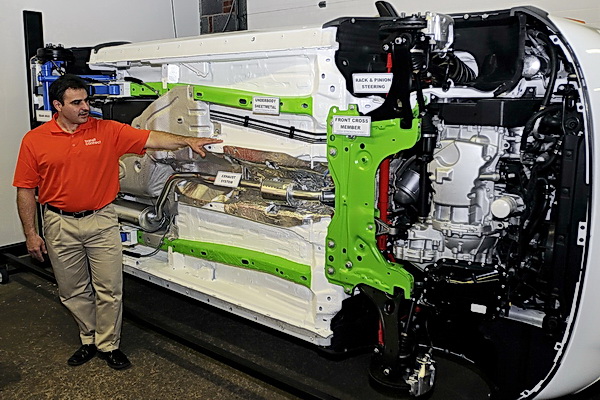 The Transit Connect was specifically developed as a commercial vehicle. It has a beefier chassis designed to withstand the rigors of daily business use and Ford has a different testing regime for its commercial and consumer vehicles. With a high strength steel front cross-member and extra side cross-members, the Transit Connect endured Ford's rigid durability testing and walked away unscathed. It's a stout runabout and a testament to Ford's engineering abilities.
The Transit Connect was designed to endure the rigors of operation in urban environments. Among the problems that city drivers regularly encounter are minor fender benders, so the TC is equipped with a rear bumper made of rolled steel designed to absorb the energy of rear-end impacts so prevalent in vehicles lacking rear windows.
Although the TC does not share a platform with any of FoMoCo's cars, its layout is more car-like than truck-like, which pays dividends in the driving department. Our brief time behind the wheel didn't give us an opportunity to flog the Transit Connect within an inch of its life, but the steering wheel — adjustable for both reach and angle — was reasonably well weighted and provided adequate feedback. The floor is low and flat, allowing parcels to be loaded with ease while keeping the center of gravity closer to the ground. In our relatively unladen tester, there was remarkably little body roll when cornering. Reasonable handling is universal these days and the Transit Connect doesn't have the potential to scare anyone. However, until we can get behind the wheel when fully loaded down with cargo, we'll reserve judgment on it's ability to simultaneously scoot and haul.
The TC has a load capacity of 1,600 lbs. Supporting that much weight requires fairly rigid springs, so the ride is on the stiff side, particularly when rolling freight-free. However, it's not uncomfortably harsh and the damping is set perfectly to keep the body from bouncing around, but a Benz it is not. Over uneven patches of pavement, occupants will definitely feel the ruts and divots, but it's still remarkably more pleasant than driving your run-of-the-mill full-size pickup.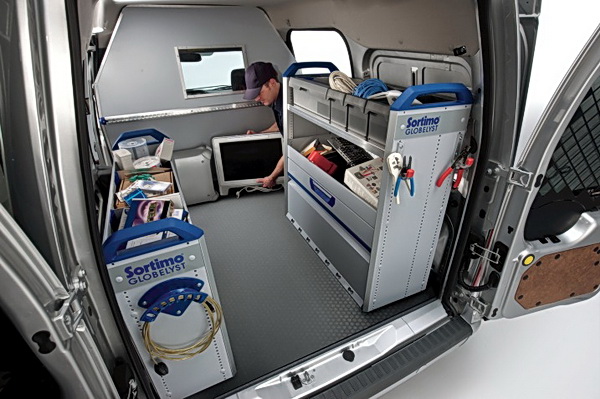 For a small business, or maybe a large business with a need for small transporters, the Transit Connect is an enticing offering. A low load floor and split rear cargo doors – opening at a standard 180 degrees or an optional 255 – ease loading and deliveries alike. The TC is suited for professional service and can be outfitted with any number of different shelving/storage solutions by various independent conversion outfits. Also of some interest to businesses is the suite of Ford Works Solutions gadgets. They include an in-dash computer ($1,395) with Internet access, a navigation system and a Bluetooth keyboard and printer, for printing invoices and such. Separately offered is Tool Link ($1,220), which uses a radio frequency ID system to scan the contents of the vehicle and report what tools/supplies are inside the vehicle at any given time.
Thankfully, Ford is recognizing the need for more compact and economical vehicles, such as the Transit Connect, the fiesty sub-compact Fiesta, the European model Focus, and making those models available in America. We found the Transit Connect to be a capable and versatile performer that could fulfill the needs of a small and mobile business or even large businesses that require compact mobile solutions.
| | | | | | | | |
| --- | --- | --- | --- | --- | --- | --- | --- |
| | BUILD | INTERIOR | PERFORMANCE | HANDLING | STYLING | VALUE | OVERALL |
| RATING | 4.5 | 5.0 | 4.0 | 4.0 | 4.0 | 5.0 | 4.4/B+ |
---
2010 Ford Transit Connect Specs

Official website for Ford cars, hybrids, trucks, and SUVs – www.fordvehicles.com
Related posts: