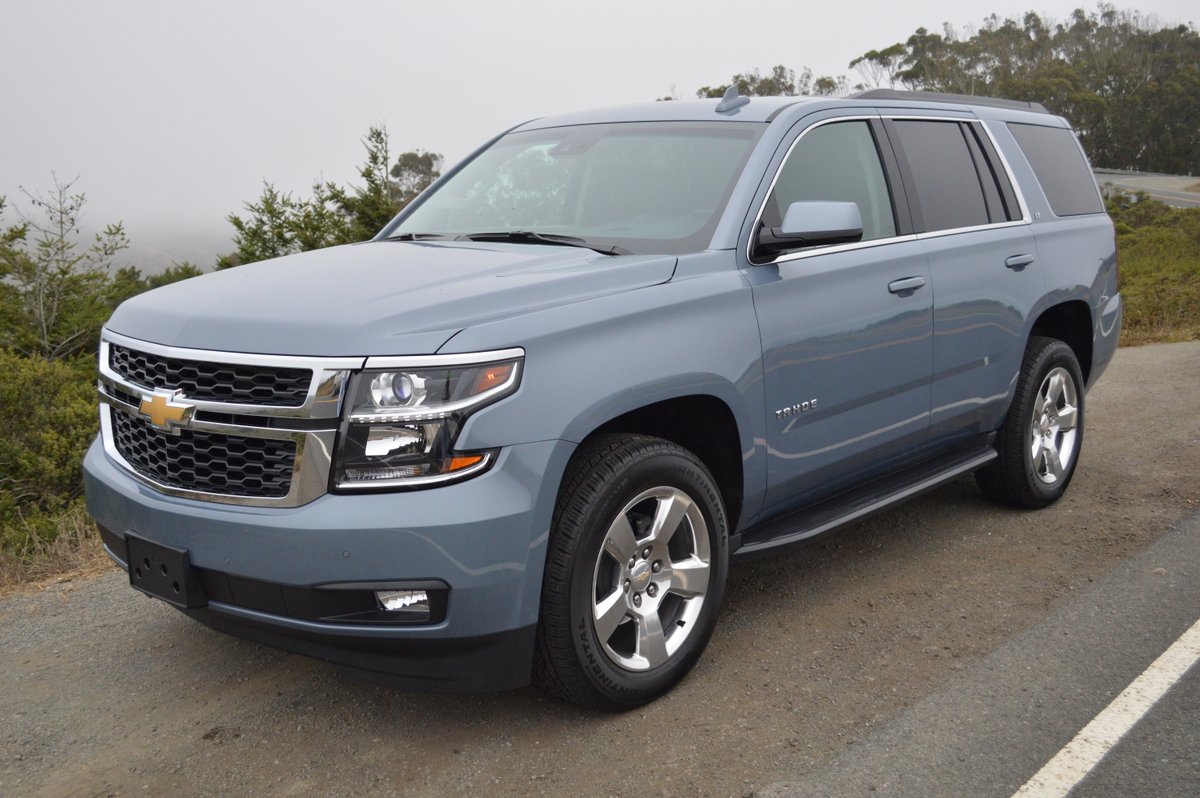 By David Colman
Hypes: Svelte New Sheetmetal, Commodious Interior, Standard Running Boards
Gripes: Occluded Rear Vision, Console Cupholders Need Covers
After a week-long test drive, some vehicles are harder to part with than others. Case in point, this Slate Grey Metallic Chevy Tahoe, which will definitely be missed. GM has comprehensively redesigned its Chevrolet SUV twins, the Tahoe and Suburban for 2016. The exterior styling redo is graceful and sleek rather than menacing and busy. Inside, you will find restful, handsome seating, intelligent dashboard controls, and complete instrumentation worthy of a light aircraft.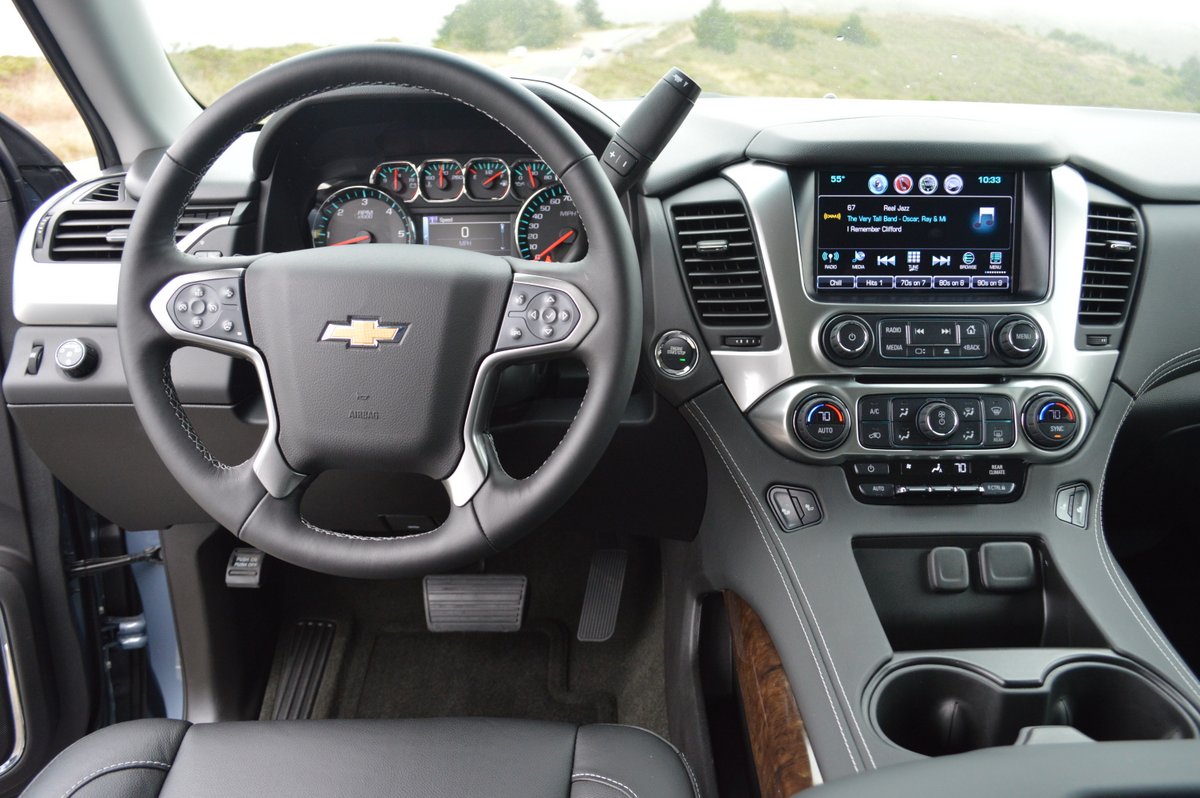 On the merit of its Monroney sticker, our $58,460 Tahoe didn't seem to promise all that much on paper. Augmenting its $52,030 base price was a $3,110 Luxury Package which provided a slew of unrelated embellishments: Heated Remote Keyless Entry, Power Folding Third Row bench seats, Folding Second Row Captain's Chairs, Heated Steering Wheel with Power Tilt and Telescope, Park Assist Front and Rear, Cross Traffic Alert, Front Foglamps, Wireless Phone Charging, Handsfree Rear Liftgate, and 9 Months of XM Satellite Radio service.
But here's a list of what our LT did not have in terms of GM equipment offered on other model lines: no 6.2 liter V8, no 8-speed automatic transmission, no 4-wheel-drive, no 22 inch alloy wheels. All of these items are available only on GMC Denali and Cadillac Escalade class vehicles. However, my initial sense of deprivation with the Tahoe – due to the fact that I had tested a GMC Denali XL the week before – quickly evaporated. The Chevy's 5.3 liter V8 proved more than adequate to propel this short (116 inch) wheelbase Tahoe. Not only that, but the 5.3 liter gets better overall fuel mileage than the 6.2 liter V8 (18 MPG in combined city/highway driving). With standard 26 gallon tank, the Tahoe's extended range works out to a very satisfactory 484 miles of freeway driving. In fact, we were amazed to drive from the Bay Area to Rocklin (East of Sacramento) and back, and still find the tank needle showing just under half a tank of gas remaining. The standard rear end axle ratio of 3.08:1 is largely responsible for the Tahoe's good mileage and quiet cabin at cruise speed.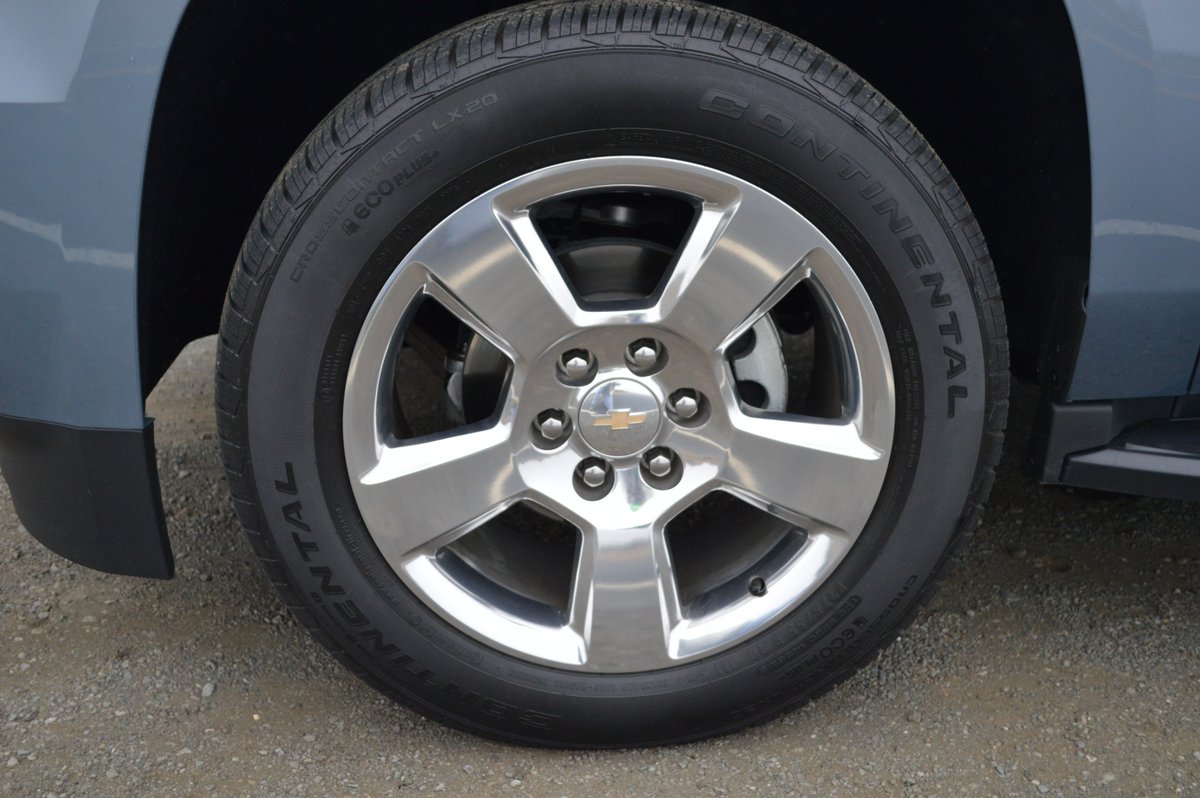 Lack of 4WD also lightens the Tahoe's curb weight and makes it handle more responsively than the Denali. The Tahoe's optional ($1,400) 20 inch polished alloy 5-spoke wheels, mounting 275/55R20 Continental Cross Contact tires, provide good steering feedback and dependable lateral grip. If, however, you actually plan to drive your Tahoe in Tahoe during winter months, you'll want to opt for 4WD, which is available. No matter where you live, the ehated seats and steering wheel are nice comfort additions.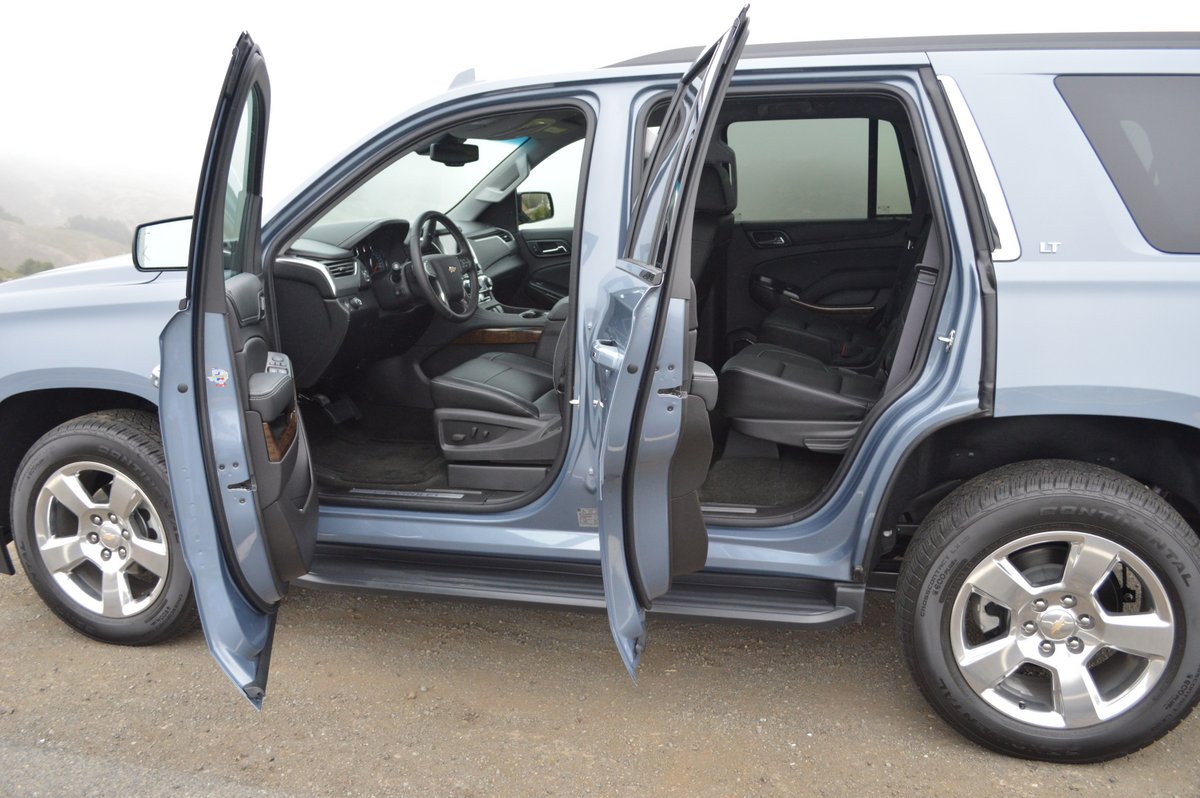 The Tahoe's redone interior maximizes both storage space and seating configuration. Our LT could transport 7 in the cabin when using all available seats, or offer 47.5 cubic feet of space with second and thirds row seats folded flat. Making the conversion from passenger bus to freight platform is amazingly easy, since GM provides ingenious shortcuts to ease the transition. For example, when I wanted to load my mountain bike into the Tahoe, I pressed the remote keyfob button twice to lift the tailgate, pressed a couple of buttons inside the back hatch to drop the 3rd row seats, then flattened the second row chairs by pulling levers on the outside edge of those seats to drop them. This same lever also flips the second row seats up and out of the way against the back of the front seats. Total elapsed preparation time from idea to reality: less than one minute, sweat-free.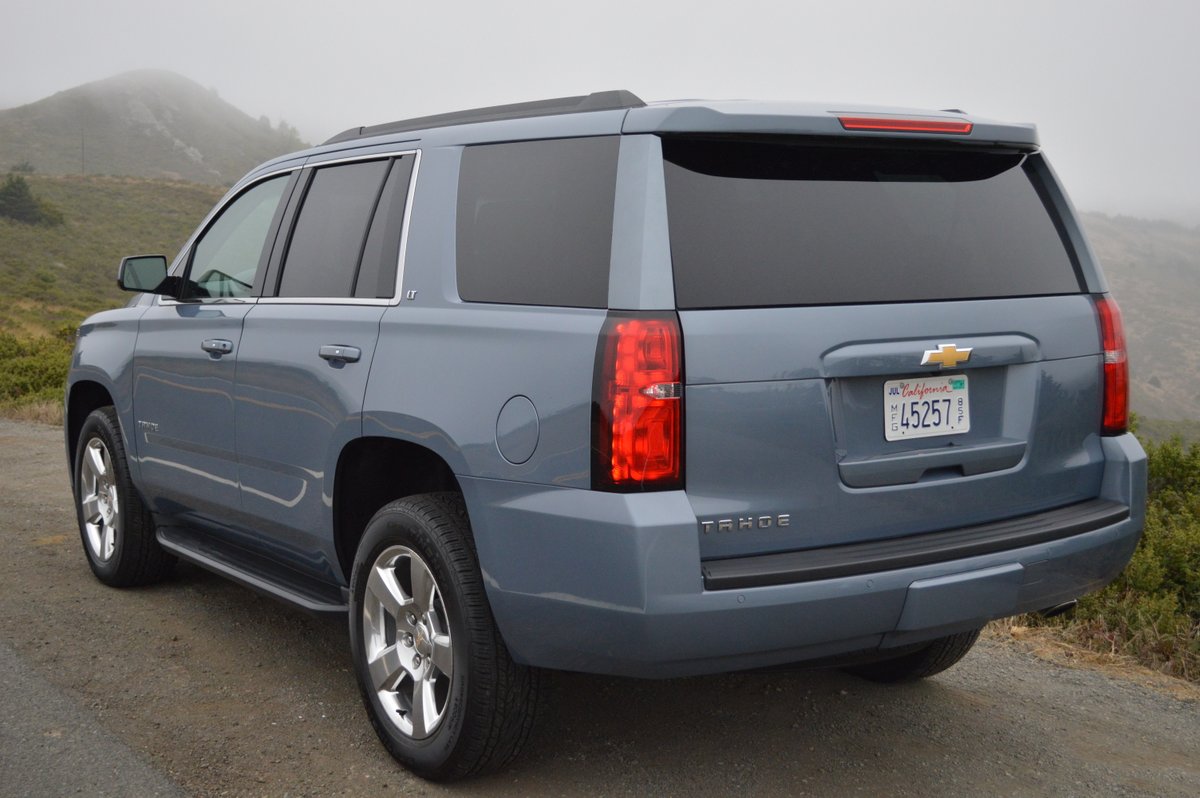 Chevy has done a masterful job of bringing the Tahoe squarely into the heart of the SUV market with brilliantly executed features at a price that is reasonable. Given the level of attributes baked into this tasty new American pie, you'll definitely want to examine one before making a final decision about which full-size SUV to buy. The Tahoe LT offers more real estate for the road than most of the competition. Its chiseled new face will keep it fresh looking for years to come, and its many interior amenities will unburden the chores of your life in unexpectedly pleasant ways.
2016 Chevrolet Tahoe 2WD LT
Engine: 5.3 liter Ecotec V8
Horsepower: 355hp
Torque: 383 lb.-ft.
Fuel Consumption: 16 MPG City/23 MPG Highway
Price as Tested: $58.460
Star Rating: 9 out of 10 Stars
Related posts: