By David Colman
Hypes: Exceptional Utility, Effortless Long Distance Cruiser
Gripes: Dynamic Radar Cruise Control Sometimes Misreads Traffic
Nobody's going to give any styling awards to Toyota for the Highlander. Its bullish snout and hyper thyroidal tail lights won't win many automotive beauty pageants. What you will celebrate about this SUV is its luxurious functionality. This is without question one of the most useful driving tools you could own. We spent a busy week inside the spacious cabin of the 2 wheel drive V6 Limited version, logging round trips from the Bay Area to Monterey, as well as repeated outing to Sonoma Raceway for the IndyCar finale. In all that time behind the wheel, the Highlander repeatedly proved itself to be an ultra competent companion. Its 68 inch height allows you to survey traffic from a dominating vantage point. Optional $599 Running Boards help ease entry and egress, and look good to boot with rubber skid plates embedded in matte aluminum planks. Side windows are tall enough to admit dazzling amounts of light. Part of the Limited's standard equipment "Platinum Package" includes a two pane Panoramic Moonroof which doubles the already generous amount of light and outward vision when slid open. Think Gray Line sightseer coach when you think of the Highlander Limited and you'll have a good idea of just how expansive the view is from inside this Toyota.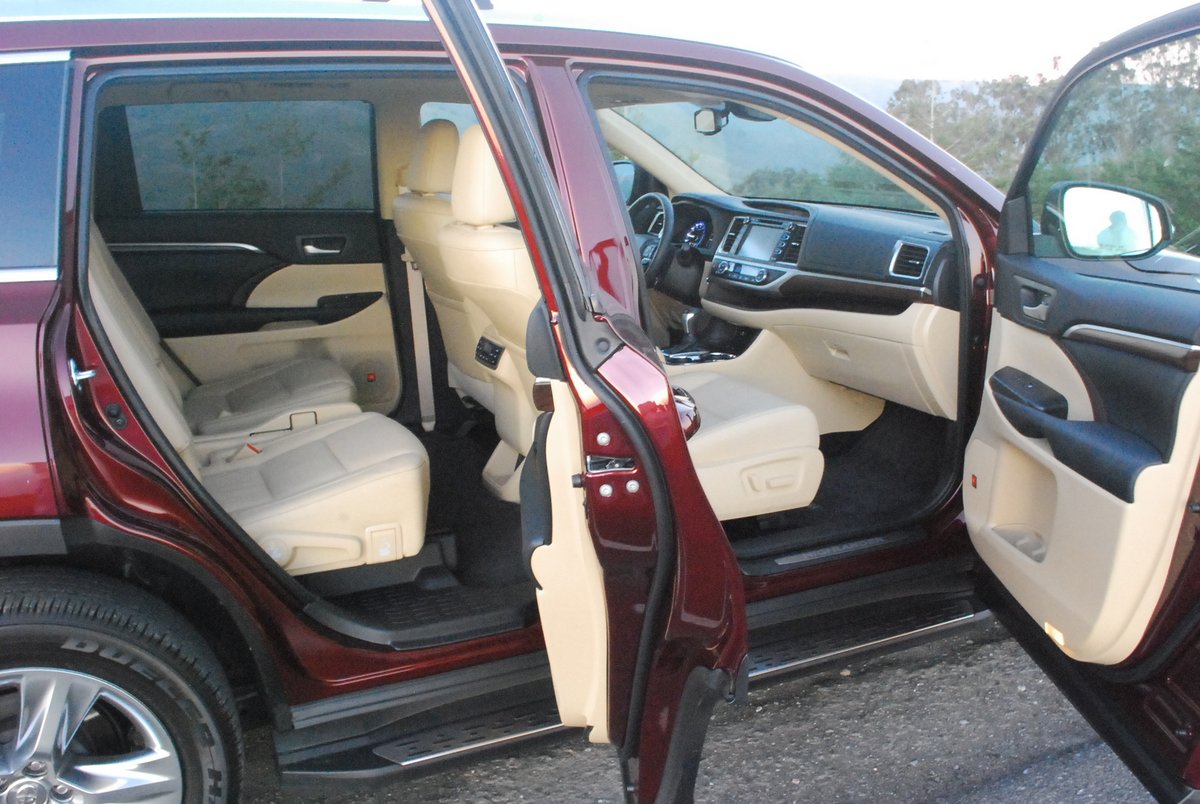 An important factor in its utility is the ease with which it can be converted from a 7 passenger bus with 3 rows of seats to private transport for 4 (all in plush Platinum Package standard captain's chairs), or seating for 2, with van size flat storage space behind. In that latter configuration, I was able to carry a Mountain Bike with plenty of room to spare fore and aft. Thank the Highlander's 191 inch length for accommodating bulky loads. All these shifts in function can be accomplished in seconds, without needing to refer to the Owner's Manual for instructions. All seats are clearly marked with numbered notations accompanying pictographs designed to assist you in converting the Highlander from bus to van and back. The Highlander Limited features automatic tail gate actuation, accessed via a key fob remote sender, or a button on the dashboard. While this proved handy in the long run, we ran afoul of a problem not mentioned in the 15 (!) pages of the Owner's Manual devoted to operation of what Toyota calls the "Back Door." If you somehow manage to inadvertently open the window of the back door by pushing the external button on the tailgate, the automatic function of the door becomes disabled even though the glass window still looks to be closed. If you have to open or close the lift gate when the power function is thusly disabled, you'll want to do a hundred bench presses before tackling the weighty and uncooperative unpowered gate.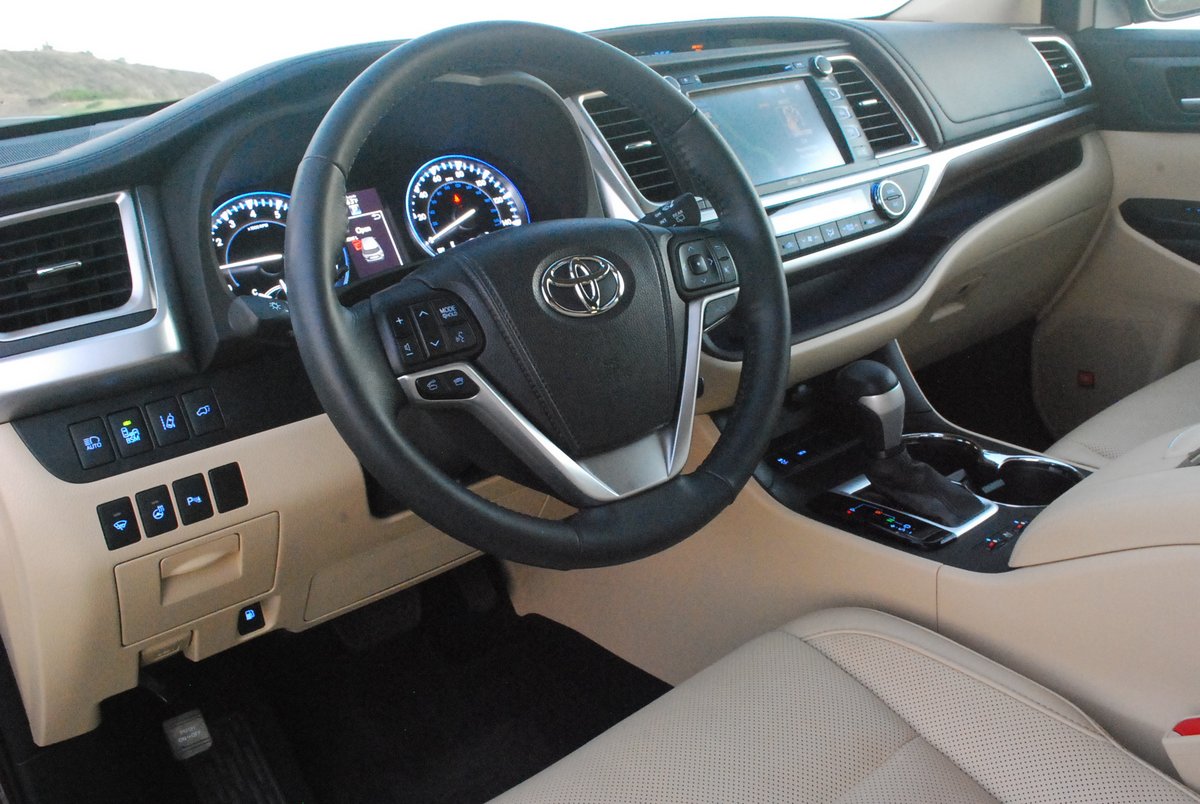 EPA mileage figures for the Highlander V6 indicate this 4,490 pound SUV is good for 25MPG on the highway, and we were able to duplicate that number on our freeway run to Monterey and back. Even around town driving saw 20MPG, slightly better than the EPA's estimate of 19MPG. Though the V6 Highlander turns in respectable economy numbers given its substantial curb weight, this Toyota is anything but sluggish when prodded with the accelerator. In fact, the first time I floored the throttle, I was amazed at just how much weight transfer from front to rear occurred as the Highlander's nose shot up and the rear suspension compressed. Its 3.5 liter V6 benefits immensely from variable valve timing to provide instant power when you snap open the throttle. Consequently, the Limited is rated at 5000 pounds for tow duty, and our test example was fitted with an optional Receiver Hitch and Wiring Harness for $599. The Limited also comes with 19 inch Chromtec alloy wheels fitted with beefy Bridgestone Dueler H/L tires (245/55R19). These off-road capable mud and snow tires proved their worth when we ran into some heavy mud while parking the Highlander in the Media Lot at Sonoma Raceway after a heavy morning rain.
Toyota should really call this Highlander the Unlimited because it offers such an extensive inventory of opportunities to recreate, transport and effortlessly gobble miles, all the while doing so at a remarkably fuel efficient pace.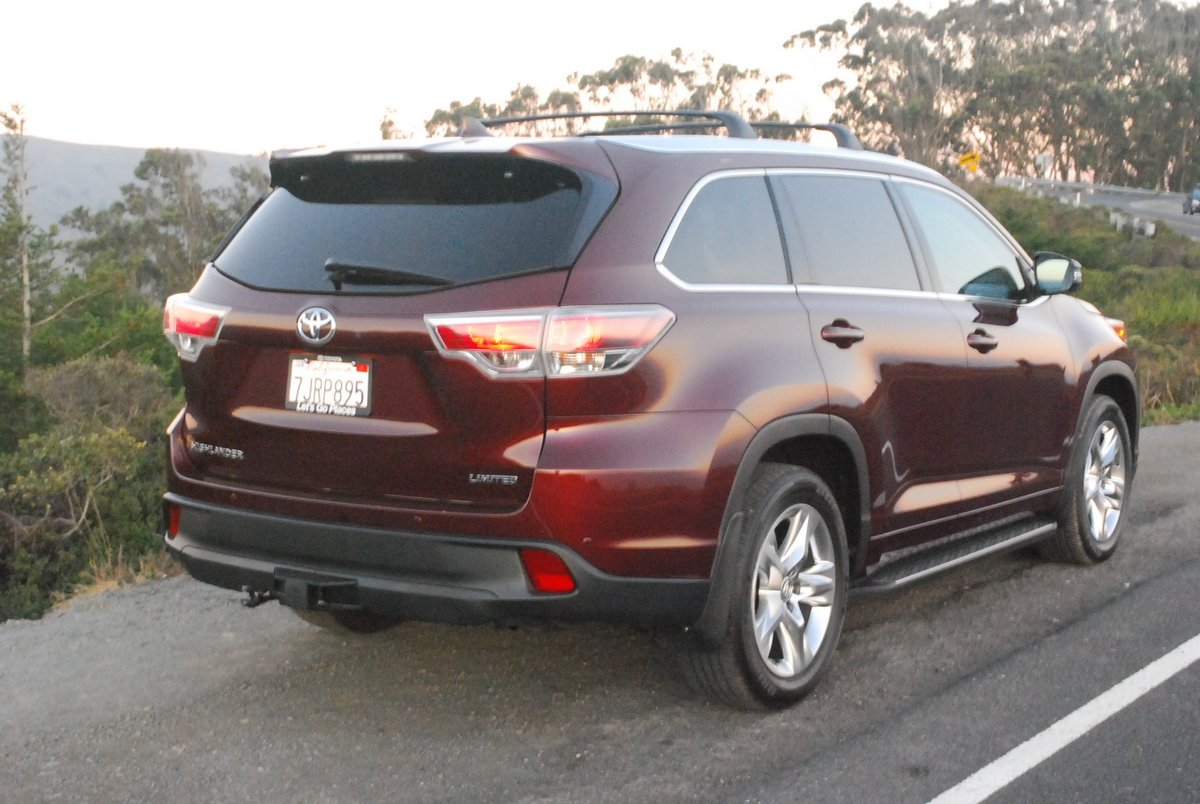 2015 Toyota Highlander Limited FWD
Engine: 3.5 Liter V6 DOHC with VVT-i
Horsepower: 270hp
Torque: 248lb.-ft.
Fuel Consumption: 19MPG City/25 MPG Highway
Price as Tested: $45,716
Star Rating: 9 out of 10 Stars
Related posts: