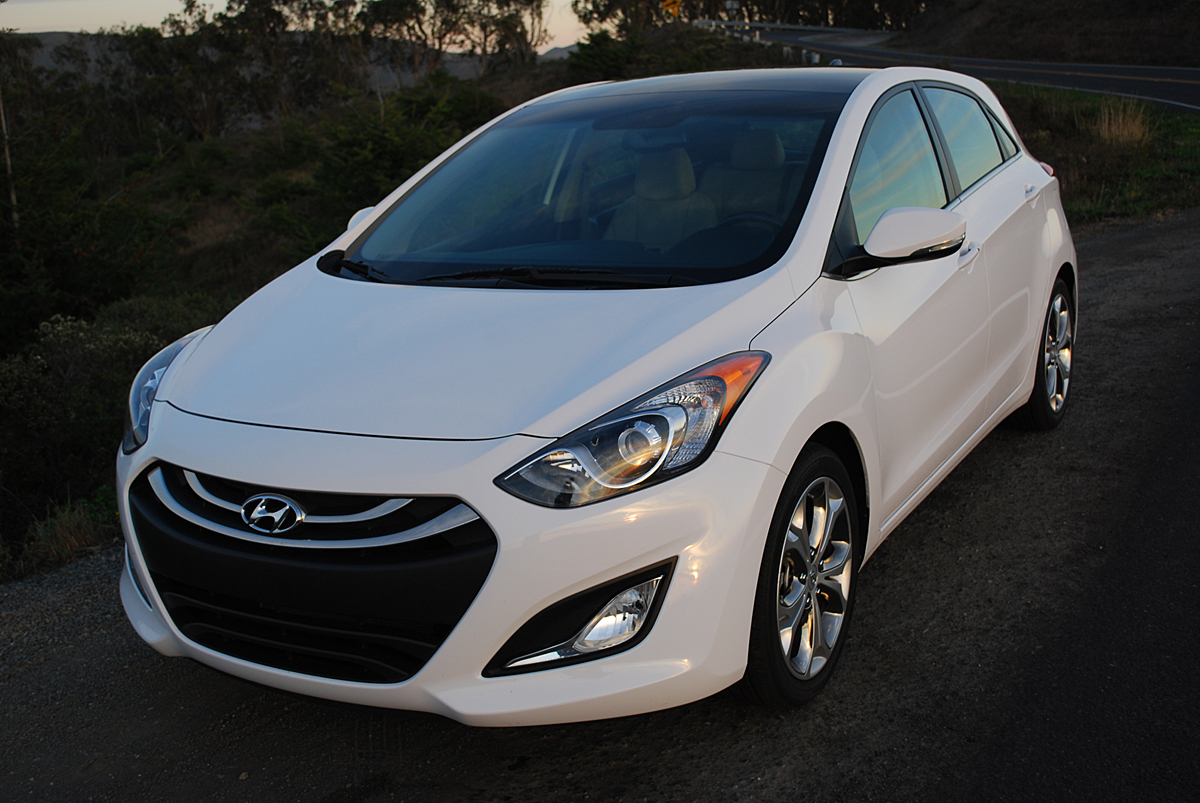 By David Colman
Hypes: Loaded With Freebies, Clean Lines, Sport Sedan Handling
Gripes: Unpredictable Clutch Engagement, Lethargic Motor
The 5-door GT replaces the departed Touring version of the compact Elantra for 2013. The hatchback was originally intended to sell in Europe, where 5-doors remain popular. But Hyundai decided to import it to North America, where its utility will also be welcome. This Hyundai plays in a tough league dominated by the Honda Civic and newly revamped Toyota Corolla. To be successful against these all stars, the Elantra needs to look good, perform well and save you money on purchase price and fuel expenditure. In terms of appearance and economy, the new GT succeeds. In the performance department, however, this Hyundai needs horsepower help.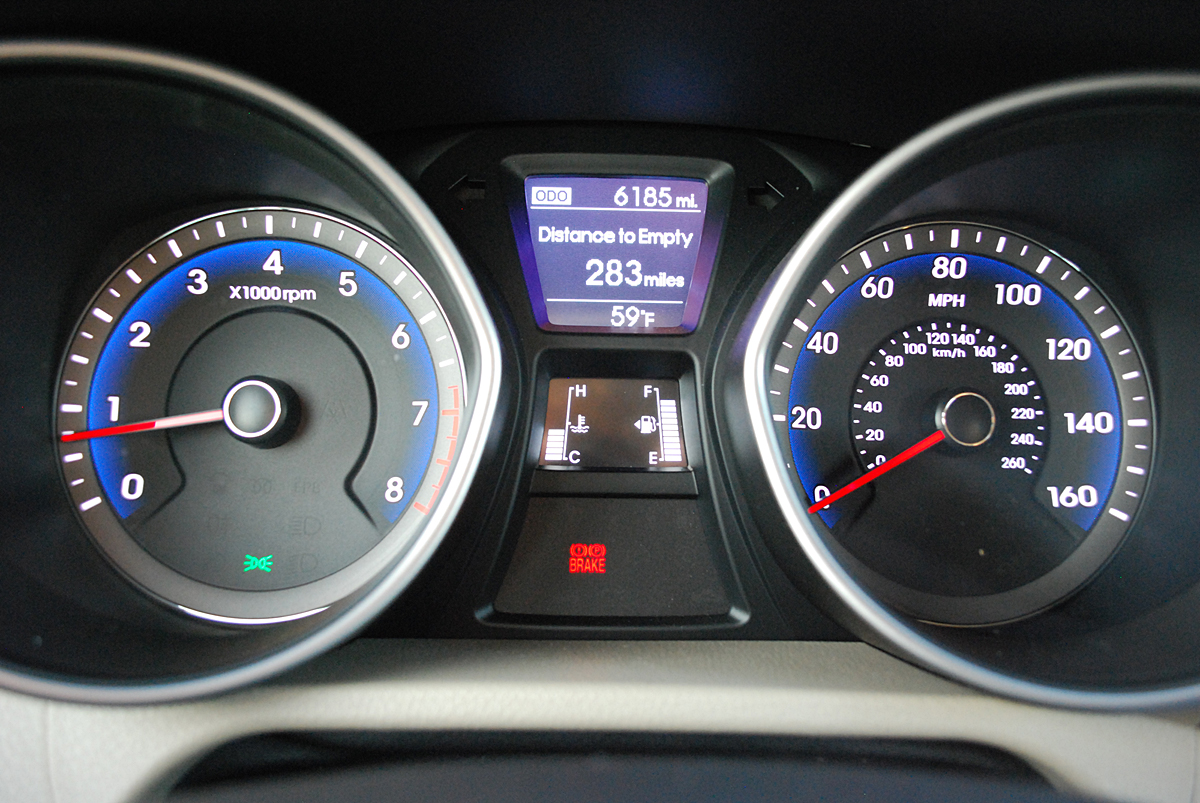 For a car with a base price of just $18,395, the GT looks much more expensive than it is. Hyundai stylists have chiseled a shape that looks good from any angle. Even at standstill, the GT's aerodynamic fluting looks fast. The exterior's performance orientation carries into the cockpit, which is neatly tailored, businesslike, and efficiently laid out. The 160mph speedometer contains a separate 240kph gauge in its center. Hyundai provides a standard trip computer with notations visible in a boxed screen located between the 6,700rpm redline tachometer and the speedometer. The base model GT also includes such niceties as heated seats, 16 inch diameter alloy wheels, front fog lights, steering wheel mounted cruise control, tilt and telescoping steering wheel, and Bluetooth hands-free phone system. In other words, this diminutive sedan is fully equipped without forcing you to upgrade it with expensive option packages.
Which is not to say, however, that Hyundai refrained from doing just that on our $24,360 test car. The sports-tuned suspension and 17 inch alloy wheel upgrade that made our GT such a fine handling sedan are both included in the $2,750 "Style Package." These beguiling double 5-spoke chrome and matte wheels mount Hankook Optimo 215/45R17 tires that grip the road tenaciously. You also enjoy perforated leather seating surfaces, nifty aluminum ribbed pedals (including dead pedal), and a generously dimensioned "Panorama" opening roof. Adding another $2,350 to the bottom line is the "Tech Package" which positions a strikingly bright 8 inch Navigation screen on the face of the dashboard. The Tech Package also gives you keyless entry, start and stop functions via a dash-mounted button, and separate temperature controls for left and right side occupants. With all these ancillary upgrades, the GT's plush cocoon covers any comfort or travel need you might ever need.
The GT's great suspension, precise steering and flat cornering stance deserve a more powerful engine, however. The 148hp inline four makes just 131lb.-ft. of torque. Although the GT is very quick if you wring its noisy motor by the neck and keep revving it over 5,000rpm, you'll have to work the 6-speed manual gearbox hard to muster such speed. And working that gearbox can be a chore because the clutch engagement is dodgy, sometimes catching near the floor, other times catching at the top of the pedal stroke. But if you are persistent enough about keeping the engine in its limited sweet spot, the GT is a blast to drive. Just don't forget that under 4,000rpm, the little four banger is in permanent Sleep Mode.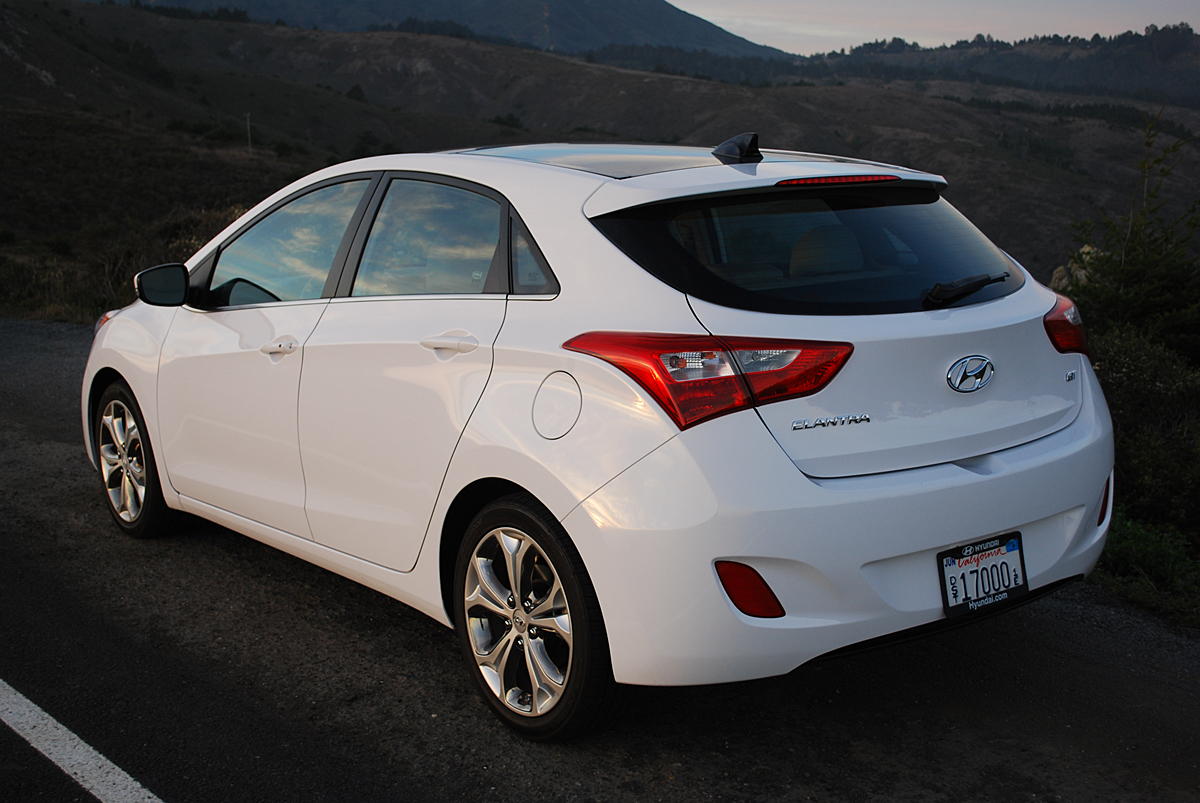 This is a lot of car for the money, even with $5,000 worth of extras appended to the bottom line. The list of standard features is stunning, a real embarrassment to companies like Audi, BMW and Porsche who charge extra for every single nicety. When you factor in the GT's exceptional 30 MPG overall fuel economy, Roadside Assistance coverage for 5 years (unlimited miles), plus a 5 year/60,000 mile New Vehicle Warranty, it's hard not to give this stylish travel module a real close look.
2013 Hyundai Elantra GT
Engine: 1.8 liter DOHC Inline 4
Horsepower: 148hp
Torque: 131lb.-ft.
Fuel Consumption: 26 MPG City/37 MPG Highway
Price as Tested: $24,365
Star Rating: 8 out of 10 Stars
Related posts: