Hypes: Plush and Luscious Interior
Gripes: Needs Paddle Shifts, Jerky Gearbox Shifts
Volvo's nomenclature can seem mysterious to the uninitiated. Our rather deliciously appointed test car this week is the wagon ("V") version of the all-new "90″ series model line. This 90 model line replaces the aging 70 and 80 series cars from Volvo. Volvo also offers its 90 as an "S" (sedan) version and as an "XC" (SUV) type. "Cross Country" describes our test wagon's level of trim, while "AWD" refers to our test car's all-wheel-drive system. The V90 is also available in rear wheel drive trim. Volvo began importing the S90 last year, and the V90 completes the company's move to the new model range.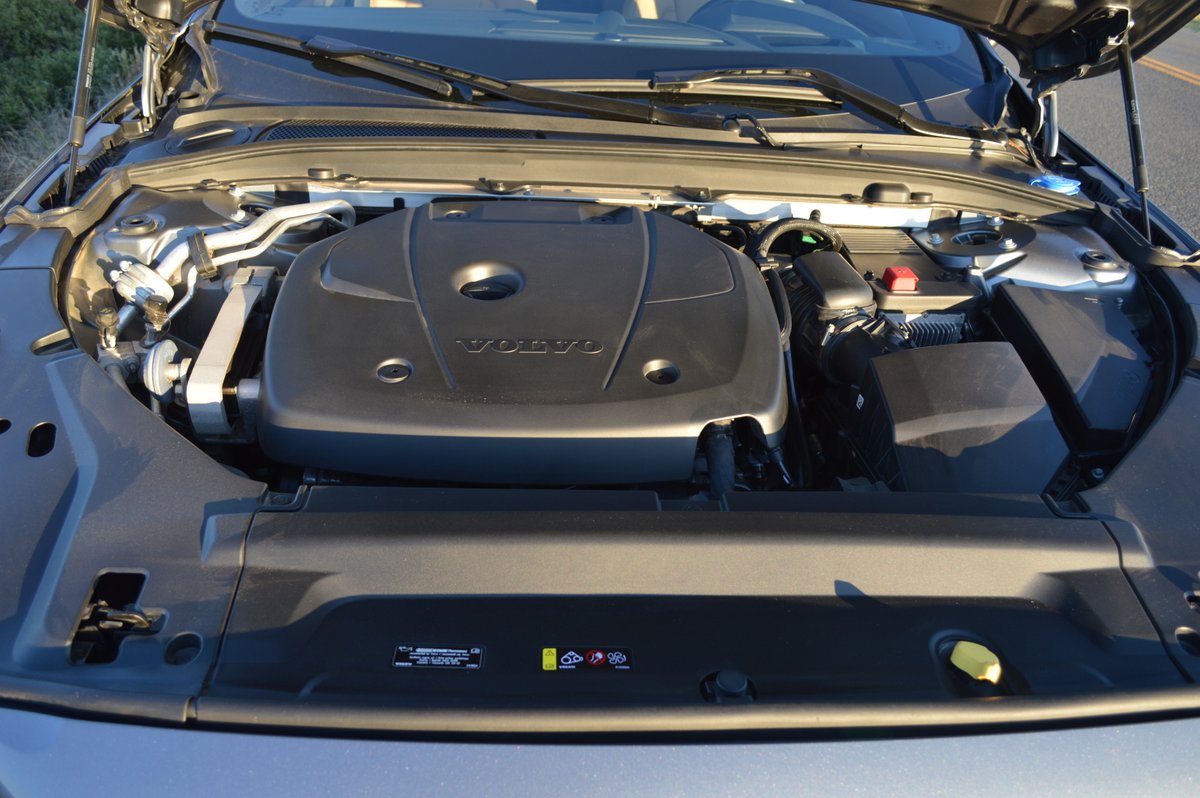 As a top drawer offering, the V90 Cross Country AWD carries a base price of $55,300. Our test sample upped the ante with a Convenience Package which added $1,950 to the bottom line for "Heated Washer Nozzles, Park Assist Pilot, and 360 Degree Surround View Camera." A Bowers and Wilkins Premium Sound System boosted the price by a whopping $3,200. Graphical Head Up Display added another $900, Osmium Gray Metallic Paint contributed $595 to the final tally, and another $1,200 went for "Premium Air Suspension in rear." Final out-the-door cost for this metallic grey Volvo totaled a tidy $64,640.
Is it worth that much money? As a driving experience, probably not. As a living room environment, definitely yes. Volvo recently announced that in the near future, all their new products would either be electric or hybrid powered. The latest V90 we drove, however, is neither. Rather it utilizes a very small displacement (2.0 liter) four cylinder engine which has been tweaked with both turbocharging and supercharging to produce 316hp and 295lb.-ft. of torque. The fuel efficiency of this motor is remarkable, with an overall EPA MPG figure of 25.
Although the engine produces peak torque at just 2200rpm, you really have to twist it to gain maximum horsepower at 5700rpm. In everyday terms, the 2.0 direct injected motor launches with a boot, then hesitates to follow through until the revs rise above 5000rpm. Even though it's coupled to an 8-speed automatic, the Geartronic transmission stumbles while selecting the appropriate ratio for maximum acceleration. A lack of paddle shifts exacerbates the problem.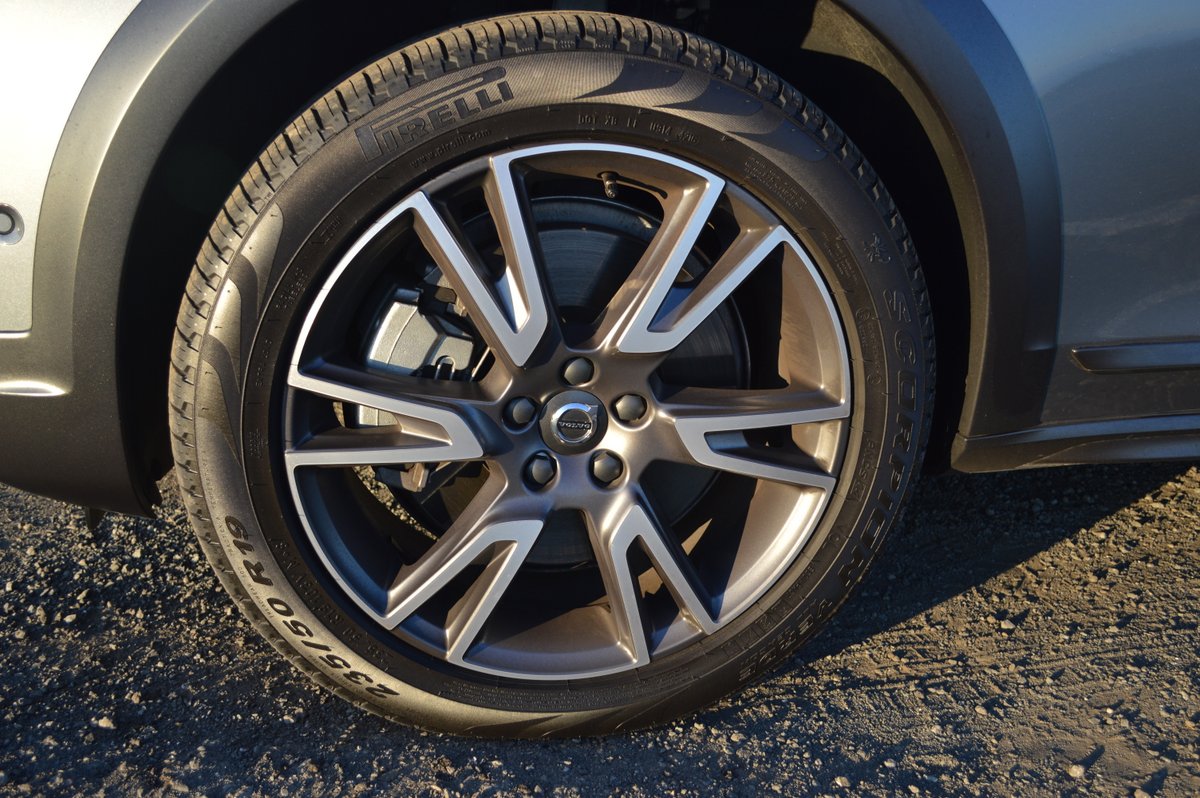 The net effect is that this combination makes passing with authority on two lane roads something of a crapshoot. You have to time your move with precision. On the other hand, the upside of this sophisticated engine is its ethereal soundtrack. The turbo kicks in with a base note while the supercharger contributes its soprano whine. For the record, the V90 is also available with a hybrid drive unit that will undoubtedly overcome the hesitancy of the gas-only engine we tested. The optional hybrid is good for 400hp. In the handling department, this beefy, 4,220 pound Volvo offers moderate understeer coupled with decent traction from its Pirelli Scorpion Verde tires (235/50R19) mounted on standard 19 inch alloy rims. For better cornering performance, you can select the "Dynamic" handling option from the 4-item menu of adjustable "Drive-mode" settings.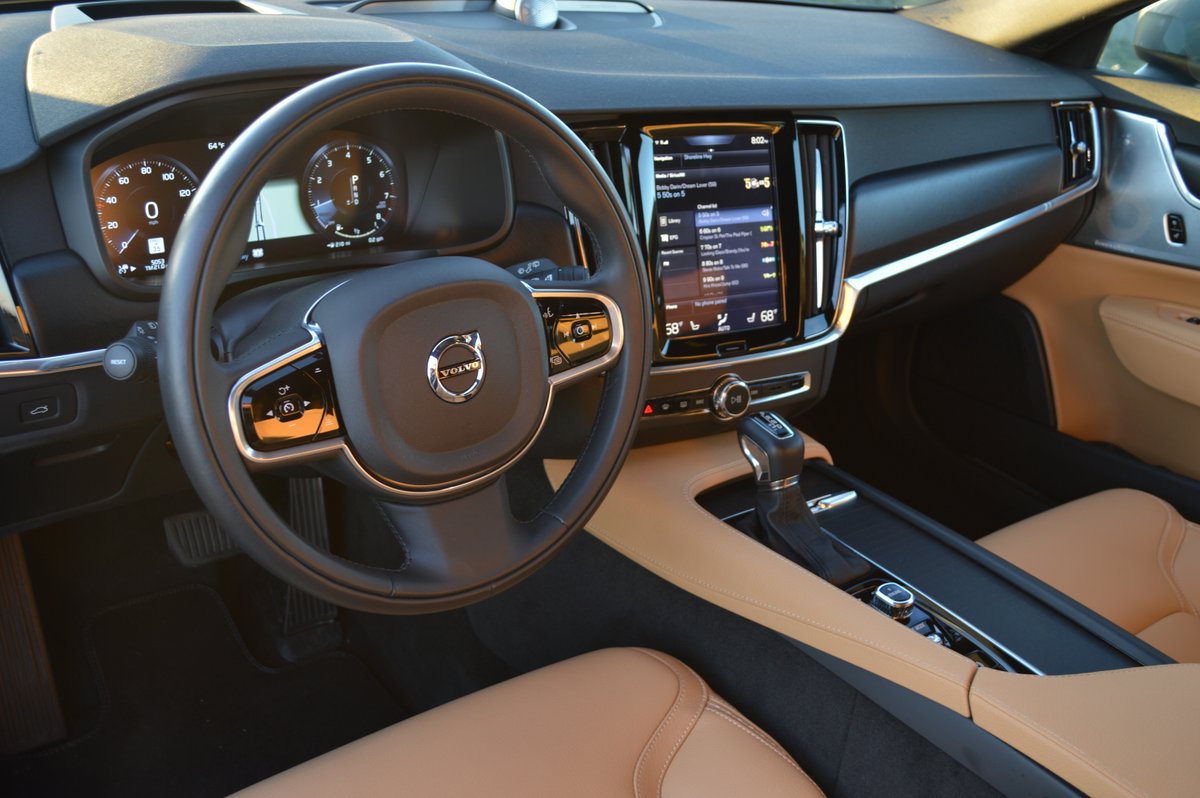 Drivers not centrally focused on ultimate performance, however, will not be phased in the least by the big Volvo's slight acceleration or handling shortcomings. That's because the V90 Cross Country is so regally appointed and handsomely finished. The interior is really a Swedish work of art. The seating surfaces are not only exceptionally comfortable, but exquisitely tailored in Cross Country specific crackle grained mocha hides. The central dash pillar contains a 9″ "Sensus" touchscreen which controls virtually all infotainment and HVAC controls. This screen illuminates with startling clarity, but can be difficult to manipulate when fingerprints build up on its surface. Virtual instruments fill the dash behind the steering wheel, and, as with the latest Audis, a Google Earth type map spans the distance between the tachometer and the speedometer.
The most incredible aspect of the V90′s interior is neither its 10-way adjustable seats, nor its Sensus interface, nor its cabin length smoked glass moonroof. Rather, its signature item is that expensive, but worth-every-penny, Bowers and Wilkins Premium Sound system. When you chose "Concert Hall" mode from among its three settings, prepare yourself for the listening adventure of a lifetime. In conjunction with the virtually unlimited musical offerings from Sirius radio, this mega system will have your tympanic membranes flapping with such vehemence that you'll want to take up permanent residence in your V90 Volvo.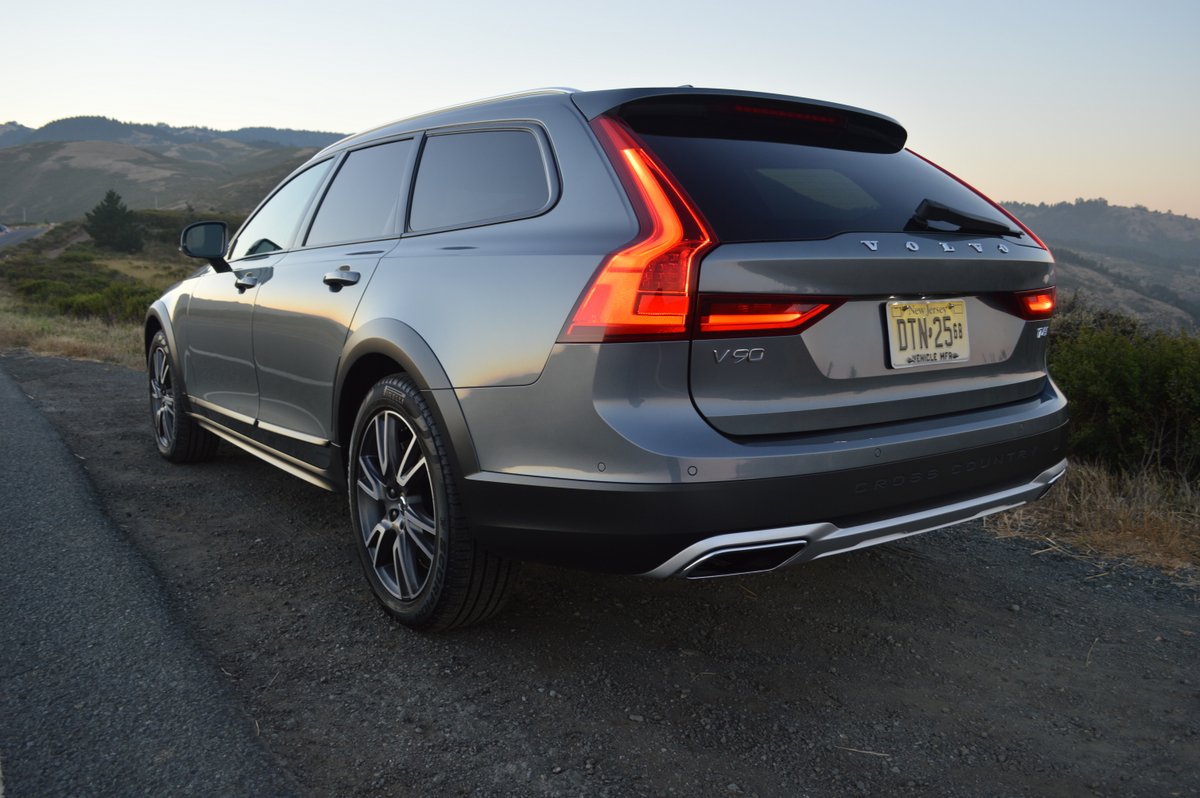 2017 Volvo V90 Cross Country T6 AWD
Engine: 2.0 liter inline 4, direct injection, supercharged and turbocharged
Horsepower: 316 @ 5700rpm
Torque: 295lb.-ft. @ 2200rpm
Fuel Consumption: 22MPG City/30 MPG Highway
Price as Tested: $64,640
Star Rating: 8 out of 10 Stars
Related posts: