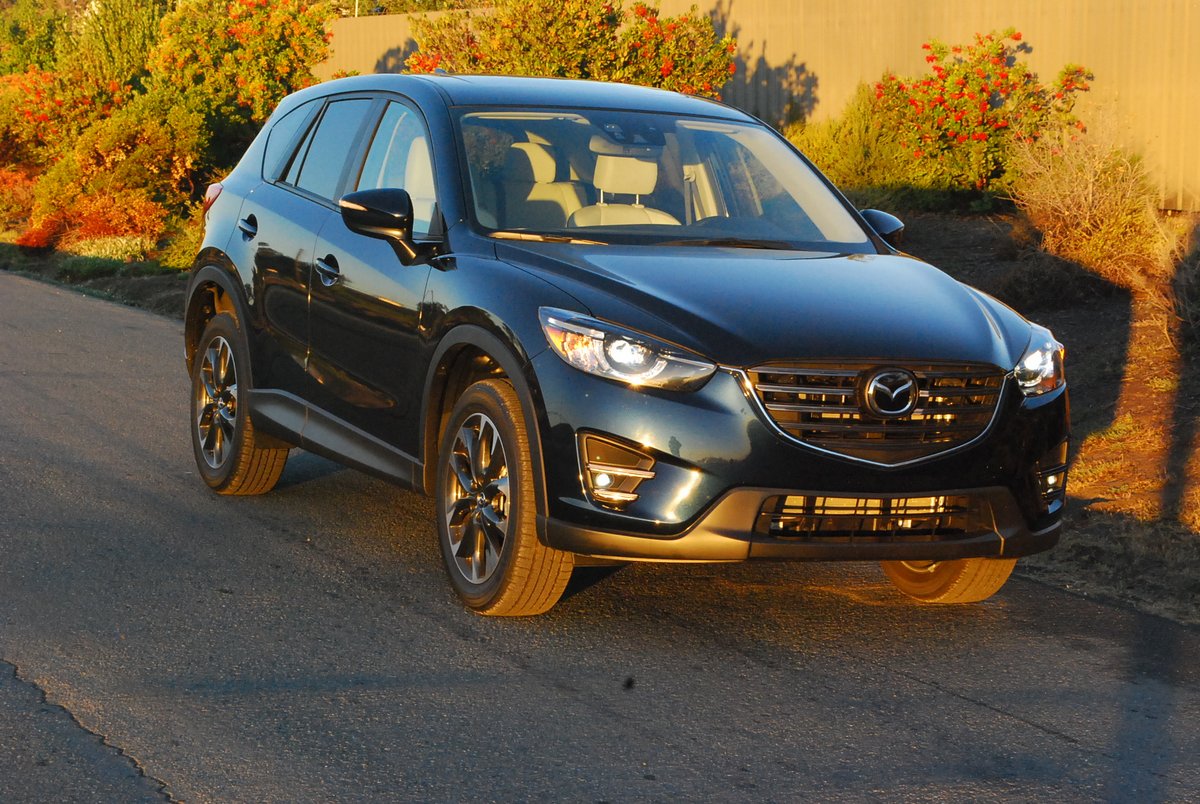 By David Colman
Hypes: Fine Handling, Spunky Motor, Solid Build Quality
Gripes: No Proximity Sensor for Automatic Door Unlocking
Mazda has been touting their "Skyactive" technology for several years now in an advertising campaign that suggests the company has somehow reinvented the internal combustion engine. What they have in fact done is utilize extremely high compression ratios in both 4 cylinder engine variants that power the CX-5 sports utility. We spent a week driving the more powerful of the two, the Grand Touring front wheel drive (FWD) model, equipped with the 2.5 liter, 184hp in-line 4. Mazda also offers a smaller 2.0 liter in-line 4 good for 155hp. Both engines, the Skyactive G-2.0 and Skyactive G 2.5, compress the fuel air mixture to an astronomical ratio of 13:1, an application that would have been unthinkable for a mass production engine just a few years ago. Because Mazda manages to thus squeeze every last bit of energy out of every firing cycle, gas mileage benefits as well as horsepower. The 2.5 liter CX-5 posts an excellent overall EPA rating of 29MPG. When you consider that this 3,435 pound four door will comfortably seat 5 adults while providing cargo volume of 33 cubic feet, it's evident Mazda has done their packaging homework here. The G-2.5 engine's quick response proves that Skyactive Technology is more than just a catchy phrase.
The CX-5 also confirms the theory that every Mazda's DNA coding contains Zoom-Zoom genes. This is one of the best handling compact SUVs on the market, thanks to its stiff springing, anti-roll suspension design and sticky 225/55R19 Toyo A23 radials, mounted on 10 spoke, 19 inch alloy wheels (standard on the Grand Touring model). Base CX-5′s make do with 17 inch rims and 225/55R17 rubber. If the devil is in the details, Mazda has paid close attention to the hidden attributes that differentiate a great handling platform from a mediocre one. In this case, all the important elements are present: 4 wheel disc brakes, independent front and rear suspension, and front and rear anti roll bars. The upside of the athletic suspension calibration is a level ride platform, excellent steering response, and a complete lack of slop during cornering maneuvers. The downside is a stiff, sometimes jarring ride quality that will never remind you of sinking into your favorite armchair.
From a maneuverability standpoint, the CX-5 proves to be the ideal tool for scooting through traffic clogged freeways or attacking back roads with confidence. In the long run, a stiffly sprung ride is dynamically superior in performance, and the calibration of the CX-5 proves that point over and over. The fact that the healthy 2.5 liter engine administers satisfying spurts of acceleration when needed provides the cherry on top. Mazda refuses to succumb to the current craze for noisy and ineffectual CVT transmissions. This SUV offers you a proper 6-speed automatic gearbox. Although it lacks the finesse of paddle shifts, it does offer Active Adaptive Shift (AAS) which intelligently selects optimum gear ratios when the selector lever is placed in "Drive." The transaxle also allows manual override of shift points if you slide the console mounted stick from the "D" to the "M" quadrant. In practice, the AAS program works so well at figuring out gear needs that you never need to select the manual option, unless you're towing a trailer. The CX-5 is rated for a 2,000 pound tow load.
Interior furnishings of the latest CX-5 are surprisingly refined, especially if you order the nifty looking two-tone Parchment interior. This choice brings you well sculpted seats front and rear, with bolsters done in black and seating surfaces in perforated off-white vinyl. The list of standard accoutrements is surprisingly long for a vehicle of this class. Making your life simpler will be rain sensing wipers, power automatic door locks, 8 way power driver's seat with power lumbar adjustment, and heated front seats. None of these luxury touches are expected on an entry-level SUV carrying a base price of $28,220. For a surcharge of $1,505, your Mazda can be equipped with a grouping of improvements such as Lane Departure Warning, LED fog lights and tail lights, and an auto-dimming interior rear view mirror. A $200 retractable rubber cargo cover is a sensible investment if you plan to carry messy goods or pets in the cargo area. With virtually all available bells and whistles on board, our test CX-5 still totaled just $32,860.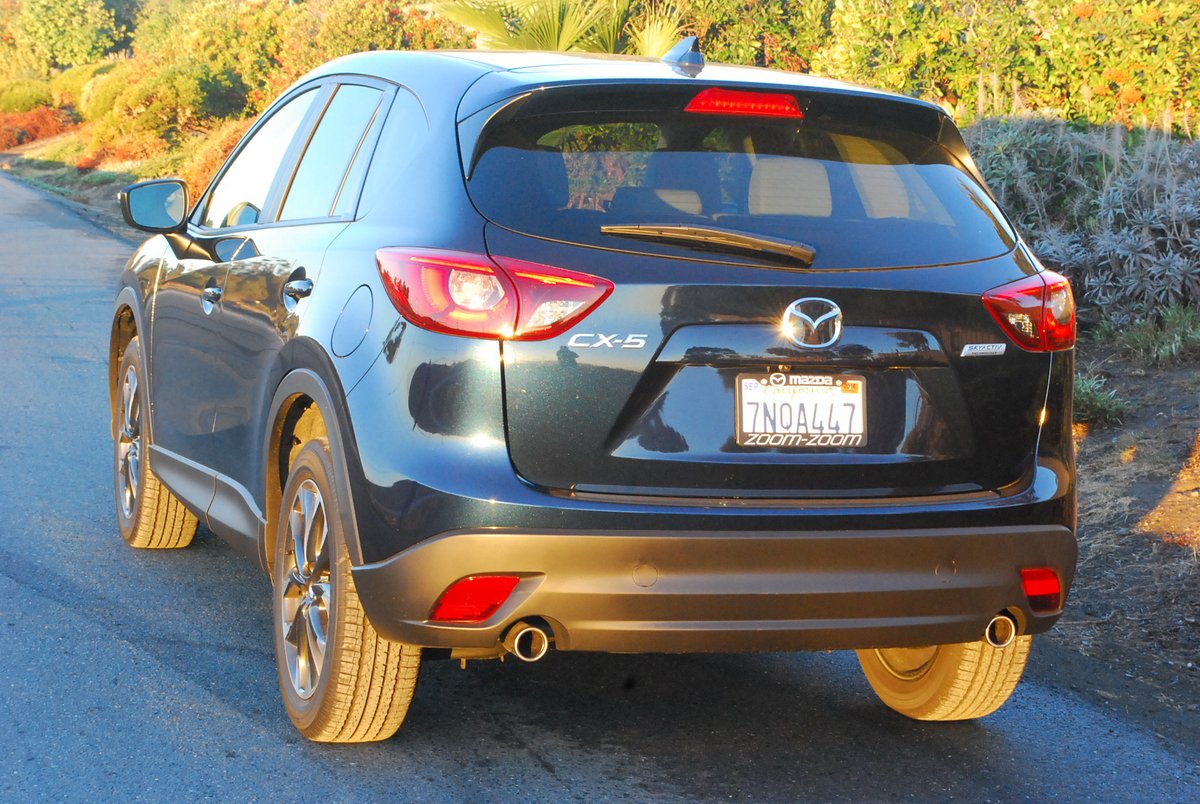 If you need an economical, reasonably sized sports utility that emphasizes sports as much as utility, then the 2.5 liter version of the CX-5 is well worth consideration. Consumer Reports thought so too, giving it their Recommended Check as a best buy product.
2016 Mazda CX-5 Grand Touring FWD
Engine: Skyactive 2.5 liter inline 4
Horsepower: 184hp
Torque: 185 lb.-ft.
Fuel Consumption: 26MPG City/33MPG Highway
Price as Tested: $32,860
Star Rating: 9 out of 10 Stars
Related posts: