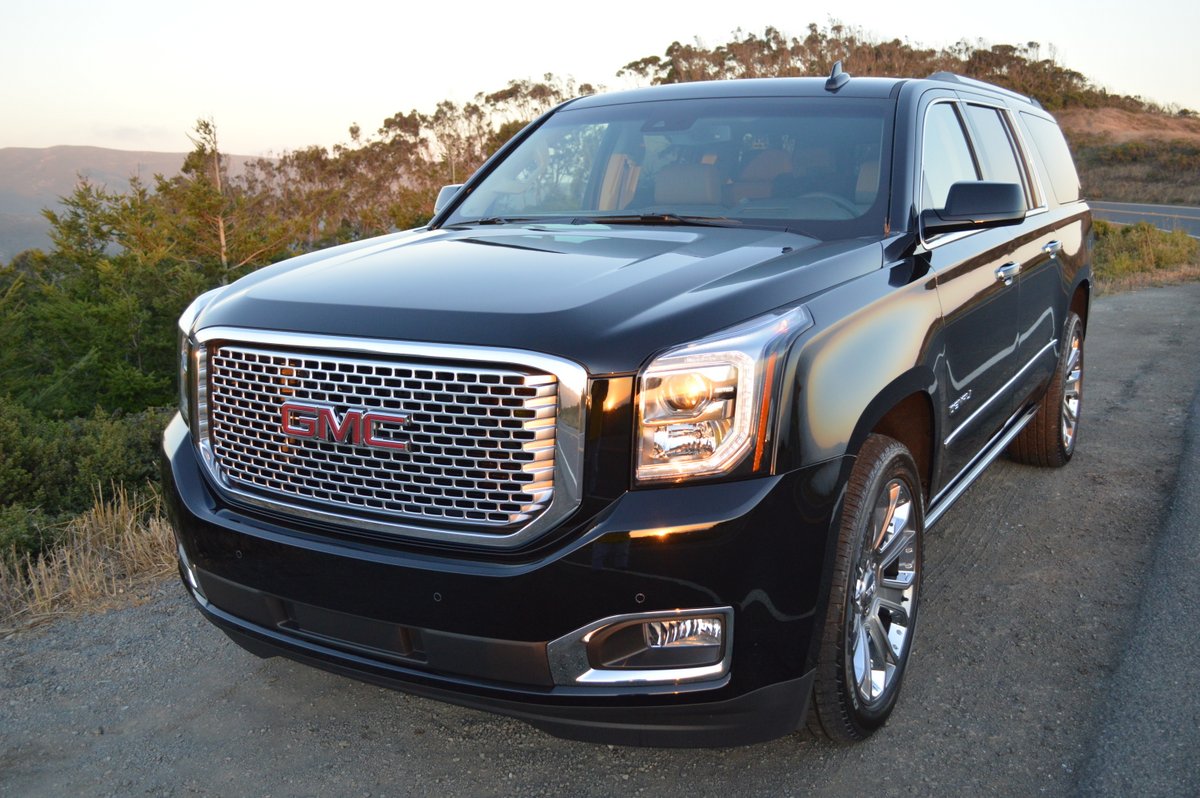 By David Colman
Hypes: Brutal but Elegant Highway King
Gripes: Challenging to Park
This thing is positively presidential. When it arrived in my driveway for its week-long stay, I checked right away to make sure the Secret Service hadn't left President Obama in the back seat. In Onyx Black, this $80,000 SUV really fills the bill for POTUS transport. With a length of 224 inches, a height of 74 inches, a width of 81 inches, and a weight of three tons, this is the most imposing passenger vehicle you can buy from GMC. It will barely fit in your regulation 20 foot long garage. And be sure to keep your credit card handy. Even with its 31.5 gallon gas tank, this rig will exhaust fuel faster than you can track the rapid descent of the gas level needle. For the record, the 6.2 liter V8 records city mileage of 14 MPG, highway mileage of 20 MPG, and overall consumption of 16 MPG.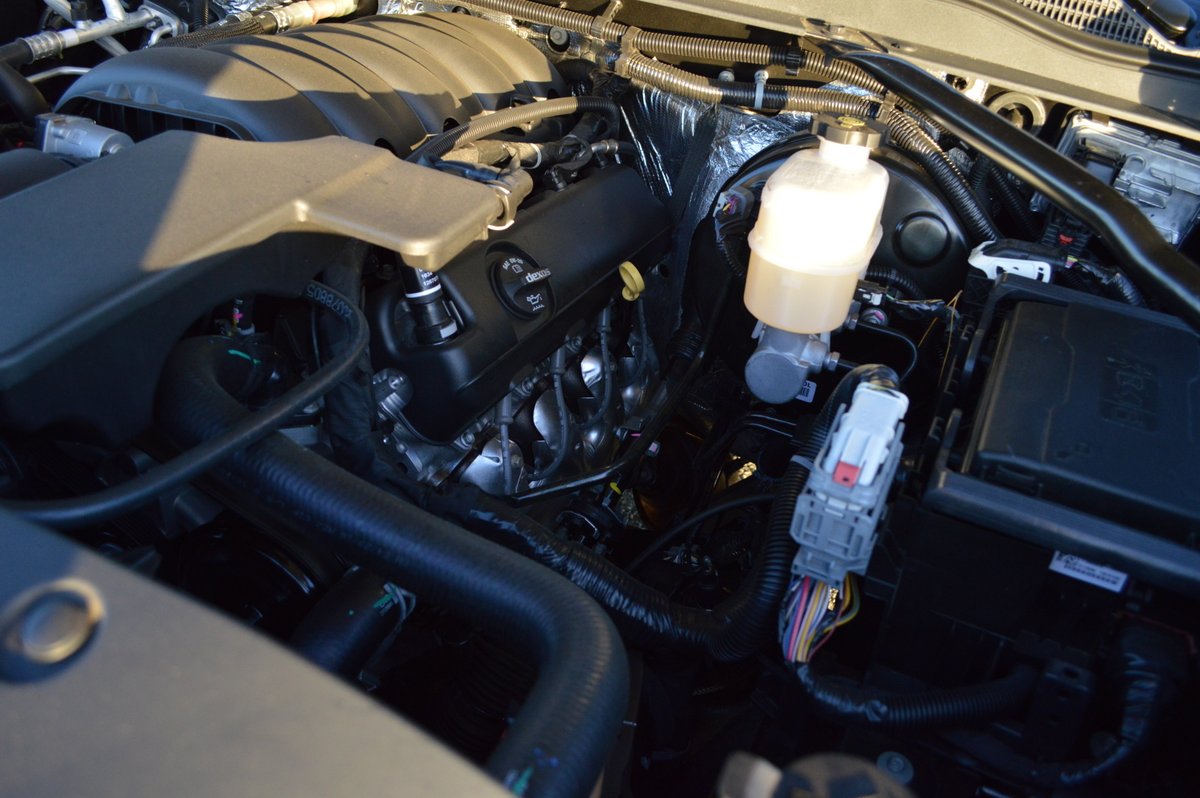 In trade, you get to ride herd on a thumping big V8 that puts out 420hp and 460 lb.-ft. of torque. That output makes towing an 8,000 lb. trailer easy. GMC even provides Trailer Sway Control (TSC) and Integrated Trailer Brake Control (ITBC) as standard features, so the Denali XL is perfectly configured to handle any hitch load you can throw at it. TSC limits the amount of trailer pitch, ITBC adjusts the power output, or gain, to the trailer brakes as needed, and a Tow/Haul Mode button on the shift lever prevents the transmission from hunting for gears on steep grades.
That gearbox is a smooth shifting 8-speed automatic that metes out power smoothly and judiciously. You control its selection of gears with a shift wand that is bigger than that of the Fairy Princess. The entire dashboard is festooned with so many controls and buttons that it will take you a week just to notice them all. For example, no fewer than 19 graphic symbols can appear on the Driver Information Center. To the left of the steering wheel, you will find the 4WD control knob next to the headlight light control knob and below the ITBC switch. Above the ITBC control is another nest of buttons overseeing Traction Control, StabiliTrak, front and rear Park Assist, Lane Keep Assist, Pedal Adjustment (they slide) and Power Assist Step Control for the optional ($1,745) power retractable running boards.
If all this isn't enough to confuse you, the steering wheel itself is a nexus of functions, including Adaptive Cruise Control ($995 option), voice recognition control, and driver information center display control. Behind the steering wheel you will find additional switches on the left spoke for accessing entertainment system tuning (Next/Previous favorite stations) and the right spoke (volume). If all this is starting to look like you need a Boeing 747 manual for pre-flight familiarization, you haven't seen anything yet. The GMC IntelliLink Infotainment System offers a 4G LTE Wi-Fi hotspot on a limited free trial basis. It also provides hands-free calling with voice recognition, audio playback with voice recognition, and access to Apple Carplay (including hands-free text messaging and Siri) when you download the free "MyGMC Owner App."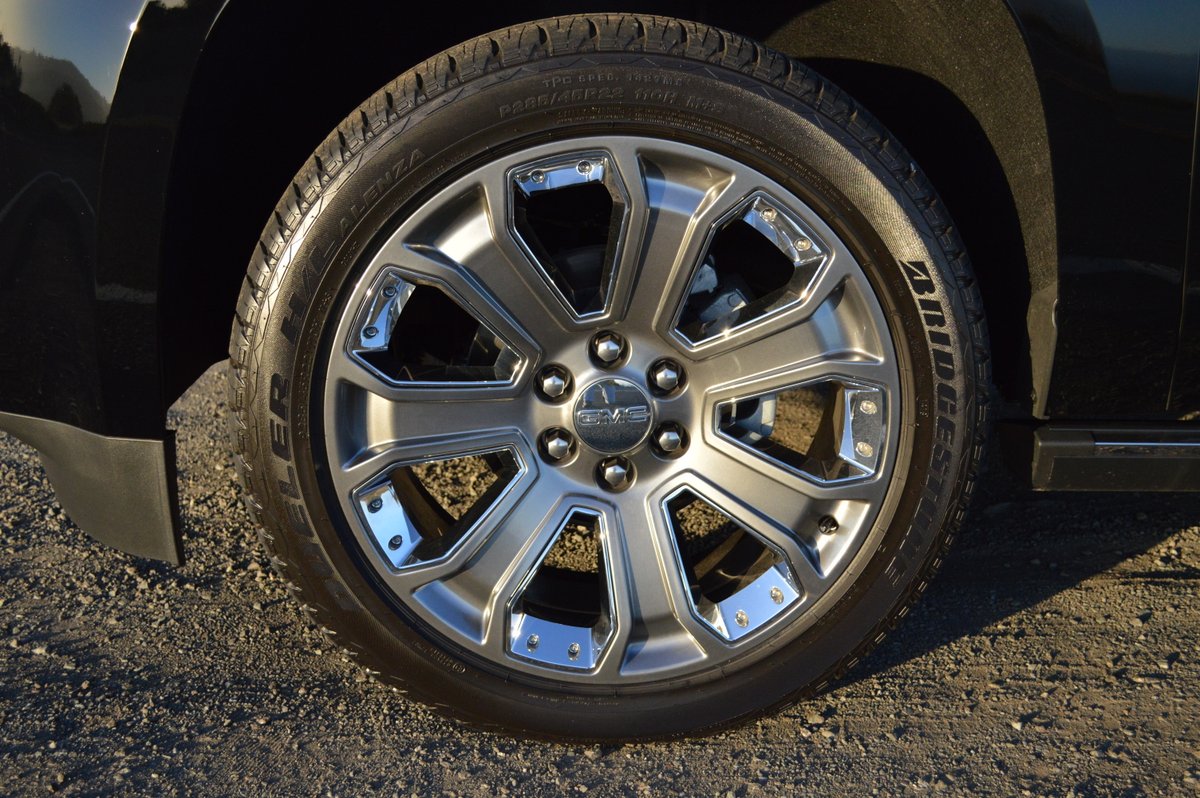 You could almost forget you're commanding a 3 ton limousine. But GMC has you partially covered there too. The optional Adaptive Cruise Control automatically adjusts speed and will slow your vehicle to a stop, if necessary. Unless you first signal a lane change, Lane Keep Assist, which is a standard feature, will keep you from changing lanes by gently guiding the steering wheel straight while jiggling the seat bottom to inform you of your errant behavior. This could be a lifesaver if you fall asleep at the wheel, but it can also prove annoying, so GMC allows you to turn off LKA with yet another button on the dash. Park Assist also uses beeping and the seat jiggle to keep you from bumping into things you can't see, and in this application, especially when backing up, the system is a golden safety parachute.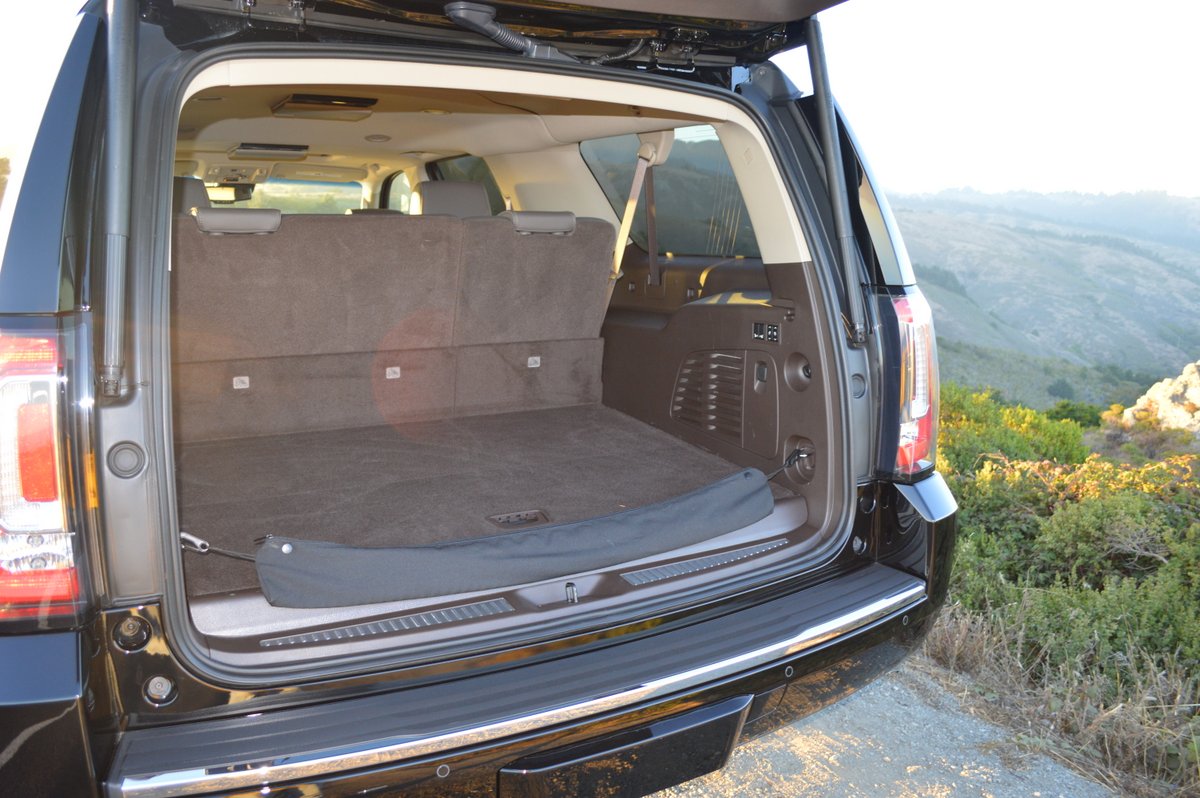 Our Denali featured optional ($2,495) alloy wheels, 22 inches in diameter and mounting Bridgestone Dueler H/L Alenza rubber (285/45R22). These expensive monster tires mandate use of optional retractable running boards, since they elevate cabin entry height into the stratosphere. However, once you've climbed aboard, the only vehicle taller than your Denali is an 18-wheeler. Without question, this dominant posture confers a sense of vision and security on you that is simply unmatched by anything else on the road.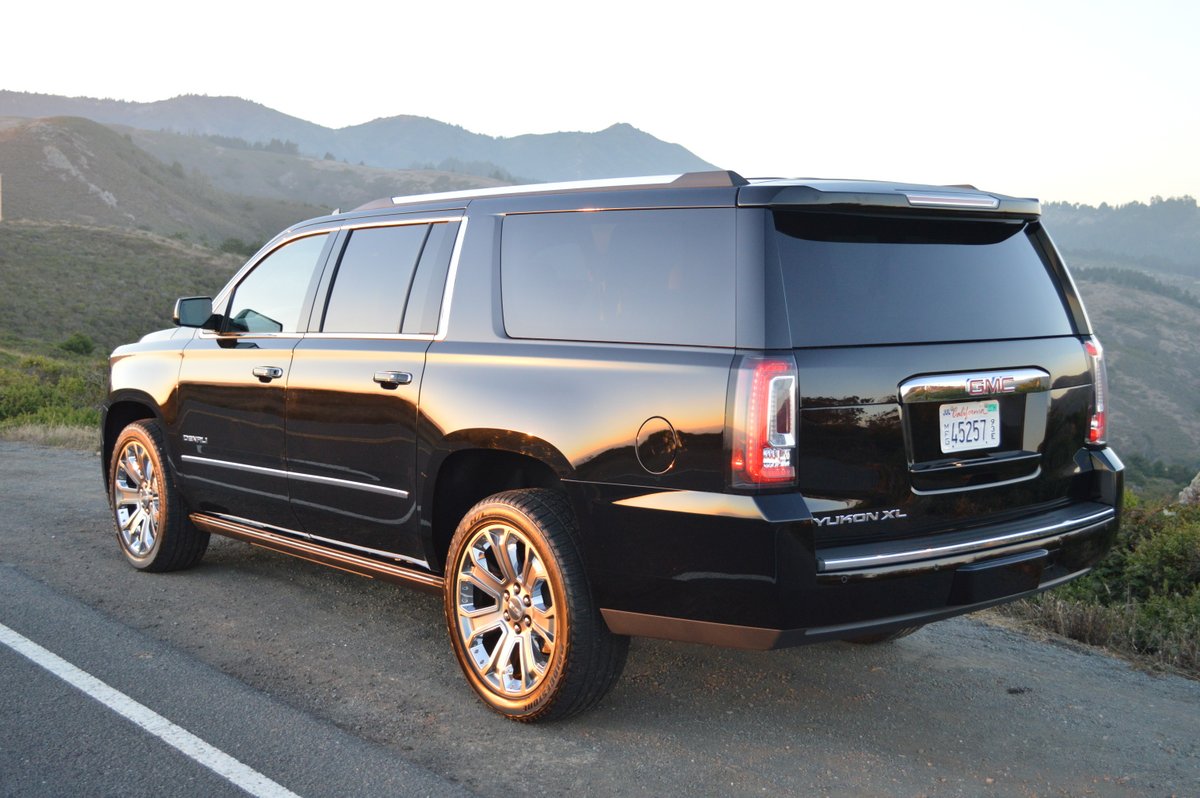 2016 GMC Yukon XL Denali 4WD
Engine: 6.2 Liter V8 ECOTEC3
Horsepower: 420hp
Torque: 460lb.-ft.
Fuel Consumption: 14 MPG City/20 MPG Highway
Price as Tested: $80,650
Star Rating: 9.5 out of 10 Stars
Related posts: