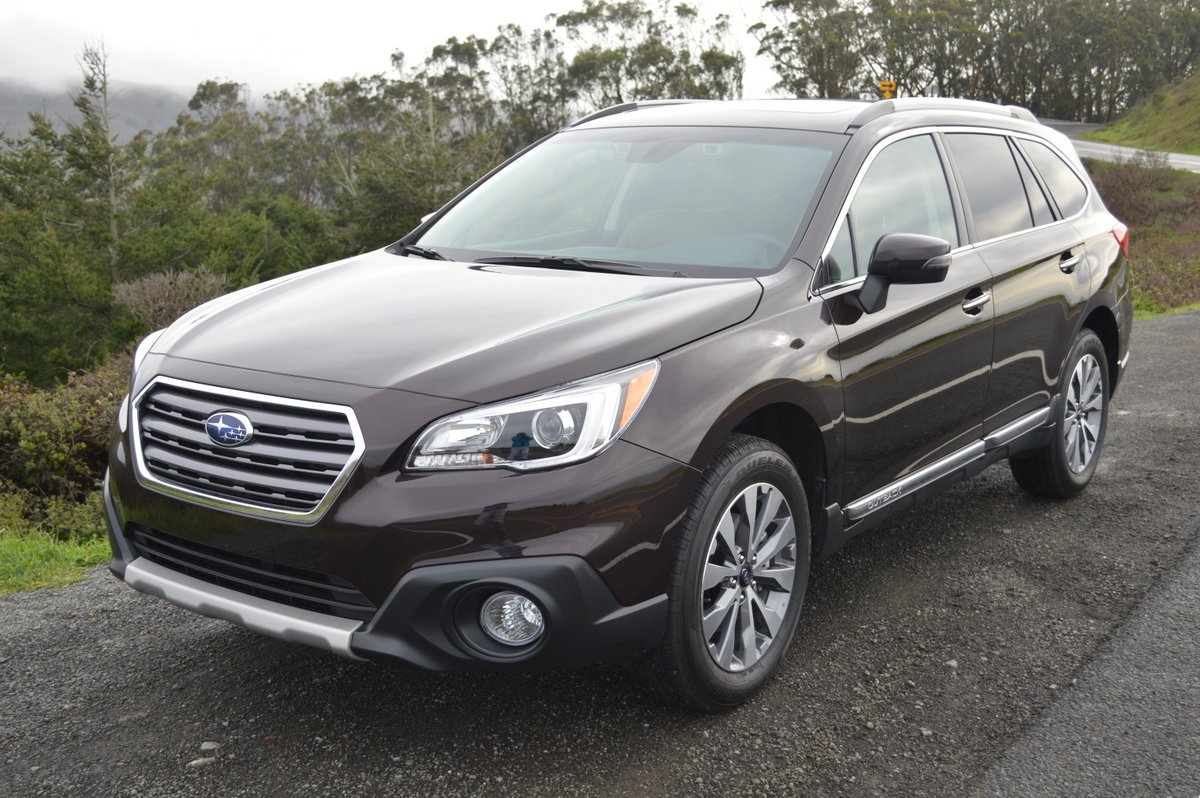 By David Colman
Hypes: Practical Packaging, Elegant Interior
Gripes: Could Use a Turbo
Subaru has developed a following of loyal enthusiasts eager to share their positive experiences with others. I had just finished photographing this Brilliant Brown Pearl Outback when I was accosted by a Subaru-owning neighbor dying to get a look at the new-for-2017 Touring version of the Outback. One glance at the diagonal stitching of the coffee colored door panels had him lusting after the new Touring model. He explained that he had gone through the mill with a bunch of expensive German products that "spent more time in the shop garage than mine" before he bought his first Subaru in 2011. That car put an end to all his service woes. In 2016 he bought a new Outback for himself, a car that has impressed him with its many virtues. After spending a stormy week with the new Touring, I would have to agree that this special edition Subaru Outback has a lot going for it.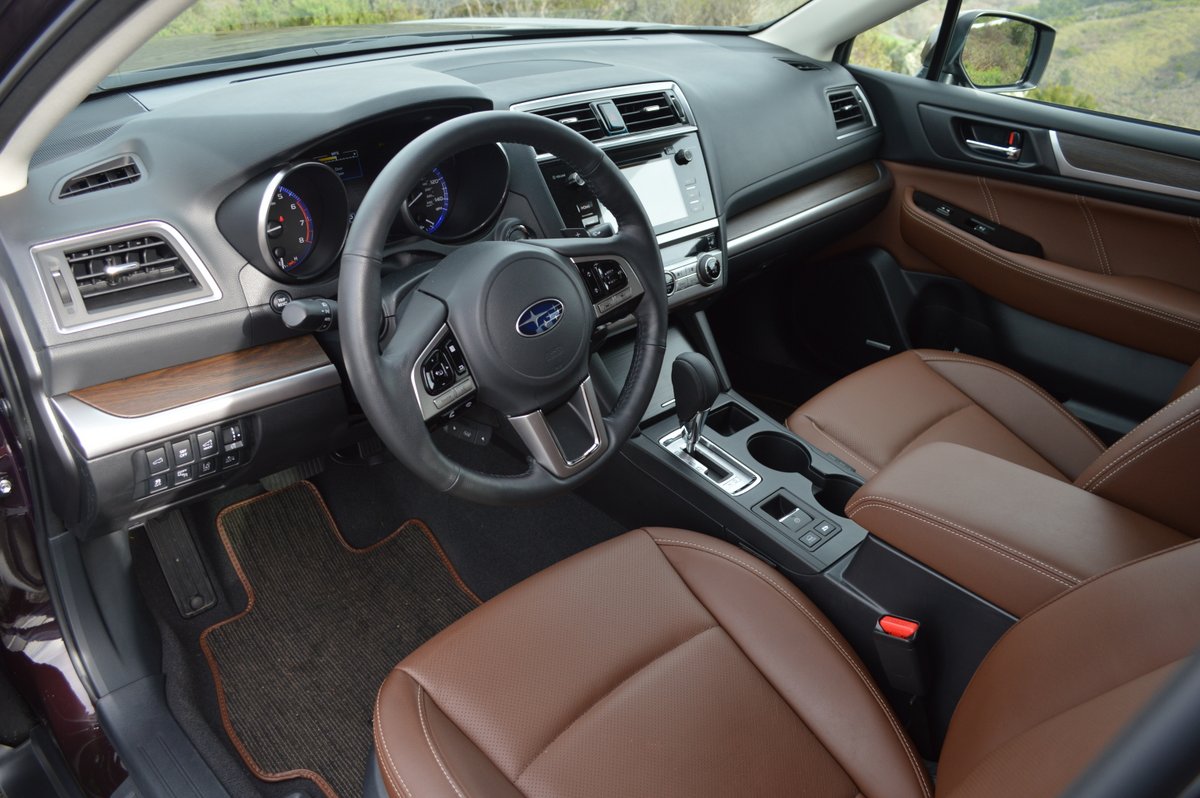 The refined quality of the interior belies the Touring's $35,995 base price. That Brown Pearl paint becomes Brilliant in the sun, when its purple undertone makes the Outback look like a Cal Custom show car. The front seats are plush, heated and accommodating. The rear seats are comfortable enough for long trips, and also feature standard 3-stage heaters. Trim on the dash and doors is subdued and handsome, with matte finished wood surfaces complimenting brushed aluminum surrounds. The instrument binnacle consists of two heavily shielded dial faces, with an 8000rpm tachometer on the left and a 150mph speedometer on the right. Both dials are ringed with celestial blue illumination, making for a very pleasing visual presentation that is exceptionally easy to read. A large digital speed readout occupies the space between dials. The rest of the dash array is equally well thought out for easy usage while traveling at speed. The beauty of Subaru's HVAC controls lies in the fact that you almost never need to take your eyes off the road to make climate control adjustments.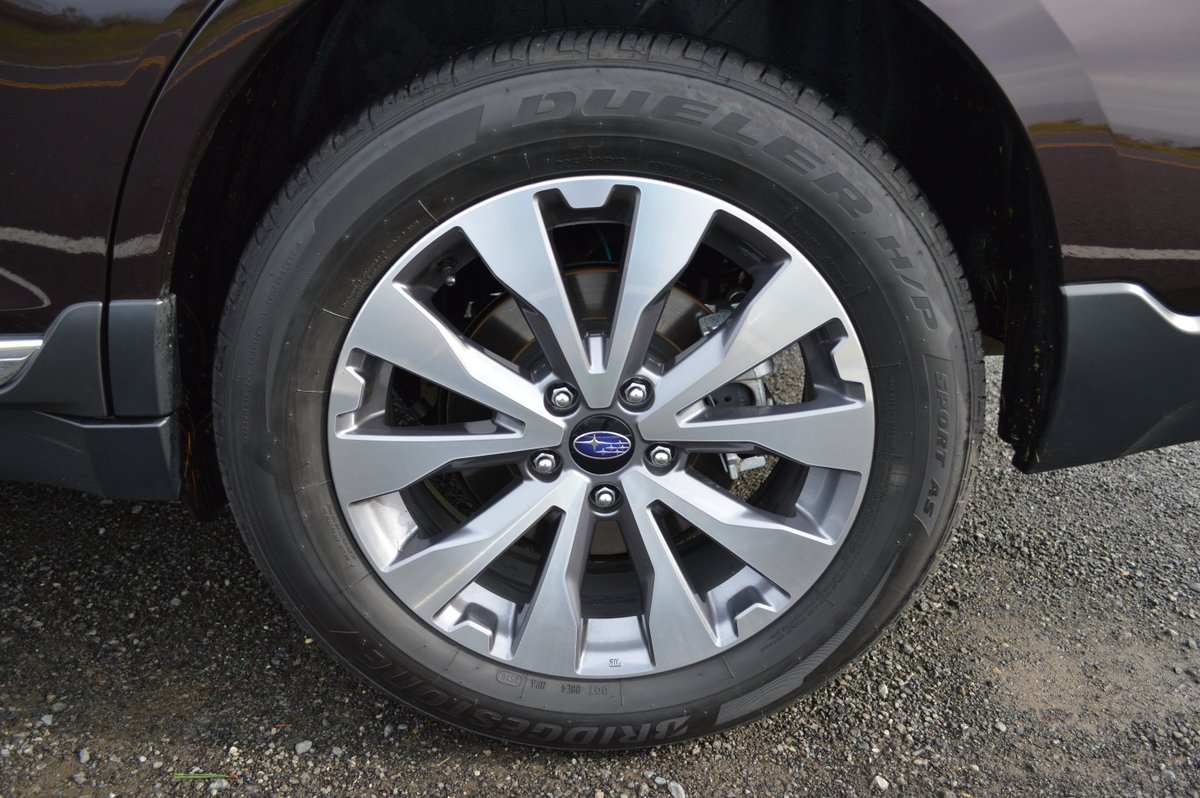 In heavy rain, the Subaru proved a dependable and comforting companion. The standard rear window wiper cleared the aft view immediately, in consort with an effective backlight defroster and washer system. All these controls were intuitive, with never a need to consult the Owner's Manual for operation. Such is the mark of a well-designed product. The Touring's behavior in adverse weather also proved that this wagon is well suited to any climatic condition. The Mud & Snow rated Bridgestone Dueler H/P tires (225/60R18) never evinced any tendency to aquaplane, and with a wear rating of 500, should provide long tread life as well. These tires are mounted on machined-face 10 spoke alloys that are model specific to the Touring version. What really keeps the traction in check is Subaru's highly reputed Symmetrical All Wheel Drive, a system that maintains traction at all four corners, regardless of weather. The Touring version features a fully independent suspension system front and rear that has been raised over the ground clearance of the base Outback. This higher ride height allows you to traverse snow and puddles with greater confidence at virtually no cost to handling in the dry.
Although Subaru has chosen to go the CVT route in the gearbox department, the "Lineartronic" 6-speed unit chosen to back up the 2.5 liter flat 4-cylinder engine does a respectable job of mimicking a gear, rather than a belt driven transmission. Thankfully, Subaru has included a manual gate on the floor-mounted shift lever, as well as small paddles on the steering wheel itself. If you feel the need for more speed – a frequent occurrence with just 2.5 liters of engine – just tap the downshift paddle for a lower range of torque multiplication. The Outback doesn't exactly leap ahead, but power flow is always adequate. The upshot of this thrifty engine is its payoff in fuel economy, with an overall rating of 28MPG.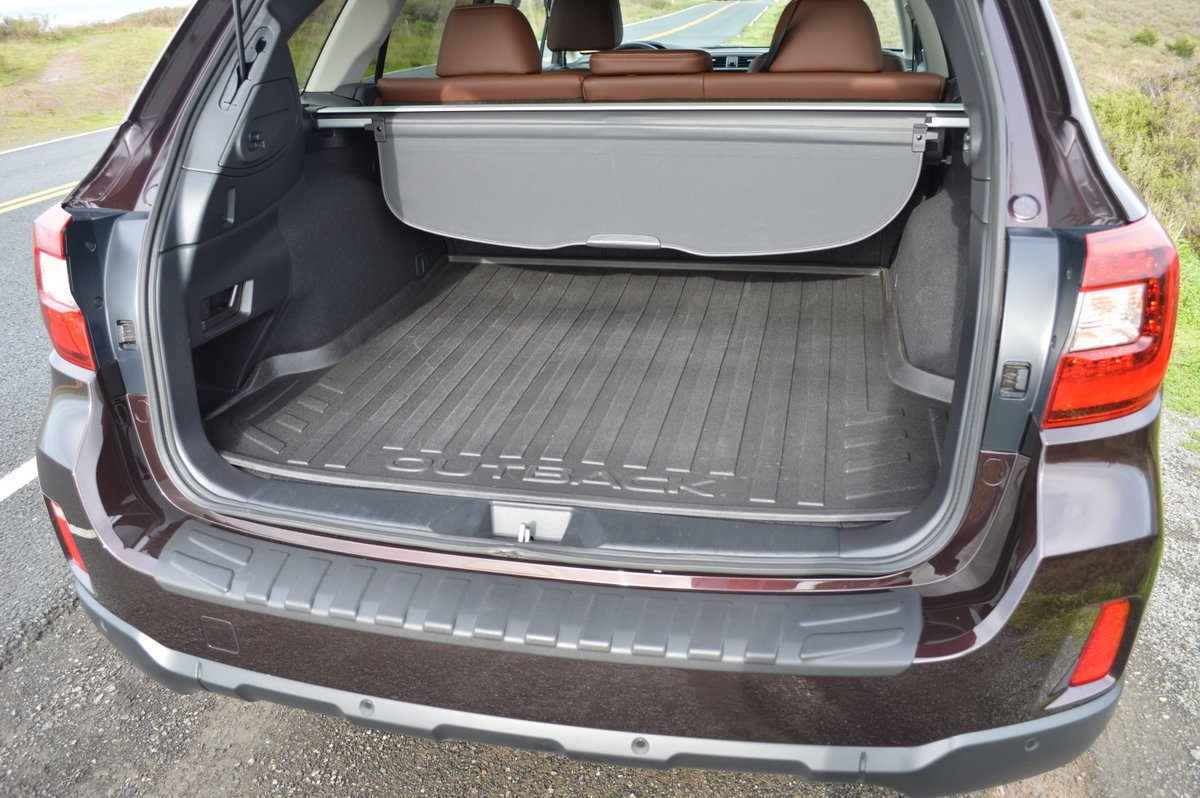 Subaru engineers have really though through the design of the wagon's rear storage area. The standard lift gate opens with the push of a button on the key fob remote, and shuts with the push of a button on the top ledge of the tail panel. The system even offers a warning flash of the tail lights before swinging open, so no one will be caught off guard by the upward arc of the door. Inside the aft compartment, you will discover a very sturdy, water containing rubber mat that would be perfect for stowing wet ski gear. Under the mat lies a second level compartment housing all the tools you'd need to change a tire or have your outback towed. There's a lug nut wrench, a compact jack, a screw-in tow hook, and even a combo screwdriver. Beneath this shelf lies a hefty temporary spare tire. Unlike most manufacturers who have gone to either run-flat tires or supply an air pump and a can of puncture goop, Subaru thinks you deserve a more complete solution to a roadside tire problem. In a way, this suspender-and-belt approach to motoring is exactly why Subaru called this vehicle the Outback in the first place. It's designed to go anywhere, anytime, without undue worry or expense. It's no wonder my enthusiastic neighbor thinks so highly of this brand.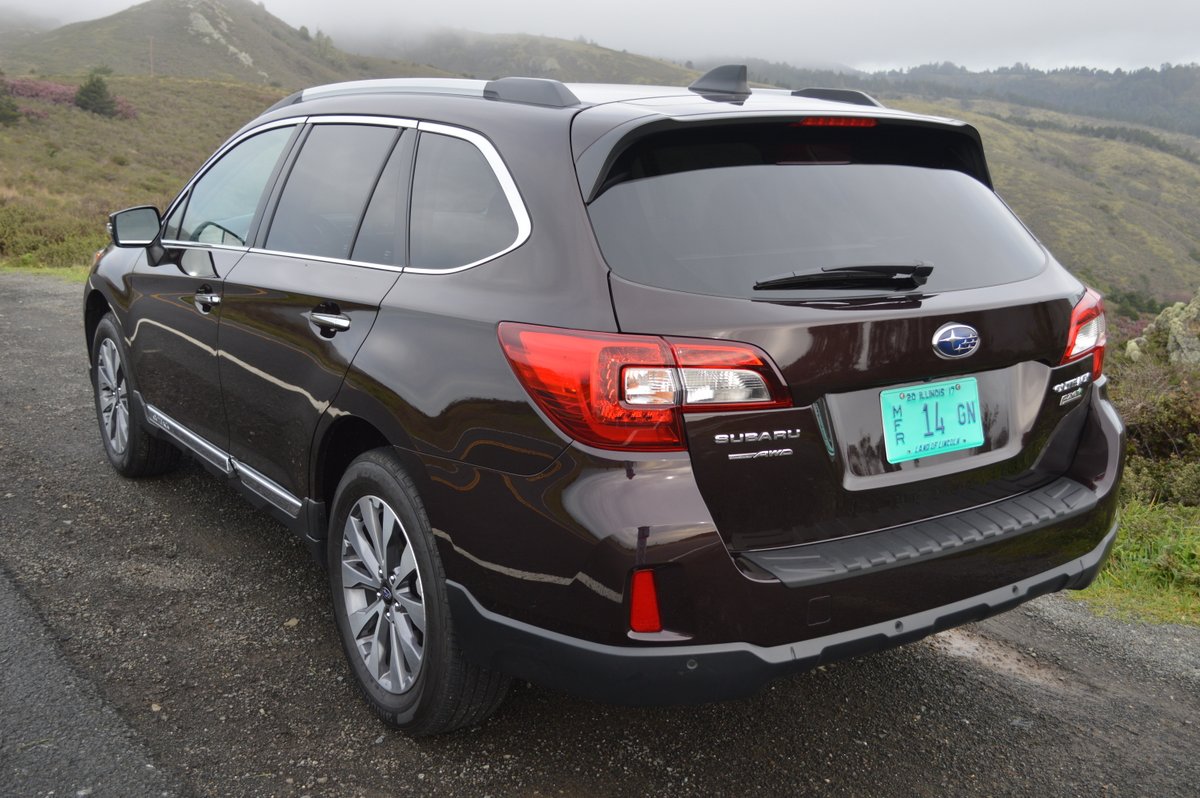 2017 Subaru Outback 2.5i Touring
Engine: 2.5 liter horizontally-opposed 4 cylinder
Horsepower: 175hp
Torque: 174lb.-ft.
Fuel Consumption: 25MPG City/32MPG Highway
Price as Tested: $36,870
Star Rating: 9 out of 10 Stars
Related posts: