By David Colman
Hypes: Spacious, Elegantly Trimmed Interior, New Turbo Motor a Keeper
Gripes: Too Softly Sprung
If you are looking for a large SUV with genuine off-road credentials, you will definitely want to consider the 2016 Sorento. Kia has introduced a significant new engine option for the 2016 model year. Instead of the still available 2.4 liter 4 and 3.3 liter V6, our test Sorento mounted the new 2.0 liter turbocharged inline 4, which makes impressive horsepower (240hp) and torque (260lb.-ft.) considering its diminutive displacement (just 2 liters, or 121 cubic inches). Best of all, it powers the Sorento to an overall fuel consumption average of 22MPG, which is quite a feat considering this vehicle's hefty 4,235 pound curb weight.
In addition to the new engine, which is available only on SXL and Limited trim grades, Kia has substantially upgraded the Sorento's interior for 2016, with added soft ouch surfaces, high quality leather seats, and an infotainment and navigation system that is easy to access and read, thanks to its high definition 8 inch screen. In fact, when you climb into the spacious cabin of the Sorento, you will marvel that Kia has packed so many up market features and furnishings into a vehicle with a base price of $41,700.
The SXL grade Sorento feels more expensive than it is because all of the following niceties are included in the base price: dual zone climate control, surround sound audio, navigation, 3 month free SIRIUS XM Satellite radio, console mounted AUX input jack and USB port, Nappa leather seats, dual memory settings for driver's seat, push button start with smart key, heated and ventilated front seats, and heated, leather wrapped steering wheel with tilt/telescope function. If you were to buy a German sports utility, you would pay thousands extra for most of these convenience and comfort features. Kia, however, includes all of them and more in the base price of the SXL Sorento.
In fact, the only add-on to the base price is a $2,500 charge for the "SXL Technology Package," which provides Xenon HID headlights, Lane Departure and Forward Collision Warning, and an electric parking brake. It also upgrades standard cruise control to a radar based smart cruise system that maintains pre-set distances to traffic ahead. The Technology Package brought the Sorento's MSRP to $44,200. Personally, I would eliminate these extra price techno goodies, although the HID headlamps do light up the night like a bonfire.
Given the fact that the turbo system produces abundant torque low in the engine's rpm range, the Sorento moves out very smartly from a standing start. This is especially true if you select the Sport mode on the center console before driving off. This reset optimizes throttle response, holds lower gears until high engine rpm is achieved, and focuses on dynamic driving by adjusting steering response, engine performance and transaxle behavior to suit aggressive driving. You must, however, reset the Sport choice every time you restart the Sorento.
Kia engineers have thoughtfully incorporated a lockable center differential into the Sorento's transaxle, so you can depend on this useful tool to extract your all wheel drive Kia from snow, sand or mud entanglements that would stymie most SUVs lacking a lacking center differential. However, don't think that the Sorento's "Sport" mode confers sports car handling on this beefy all weather vehicle. Despite its sporting aspirations, the SLX is softly sprung and softly damped. This combination of factors produces a comfortable ride quality over even the most jarring road imperfections. What it does not do is compensate for pitch or roll when you attack curves with a modicum of brio. Under such duress, the suspension compresses and expands with such ease that the chassis flies off bumps like a pogo stick. Although standard 7.5″ x 19″ alloy wheels plant Michelin Premier LTX tires at each corner (235/55R19), even their premium contact patches can't mask the Sorento's squishy ride oscillations.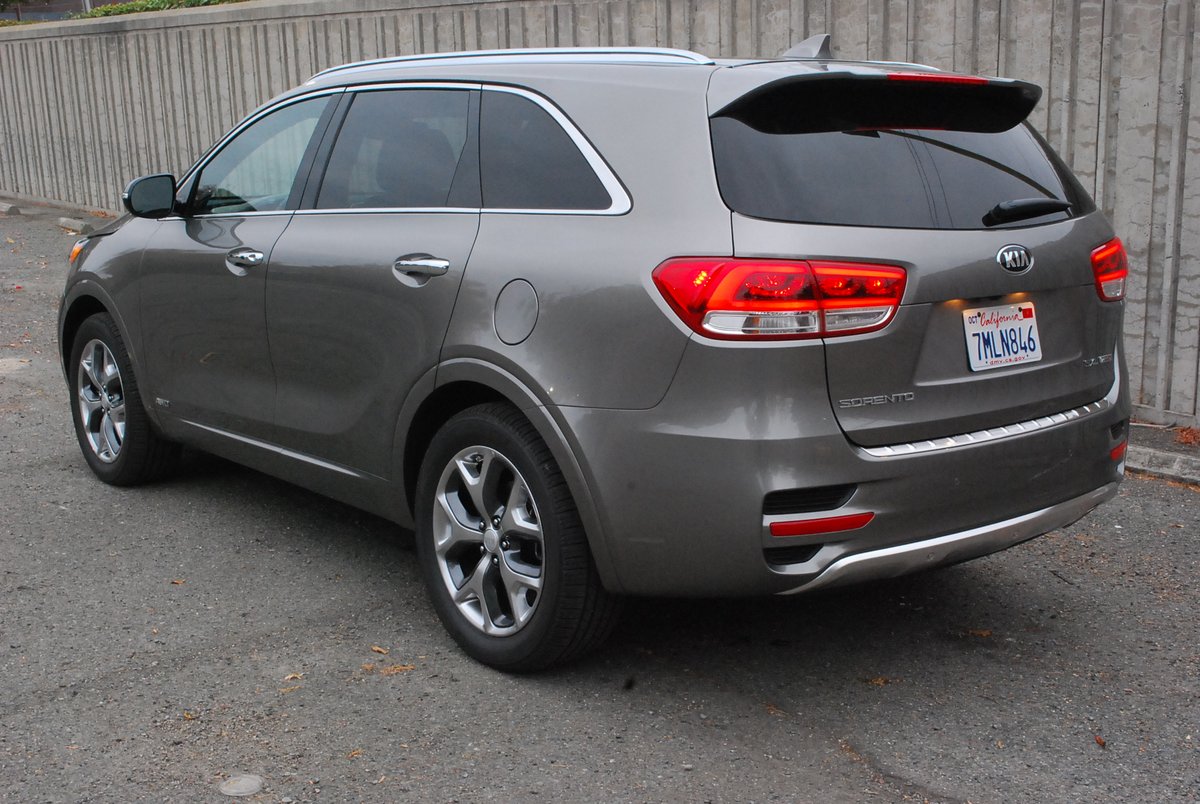 Of course, no one looking for an SUV touting sport over utility would select this Sorento as their first choice. If you need to haul a load and go fast, then opt for a BMW or Porsche SUV. But if moderate speed and handling define your game, then opt for this Kia. Its emphasis on utility allows it to pack 73.5 cubic feet of stuff into the interior if you collapse the new for 2016 40/20/40 folding rear bench seat. Even with 5 adults on board, you still have 38.8 cubic feet of space to fill. You can even order your Sorento with a third row good for 2 toddler seating. You won't find a more luxurious or affordable SUV in the market with all those utility features on tap.
2016 Kia Sorrento SXL AWD
Engine: 2.0 liter turbo with direct injection
Horsepower: 240hp
Torque: 260lb.-ft.
Fuel Consumption: 19MPG City/25MPG Highway
Price as Tested: $45,095
Star Rating: 8.5 out of 10 Stars
Related posts: