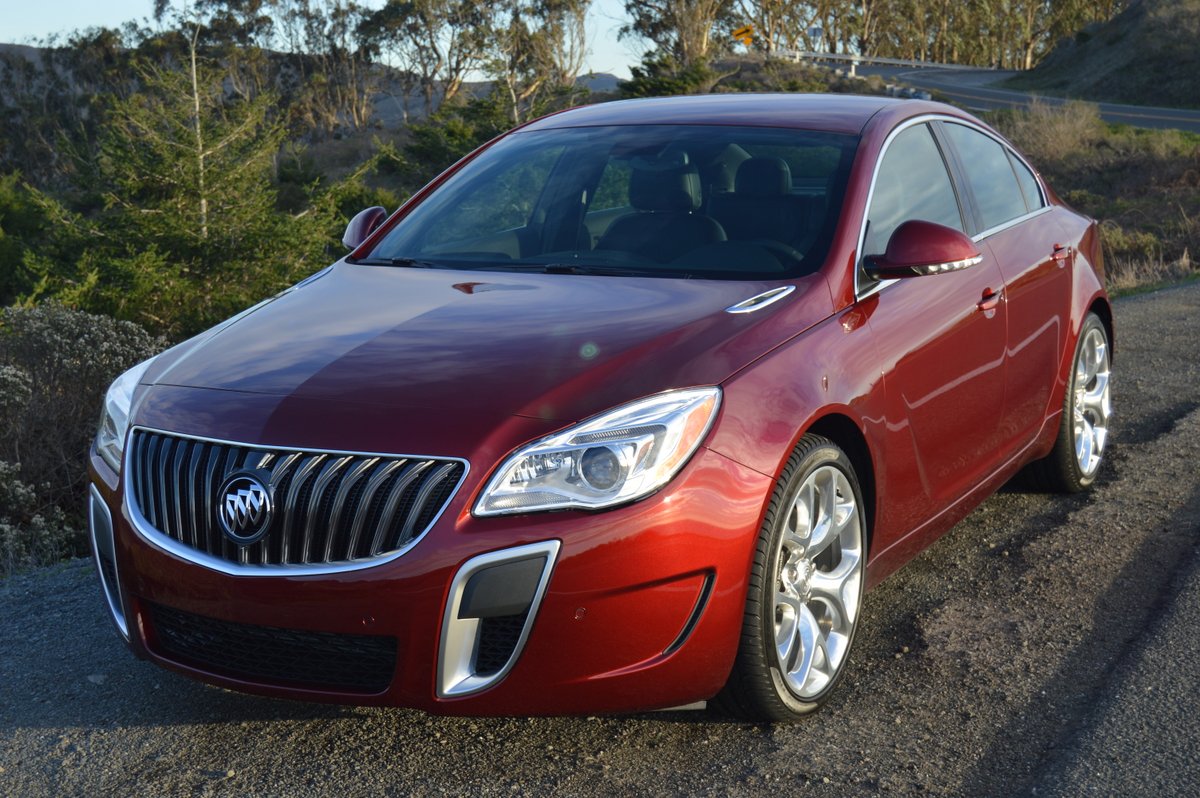 By David Colman
Hypes: Stealth Stalker of German Iron
Gripes: Ditch the Chrome Grill and Ventiports
What's this? A Buick with 255/35R20 Pirelli P Zero tires? A Buick with Brembo brakes? You're kidding me, right? Welcome to Buick's second hundred years in the ever-changing car biz. This dynamite compact sedan will gleefully match any four door from Germany on a twisty road, despite costing half as much as the Audi A4, or BMW 3. How can it manage this feat with a base price of just $36,490? The secret sauce is that the Regal GS is a German design from the get-go, an Opel Insignia slightly re-tailored for American usage. In the past, that "American usage" provision involved softening ride, lessening steering feedback, and avoiding use of small displacement, high-revving engines in favor of big V6 and V8 motors. But General Motors recently chucked that path for Buick, because it invariably appealed to a customer base aging into insignificance. Hoping to trend younger, GM resurrected Opel's Insignia as a Buick Regal, and moved production from Russelsheim Germany to Oshawa, Ontario. So they build this "American" sedan in Canada, comprised of 65% US/Canadian parts, and 20% Mexican pieces. However, the 2.0 liter, turbocharged four cylinder engine and 6-speed automatic gearbox are both constructed in the USA.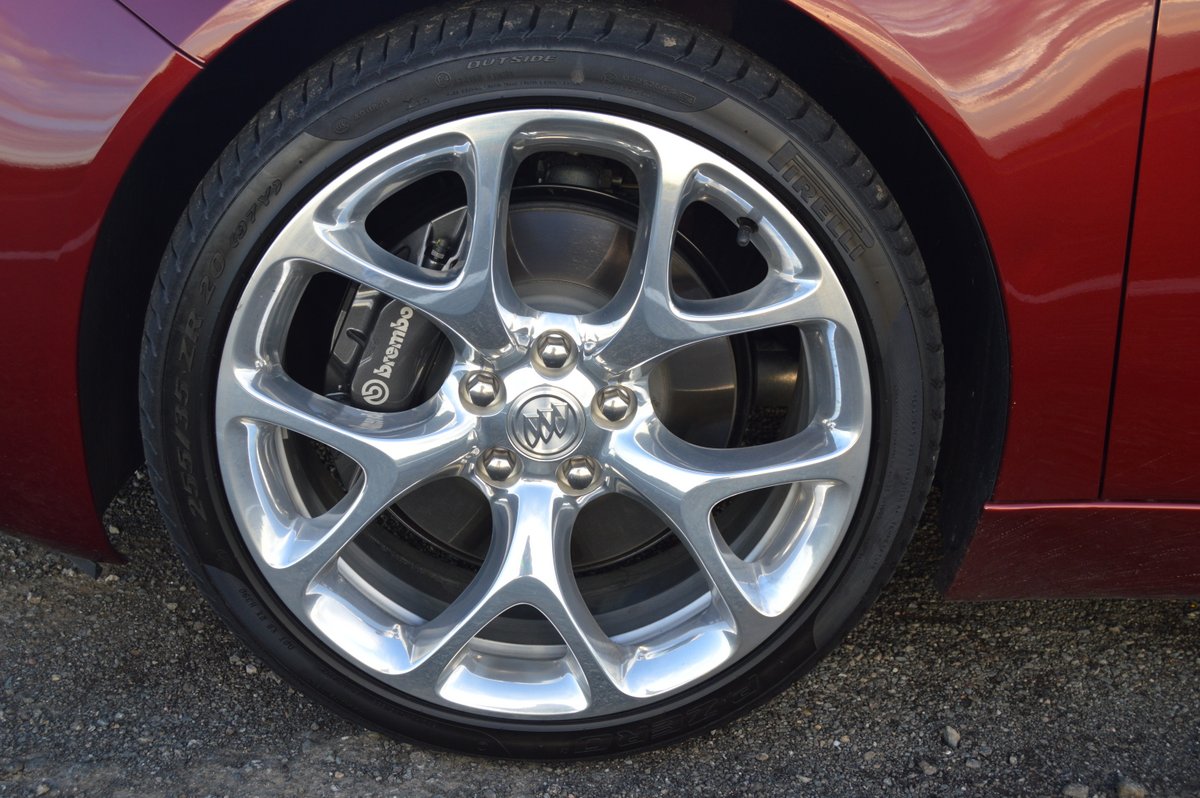 Through a lengthy, ongoing advertising campaign, Buick has made a concerted effort to focus on the surprise onlookers experience when they discover their neighbors have bought – of all things – a new Buick. The company needs to lose this self-demeaning bit of image erosion as soon as possible because it doesn't do justice to great cars like the Regal GS. I can remember when my parents brought home a new 1950s Buick Roadmaster. Back then, none of our neighbors were surprised or appalled by our choice of make. Rather, they gathered in our driveway to investigate and praise this latest wonder from Detroit. Given the excellence of the Regal Buick now sells, the neighbors in those ads should come to praise Buick, not bury it.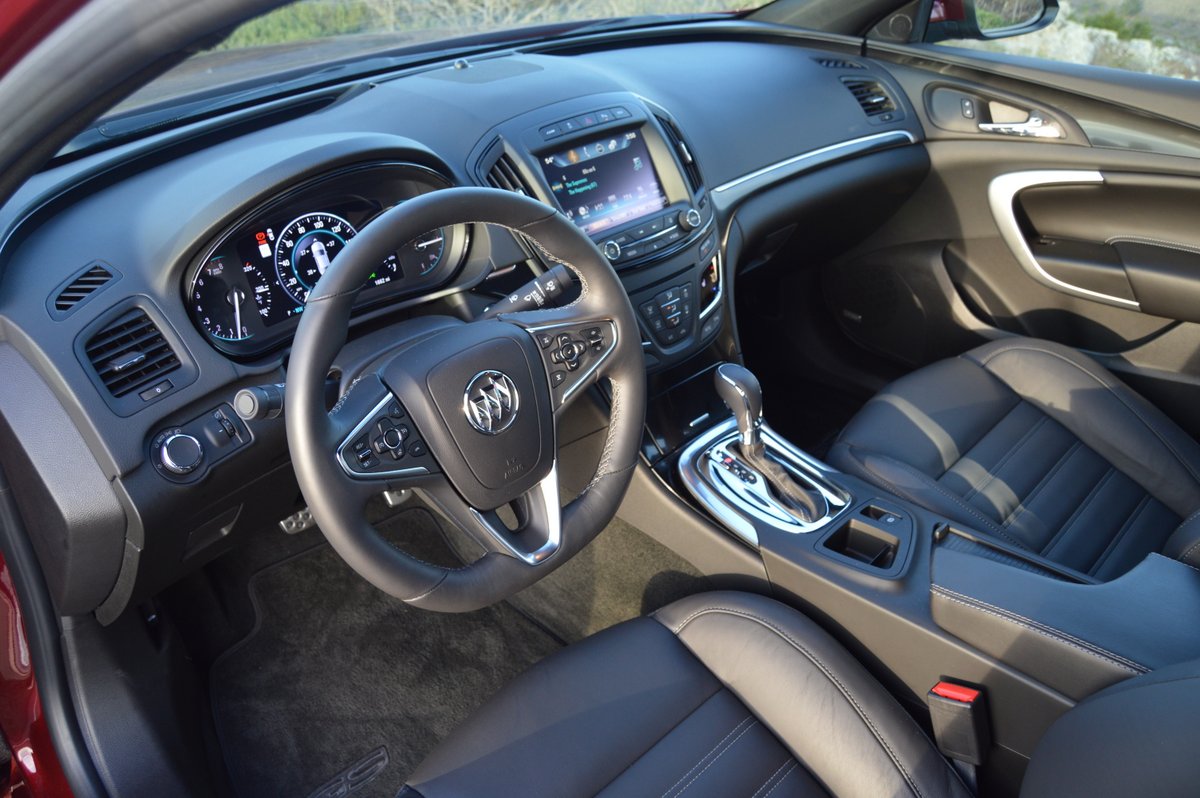 Let's start with the Regal's bullet of a power plant, the gas miser turbo 4, which makes 259hp, a stomping 295 lb.-ft. of torque, and still manages to return 22MPG in overall driving tests. This direct injection motor loafs along contemptuously in 5th or 6th gear, saving on fuel until you poke it into action by downshifting the transmission manually into 2nd or 3rd gear. With the rpm count thusly elevated, the petite four explodes into action, allowing you to accomplish any passing maneuver with an extra margin of safety. Likewise, the beautifully calibrated suspension settings afford a plush boulevard ride regardless of pavement inequity. But when you choose to put those fat Pirellis and stout Brembos to the test, the all wheel drive chassis of the Regal hunkers down like a cat ready to pounce. The variable assist power steering helps position the Regal with utter certainty, the short sidewall Pirellis never emit so much as a squeal of protest, and the Brembo brakes bring the works to a halt instantly. Though its outer appearance looks staid and conservative, this is really a driver's car masquerading as a family sedan.
In its role as people mover, the Regal succeeds admirably as well. The 8 way adjustable front seats, heated to match the heated steering wheel, offer more side support than any Buick in memory. They're also exceptionally comfortable under your thighs and beneath your lower back. Buick updated its IntelliLink infotainment system for 2016, and we found it to be logical and easy to manipulate. Nor is the dash bereft of all important knobs for critical functions like radio volume and station tuning. Most of these functions are duplicated on the spokes of the leather covered steering wheel.
The AWD Regal, with the optional turbo motor, is a stunning surprise of a sports sedan. Buick doesn't need to resort to all the racer tricks festooning most contenders in the category. You won't find embroidered headrests here, or aluminum pedal faces, or imitation carbon fiber trim strips on the dash. This one gets the job done with the goods you can't see from the outside, like perfectly calibrated springs and shocks, a super productive motor, and well-spaced gearbox ratios. If you don't want your family to know you just bought a sports sedan, you're home free, because there's no appearance group to hide. While this one may not look the part, it definitely is the part.
2016 Buick Regal AWD GS
Engine: 2.0 liter inline turbo 4 with direct injection
Horsepower: 259hp
Torque: 295 lb.-ft.
Fuel Consumption: 19 MPG City/27 MPG Highway
Price as Tested: $38,610
Star Rating: 10 out of 10 Stars
Related posts: