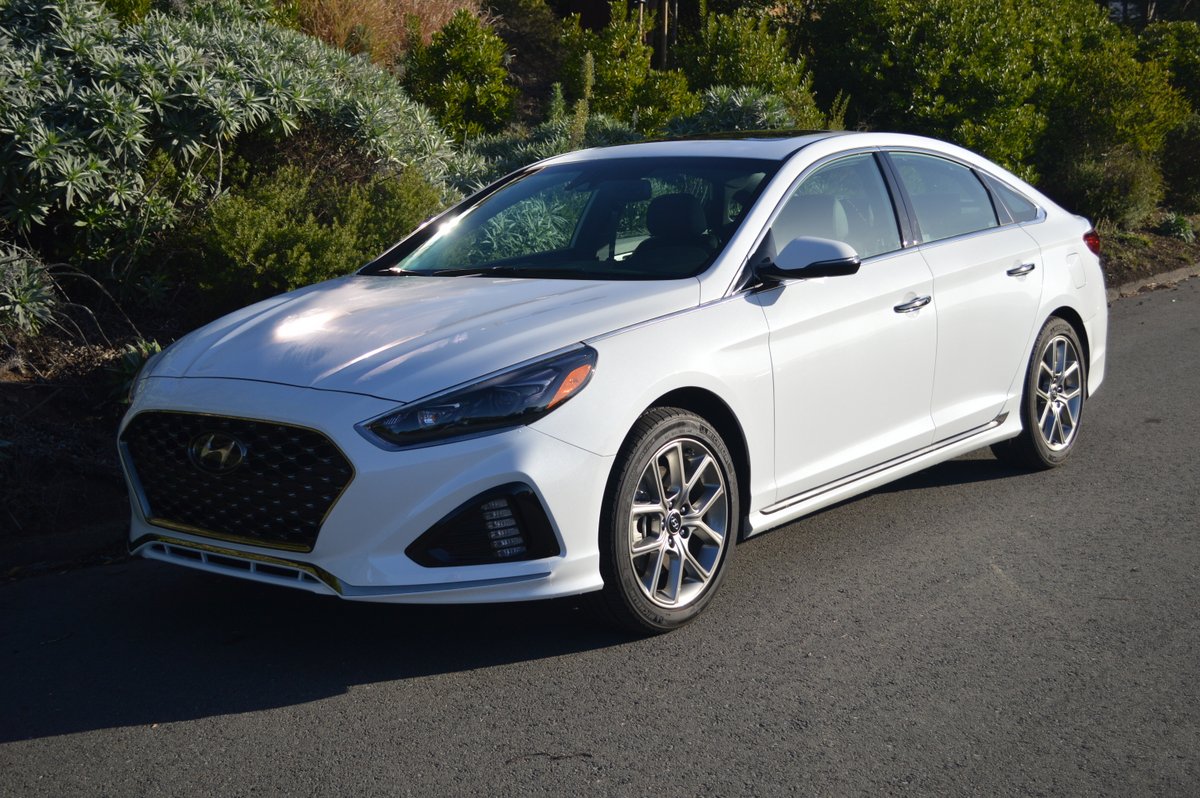 Hypes: Responsive Suspension, Gearbox, Motor
Gripes: Small Pass-Through Opening from Trunk to Interior
Hyundai is on a roll. Every year this South Korean company manages to improve their main line sedan, the Sonata, by refining its looks and performance. The revamped 2018 Sonata is fully competitive with the best from Japan for class honors in this lucrative market segment. It's been a long and fraught haul for Hyundai, which had to overcome the poor reputation of its first entry in North America, the trouble plagued Excel. But because the company is dedicated to relentless refinement, the Sonata now rivals Toyota's Camry and Honda's Accord for dominance in the mid-size sedan market.
Restyled front and rear fascias grace the Sonata for 2018. Hyundai offers three Sonata model lines. The gas engine SE range starts at $22,050 for a 185hp, 2.4 liter model. For $600 more, the Eco version offers better mileage (28/37MPG) than the SE but less horsepower (178hp). The top model is the SEL, with a starting price of $23,700 and the same 185hp output as the SE. Next comes the Hybrid line, with the SE starting at $26,000 and yielding 45MPG (highway). The Limited Hybrid costs $30,100 and yields 43MPG (highway).
But if you're an enthusiast driver, the Sonata you'll want to own is the model we drove: the 2.0T Limited. Under the hood lies a 245hp turbocharged 4 cylinder engine which propels this Sonata with BMW-like alacrity. The engine is coupled to a new for 2018 8-speed automatic transmission with aluminum paddle shifters large enough to find even when the steering wheel is cranked over for tight turns. The base price of the 2.0T is $27,600, with the more lavishly appointed Limited model we drove available for $32,450.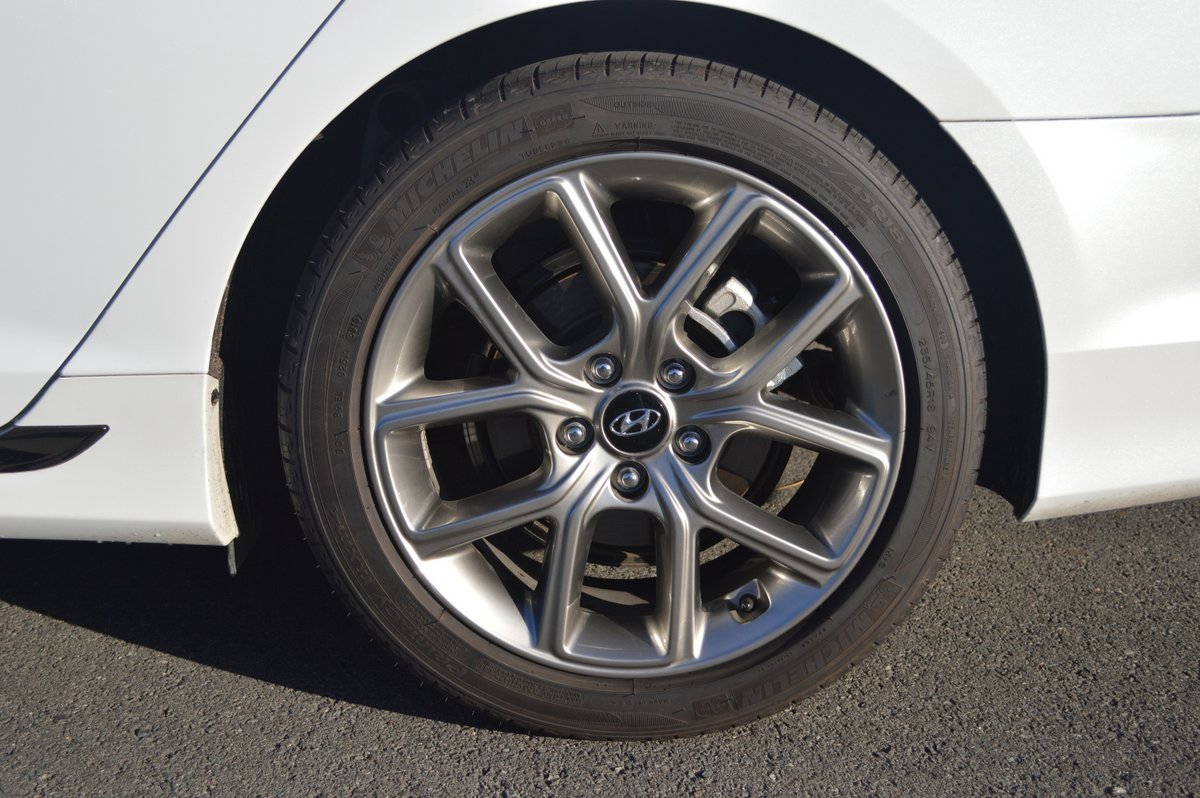 The engine in this front wheel drive sports sedan achieves maximum horsepower instantly thanks to lag-free turbo boost. High revving performance is also aided by the 2.0T's square bore and stroke dimensions of 3.39 inches. Gas Direct Injection (GDI) makes the most efficient use of fuel, with the 2.0T good for 23MPG City and 32MPG Highway. The 8-speed gearbox is flawless in operation, with those elephant ear "Shiftronic" paddles always available to help you snatch just the right ratio when needed. In fully automatic mode, the relaxed gearbox provides unobtrusive up-shifts, even under full throttle acceleration.
The 2.0T's restful interior is simultaneously utilitarian and artful. Hyundai designers used charcoal seat trim, blue piping and stitching, and embossed matte aluminum to achieve a gracefully functional driving environment. Instead of resorting to buried menu screens for operational oversight, the Sonata offers a handsome, symmetrical array of clearly labeled, blue backlit buttons for the following essential operations: fan speed, seat heat and ventilation, steering wheel heat, A/C, defrost front and rear. Also present are four sizeable knobs – a vanishing species these days. The lower pair control temperature range for driver and passenger, the upper pair adjust volume and station choice on the infotainment system. Support for Android Auto and Apple Carplay are standard on this Sonata, as are LED daytime running lights, and front seat heating and ventilation. To say the 2.0T is fully equipped would be an understatement, especially considering its modest price.
The best part of driving the turbo comes when you are free to attack a few apexes on a twisty back road. This sedan will absolutely stick with the best you can buy from Germany when it comes to canyon bashing. For starters, Hyundai equips the 2.0T with uprated sports suspension which is stiffer than any other Sonata in the model line. Even so, ride comfort remains enticingly plush when cruising the interstate. But on back roads, those Sport enhancements really shine. Handsome smoke anodized 7.5″ x 18″alloy rims mount Michelin MXM4 Primacy rubber (235/45R18) that is hard enough (TW500) to issue a chirp when pushed to the limit, but just sticky enough (Traction A) to clip the apex you're aiming for. All in all, the engine, drivetrain and suspension of this Hyundai work in close enough harmony to make you wonder why you'd consider spending two or three times as much to buy a BMW, Mercedes or Audi.
2018 Hyundai Sonata 2.0T Limited
Engine: 2.0 liter inline 4, direct gas injection, turbocharged
Horsepower: 245hp
Torque: 260lb.-ft.
Fuel Consumption: 23MPG City/32MPG Highway
Price as Tested: $32,450
Star Rating: 10 out of 10 Stars
Related posts: