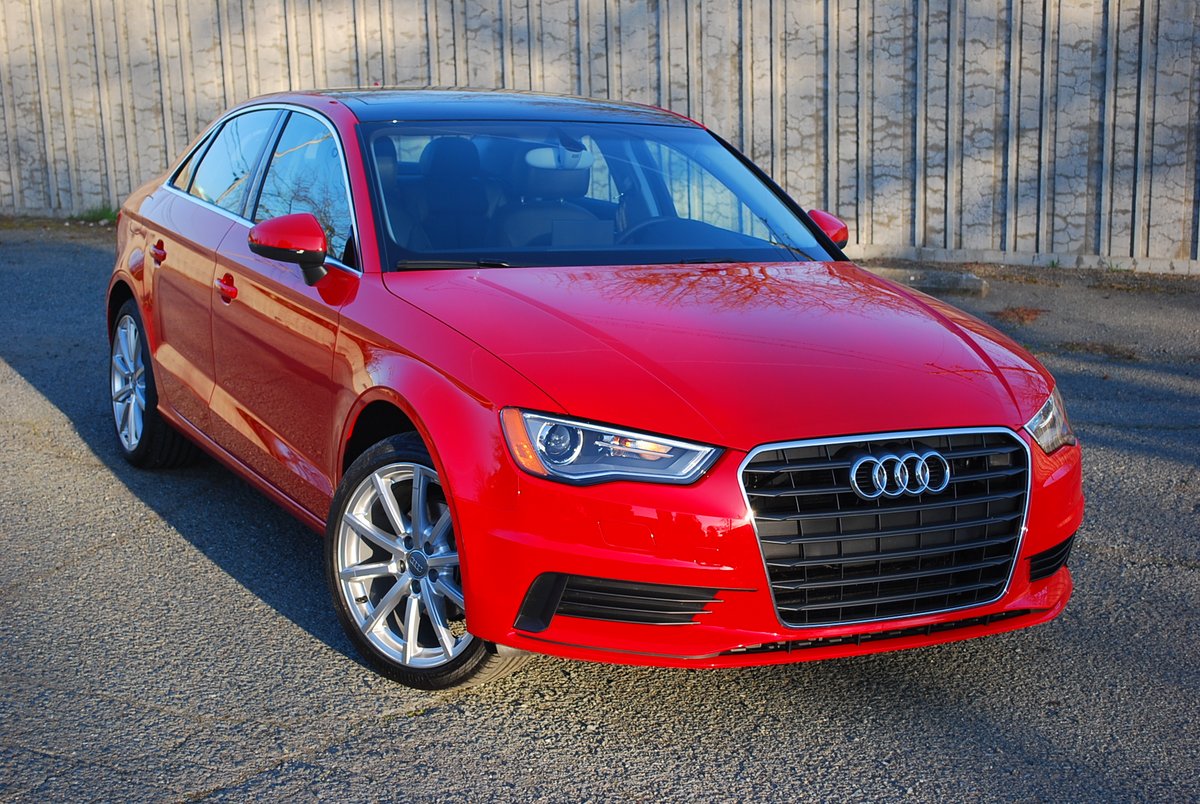 By David Colman
Hypes: Vault-Like Construction, Stellar Navigation
Gripes: Where Are My Paddle Shifts?
In terms of rave recognition, navigation screens usually rate pretty far down my list of significant features. But after spending some time decoding Audi's Google Earth-based "MMI Navigation plus package" (a $2,600 option), I was astounded by this system's stellar leap beyond anything else on the road today. Would you believe a pop-up 8.1 inch full color HD screen that transmits breathtakingly accurate overhead views of the countryside as you travel through it? How about a mind-boggling distance range from 30 yards to 1,500 miles above earth? Would you like to know what to expect at the destination of your trip? Just program an address into the system, and it will present you with a full Google "Street View" image which you can manipulate via the Audi controller to show a full 360 degrees of rotation. You can even adjust the magnification of the image to such a level of close up that it's possible to read license plate numbers of parked cars! To operate the system, simply dial in your preferred destination, or better yet, scribble it across the face of the controller, and MMI will decipher your handwriting. Never was Audi's adage about the strength of its technology more appropriate than in regards to this navigation package.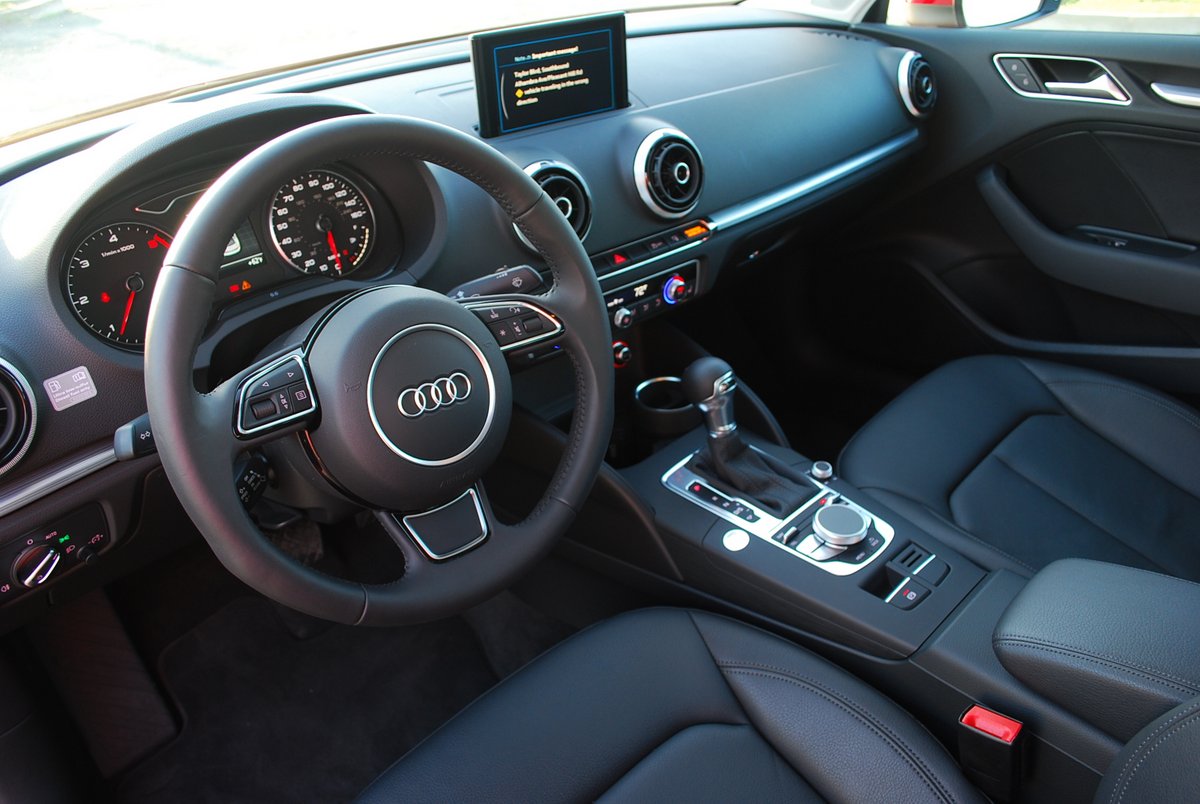 The system also happens to be connected to a particularly fine automobile. The Diesel version of the A3 is the least powerful variant you can buy. It makes just 150hp. Compare that to the 3 gasoline engines available in the 3 model range: the base 1.8 liter 4 makes 170hp, the optional 2.0 liter rates 220hp, and the top line S3′s 2.0 liter makes 292hp. So why opt for the puniest motor in the family garage? Torque, mileage and driving range. The Diesel produces a respectable 236lb.-ft. of torque – that's 36lb.-ft. more than the base gas motor – and it does so from 1700rpm all the way to 3000rpm. The Diesel A3 rates an 8 on the EPA's scale of 10 for "Fuel Economy and Greenhouse Gas Rating" because it manages 31 MPG around town, 43 MPG on the open road, and 36 MPG in overall driving. You can multiply that figure of 36 MPG by the 13.2 gallons it takes to fill this Front Wheel Drive Audi, to determine an overall cruising range of 400-500 miles per tank. Try as we might to empty the tank of our test A3, we still returned it half full of Diesel after running it continuously for a week. Annual fuel cost is rated at a very modest $1,550 by the EPA.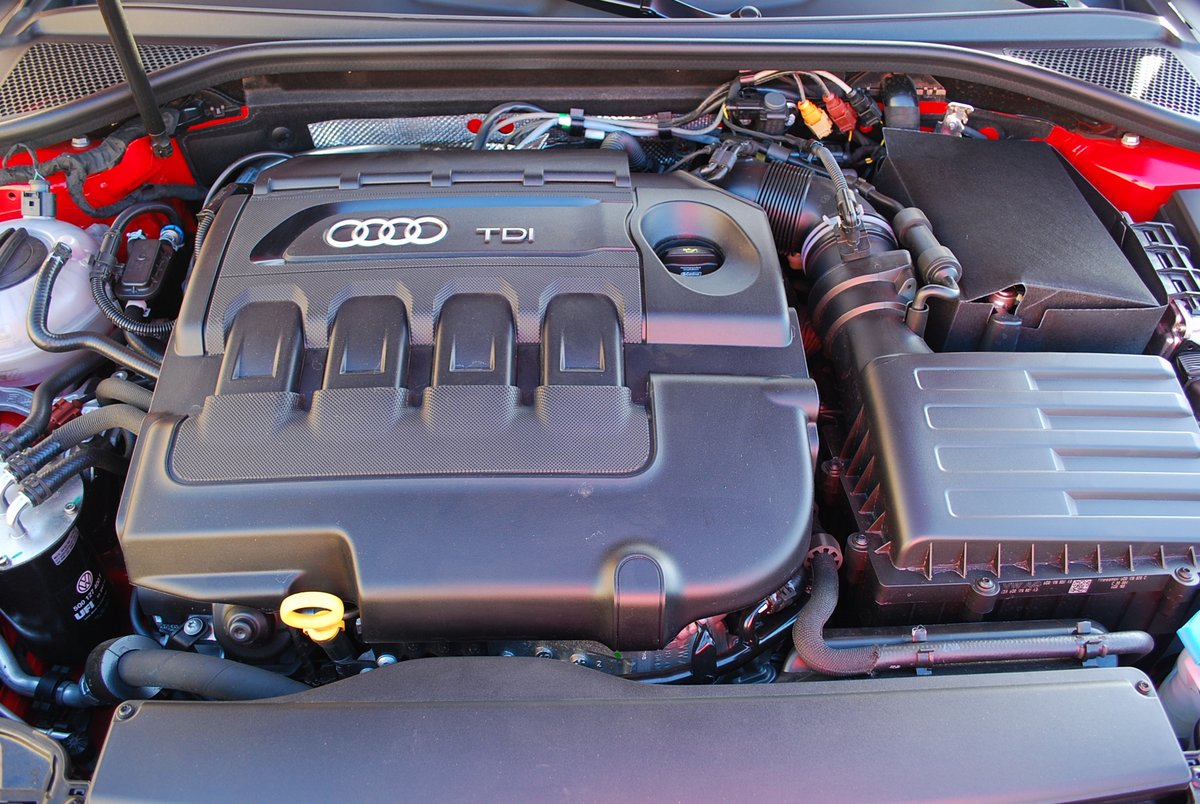 Thanks to Ready Tellers, it's probably been awhile since you've been inside the vault of your local bank branch. But if you miss that consummate feeling of security, just climb into an A3 for a dose of instant vault gratification. Notice how the doors open and shut with military precision. The knurled aluminum grip rings surrounding the ventilation ducts mete air flow with the kind of precision you'd expect to find in a hospital operating room. Even such a minor control as the joystick for adjusting the exterior rear view mirrors responds precisely and accurately to your slightest touch. Audi achieves engineering excellence by mastering a vast accumulation of such seemingly trivial details. Take the cruise control, for example. Many manufacturers these days have managed to over complicate this feature. But Audi, relying on the proven technology of the universal VW stalk system, gives you just four choices: push the button at the end of the stalk in to activate cruise control, push the stalk down to set a speed, push the stalk up to increase speed, and push the stalk towards the front of the car to deactivate cruise. It's an achingly simple system that many others would do well to emulate.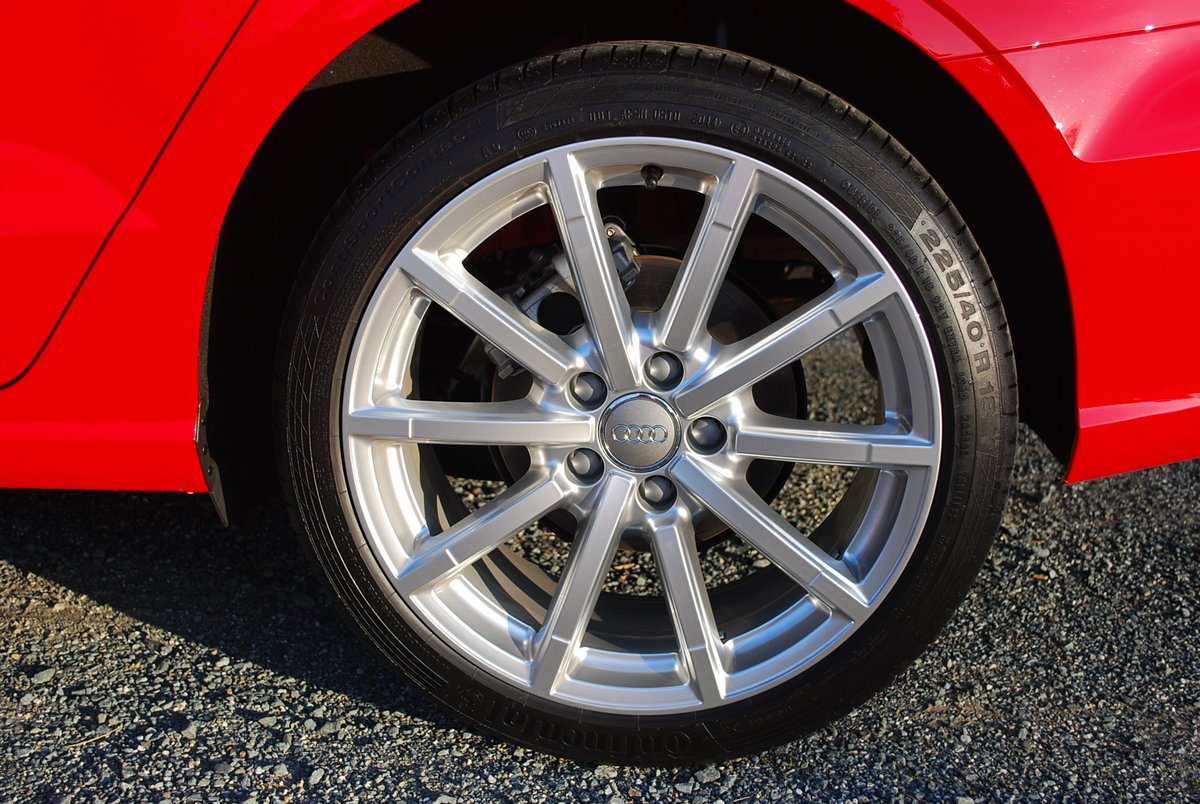 You will discover some strange inconsistencies in the overall layout of the A3 TDI. For example, the suspension system here is definitely calibrated to sport operation. Spring rates are just short of harsh over broken road surfaces, but remarkably well calibrated to keep the chassis level during spirited cornering. The sport-oriented ten-spoke, 18″ alloys, shod with Continental Sport Contact radials (225/50R18) are included in the "A3 Premium Plus model" option group for $2,550. This package also provides heated front seats with 4-way lumbar support, keyless entry and button activated stop/start. So the A3, thusly optioned, rides and handles firmly, like a true German sport sedan. Yet its S tronic 6-speed gearbox, which can be manually controlled, inexplicably lacks steering wheel paddles for full sports driving enjoyment. We also discovered that when you "lock" the gearbox manually into second gear, it will automatically up shift to third at just 3,500rpm. However, when you lock the transmission into third, it will stay put even when you rev the engine to 4,000rpm. Now granted, gear changes don't play an important role in overall performance thanks to the Diesel's abundant torque. But still, in a sedan so sportingly configured, the lack of paddle shifts is hard to justify.
The A3 with Diesel power is perfectly suited to long distance touring. Its cockpit is roomy enough for four full size adults and the 13 cubic foot trunk is spacious enough for all their luggage. The spectacular Navigation system will not only insure your arrival at any chosen destination, but even take a picture of each location you visit and save it to memory! The A3 represents the cutting edge of technology. The future arrived yesterday.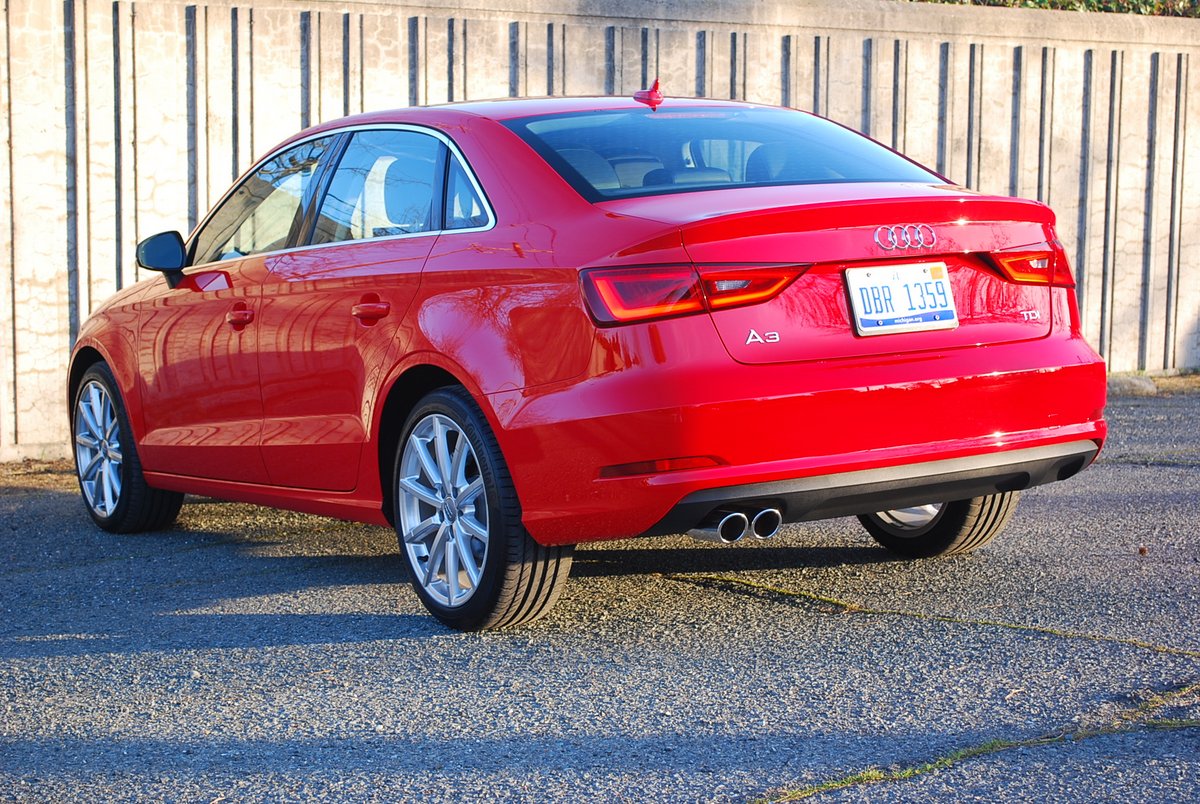 2015 Audi A3 Sedan TDI FWD S tronic
Engine: 2.0 Liter inline 4 cylinder Clean Diesel
Horsepower: 150hp @ 3500-4000rpm
Torque: 237lb.-ft. @ 1700-3000rpm
Fuel Consumption: 31MPG City/43MPG Highway
Price as Tested: $38,645
Star Rating: 9 out of 10 Stars
Related posts: