By David Colman
Hypes: Race Car for the Street
Gripes: Relocate Command Control
The all new 2016 Mazda Miata provided the highlight of my test driving year. In the Bay Area, one of the most challenging back roads traverses the foothills between Sunol and Fremont. This narrow, tortuous stretch of pavement includes hundreds of sharp turns, most of them blind on entrance or exit. I've done this road in a Porsche 911 Turbo, which proved way too much car for this poorly paved passage. You wouldn't want a Corvette here or a BMW M3, let alone a fat tired Ferrari or Maserati. They're all too heavy and reluctant to change direction. What you do want is Mazda's new Miata MX-5, re-engineered from the ground up to be lighter and nimbler than ever before. On this stretch of pavement, the latest MX-5 proved absolutely magical. It changed direction faster than 'Mr. Toad's Wild Ride' at Disneyland. The Miata enjoys perfect balance thanks to its 52/48% front/rear weight distribution. And speaking of weight, new aluminum hood and trunk lids help pare the Miata to just 2,313 lb., a number unheard of in today's safety festooned behemoths.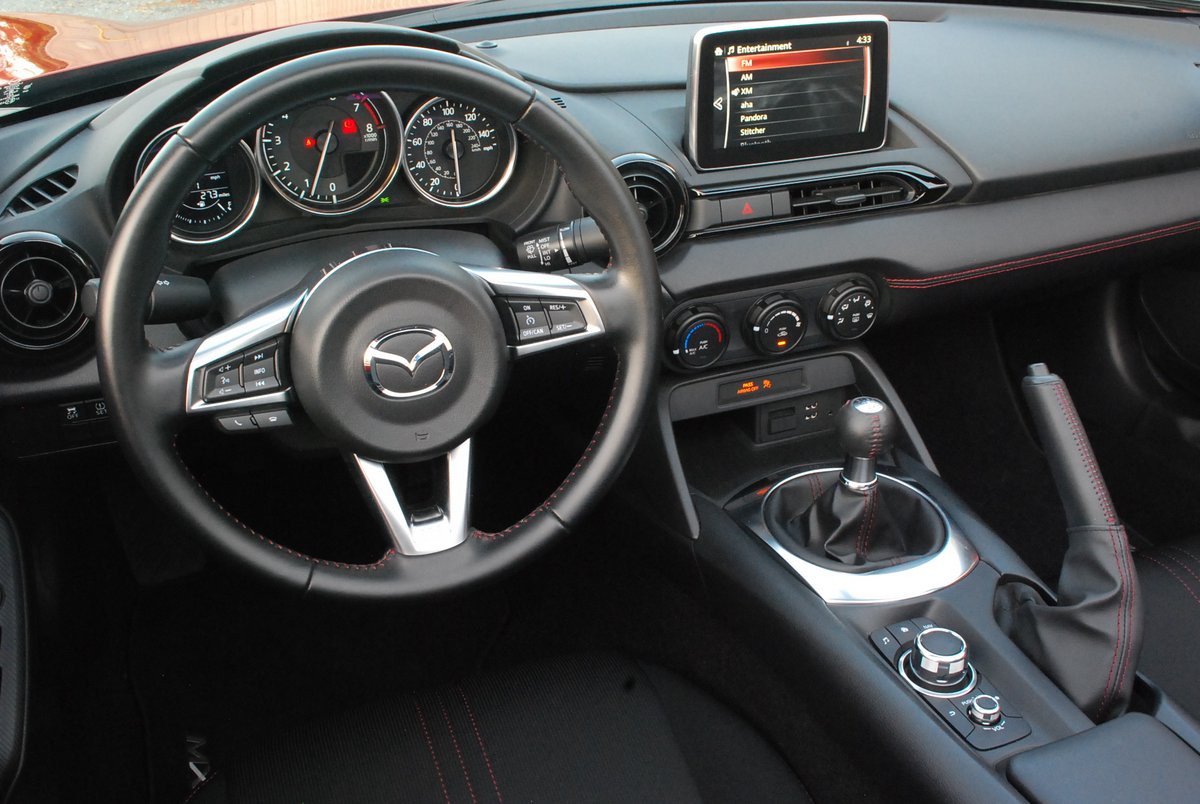 The Miata remains mercifully unfettered by all the expensive, optional lane change alert systems now plaguing the auto industry. If you need rear cross traffic alert while backing up the Miata, just drop the convertible top and turn your head around. Ever so much better than peering at a dimly lit screen on your dash. In so many ways, this car is a delightful throwback to the sports cars from Italy and Great Britain like Alfa Romeo's Duetto and British Leyland's Triumph TR 4. The Miata shares the enduring simplicity of these forerunners, with a 4 cylinder, non-turbo engine up front, sophisticated all- independent suspension, and excellent 4 wheel disc brakes. In the case of our test Miata, those brakes received a substantial upgrade over stock, with Brembo front brake calipers clamping 11 inch Brembo made discs. You must order the $3,400 "1BB" package which also provides German forged alloy BBS wheels finished in dark grey. As part of a no extra charge group, you'll also want the "2AP" package, which transforms the appearance of the MX-5 from benevolent to snarky. The aero accoutrements of the 2AP group include piano black tail spoiler, flared side skirts, and front airdam.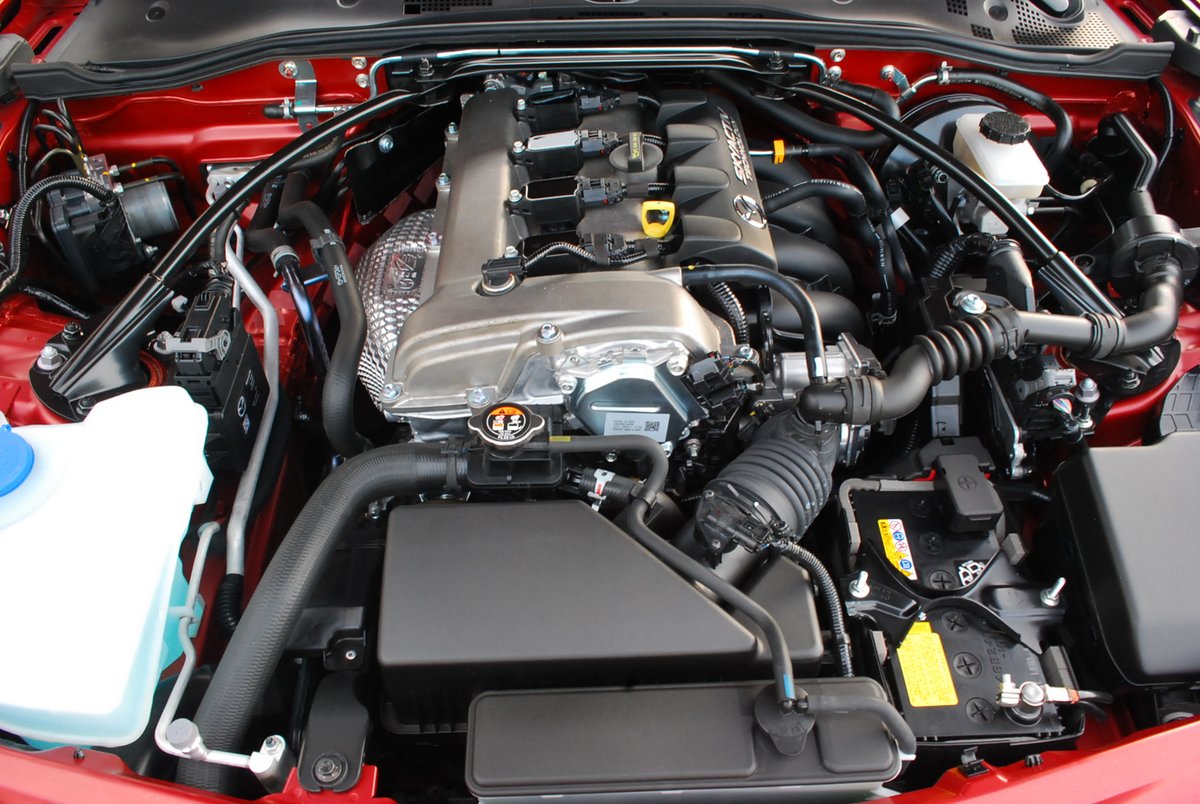 The 17 inch BBS wheels provide support for first class Bridgestone Potenza S001 radials which are modest in dimension (205/45R17) but tenacious in grip. On the foothill twister, the Potenzas never once lost their grip, tackled every turn without so much as a chirp of protest. Of course, the fact that Mazda includes a sport tuned suspension with Bilstein shock absorbers and a limited slip differential as standard fitment does wonders for the handling of the MX-5. On sharp turns, it responds like a go-kart thanks to its ultra-tight turning circle of 30. 8 feet, and its super quick steering wheel travel of just 2.7 turns, lock-to-lock. When you're not tackling a snaky back road, the Miata is still a lot of fun to drive. It can zip into traffic holes or parking places that would make a cumbersome SUV envious of its agility. Since we had the top down for most of our test week, visibility was unimpeded in all directions. Even with the top up, Mazda has thoughtfully provided a heated glass rear window element to help clear the dew and the view. The top is manually actuated, with no weight-adding electric motors necessary. While still seated you can fold the top or raise it with just one hand. When down, it clicks into its own receptacle and forms its own tonneau-like cover. With the top dropped and the side windows raised, the cockpit is draft free.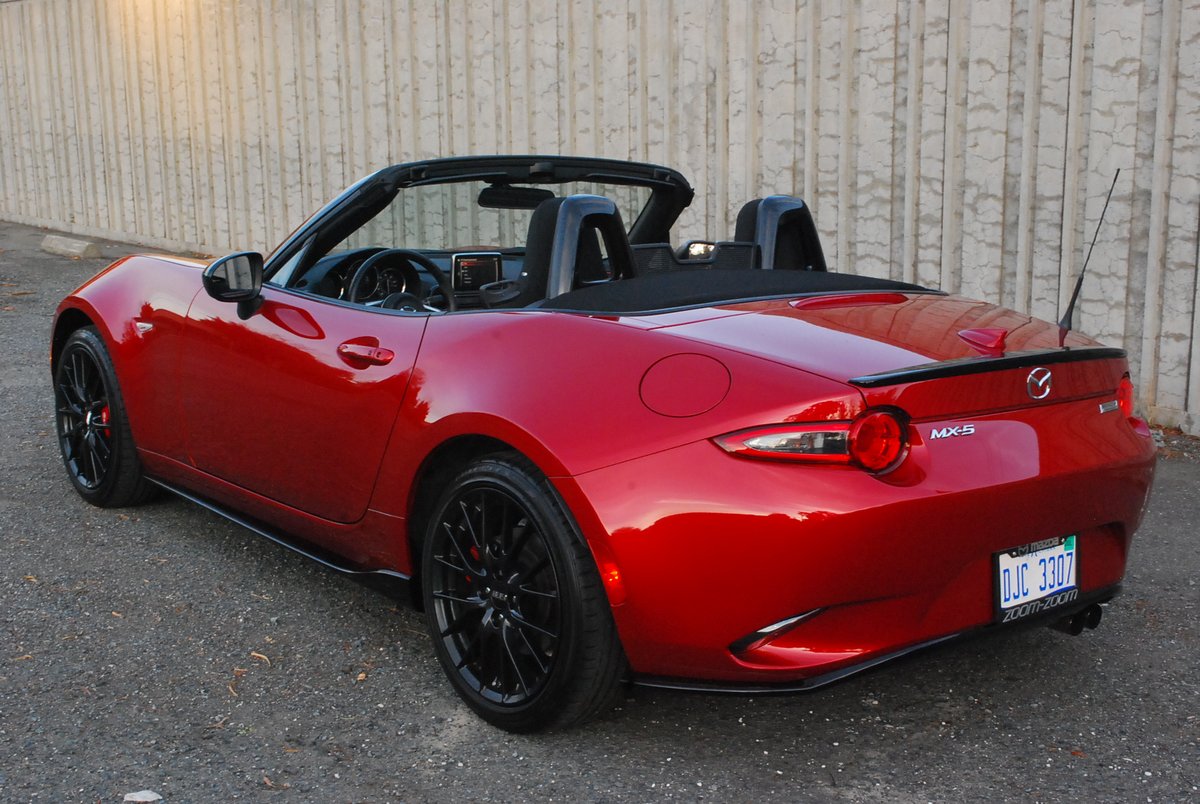 The latest Miata has also inherited a few of the less endearing traits of vintage British sports cars. For example, the layout of the passenger compartment resembles something an MG designer would have fudged together back in 1970. There's no glove box in the dash, almost no storage in the doors, and the cup holders are so far behind you on the center tunnel as to be all but useless. The "Multi-Function Commander Control" is mounted on the transmission tunnel just aft of the 6-speed manual gearbox stick. This control enables you to trigger selection by depressing its center button. In actual practice every time you change gears and rest your forearm on the tunnel you inadvertently trigger a selection change on the commander control. I lost count of the number of times I unintentionally shifted channel choice from XM Satellite to FM radio thanks to this idiosyncrasy. But in the big picture it's quite insignificant. Because this a sports car you buy because you love driving, not because you love listening to tunes.
2016 Mazda MX-5 Miata
Engine: 2.0 liter inline 4 with DOHC
Horsepower: 155hp@6000rpm
Torque: 148lb.-ft.@4600rpm
Fuel Consumption: 27MPG City/34MPG Highway
Price as Tested: $32,820
Star Rating: 10 out of 10 Stars
Related posts: