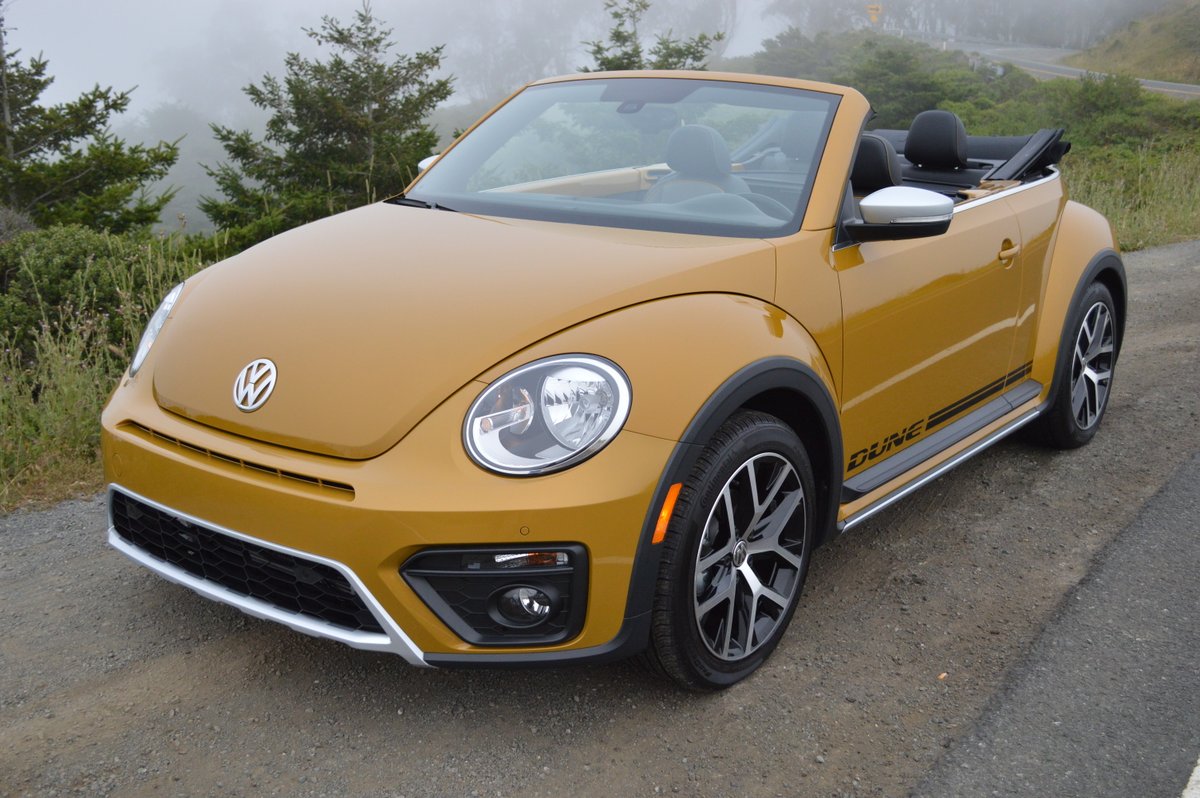 By David Colman
Hypes: $100,000 Custom Look at 75% Off
Gripes: Small Trunk
You've got to hand it to Volkswagen. Here's a company that does a better job of mining its own history than any other car maker. The latest nugget they've resurrected from their past is pure 24K gold, both in color and in spirit. Harkening back to The Sixties, when sand racers in California jacked VW Beetles up on Jeep wheels to attack the sand dunes of Baja, comes the appropriately named Beetle Dune. This package successfully resuscitates the myth – if not the off road performance – of those primordial Baja Bugs. VW accomplishes the transformation of the New Beetle into the Baja Beetle of yore through sleight of eye. Thanks to new front and rear fascias, black wheel arch extensions, and skid plate underpinnings front and rear, the 2016 Dune looks ready to tackle a run from Ensenada to Cabo San Lucas.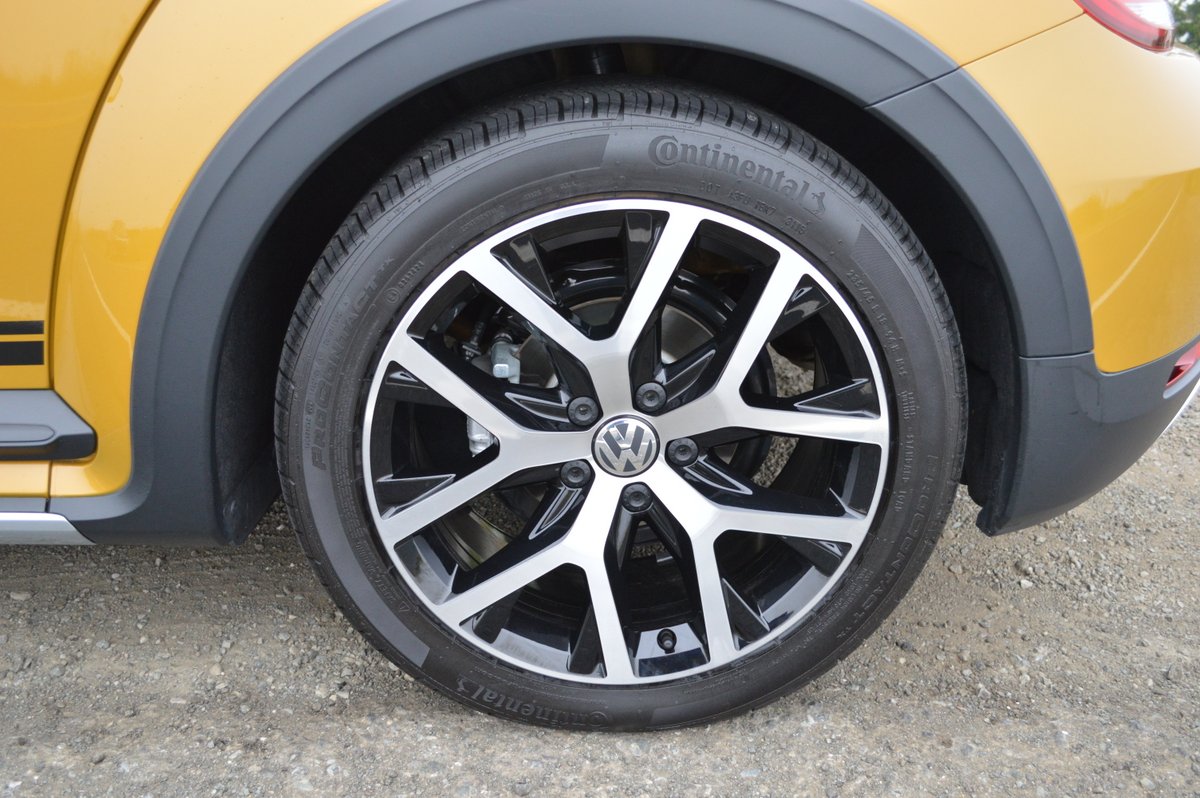 But the Dune's diversionary looks can be deceiving. Even though ride height is half an inch taller than that of a stock Beetle, the Dune still clears the ground by just 5.9 inches. And VW's use of 8 inch wide "Canyon" alloy rims with 235/45R18 Continental ProContact tires affords very little sidewall buffer for safe travel over unimproved roads. That restricted ground clearance means you'll want to stick to paved roads or well groomed dirt trails because this Beetle, despite its promising looks and name, is no off-roader. Rather, it's just dressed up to look like one.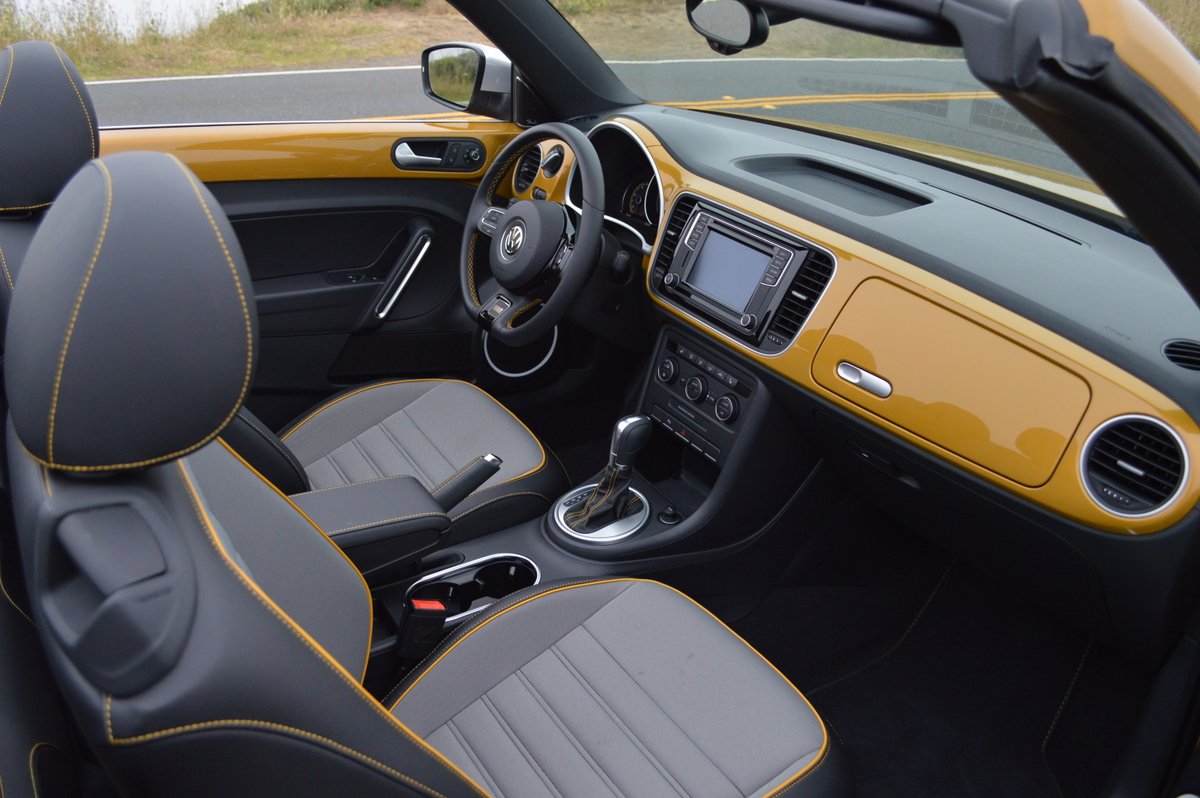 Dressed to the nines in fact, with a flashy exterior and a jaw dropping flash-point interior, both of which look best in all revealing Convertible form. Although both closed and open versions of Dune are available in three shades (Sandstorm Yellow, Pure White and Deep Black), the only color that does justice to the visual symphony is Sandstorm Yellow. Call this one Dune Messiah. Only the Sandstorm Yellow Dune includes upper door trim panels and dash pads finished in exterior color. The White and Black versions both make do with boring black door and dash trim. The net effect of the dazzling metallic gold exterior paint finding its way into the interior is eye popping. VW then takes the audacious custom look to the next level by fitting the Dune's interior with gray cloth and black leather sport seats double seam stitched in Sandstorm Yellow thread.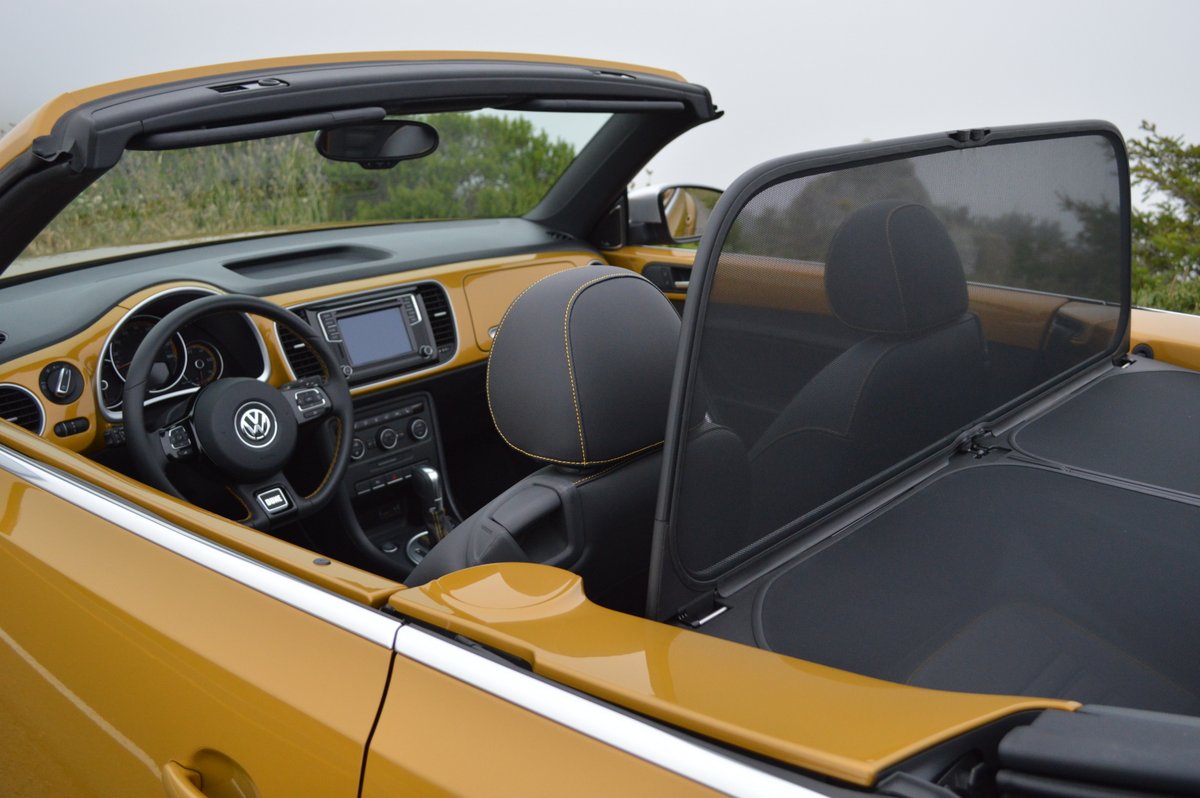 We enjoyed several pleasurable long drives in the Dune's cockpit with the top stowed, the four side windows up, and the huge rear seat wind blocker erect. These measures cancelled virtually all air swirl inside the Dune, allowing open air motoring without the constant draft hassle. Of course, you are free to drop the windows and wind block for a more motorcycle like experience. The convertible top is beautifully constructed, with enough padding and insulation to make the Dune a true all weather proposition. VW provides a tonneau cover for a finished look when the top is down. A single button on the windshield frame operates the top's mechanism, and operation is automatic from start to finish. There is no need to latch/unlatch the roof from the windshield manually, and Dune even drops or raises all four windows as needed during each cycle.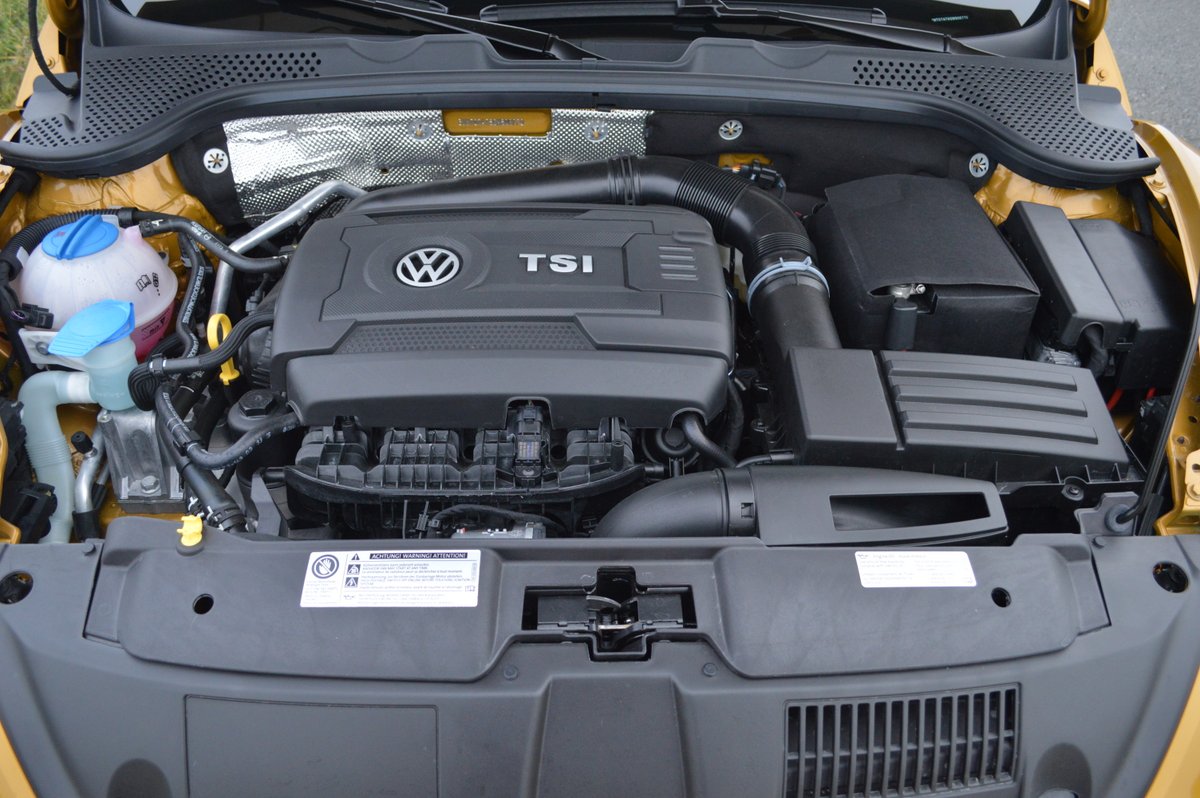 Although Dune is designed to look like the original rear-engined Beetle, the engine is now located up front rather than out back. In fact, this Beetle is built on the same platform as the current Golf, so you can expect performance to mirror that of the Golf range in terms of acceleration, handling and fuel consumption. Which is to say the Dune performs well on all counts. It's powered by a 170hp version of the Golf's 1.8 liter turbocharged inline 4, which produces 184lb.-ft. of torque. Our test Dune fed its horsepower to the front wheels through a 6-speed automatic gearbox which could be shifted manually via the floor mounted stick when in Sport mode. No paddles are provided, however.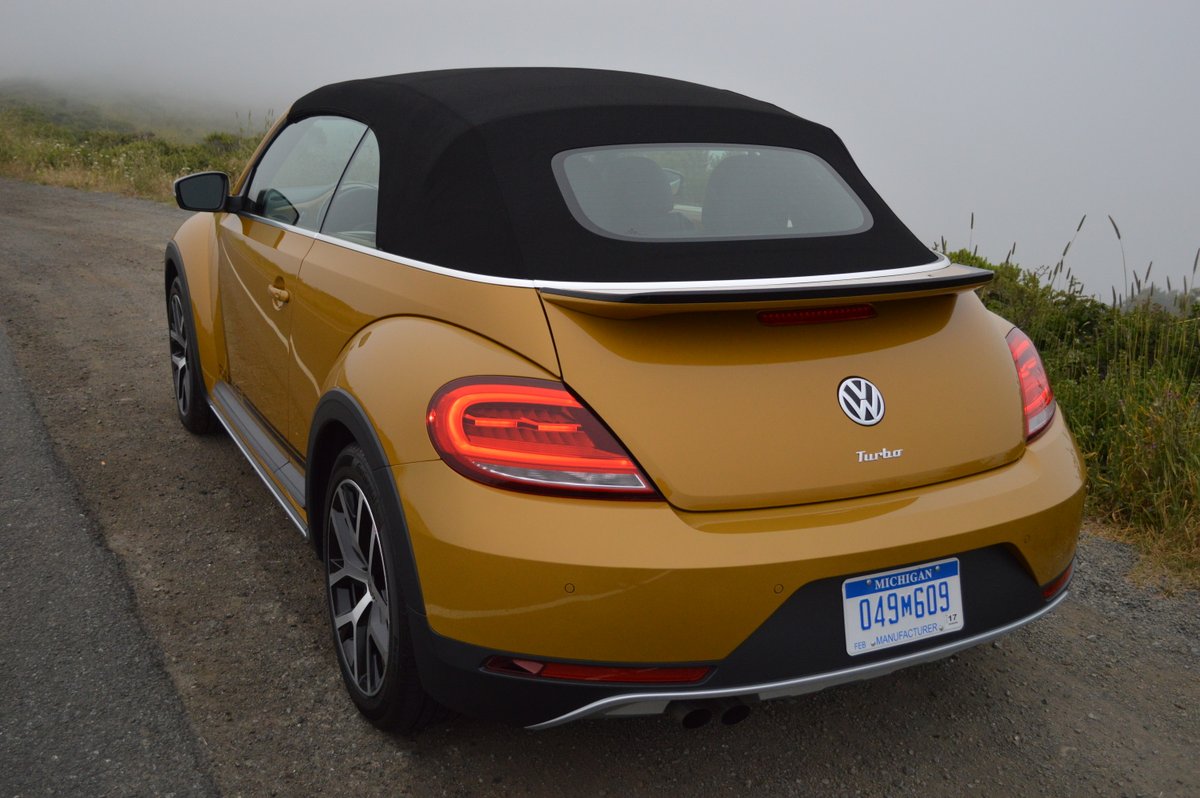 The Dune Beetle is the ultimate illusory car. It looks like an original rear engine, rear drive Beetle, but in reality features a front engine and front wheel drive. It mimics the looks of a Baja Bug thanks to its medley of evocative styling clues, yet it will be driven off road rarely due to limited ground clearance. In view of all these tricks, you might call Dune the ultimate poseur's car. But oh, what a lovely and unforgettable pose it has struck.
2016 Volkswagen Beetle Dune
Engine: 1.8 liter inline 4 cylinder,16 valve, turbocharged and intercooled
Horsepower: 170hp
Torque: 184lb.-ft.
Fuel Consumption: 25MPG City/34 MPG Highway
Price as Tested: $26,815
Star Rating: 9.5 out of 10 Stars
Related posts: