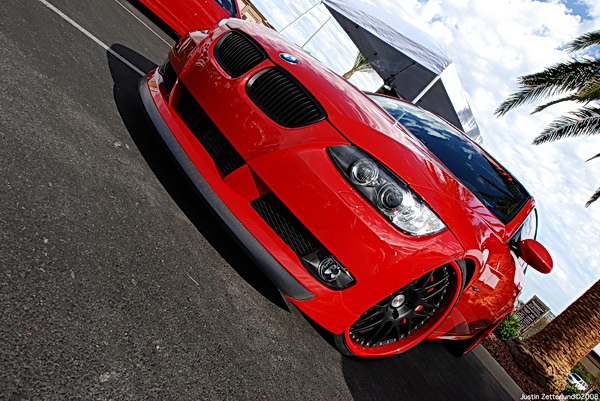 In June of 2008, the team at JleviSW.com embarked on a new project car – code name, "Red Dragon". Keeping the aftermarket scene in mind, they chose to modify the extremely popular E92 335i, as it had significantly higher production numbers than the nascent E92 M3. Furthermore, having thoroughly enjoyed their VF Engineering Supercharged E46 328Ci, the team was simply unable to resist the temptation of a Twin-Turbo Inline 6, and immediately saw the immense potential of this tuner car. From the outset, the goal was clear: the company would showcase its expertise and product line in an effort to inspire customers, inviting them to share in every step of the process.

During the last week of June, the team traveled to beautiful Munich, Germany, home of BMW. Though it was not their first trip to the factory, they had the privilege of taking delivery of their custom-ordered Crimson Red project car in the newly built BMW Welt. This experience was truly unparalleled; so enjoyable, in fact, that they would choose to repeat the process in November of that same year. But more on that later.
After an arduous 8 week wait, the car arrived at Long Beach BMW and was driven up north to Jlevi StreetWerks, LLC's headquarters in Santa Clara, California. Within 12 hours, the car was on the rack at Sonic Motorsports in Mountain View, receiving the bulk of it's upgrades to the motor, the suspension, the braking systems, and of course, the stunning wheels by Enkreuz. The first round of modifications was provided in large part by their industry partners and sponsors:
Enkreuz H8R Wheels, 20×8.5 Front and 20×10 Rear, with Crimson Red lips, Matte Black centers, and Matte Black Inner barrels
NITTO Invo Performance Tires, 245/35/20 Front and 275/30/20 Rear
Active AutoWerke Catback exhaust
Active AutoWerke Processor by AEM, with custom Valet Switch
Active AutoWerke Blow-Off Valve
KW Variant 2 Coilover System
RISS Racing Catless Downpipes, 3″ Diameter
RISS Racing modified Clutch Delay Valve
Brembo Cross-Drilled Big Brakes front and rear: 380mm 6 Piston Monoblock Front, 345mm 4 Piston Rear. Red, of course.
JleviSW Matte Black front Kidney Grilles
Soon after, Vorsteiner's contributions to the car would arrive:
Single Sided Carbon Fiber V-35 Vented Race hood, a collaborative design between Jlevi StreetWerks, Vorsteiner, and the members of E90post.com
Single Sided Carbon Fiber V-CSL Bootlid
Carbon Fiber Aero Front Lip
Carbon Fiber Type II E92 Rear Diffuser
These components would all be decked out with a custom "Matte" finish to showcase the carbon fiber. At the same time, a roofspoiler was added, and the roof painted black to elongate the car and compliment the tinted windows. Shortly thereafter, the car, which would become known as the "Red Dragon" for the hissing noise of the Active AutoWerke blow-off valve, was completed with an aFe Cold Air Intake, aFe Dynamic Air Scoops, Matte Black window trim, RD LED Angel Eye Upgrades, and a host of Bimmian modifications including:
Interior Xenon Lighting: High Powered LED
Aluminum Pedals
Painted Bumper reflectors
Smoked LED Side Marker housings
Dynamic Carbon Fiber Roundels
6000K D1S Xenon Bulbs
Custom Red and Black "JLEVI SW" European License Plate
Now completed and weighing in at around 400 crank horsepower, Audrey the "Red Dragon" is currently preparing for the 2009 Show Season, and will be hitting shows throughout the West Coast. And, if you're feeling especially daring, passenger-seat demonstrations are available upon appointment at Jlevi Streetwerks.
I would say the car is very drivable. Jonathan (founder and director of company relations) confesses to driving it a few times a week to the grocery store and for normal mundane tasks, and it's a "BLAST!" It's also fun to see how it ranks up. As you know, the 135i is faster than the M3, so when Audrey ran against a stock 135 last week, the "Red Dragon" was able to pull on the 135 at every gear and every speed. It's a shame that feeling won't last – that same 135 is scheduled to have all the same upgrades as the "Red Dragon", and weigh 350lbs less!
There are a few changes to contend with such as the car smells like gasoline whenever running, at least from the outside, since the catalytic converters were removed. Beyond that, the typical: it's a pain in the ass to get in and out of driveways. No other complaints, though – it's a joy to drive, we love the volume, the bumpiness isn't bad at all with the current suspension settings, and there are ZERO error codes.
Sources:
Photos provided by Jonathan Levi and Justin Zetterlund
Content provided courtesy of Jonathan Levi
Aftermarket Tuner: JLevi Streetwerks
---
EXPERT REVIEWS
2010 BMW 335d Review
Rating:
By Anson Tse

"The BMW 3-series is perhaps the best handling sedan on the market. I would best describe the handling as agile and firmly planted, but never bulky or overweight. "

Jlevi Steetwerks BMW 335i project car – Enter the dragon
Rating:
By Derek Mau

"It's a joy to drive, we love the volume, the bumpiness isn't bad at all with the current suspension settings, and there are ZERO error codes."

2008 BMW 335i Sedan Review
Rating:
By Twain Mein

"Carving mountain passes demonstrated the lack of body roll and tremendous power of the engine. The car truly dances through the curves…"
Related posts: