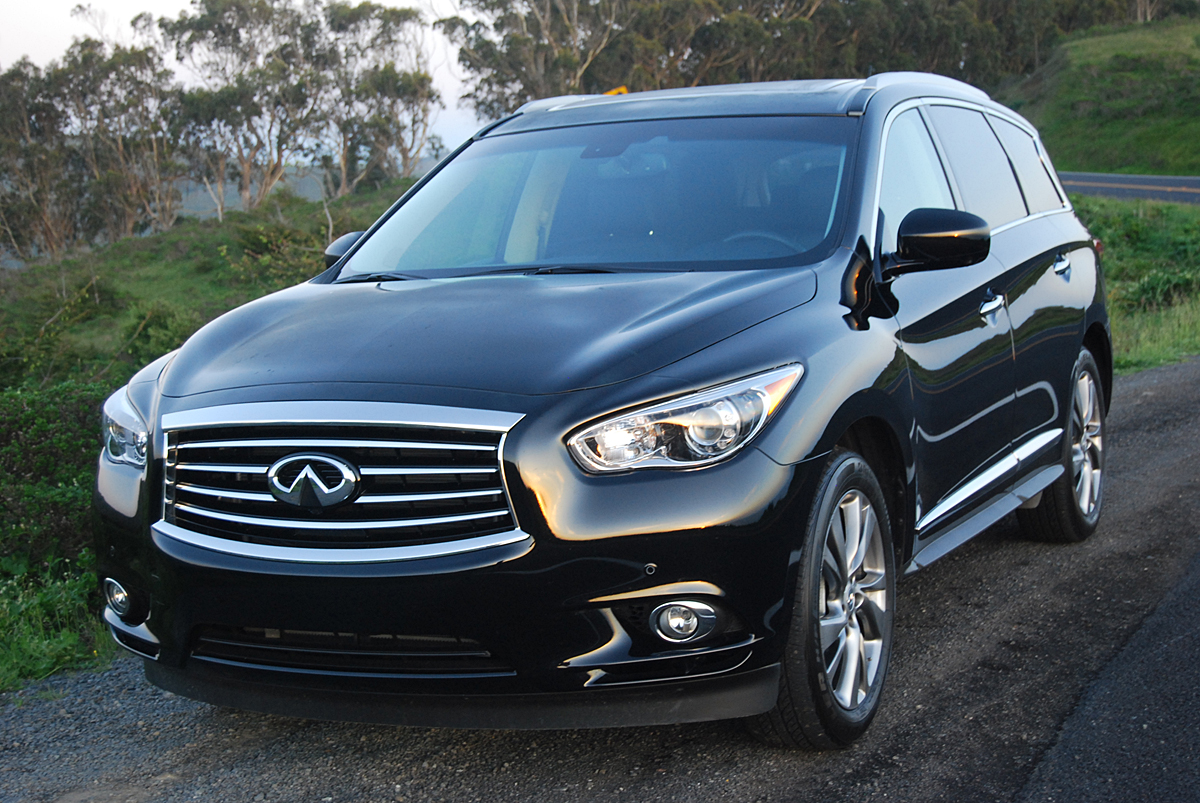 By David Colman
Hypes: Up-market Interior, Command Seating Position, Go Anywhere Traction
Gripes: Lumbering Demeanor
Infiniti's JX35 AWD is the kind of travel partner that grows on you. It isn't particularly fast or surpassingly handsome. It doesn't boast sports SUV handling agility. But just let it start raining hard, and you'll quickly make best friends with this exceptionally competent people mover. When the weather turned vile due to a spate of late winter storms, the JX35 AWD proved to be the hot ticket for slaloming around fallen branches, zipping through ankle deep puddles, and enabling me to reach distant destinations without fuss or anxiety.
The JX35 comes by its all weather prowess honestly, since it's based on Nissan's new Pathfinder unibody chassis and transverse mounted 3.5 liter V-6. Infiniti tuning bumps the engine output from the Pathfinder's 260hp to 265hp. In both applications, the V-6 powers a CVT transmission. Although I've never been a fan of continuously variable gearboxes, the JX35 installation works really well. The engine's ample torque output of 248lb.-ft. eliminates gear hunting. This in turn reduces gear whine, which is a primary CVT annoyance. In addition, Infiniti has perfected a manual shift mode that allows you to mimic the stepped ratios of a normal automatic. Steering wheel proximate paddles, however, are missing, so you'll need to bump the floor stick for shifts.
Another reason the JX proves to be a tidy package in a storm is its marvelous "Intelligent" all wheel drive system, which allows you to select exactly what manner of traction you need (Standard, Sport, Snow, Eco). The "Standard" default setting worked exceptionally well in even monsoon conditions, and when the skies cleared we flipped the selector to "Sport" for stiffer shock damping and more resistance to pitch. Infiniti fits the base level JX35 with 18 inch, 5-spoke alloy wheels shod with 235/65R18 rubber. But thanks to a $2,550 "Deluxe Touring Package," our test JX stood tall on honkin' Bridgestone Dueler 235/55R20 Mud & Snow rubber gracing pewter 10-spoke alloys. Although you'd pay close to $2,550 just for those wheels and tires at your local shop, Infiniti also throws in a few other deluxe package goodies: upgraded Bose "Cabin Surround" sound, Advanced Climate Control, Climate-controlled front seats, Heated second row seats, 2nd and 3rd row power moonroof, Rain-sensing wipers, and Maple interior accents. The rain-sensing wipers were perfectly suited to the intermittent nature of our recent storms and removed one more annoyance from the chore of wet weather driving. The standard rear wiper kept aft vision reassuringly clear.
At first, you will be hesitant about backing this lengthy (196.4 inch) bus out of parking spaces. But a Rear View Monitor is standard equipment on the JX, and the image it displays on the 7 inch color dash screen provides more than adequate rear vision aid. If you feel less than secure about the positioning of your Infiniti, you can always opt for the $3,100 "Technology Package" which offers Back-Up Collision Intervention (BCI). This device will brake your JX to a stop if it detects an obstacle in your path while reversing. The package also includes brake assist with forward collision warning, lane departure warning and prevention, intelligent cruise control with distance assist, and a heated steering wheel. The beauty of this package is that you can manually decommission any or all of these assistants, and once you've deselected them, they stay deselected the next time you start your JX. So if you want to retain Back-Up Collision Intervention while deleting Lane Departure Prevention, you can do so on a permanent basis.
The JX35 AWD carries a base MSRP of $41,550, compared to the front-wheel-drive version's base price of $40,650. The extra $900 you spend for AWD will reward you many times over on the next rainy day.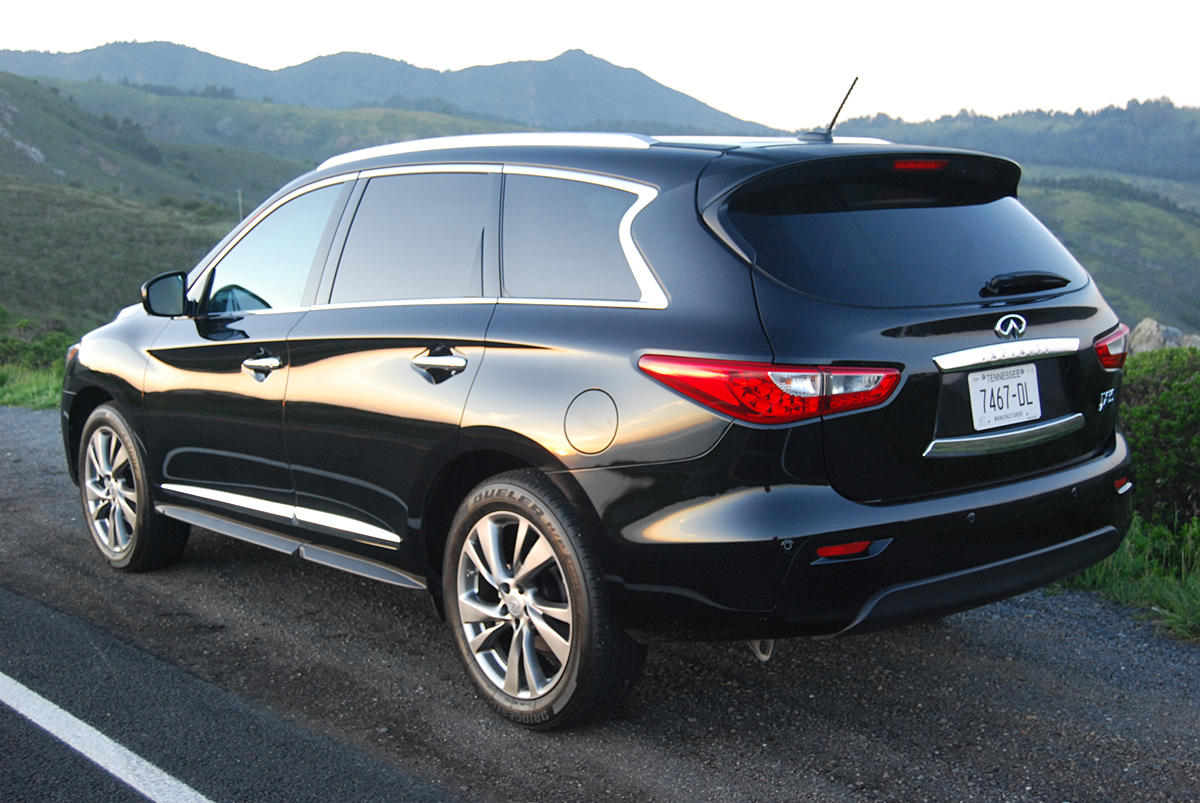 2013 Infiniti JX35 AWD
Engine: 3.5 liter DOHC, 24 Valve V-6
Horsepower: 265hp
Torque: 248 lb.-ft.
Fuel Consumption: 18 City MPG/23 Highway MPG
Price as Tested: $55,170
Star Rating: 8.5 out of 10 Stars
Related posts: