By David Colman
Hypes: Handsome Redesign, Packed with Standard Features
Gripes: Comes on Boost With a Bang
Kia has dramatically facelifted the Sportage for 2017. This pugnacious makeover is most apparent up front. A battery of quadruple fog lights flank a new grill that resembles pursed lips. High above the beltline, headlight clusters sweep backwards like a pair of raised eyebrows. Flared fender lips and deft side sculpting complete the new look.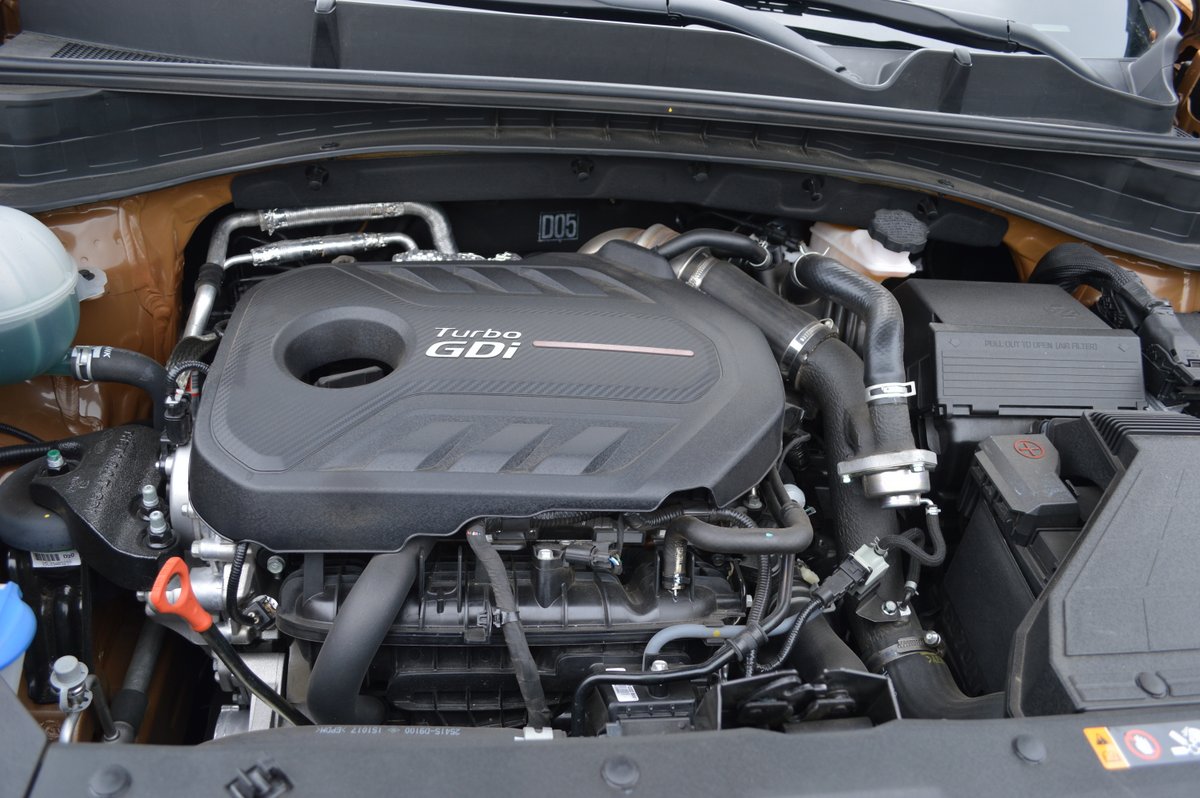 Standard 19 inch alloy rims, bearing 245/45R19 Hankook Kinergy GT rubber, replicate the natural beauty of a starfish. The Kinergy tires are well suited to the stable suspension tuning of the Sportage, offering a comfortable ride along with predictable twisty road handling. The Sportage's newfound visual arrogance is appropriate given its turbocharged 2.0 liter, direct injection, 4 cylinder engine. This powerful mill makes 240hp and 260lb.-ft. of torque, so the Sportage can easily tow a trailer weighing up to 2,000 pounds.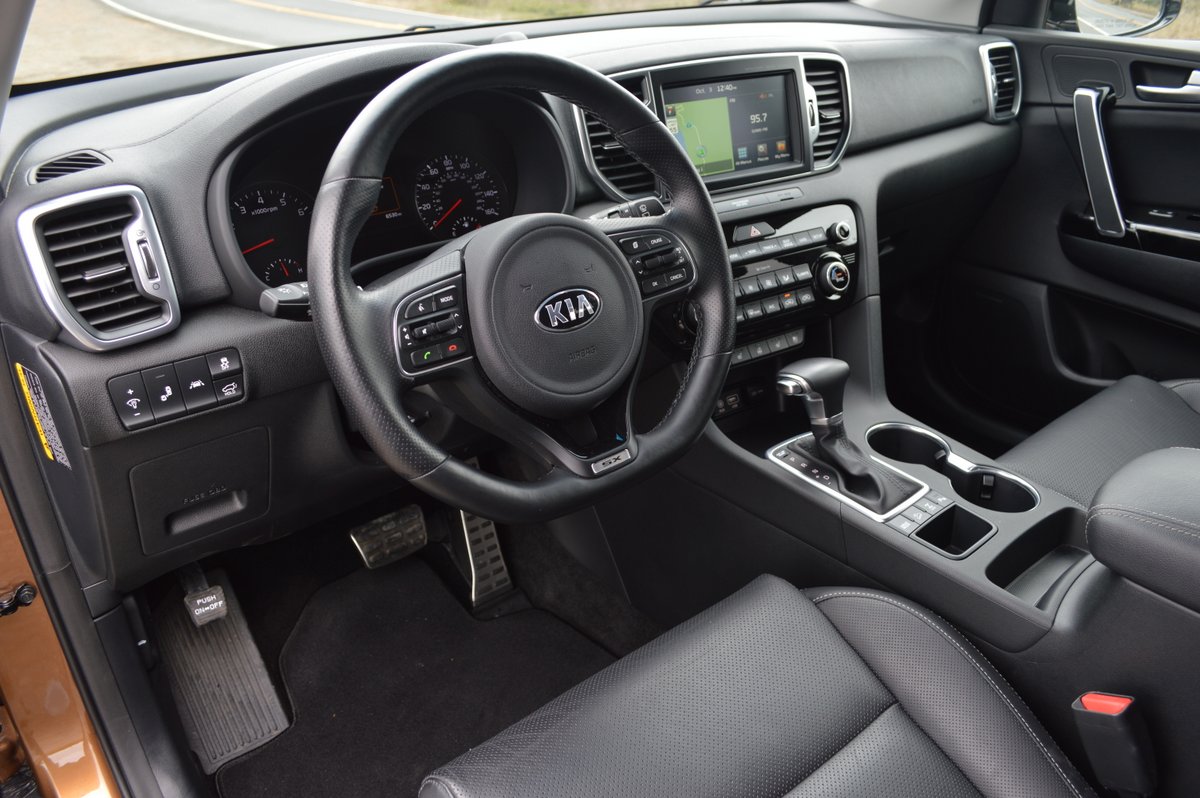 Kia provides you with a very positive shifting 6 speed automatic gearbox, fitted with small paddles at the steering wheel, as well as a gate for manual shifting via the lever mounted between the seats. The only drawback to the turbo motor is its explosive transition to full boost status. This jerky off/on behavior causes the Sportage to jump into action with such a sudden jolt that the rush of acceleration can be hard to control. Better modulation of turbo boost would alleviate the problem.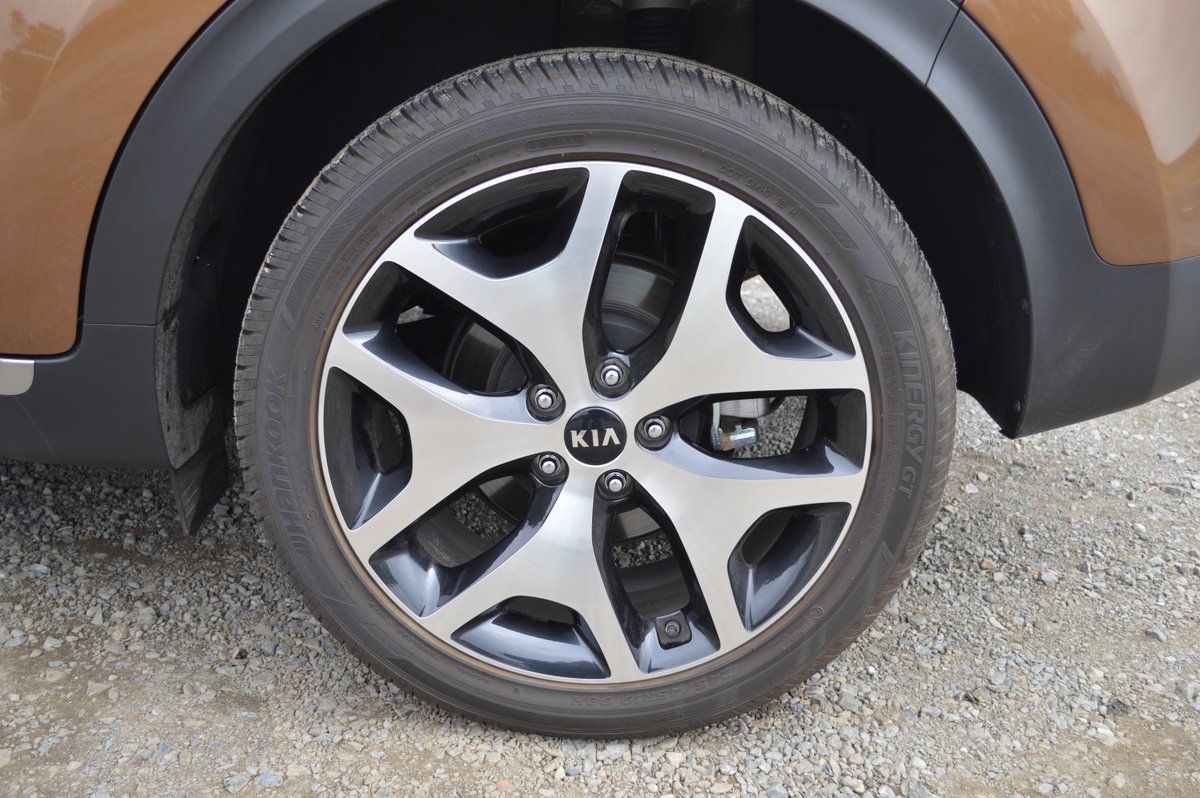 It's otherwise hard to fault this newly revised Kia product. Since all-wheel-drive is standard on this model, you are assured that traction loss in inclement weather will never delay your journey. The inclusion of a locking center differential contributes even more predictability and control to off-road travel. Also helping in this regard are the Hankook tires, which are Mud and Snow rated.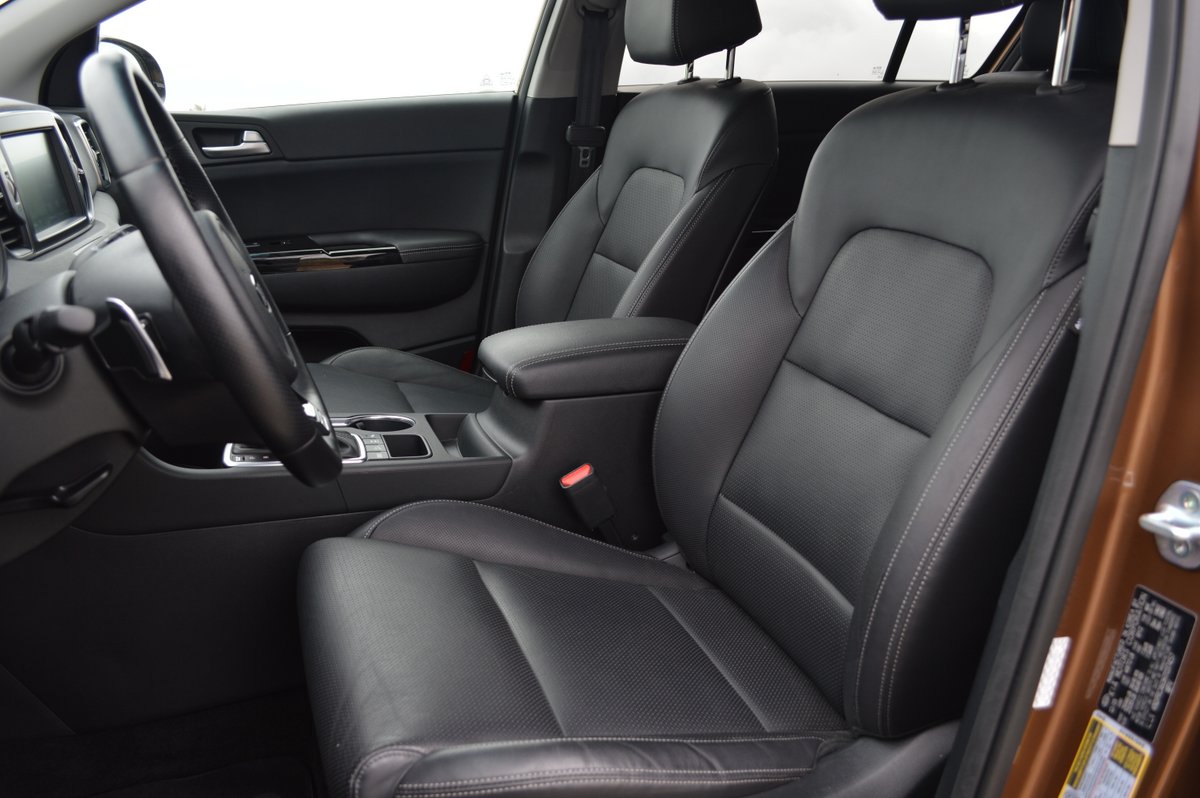 The interior accoutrements are more than you would expect from a sports utility vehicle carrying a base price under $35,000. While not luxurious, the fittings in the cabin bespeak quality rather than cheapness. The steering wheel, with its nifty flat bottom, is an especially well tailored piece of equipment. The leather rim is fat and grip-able, the stitching is nicely done, and the bevy of cruise and entertainment controls on the left and right spokes are logically arrayed and useful. Nicely upholstered, leather trimmed front seats are a bit too hard and flat in the lower back area, but do provide lumbar adjustment. Unexpectedly, both fronts are heated and cooled.
Vision to the sides and rear is so good that you rarely have to resort to the backup camera image projected on the 8 inch navigation screen when reversing out of a parking place. However, that newly upturned snout makes direct frontal vision difficult. The extra ride height of this SUV's suspension benefits parking maneuvers by allowing you to glide over curb bumpers you can't see. A standard front/rear parking assist system also helps keep your Sportage ding-free.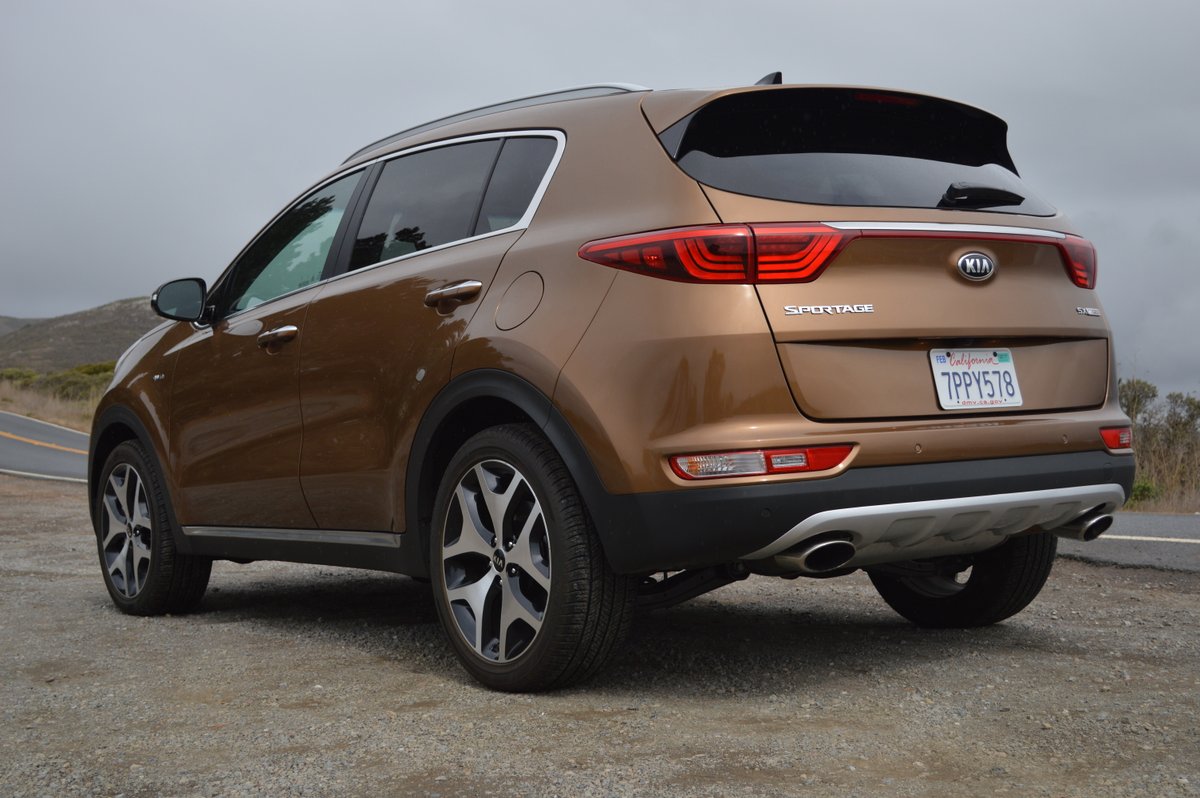 Kia's revamped Sportage comes loaded with the full array of GPS-based information sources forgetful drivers require to keep them pointed in the right direction. You don't have to pay a dime extra for Blind Spot Detection, Lane Change Assist, Lane Departure Warning System, or Rear Cross Traffic Alert. The beauty of these reminders is that they can be used when required or switched off at will. A final incentive to purchase this Kia comes from the company's unusually long 5 year/ 60,000 mile Limited Basic Warranty, which thoughtfully includes Free Roadside Assistance for that same period of time.
2017 Kia Sportage SX AWD
Engine: 2.0 liter direct injection, turbocharged inline 4
Horsepower: 240hp
Torque: 260lb.-ft.
Fuel Consumption: 20 MPG City/23 MPG Highway
Price as Tested: $34,895
Star Rating: 9 out of 10 Stars
Related posts: