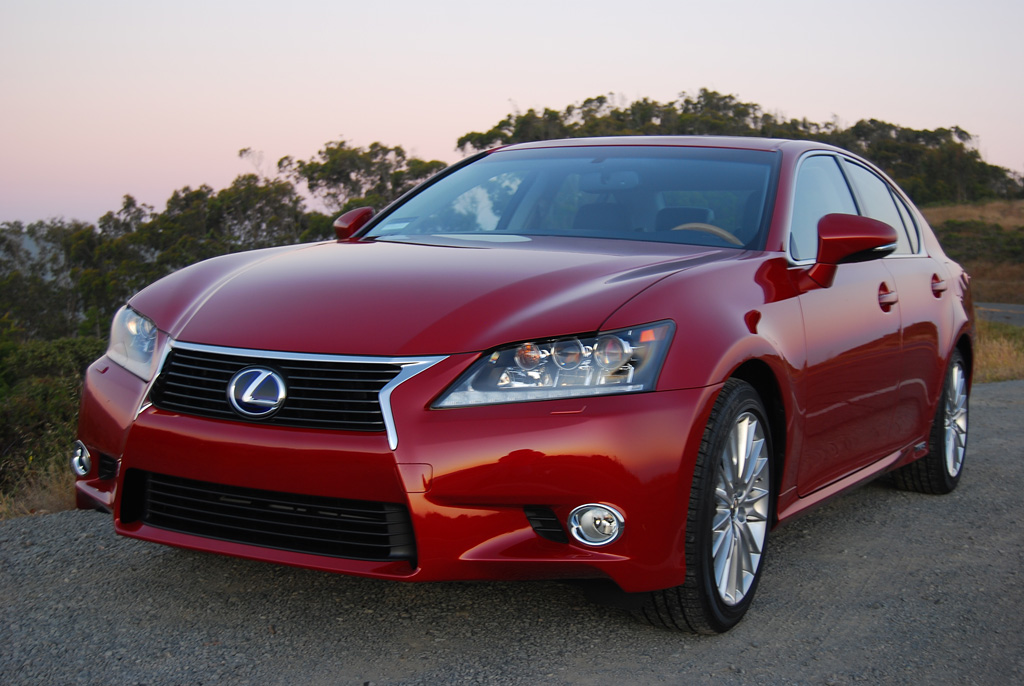 By David Colman
For: Torque Monster, Stylish Cabin, Quality Finish
Against: Poor XM Satellite Reception, Feeble A/C
It's not often that you'd pay extra money for a hybrid, just to gain a performance advantage over the conventional gas version of the same car. The usual reasons for going the hybrid route are better mileage and less pollution, and the GS improves on the gas-fueled model in both those areas, with a combined EPA mileage rating of 31 MPG, and a "Super Ultra Low Vehicle" rating of Tier 2 Bin 4 from the Feds who grade it "8" on a scale of "10" in terms of "Fuel Economy and Greenhouse Gas Rating." But here's a nasty little secret about the GS450h that the Feds don't rate or rave about: it's much faster in terms of straight line acceleration than any other GS. The reason is that the hybrid supplements the GS' basic 3.5 liter V6 (306hp, 277 lb.-ft. of torque) with an electric motor good for 147 kW of output, and more importantly, an added 202 lb.-ft. of torque.
Where the standard GS is a mild-mannered sedan, the hybrid version gives you such a sharp whack up the backside that the 450h is in a different performance league all together. If you accessorize it with the optional $5,205 "Luxury Package, you'll receive a host of benefits including adaptive front lighting (i.e., swiveling LED headlights), and glove leather soft, semi-aniline interior trim. From a driving standpoint, the Luxury package contributes 18 inch alloy wheels shod with Dunlop 235/45R18 SP Sport 5100 tires, a distinct handling upgrade from the standard issue 17 inch alloys with 225/50R17 rubber.
The interior of the new GS is palatial. The heated and air conditioned front seats, thanks to the Luxury Package upgrade, are 18 way adjustable, with a range from bolt upright to full slouch, and memory settings to retain preferred positions. The heated steering wheel is a particularly impressive work of art, with perforated leather grips at the 9 and 12 o'clock positions, interspersed with segments of matte finished light ash wood that matches similar inserts on the door panels, transmission tunnel and dashboard. The rear window can be covered with an electric sliding sunscreen and both rear doors feature manual privacy shades.
Handling of this large and heavy sedan is surprisingly good, considering the Dunlop tires boast an ultra-hard tread wear rating of 340. Yet they never squeal under duress, nor does the GS exhibit any sloth in cornering. In fact, with a stickier tire, this Lexus would be a match for a 5 Series BMW on a twisty road. Its real forte, however, is cruising the Interstate system. With a highway MPG rating of 34, and a 17.5 gallon tank size, the GS is good for at least 500 miles between stops.
And during those long journeys, you can keep yourself and your family endlessly entertained with the Premium Audio System which includes HD Radio, iTunes tagging, a DVD/CD player, USB audio plug, and Sirius XM Satellite radio. Our test car further benefited from a $1,380 Mark Levinson audio upgrade (835 watts, 17 speakers), and HDD Navigation ($1,735 extra) which brings you a huge 12.3 inch touch screen on the dash, complete with split display, Lexus Enform, an App Suite, plus stock, weather and sports information. You'll find so many diversions on this touch screen that you'll arrive at your destination better informed about the world than a contestant on Jeopardy. The GS450h is painless fast.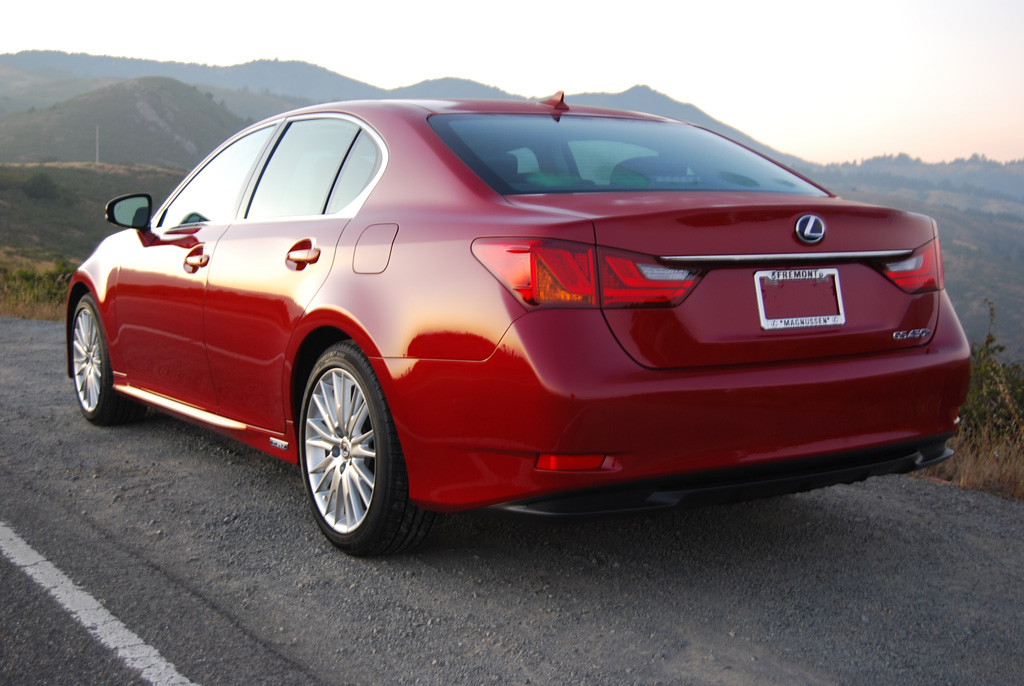 2013 Lexus GS450h
Engine: 3.5 liter DOHC, 24 Valve V6 plus Electric Drive Motor
Horsepower: 306hp (V6) plus 147kW (electric)
Torque: 277 lb.-ft. (V6) plus 202 lb.-ft. (electric)
Fuel Consumption: 29 City MPG/ 34 Highway MPG
Price as Tested: $68,814
Star Rating: 8.5 out of 10 Stars
Related posts: