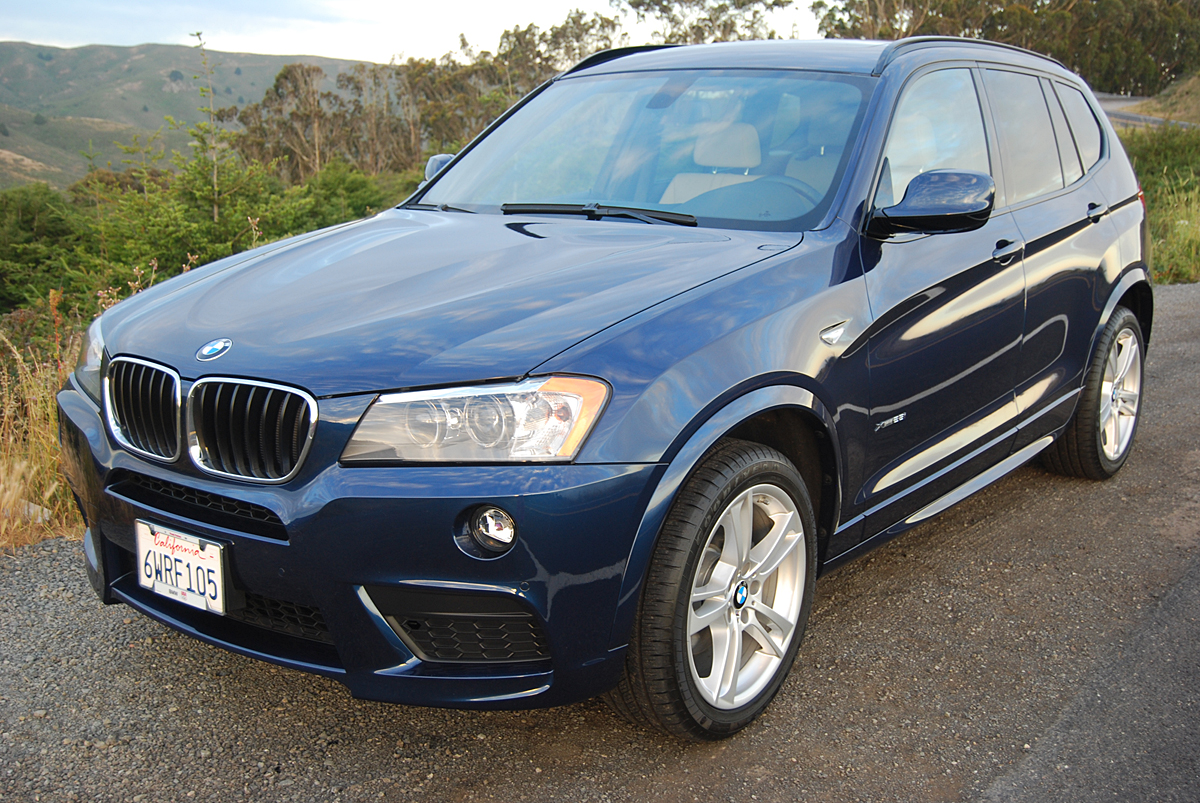 By David Colman
Hypes: Aero-Chisel Looks, Practical Interior Space, Vernier Handling
Gripes: Cheesy Seatback Pockets, Manual Steering Wheel Adjust
Just by accident, we found our 2013 X3 parked next to a first edition X3. Although both vehicles go by the same name and remain identically sized, the 2013's wealth of ingenious stylistic changes make it look like a completely different SUV. In place of the first generation's unappealing matte black front and rear fascia panels, the latest offering's sculpted and chromed sheet metal looks like a scythe compared to a butter knife. BMW offers the latest flame surfaced X3 in 2 flavors, both all-wheel-drive (or "xDrive" in BMW-speak). The entry level offering which we drove is powered by a 4 cylinder twin turbo motor that displaces 2.0 liters and makes 240hp. This 28i version retails for $38,500, but you'll have no problem optioning it to well over $50,000. Our test X3, with several expensive option packages, chimed in at $54,030. Stepping up to a 35i model ups the base price to $43,600 but gives you a traditional BMW straight six cylinder turbo motor which makes 300hp. The 28i returns the best fuel mileage (21 MPG City/28 MPG Highway) compared to 19/26 for the 35i.
In all phases of daily driving, the 28i's engine offers responsive, strong acceleration when needed. The standard 8-speed automatic gearbox makes maximum use of the engine's peaky torque curve to provide gratifying thrust. You can let a gearbox downshift take care of your need for speed by simply flooring the accelerator, or oversee the operation yourself by slotting the transmission into manual mode and bumping the stubby stick forward for downshifts and rearward for upshifts. Despite the fact that our X3 was equipped with a $3,000 "M Sport Package," BMW did not include steering wheel paddles for transmission control. But the package did supply such niceties as Dynamic Damper Control, 19 inch double-spoked "M" alloy rims (complete with 245/45R19 Run-Flat LS2 Goodyear Eagles), high gloss roof rails, sports seats, Siena wood trim, external aerodynamic refinements, and a charcoal headliner.
The M Package is definitely worth the extra money because the front seats it provides are sublime. In top formula car race circles like F1 and Indycar, teams custom fit seats to drivers by filling seat mold bladders while drivers sit immobile until the liquid hardens around them. The X3's sports seats fit like F1/Indycar custom pours, enveloping your tail, thighs and butt like an invisible sandbox. The M Sport's "Fineline Siena" wood trim, which graces upper front door panels, center console and right dash, is exquisitely grained and lovely to behold. The cockpit controls are workmanlike and understated, with a simple, fat-rimmed, M-spoked leather steering wheel affording ample control over the sensitive feedback of the Servotronic vehicle-speed-sensitive power steering. Another nice touch is the M-branded aluminum dead pedal which adds a note of distinction to the driver's side footwell.
BMW has instituted Stop/Start technology on the X3 model line, and while it may gain some incremental fuel saving, it's not worth the price you must pay in disconcertion and inconvenience at every traffic light. That's because when the system automatically kills the engine after a brief period of immobility, the X3 shudders into silence, only to replay the twitch when the engine refires as you drive off. You can eliminate this entire drama by defeating Stop/Start via a tiny button next to the ignition switch, but this in itself is annoying since you have to do this every time you restart the BMW. It's also too easy to confuse the ignition switch button with that of the S/S defeat button. Do that at a traffic light and you'll instantly incite a chorus of horn honkers.
The M Sport version of the X3 is the closest SUV you'll find to a sportscar. It's level of grip, instant responsiveness to steering input, flat cornering stance, and shock absorber override function, make it just the ticket for 3 Series wannabees who needs more room for stuff. The X3 offers a whopping 56.5 cubic feet of storage with the rear seats folded flat. While it may look like an SUV, this BMW has the soul of a sports car.
2013 BMW X3 xDrive28i
Engine: 2.0 liter DOHC, 16 valve, twin turbocharged Inline 4
Horsepower: 240hp
Torque: 260 lb.-ft.
Fuel Consumption: 21 MPG City/28 MPG Highway
Price as Tested: $54,095
Star Rating: 8.5 out of 10 Stars
Related posts: