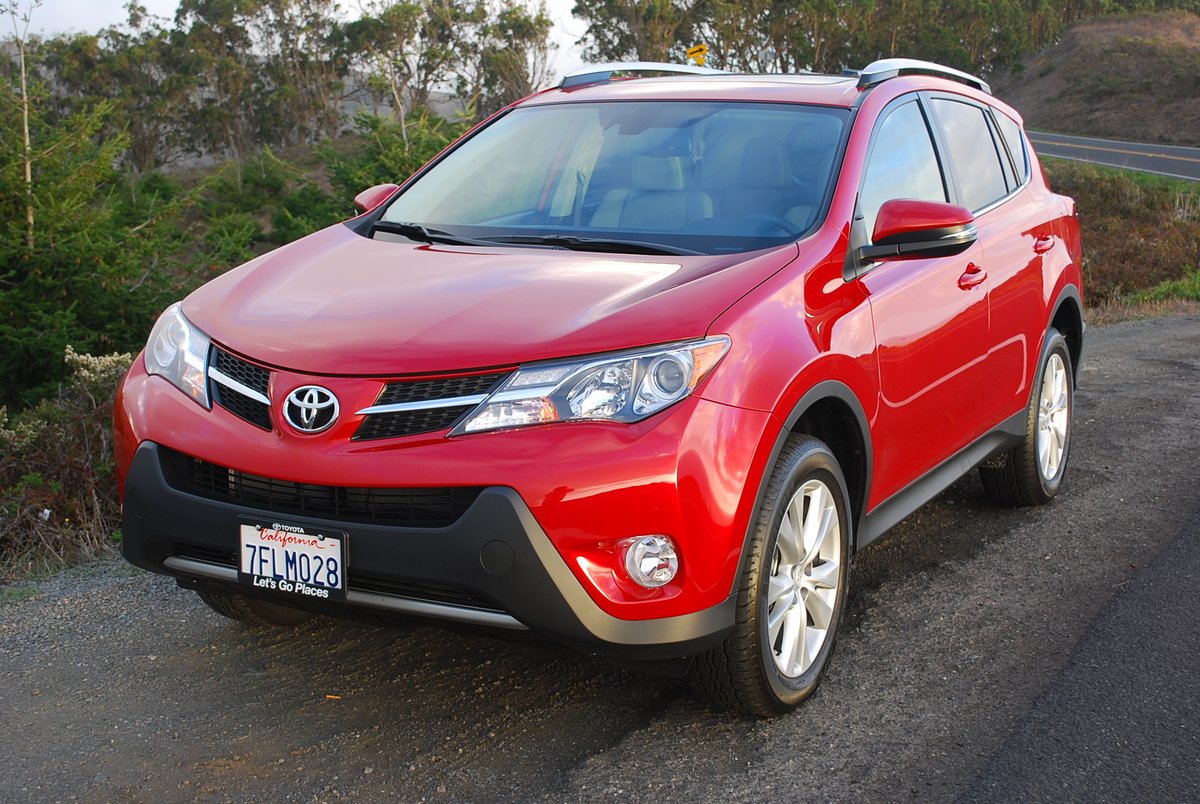 By David Colman
Hypes: Spacious, Utilitarian, Affordable
Gripes: Down on Power, Cheap Interior Touches
This compact crossover has enough cargo capacity (37 cubic feet) to compete with mid-size crossovers. I was frankly surprised at the ease with which the RAV4 swallowed my mountain bike without requiring the usual twist and fold routine. In fact, the bike slid right into place without so much as a snag anywhere. The Limited version of this petite Toyota even includes electronic operation for the tailgate. Low loading height further insures easy stowage and retrieval. I have driven many compact and mid size SUVs that could not match the RAV4′s magnanimous cargo access.
The latest iteration of the RAV4 came to market in 2013 and remains largely unchanged this year. A large displacement (2.5 liter) in-line 4 cylinder engine makes 176hp and 172 lb.-ft. of torque. This fuel efficient motor posts a commendable EPA average of 25 MPG overall. But fuel savings come at the expense of straight line performance. Because this SUV weighs 3,535 pounds, each one of those 176 horses are tasked with moving 20 pounds. Consequently, the RAV4′s throttle pedal must be pushed hard to keep up with traffic flow. It takes nearly 17 seconds to run the quarter mile from a standing start. However, you can upgrade to a Tesla designed electric version of the RAV4. This EV's rated at 154hp but delivers a whopping 273 lb.-ft. of torque. But hurry, because Toyota plans to phase out the RAV4 EV in the near future. If you like the compact dimensions of the RAV4, but seek more power, you may want to cross shop the 2015 Lexus NX, which shares its platform with the RAV4. The Lexus offers 235hp thanks to its turbocharged 2.0 liter four cylinder engine.
Toyota includes a number of active safety measures in the DNA of the RAV4. This assortment of innovations, which Toyota calls its Star Safety System, contributes to your well being by providing stability control, traction control, anti-lock brakes, electronic brake force distribution, and brake assist. Although passive safety boasts 8 airbags, the RAV4 scores a "Poor" Rating on the Front Small Overlap test administered by the Insurance Institute for Highway Safety. This crash test, first administered in 2012, measures damage incurred when just 25 percent of a vehicle front hits a fixed object at 40mph. The RAV4′s poor result in this category has caused Consumer Reports to retract its "Recommended" endorsement.
The RAV4 is tow rated at 1,500 pounds. Although it will tow a modest trailer, the RAV4 itself is not meant to be towed behind a motor home, dinghy style. In its latest iteration, the RAV4 has matured into a utilitarian device that will fill the bill if you need a do-it-all urban companion. Responsive handling is augmented by 235/55R18 Bridgestone Dueler H/T tires at each corner. Ride quality is never harsh thanks to the Bridgestone's tall sidewalls and the RAV4′s soft spring rates.
From its introduction as a petite SUV offering limited space for passengers or storage, this compact cross over now provides seating for 5, easy access to the folding rear bench seat, lots of side window glass for great outward visibility, and enough orchestral choices to make even the shortest trip a music endowed vacation. The "EN" option package, which costs an extra $785, is well worth the cost if you value entertainment while driving. For this relatively modest outlay, Toyota will provide you with a laundry list of extras that start with a 6.1 inch touch screen on the dash. This interface controls a premium JBL AM/FM/CD player with 7 speakers and a subwoofer. You also gain access to HD radio, traffic reports and a suite of Toyota backed "Entune" applications to simplify your cruising life. The touch screen also provides navigational assistance and serves as a back-up camera projector when reverse gear is engaged. However, you would do well to avoid paying $725 extra for the "TP" Technology Package, which contributes lane departure warning advice, monitors blind spots, and regulates use of high beam headlights.
The Toyota RAV4 presents an inexpensive route to all-wheel-drive mini SUV ownership. While it may not be the fastest, or the best handling choice in the marketplace, it does administer a solid dose of Toyota virtue: RAV4 is inexpensive to own and operate, with good value retention over the life of the vehicle.
2014 Toyota RAV4 Limited AWD
Engine: 2.5 liter DOHC, 16 Valve inline 4 with Dual VVT-i
Horsepower: 176 @ 6,000rpm
Torque: 172 lb.-ft. @ 4,100rpm
Fuel Consumption: 22 MPG CITY/29 MPG Highway
Price as Tested: $32,315
Star Rating: 7 out of 10 Stars
Related posts: