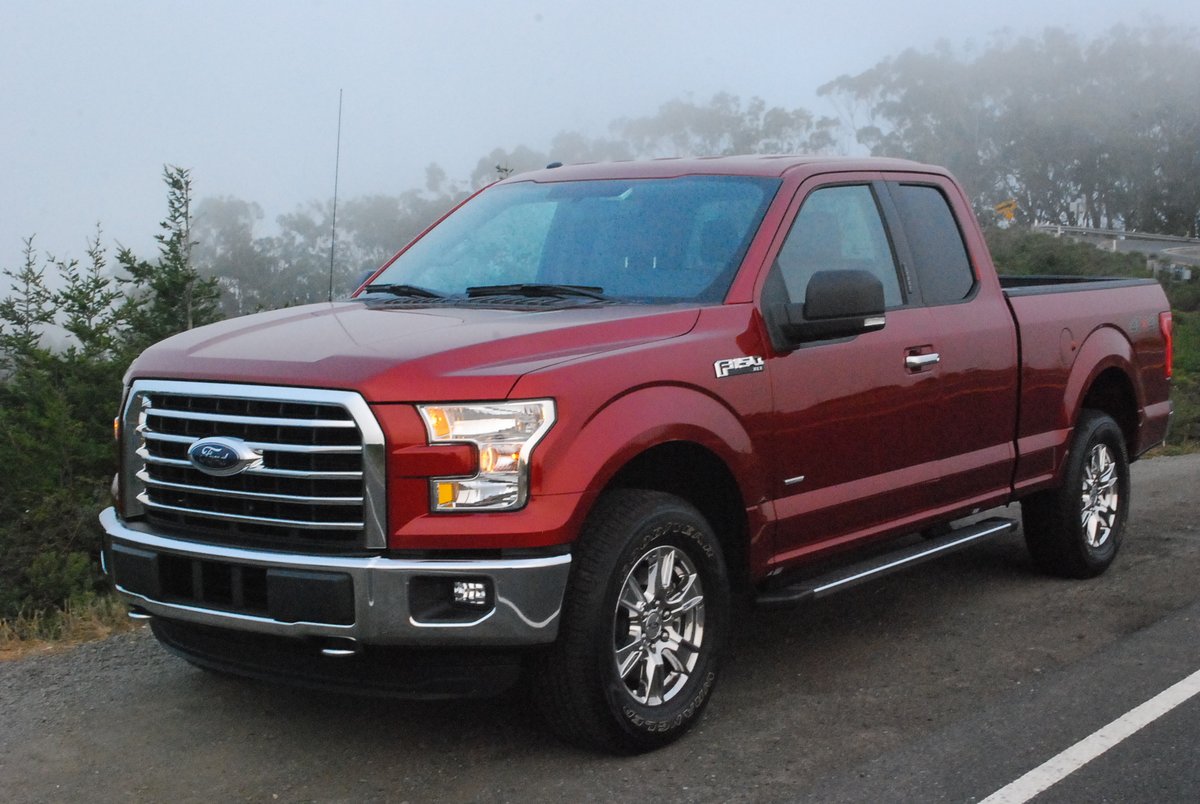 By David Colman
Hypes: Aluminum Saves 700 LBS, Sweet EcoBoost Motor
Gripes: No Tailgate Damper, Manual Seat Back Control
Although Ford's latest F-150 may look familiar, its what you can't see that distinguishes it from its predecessors. At just 5,000lb, it's remarkably light for such a large truck. The substitution of aluminum for steel in the cab and body structure has pared curb weight by 700 pounds. As a result, you no longer need a gas swigging V8 under the hood to provide enough punch for acceptable performance. Our test F-150 utilized a V-6 engine displacing just 2.7 liters. Using such a small engine would have been unthinkable in previous three ton versions of the F-150, but thanks to the use of aluminum, the small displacement engine is perfectly adequate to all needs, including towing up to 11,000 pounds.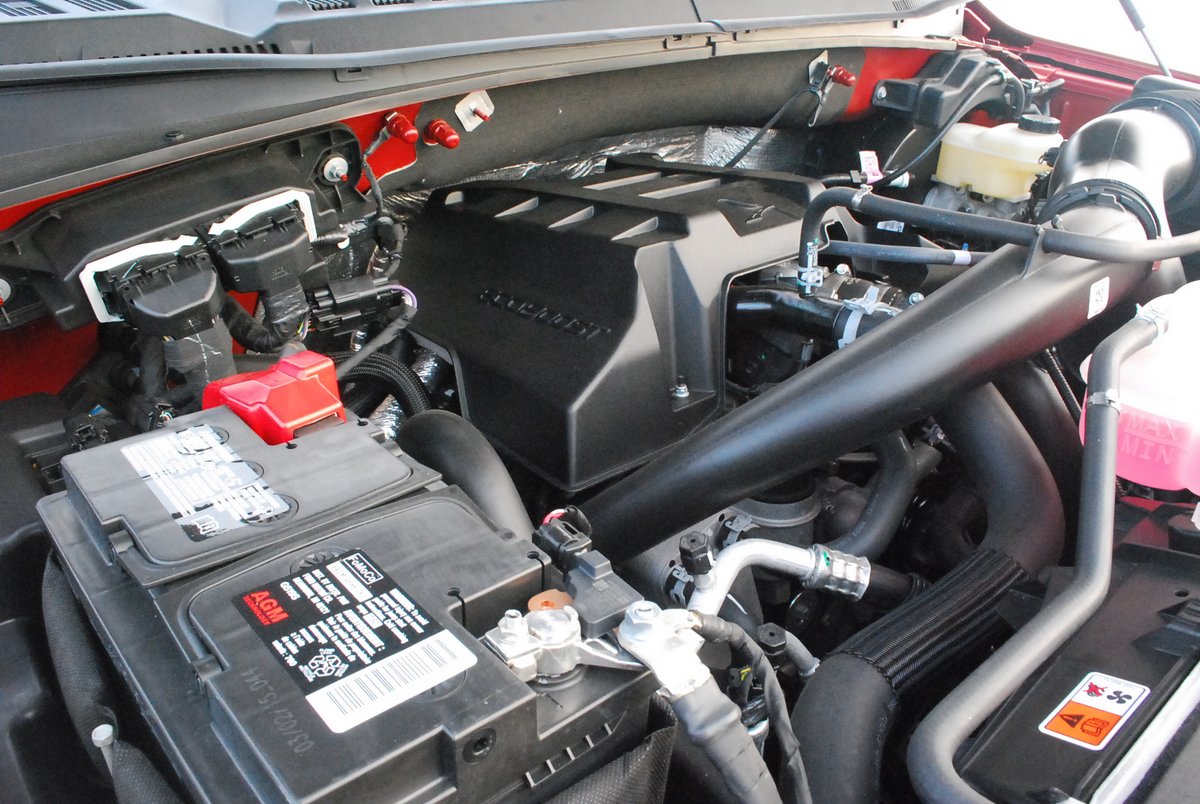 The secret to the success of the 2.7 liter V6 is the fact that it's equipped with twin turbochargers ("EcoBoost" in Ford parlance) which allow the diminutive mill to make 325hp and 375lb-ft. of torque. When you stomp the loud pedal in this rig, you'll have no performance complaints about its V6 replacing a V8. The only irksome note is struck by Ford's Auto-Start-Stop regimen, which automatically kills the engine at stoplights, then re-fires it when you touch the gas pedal. Although this protocol does save fuel, the F-150 shudders when shutting down, then shakes like an awakened Frankenstein when re-firing. You can, however, manually override Auto-Start-Stop with a button on the dash console. Trouble is, you have to reactivate your deletion choice each time you re-start the truck. In any event, at refueling time, you'll be pleased to learn that the EcoBoost motor averages 20MPG in overall driving. The 5.0 liter V8, which is still available in the F-150, will return just 17MPG in overall driving, while making 360hp and 380lb.-ft. of torque.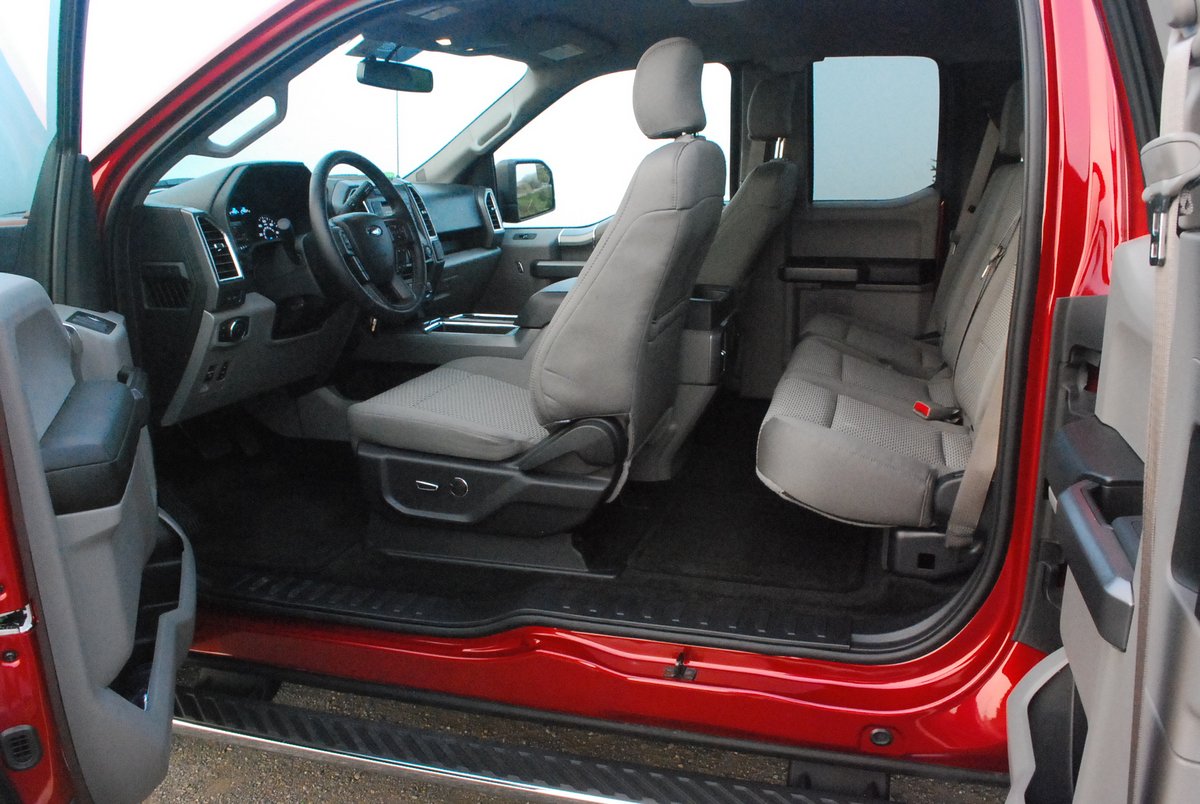 Since our test F-150 arrived during a week when we were building and furnishing a small utility shed, we put the behemoth Ford to good use all week long. After visiting a builder's emporium in Petaluma, we loaded the Ford's 6 foot long bed with multiple 4′x8′ sheets of Thermoply wallboard and Insulfoam rigid insulation. At first, the Ford's 6′ short bed seemed problematic, but leaning the load against the closed tailgate forced the extra 2′ lengths to curl upwards while remaining inside the gate. Had we transported plywood, however, the 6′ bed would have prevented us from using this trick. The morale is that if you truly need a work truck, you may not want to opt for the Supercab configuration which limits bed size to 6′ in length.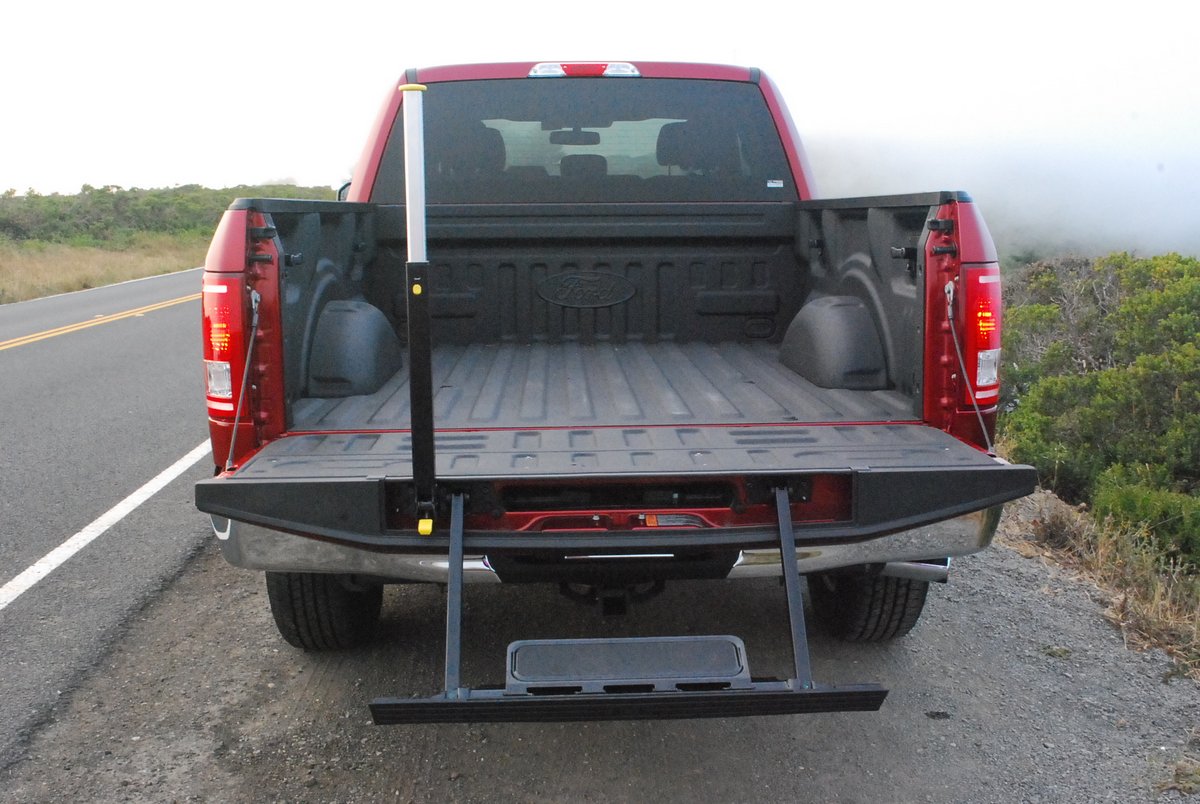 The bed of our test truck featured 8 different tie-down hooks, which we utilized to attach bungee cords to stabilize the load. Our test truck featured a couple of options that vastly improved its load carrying ability. The first was a $475 Spray-In Bed Liner, which provides you with a non-slip surface for your load. It also protects the bed from scratches, so we were able to transport a trio of 20″x20″ very heavy paving stones without leaving a mark on the bed floor. The other brilliant innovation is the $375 Tailgate Step, which proved invaluable when climbing into the bed to arrange loads. This device features a single step ladder which deploys from the dropped tailgate. It also features a handrail which extends to let you get a grip while climbing aboard.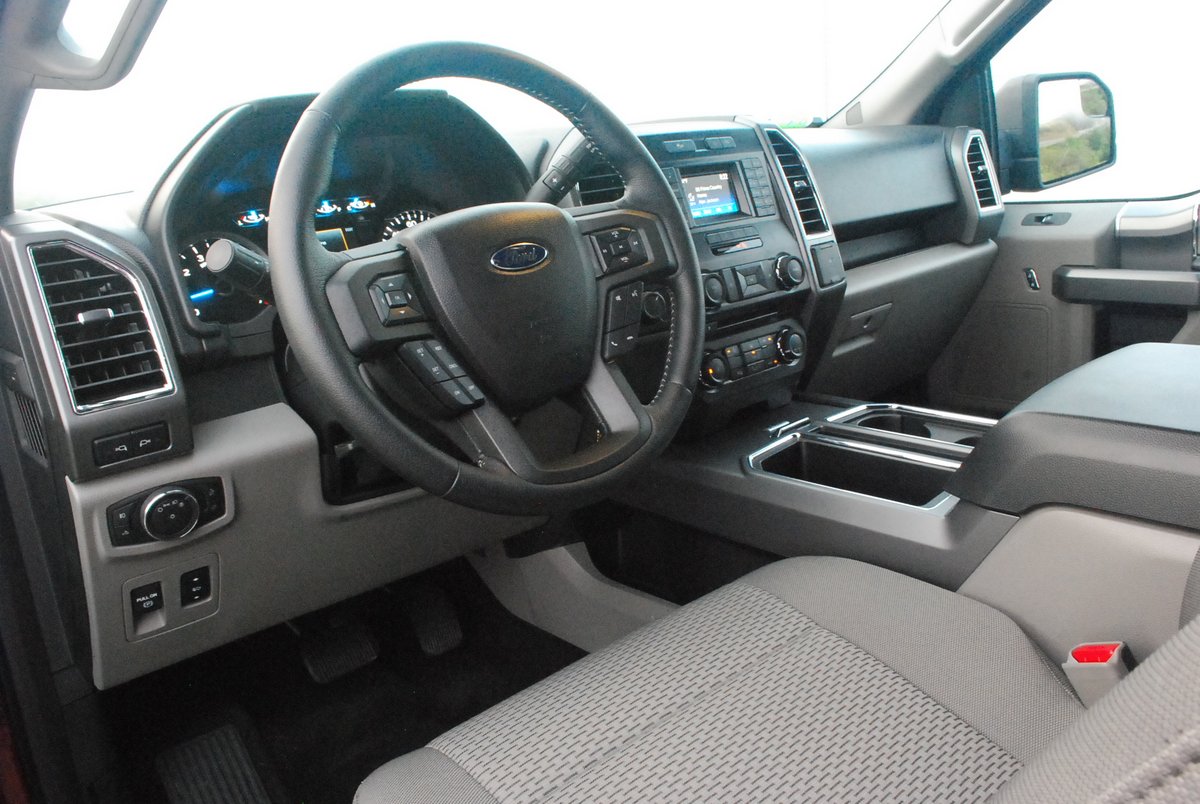 Since my wife and I drive close to 50 different new vehicles each year, it would be easy for us to become a bit blasé about their various virtues. But when my wife returned home after yet another transport mission, she exclaimed as she walked in the door, "I just love driving this truck!" Without question, there's a certain exhilaration every time you climb onto the running board, hoist yourself into the luxurious cab, and survey the highway world from a perspective superior to that available in any car. The F-150 provides a sense of mastery before you ever flick the key to start. Its sheer size (232″ length, 77″ height) makes it tower over traffic, affording a stellar view of your surroundings. And its bulk is undeniably intimidating to other drivers, especially the boors normally predisposed to usurp your right of way. Given the go-anywhere capacity of the all-wheel-drive system, the epoxy-like traction generated by Goodyear's best Wranglers (275/65R18), the decisive punch of the EcoBoost motor, and the commanding perspective from the glassy cab, the F-150 has all the bases covered when it comes to staking your claim in the traffic pattern. This is not a vehicle to be trifled with, and if you value the safety of you and your family, you might want to consider the F150 as your main means of transport – even if you never drop so much as a brick into that vast pickup bed.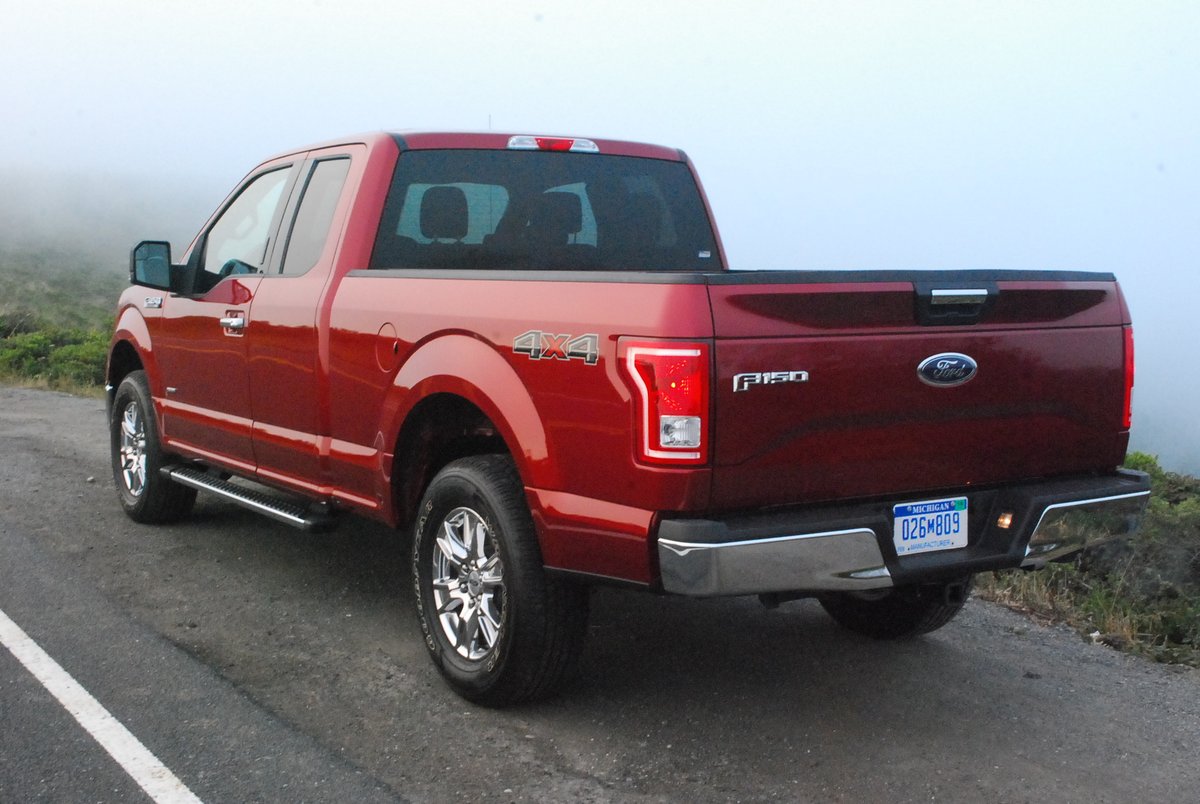 2015 Ford F-150 4×4 Supercab
Engine: 2.7 liter V-6 EcoBoost Turbo
Horsepower: 325hp
Torque: 375lb.-ft.
Fuel Consumption: 18 MPG City/23 MPG Highway
Price as Tested: $43,480
Star Rating: 9 out of 10 Stars
Related posts: