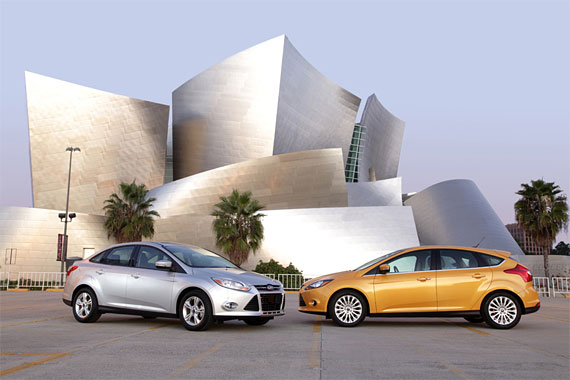 Ford has announced their latest vehicle to join the 40 MPG Club with the all-new 2012 Focus SFE (Super Fuel Economy) that has been EPA certified at 40 mpg highway and 28 mpg city.
The new Ford Focus SFE joins other fuel efficient 40 MPG cars such as Ford's own Fusion Hybrid and Fiesta, the Lincoln MKZ Hybrid, and the Hyundai Sonata Hybrid and Elantra, just to name a few.
The Focus SFE has other fuel friendly features such as, a dry-clutch PowerShift six-speed automatic transmission, a 2.0-liter direct-injection DOHC four-cylinder engine that combines high-pressure direct injection and twin independent variable camshaft timing (Ti-VCT) for enhanced performance and fuel efficiency, 16-inch steel wheels with aerodynamic wheel covers, active grille shutters, high-efficiency tires, four-wheel disc brakes, and a rear spoiler. The 2012 Ford Focus SE sedan starts at $17,270 with a $495 SFE option.
With oil prices on the rise and the current demand for more fuel efficient cars, Ford picked the right time to announce another vehicle that gets 40 mpg!
Related posts: