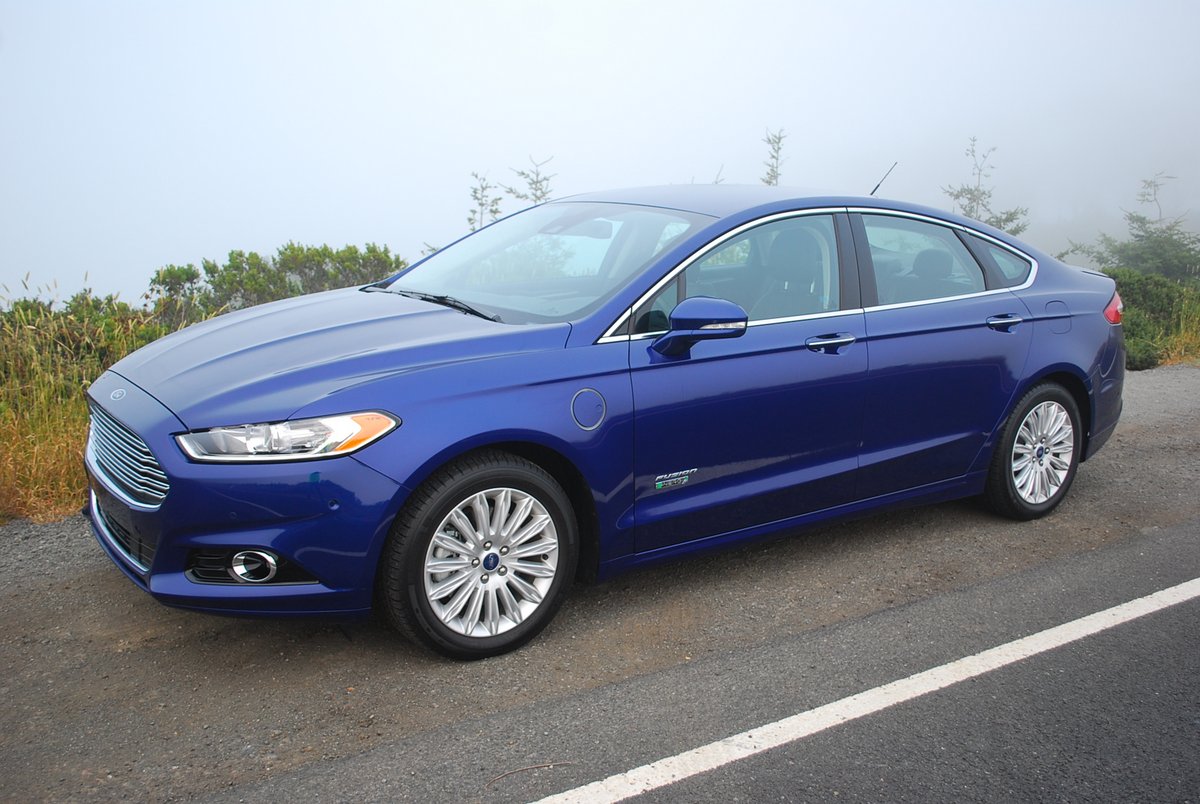 By David Colman
Hypes: Plug-In Convenience with Mainstream Attributes
Gripes: Overly 'Helpful' Steering, E-Motor Performance Marginal
If you relish having the most expensive house on the block, then the Fusion Energi is definitely the Ford you'll want to own. You can buy an entry level Fusion S for just $21,900. An upgraded SE is $23,855. A top level Titanium series Fusion costs $30,500, with incremental jumps to $32,500 for either the Hybrid or the all-wheel-drive version. At the very top of the pyramid stands our plug-in Hybrid Titanium test car, with its base price of $40,500, and its as delivered sticker of $45,310. You can partially justify the extra cost by proclaiming the plug-in feature will save you bucks in terms of fuel cost. But it will take you just short of forever to recover your initial expenditure, which is more than double the cost of a base Fusion.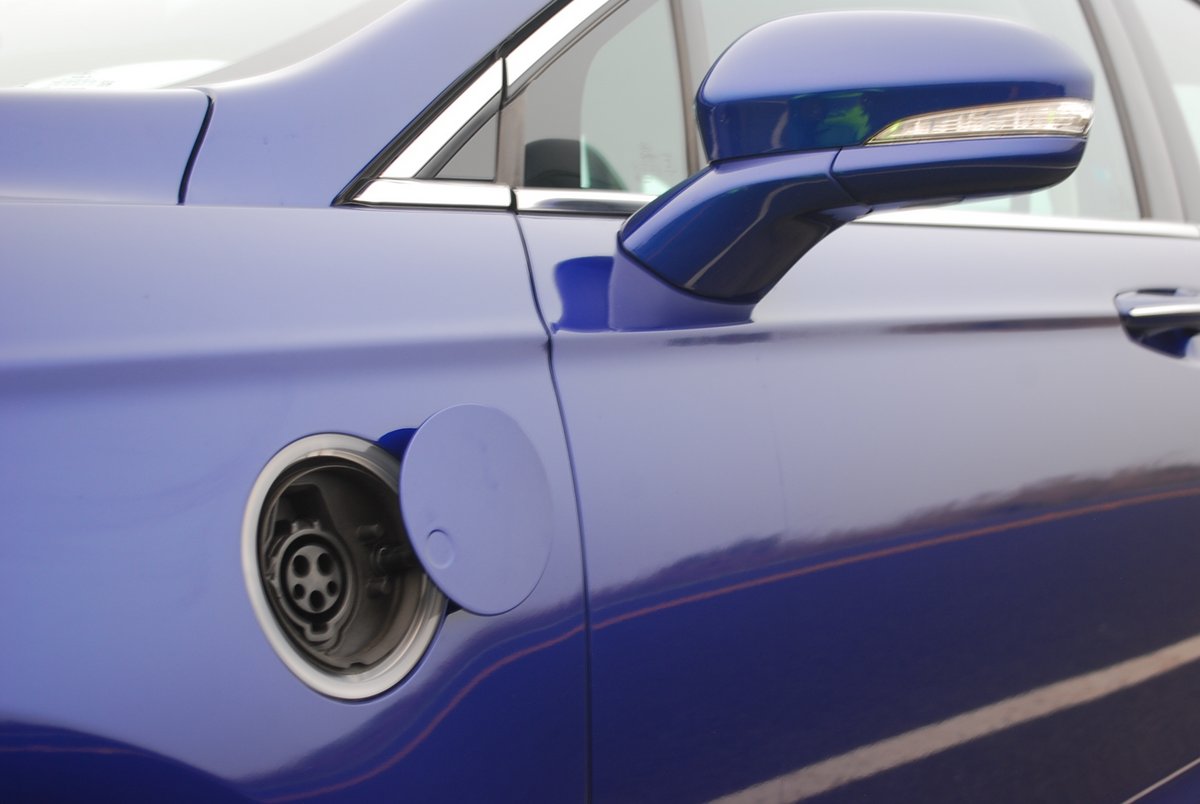 This is not to say that the Energi is a sedan without merit. It's nice to roll into your driveway and plug this Fusion in for its night time battery recharge. With a special 240V outlet, you can refresh the 300 pound lithium pack in just 2.5 hours. The Energi, however, runs out of electric energy at just 20 miles. If that range meshes with you daily drive, then you'll never need to visit a gas station again. But for most of us, 20 miles will get us where we're going, not back home again. To cover the shortfall, Ford has provided a 4 cylinder in-line, 2 liter gas motor which kicks in when needed with 141hp and 129lb.-ft. of torque. The electric motor alone is good for 118hp and 117 pounds of torque. If you have battery reserve, you can combine the two sources of motivation by depressing a button on the steering wheel. Those quick bursts are enough to make passing slower cars possible, a feat not necessarily feasible on electric power alone. With both sources of propulsion in use, the Fusion Hybrid Energi will cut a 0-60mph run of 8.6 seconds and top out at 104mph.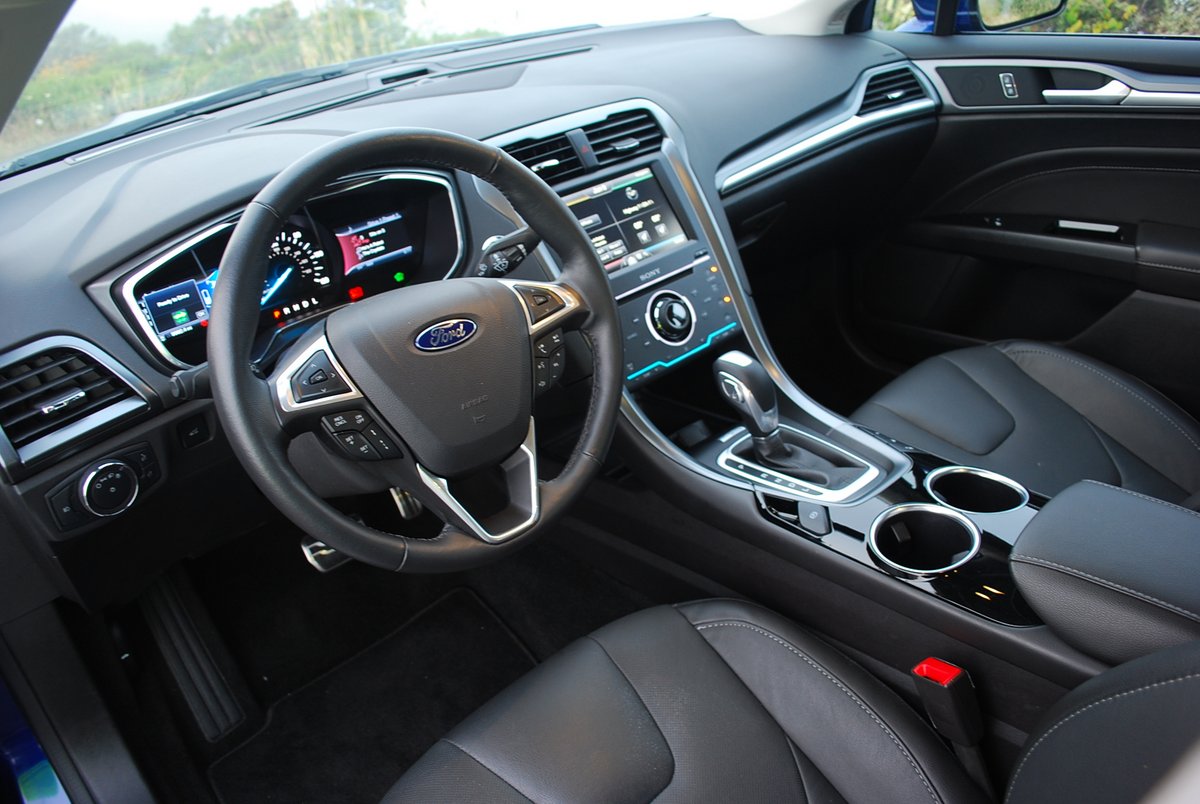 Ford has elevated the interior of the Fusion, in Titanium guise, to top level status. The seats are excellent, with special accolades going to their enveloping and adjustable lower back support. The steering wheel contains so many control buttons for cruise, stereo, and incidental information, that you will find it difficult to keep your hands focused on driving rather than programming. The instrument binnacle contains two vertical bar graphs, with the left side dedicated to electric charge information, and the right side providing fuel tank status.
The constant velocity transmission (CVT) offers little in the way of help when you suddenly need more oomph from your drive train. Your choices are restricted to D (Drive) or L (for additional downhill braking), with no paddles connected to the steering wheel for manual shifting. When you're in full electric mode, dependant on just 118hp to motivate this two ton sedan, you will be a full time occupant of the slow lane. Braking is regenerative, with the heat of brake application being diverted back into the electric energy supply chain. Although the Fusion's brakes at first seem slightly mushy, they never change their engagement point on successive applications. This will come as a welcome benefit to those who have sampled regenerative brakes that behave inconsistently.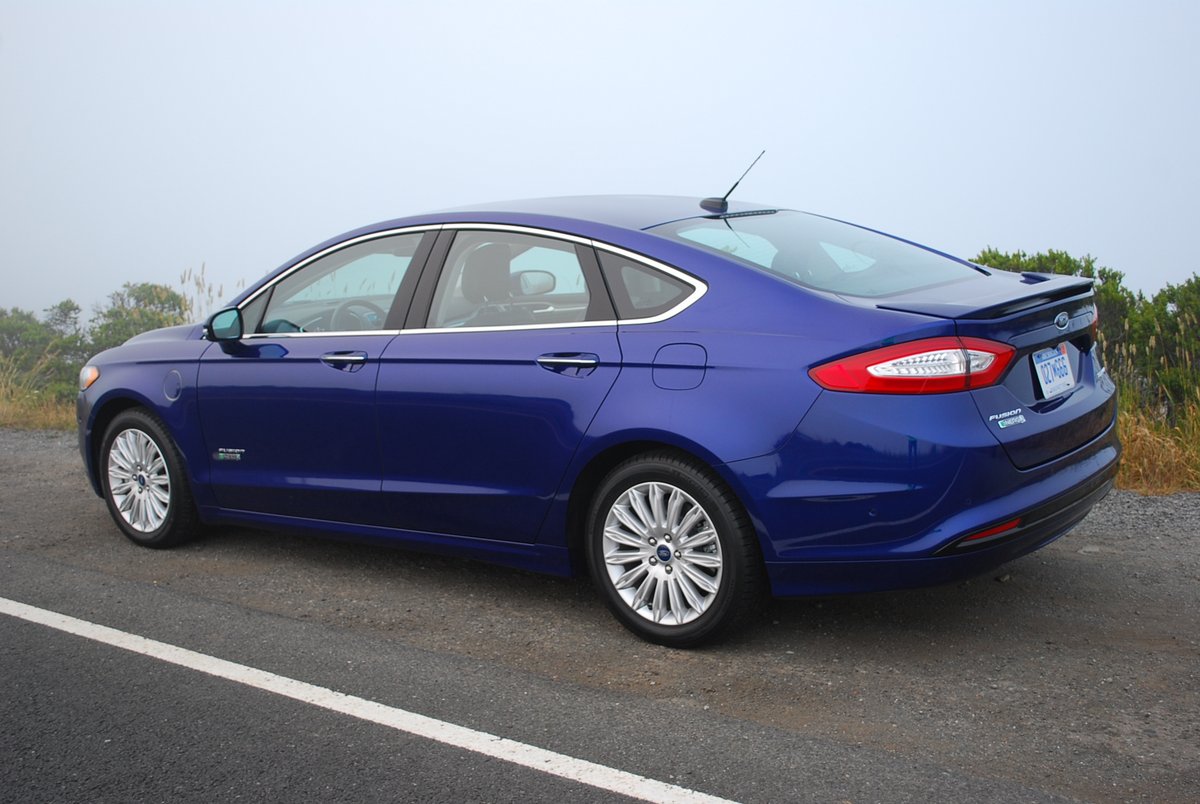 The steering effort on our Energi, however, displayed seemingly erratic behavior. At times it felt like the wheel was difficult to turn, at other times it kicked back subtly for no apparent reason. After experiencing this disconcerting behavior for a day or so, I belatedly realized such feedback was intentional. Thanks to the $1,140 Driver Assist Package, the Fusion's steering is designed to tighten whenever you chain lanes without signaling first. Not only does the steering stiffen, but it also vibrates as it resists your input, even guiding your Fusion back into the lane you're in. Personally. I would pay $1,140 extra to delete this annoying "feature."
Steering anomalies aside, the Fusion Energi is one of the best plug-in Hybrids you can own. It tops the list because it makes so few concessions to its special status as a plug-in. Its brakes are dependable and consistent. Its power flow is acceptable in EV mode but better in tandem power mode. It's a full size four door family sedan, though you do lose significant trunk space to battery storage needs. Its exterior and interior design reveal the same flare and finesse that characterizes the entire Fusion line. If you want to go green, and can afford to spend liberally upfront to save in the long run, the Fusion Energi is a good Hybrid choice.
2014 Ford Fusion Energi Titanium
Engine: 2.0 liter DOHC inline 4 cylinder plus AC Electric Motor
Horsepower: 141hp (gasoline)/ 118hp (electric)
Torque: 129lb.-ft.(gasoline)/117lb.-ft. (electric)
Fuel Consumption: 43 MPG (gasoline)/100 MPGe (electric)
Price as Tested: $45,310
Star Rating: 8 out of 10 Stars
Related posts: