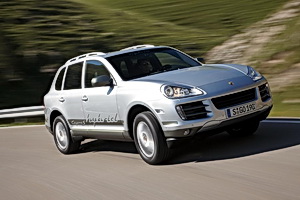 So, the long rumored hybrid version of Porsche's Cayenne SUV is becoming more and more of a reality.
The German automaker says the Cayenne Hybrid S will offer V8 power with four-cylinder efficiency, and according to the numbers, they're probably right. The Cayenne Hybrid S will use 3.0L V6, provided by corporate sibling Audi. The Audi mill cranks out 333 horsepower and 324 lb-ft of torque, not bad in and of itself, but when you add in the electric motor part of the hybrid drive train, you get another 52 horsepower and 221 lb-ft of torque. That's enough to get the Cayenne Hybrid S from 0-60 in 6.8 seconds.
In spite of all this high-performance, the Cayenne Hybrid S will put out 20 percent less CO2 emissions than its gasoline version, which is good enough to qualify it as an ULEV II. There's no official fuel economy figures just yet for the Cayenne Hybrid S, but early reports suggest the SUV could hit 32 mpg on the highway, which is 10 mpg better than the V6-powered Cayenne.
Porsche also pointed out that the Cayenne Hybrid S will be capable of traveling up to 1.2 miles on electric power alone, and that using electric power alone, will make it all the way up to 86 mph.
Source: LeftLaneNews
Related posts: