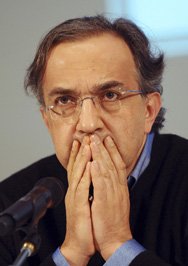 Chrysler Group LLC employees officially met the new boss earlier this week–and he's not anything like the old boss – which is probably a very good thing, indeed. Chrysler is now run by Fiat, and the first item on the new agenda is profitability—something the old bosses didn't seem to be all that concerned about.
In his first day on the job, CEO Sergio Marchionne announced sweeping changes including his senior management team and a reorganization that will force every brand to be profitable on its own.
This is the age of bailouts and acquisitions. And a bailout is a weird thing, because it's a happy moment, yet so many questions arise. Will it be a success? Whose heads will roll? Who will get hired to turn things around? It represents a new beginning, but one burning question keeps coming up—will it be better this time or will the mistakes of the past repeat themselves?

Wednesday was day one for the new company formed by combining the assets of bankrupt Chrysler LLC with technology and management expertise from Fiat SpA. The way for the deal was cleared when the U.S. Supreme Court put an end to the appeals of a group of Indiana pensioners late Tuesday.
About 4,000 employees gathered in Auburn Hills on Wednesday afternoon to hear from Marchionne, who is also CEO of Fiat and will move from a makeshift office in a conference room to a real office as he intends to spend a lot of time in Metro Detroit.
Over the course of an hour, they also heard from Robert Kidder, who will chair the nine-person board of directors. The low-key start of operations was in contrast to the event that included bungee jumping off the headquarters when Cerberus bought Chrysler in 2007 or the taking over of the New York Stock Exchange in a giant celebration on the first day of trading when DaimlerChrysler was created in 1998.
Related posts: