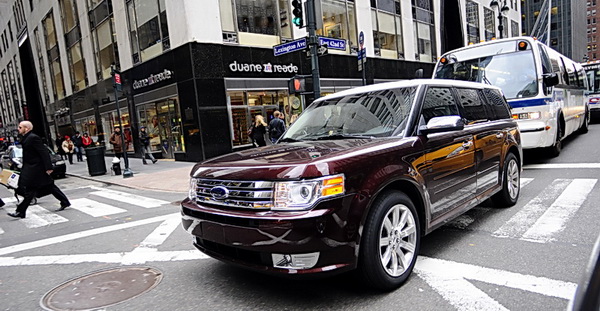 For those who keep up with Ford news, it is well known that the Ford Flex will take over where the Taurus X leaves off. We actually found the Taurus X to be a really competent car and very versatile. So, our expectations are high for the Ford Flex when it starts showing up at the dealerships this summer. (Editor)
DEARBORN, Mich., May 14, 2008 – When customers take their new Ford Flex for its first spin this summer, they may be surprised by what's missing: the noise.
Flex delivers a quieter ride than competitors including the Acura MDX, Toyota Highlander and GMC Acadia, according to Ford tests. That's good news for customers, who tend to directly relate a vehicle's quietness with its quality, says Derrick Kuzak, Ford's group vice president of Global Product Development. "Quietness is a very good proxy for quality in a vehicle."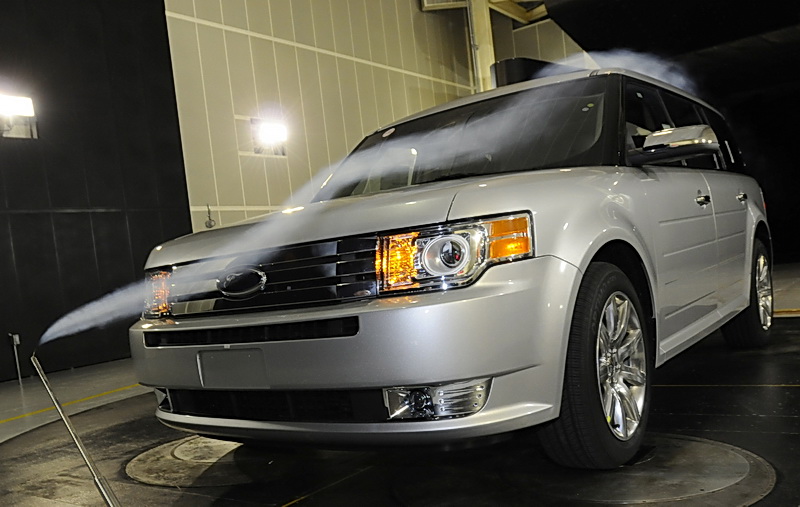 In fact, across all vehicle lines, Ford Motor Company's wind noise went from second-worst in the industry in 2003 to best in the bunch for 2007 based on TGW (things gone wrong) records – beating even Toyota to become No. 1. That's according to RDA Group of Bloomfield Hills, Mich., which conducts customer surveys for Ford.
During the development of the new Flex, Ford engineers tackled one of the biggest sources of interior noise – the front and rear side doors. One of their solutions is a new inset door design rather than the traditional "limo" door that wraps into the roof.
"There's a margin on the traditional limo door along the A-pillar up to the windshield that's right in the path of the wind and acts like a scoop," says John Wheeler, Closure Systems integrator. "That's where the majority of the wind noise comes from. We've eliminated this noise path in the Flex."
Engineers are able to pinpoint problem areas like the limo door design thanks to hours spent in testing facilities such as Jacobs Technology's Drivability Test Facility (DTF) in Allen Park, Mich. The facility includes wind tunnels that can subject vehicles to temperatures from minus 40 degrees F to 130 degrees F, winds of more than 150 mph and altitudes ranging from 280 feet below sea level to more than 12,000 feet above sea level.
Wind Tunnel 8 is where NVH (noise, vibration and harshness) Development Engineer Steve Dworack and his team have been putting Flex to the test. Starting with the first prototype a year ago and continuing now with random vehicles pulled from production, the NVH team has used Aachen Head technology to measure and pinpoint sounds inside the car.
In these tests, the Aachen Head – a microphone-equipped mannequin —picks up sounds while a giant, 23-foot fan blows 100 mph winds at the car.
"On a Flex prototype, we found a buzz that came from a half-inch section under the mirror mount," says Dworack. "That tiny gap accounted for one whole sone, which is a unit of perceived loudness."
The NVH team isolates noises such as this through a process of using a special high-speed tape to cover seals in windshields, windows, doors and so on, and then strategically untaping certain areas during testing. Once a problem is identified, the team works with Design & Release engineers to fix it. In the case of the miniscule section under the mirror mount, the gap-hider seal was lengthened by 1 millimeter.
Says Dworack, "I think customers will be pleased with how quiet the Flex is, especially when they are making a call or listening to their favorite song using SYNC and our new 700-watt Sony audio system with 5.1 Surround."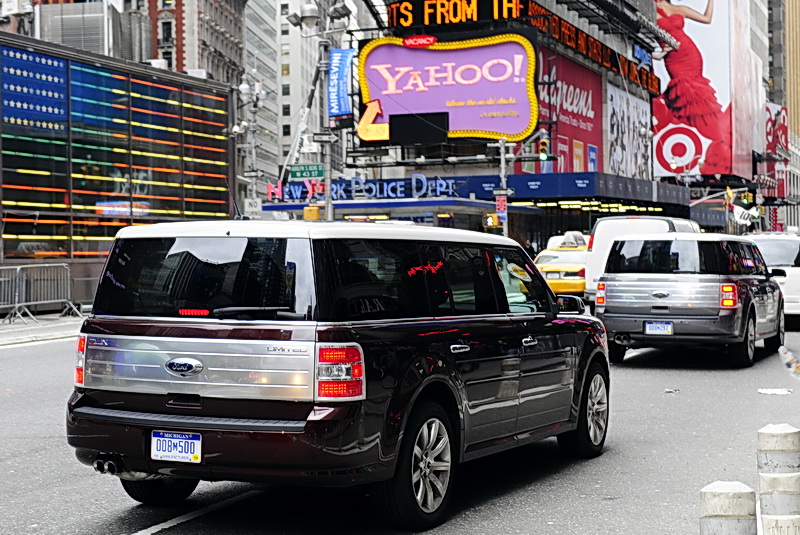 # # #
About Ford Motor Company
Ford Motor Company, a global automotive industry leader based in Dearborn, Mich., manufactures or distributes automobiles in 200 markets across six continents. With about 244,000 employees and about 90 plants worldwide, the company's core and affiliated automotive brands include Ford, Lincoln, Mercury, Volvo, Mazda, and until completion of their sale, Jaguar Land Rover. The company provides financial services through Ford Motor Credit Company. For more information regarding Ford's products, please visit www.ford.com.
Source:
Anne Marie Gattari / Ford Motor Co.
Jay Ward / Ford Motor Co.
Related posts: