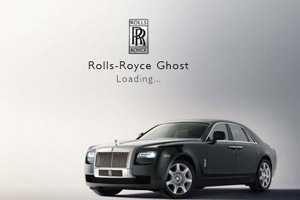 Rolls-Royce's newest promotional tool is the closest most of us will ever get to the $245,000 Ghost
If you are looking for something to spruce up your jewel encrusted iPhone, than look no further than Rolls-Royce's new app. With this app you can customize your very own virtual Ghost. Don't own an iPhone that is covered in priceless gems? Don't worry this application is free, but you will quickly wonder what is the point of this app.
The application starts with a flashy video of the Ghost and it all goes downhill from there. After the video is completed, an ugly blob of what I think is the Ghost appears on the screen. The model is so poor and low definition, even by iPhone standards, that it makes the car look bad. The interior view is photo's and looks tremendously better. R-R really should of went with just photo's.

You can also tweak the cars colors, (sorry no hot pink.) and wheels. Once you get your Ghost looking how you want, you can save it as a preset in your "garage." Also buried in the app is full technical specs of the car and a function to find the nearest Rolls-Royce dealer. This is a handy feature if you happen to have a trust fund.
While this is an interesting promotional tool, it's not really that well executed. You will pretty much play with it for a few minutes and then turn it off and never use it again. VW did a much better job with its promotional iPhone app. The German automaker's app is a full fledged racing game.
If Rolls-Royce really wants to impress us they should offer a digital manual on the iPhone and the ability to schedule service for the Ghost, much like the upcoming Hyundai Equus. If a budget brand can do it, why not Rolls-Royce?
Related posts: