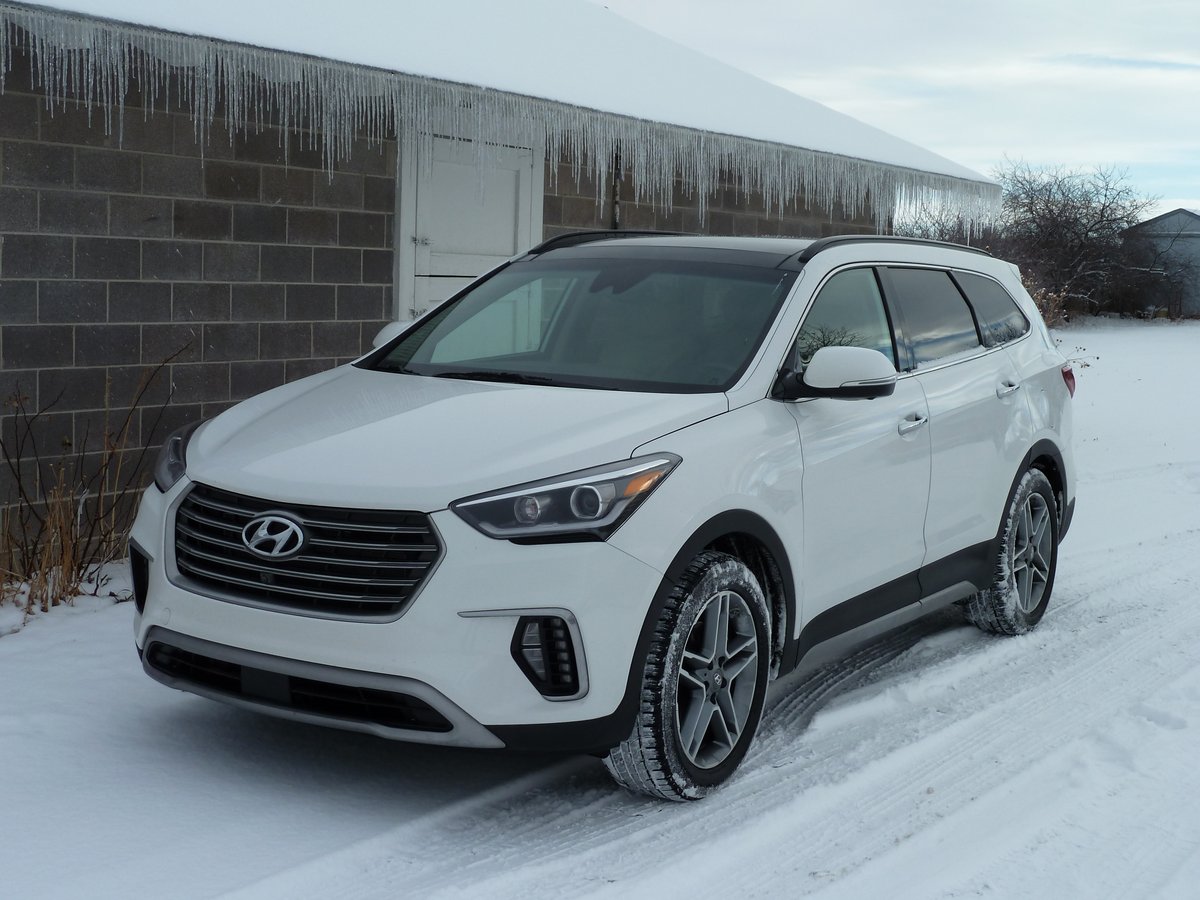 By Judy Colman
Hypes: Numerous standard features for the price, sophisticated interior design
Gripes: Small cargo area if you need all available seats
Jeff Foxworthy once noted "You might be a redneck if directions to your house include 'turn off the paved road'". That's exactly what I was dealing with on my recent trip to visit family in Wyoming. Actually, the pavement ends a few miles before the driveway. I tested the 2017 Hyundai Santa Fe, my ride for the week, in Wyoming's winter snow, mud, cold, and wind.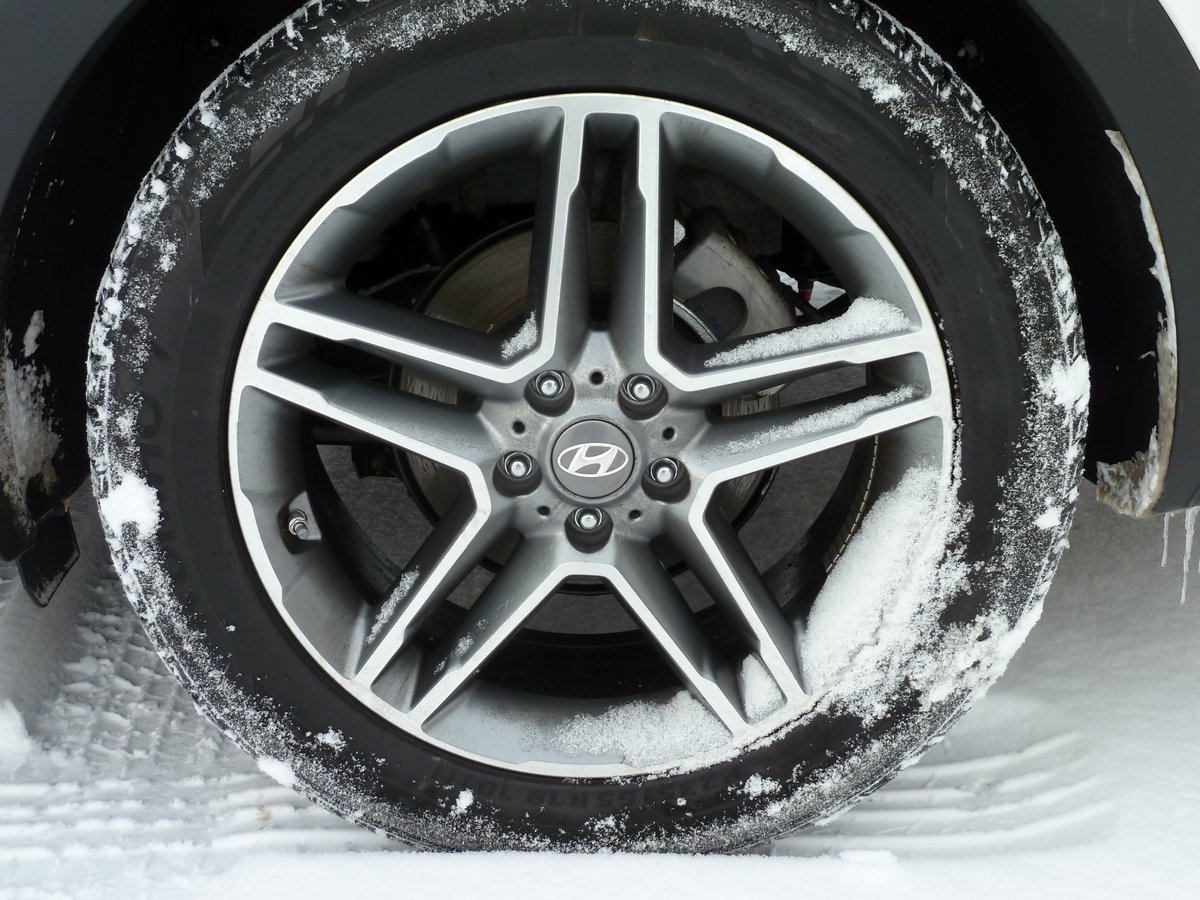 Driving in eastern Wyoming is like dying and going to No-Traffic Heaven. Yes, I had the adaptive cruise control on, but there was virtually no traffic to test it adequately. Likewise with the blind spot warning system with rear traffic alert. However, I expected the lane departure warning to go off often when I saw the signs for 'Tip Over risk. Expect wind gusts of 50-60 mph". It didn't happen. The wind howled but the Santa Fe stuck like glue in my chosen lane. Fortunately, I had no opportunity to test the emergency braking provided by the forward collision mitigation system.
Shod with Kumho P235/55 R19 tires, the Santa Fe handled admirably in the ice, snow and the slush that covered the town streets had to offer when I first arrived. When the snow melted and gave way to mud, the all wheel drive felt equally confident and secure.
The 3.3 liter, direct injection V6 engine, paired with a 6-speed automatic transmission, performed better than expected. Due to the altitude in Colorado and Wyoming, I anticipated a little hesitation or sluggishness from the six cylinders but found none. Every one of the 290 horses (at 6400 rpm) and 252 lb-ft of torque (at 5200 pm) was ready and available. Fuel mileage has increased slightly over the prior model to 19 mpg combined city/highway. All Santa Fe models can be ordered with either front-wheel or all-wheel drive. All wheel drive adds $1,750 to the price tag.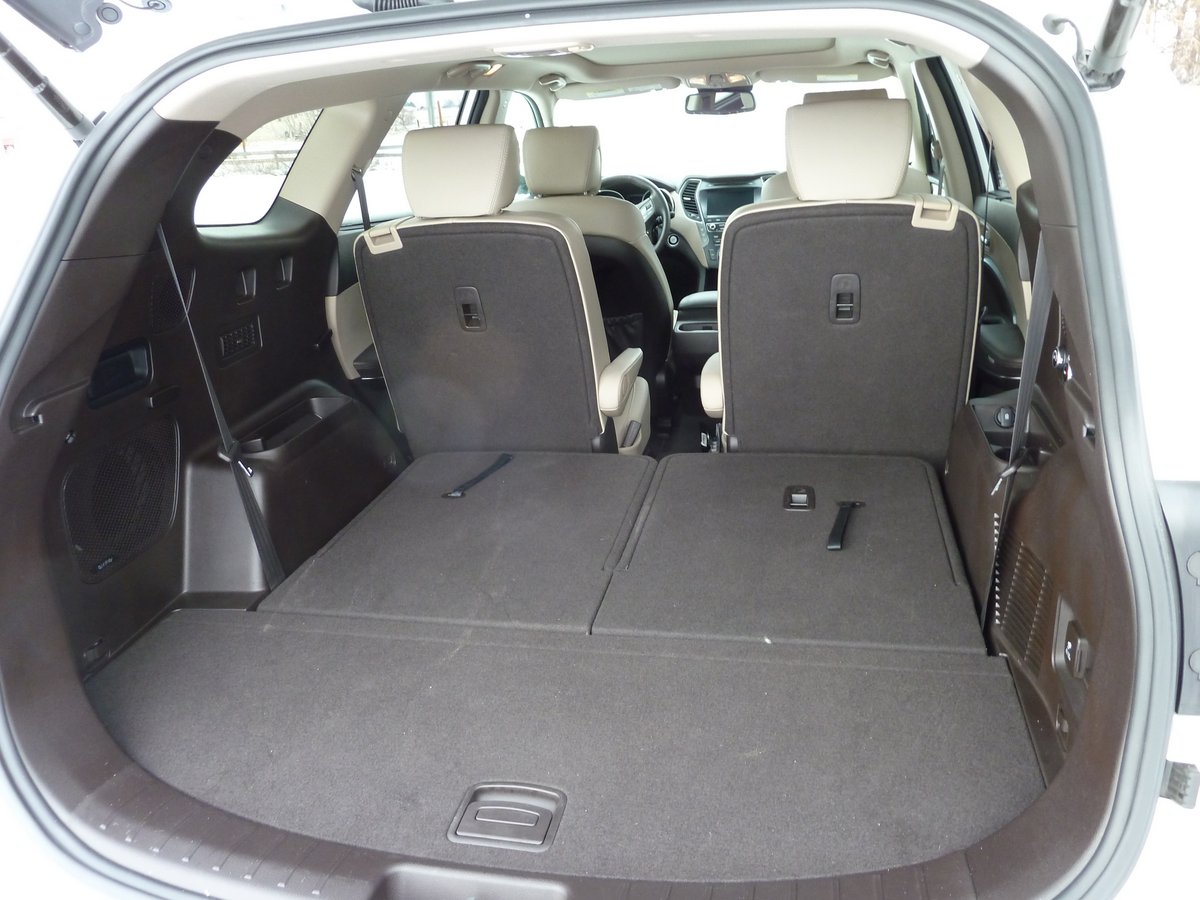 The six- or seven-passenger Santa Fe offers many creature comforts in its three row configuration. Leather seating, heated and cooled front seats, heated steering wheel, and a multitude of seat adjustability options combine to make road trips more enjoyable. Even the second row passengers benefit from heated seats. In the San Francisco Bay Area a heated steering wheel is a nice feature. When you look at the exterior thermometer in Wyoming and see 18 degrees, heated everything is good. The panoramic sunroof allows enough light in to keep the third row dwellers from feeling claustrophobic.
With the second and third row seats folded, the cargo space measures about 80 cubic feet. That gives you plenty of room for the trip to the home improvement or feed store. Available space shrinks to 41 cubic feet with only the third row seats down. 13.5 cubic feet is all that is left with all three rows of seating up. And it's best to relegate the kids or very small adults to the third row seats as room for people in that area is quite limited. You can send the kids back there with their devices and they'll be happy campers as the third row seats come with a handy USB port.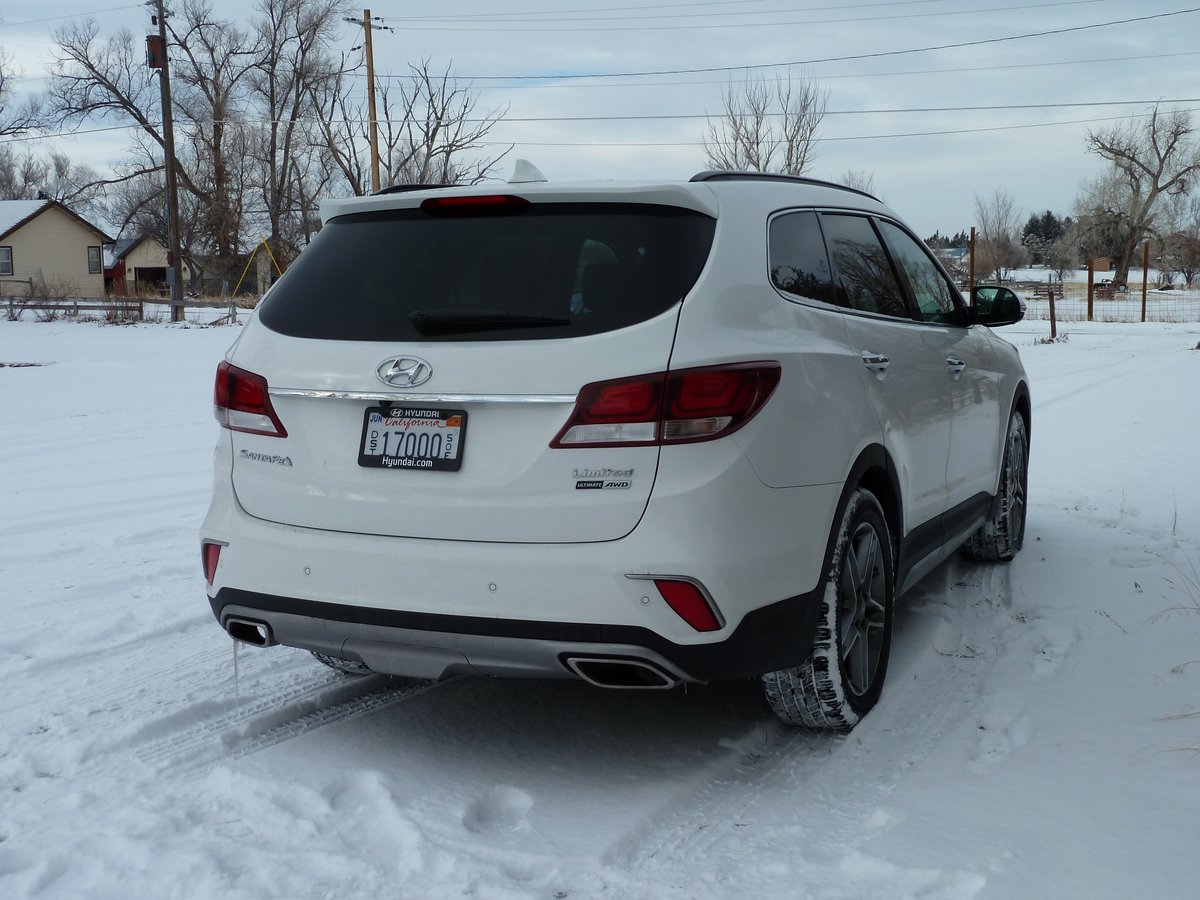 Finding climate and audio controls on the dash as well as on the 8-inch touch screen
makes perfect sense. Trying to turn the fan speed up or the temperature down using only a touch screen is akin to distracted driving in my estimation. The gauges and controls are laid out in a straightforward manner and are easy to read and engage. Bluetooth connectivity, AM/FM/HD radio with SiriusXM radio, QuantumLogic surround sound, and Android Auto smart phone integration keep the tunes coming and the techies engaged.
Base price for this model is $41,150. The only optional package available is the Ultimate Tech package ($2,100) which adds Smart Cruise Control, Automatic Emergency Braking with Pedestrian Detection, High Intensity Discharge headlights, Electronic Parking Brake with Auto Hold, and Dynamic Bending Light to the standard options.
Hyundai might not be your first thought for a six- or seven-passenger crossover vehicle, but you would do yourself a favor to consider the 2017 Santa Fe. With numerous options in this market segment, the Hyundai offers a competitive product packed full of standard features.
2017 Hyundai Santa Fe Limited Ultimate AWD
Engine: 3.3 liter Gasoline Direct Injection (GDI) V6
Horsepower: 290 hp
Torque: 252 lb-ft.
Fuel Consumption: 17 city, 22 highway, 19 combined
Price as Tested: $44,295
Star Rating: 9 out of 10 Stars
Related posts: