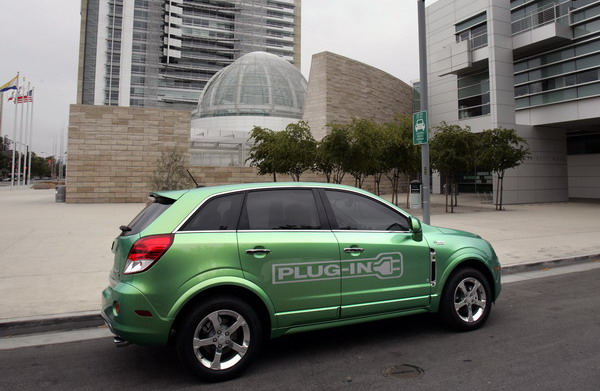 The very first Plug-In Conference was held in San Jose, Calif. (7/22/2008 – 7/24/2008), to showcase the latest technological advances, market research, and policy initiatives shaping the future of plug-in hybrid electric vehicles (PHEVs). The three day conference brings together automotive manufacturers, component suppliers, electric utilities, government agencies, universities, and the environmental community to address the most current technical research surrounding PHEVs, the impact of current policies and regulation, and clean-tech entrepreneurs' ideas to enhance and expand the PHEV market.
PHEVs offer one of the most promising near-term strategies for substantially reducing transportation-related greenhouse emissions and our dependency upon fossil fuels for transportation purposes. PHEVs are hybrids with a much larger battery pack that can be plugged into a 120-volt outlet allowing them to travel greater distances solely on electric power.
Bringing PHEVs into the mass market poses some challenges, but offers a better solution to other alternative fuels such as bio-fuels and hydrogen fuel cells. More specifically, there is already an existing infrastructure in place to recharge plug-in vehicles as opposed to refineries that need to be built to produce millions of gallons of bio-fuels and hydrogen refueling stations that are far and few between right now. Granted our current electrical grid in the U.S. isn't perfect and does need some tweaking to support a large number of vehicles that need to be recharged daily, but implementing changes to support many, many PHEVs can be put into action much sooner and easier than building the infrastructure to support bio-fuels and hydrogen fuel cells.
Reaching the goal of improving air quality, reducing our carbon footprint and dependency upon foreign oil can happen if our country adopts PHEVs on a large scale. 80% of U.S. drivers drive fewer than 40 miles per day. Right now we have vehicles that can be driven 20 miles on electricity only. Development of electric vehicles with a 40 mile electricity only range (PHEV-40) are just around the corner as the technology improves with lithium-ion batteries and vehicles take advantage of lightweight materials that don't compromise safety.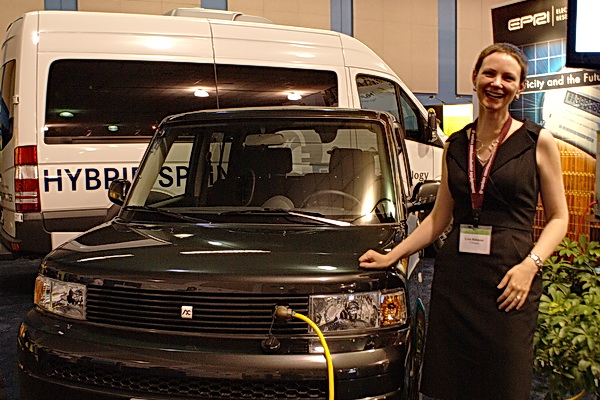 For the early adopters, there are conversion kits available that can transform a 2nd generation Prius into a plug-in vehicle. Currently Luscious Garage, an environmentally responsible repair shop based in San Francisco will convert your Prius into a PHEV for $5,999 using lead-acid batteries. To date over 20 PHEV conversions have been completed. The conversion kit, used by Luscious Garage, is from Plug-In Supply in Petaluma, CA and is installed in the space above the spare tire. The kit is complete with batteries, wiring harness, logic board, and pneumatic shocks to enable lifting of the battery box and allowing access to the spare tire. Installation process takes about two days to complete. When li-ion batteries become available later this year, an upgrade path exists for an additional charge.
Hymotion, in association with A123 Systems, recently finished product testing of their PHEV conversion kit. A123 Systems is one of the battery companies contracted by GM to develop li-ion battery technology for the upcoming Chevy Volt and other future electric vehicles. Hymotion and GreenGears is also partnering with local garages to perform the installs. Pat's Garage, located in San Francisco, is the first "clean and green" San Francisco automotive repair shop that specializes on hybrid repairs and is a Certified Hymotion Installation Partner (CHIP). Hymotion has developed the L5 module which is a PHEV conversion kit for the Prius. Similar to the Plugin Supply conversion kit, the L5 module sits in the spare tire well of the Prius and only takes a few hours to install. Cost of the conversion is between $10,000 – $11,000.
PHEVs are being taken seriously as viable means of transportation for the general public on a large scale and a long term solution towards moving away from fossil fuels used for transportation purposes. And I'm not just talking about a small group of enthusiasts trying to push a big idea onto the majority who think global warming is scientific myth. Municipal government departments are pushing for zero emission vehicles for their fleets and the lawmakers are considering policies and incentives to help the public get on board with PHEVs. The power companies are looking at the impact of having a large number of PHEVs plugged into the grid, the rates for charging at different times of the day, and implementing smart-grid technology. And a serious effort is underway to improve battery technology and PHEV design so that the range of a PHEV can be extended well beyond 40 miles on a single charge without compromising safety and significantly increasing the costs. Who knows. You might have a PHEV of some type in driveway in the very near future.
###
About Plug-in 2008
Plug-In 2008 is a three-day international conference that showcases the latest technological advances, market research, and policy initiatives shaping the future of plug-in hybrid electric vehicles.
The first annual Plug-In conference was considered a success. The turnout of 650+ registered attendees and 100 media representatives exceeded expectations of 400 – 500 participants for its first year gathering. The exposition hall was filled with 36 exhibitors showing off their latest PHEV technology in the form of plug-in vehicles, advanced battery technology, smart-grid interfaces, and recharging stations. Next year's Plug-In 2009 Conference & Exposition is set for August 10-13, 2009 in Long Beach, Calif.
Related posts: