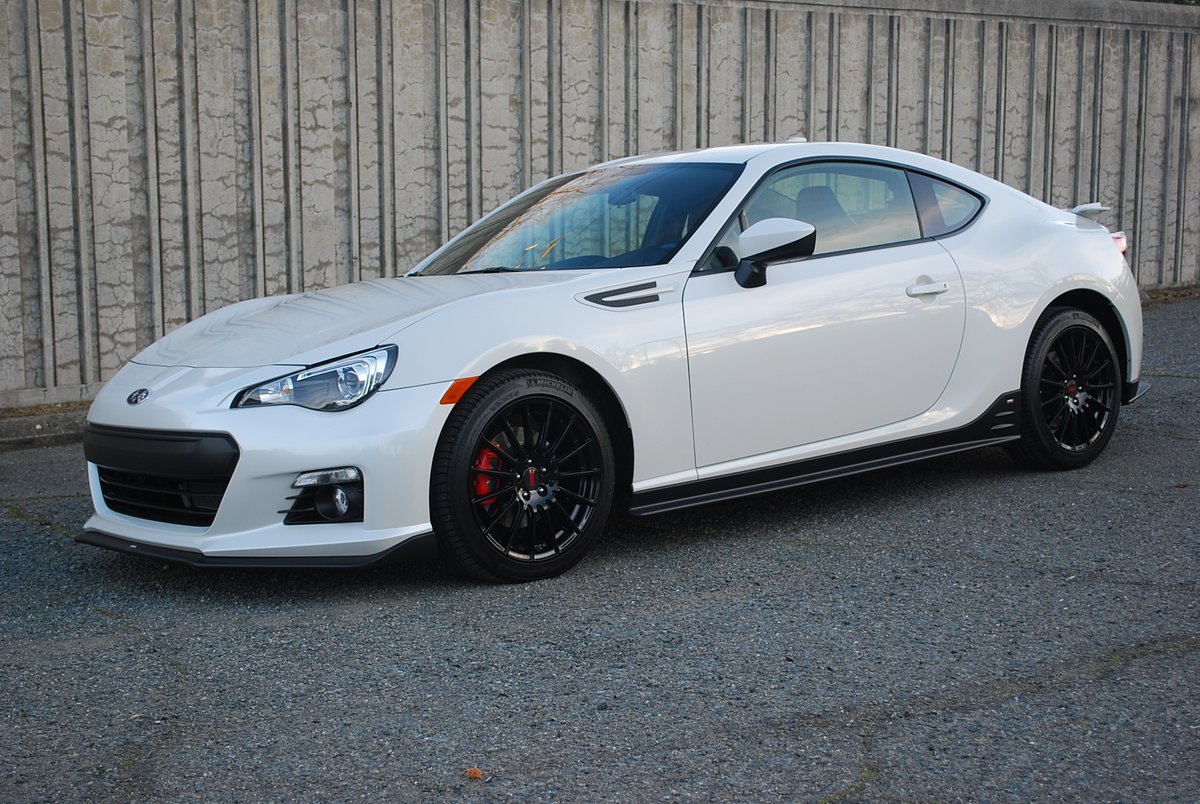 By David Colman
Hypes: Incredible Sporting Value, Killer Blue Edition
Gripes: Don't Have My Own – Yet
Luck of the draw has seen me test this Subaru's fraternal twin, the Toyota FRS on a number of different occasions since the duo was introduced 3 years ago. Over that same period, however, I never had the opportunity to strap into Subaru's version – until now. In Series Blue trim, a new level of cosmetic refinement for 2015, the BRZ decidedly outshines its Toyota counterpart. The BRZ shares basic architecture with the FRS: rear wheel drive (first ever for Subaru), 2.0 liter flat four cylinder engine producing 200hp, independent suspension and disc brakes at all four corners, even a quartet of the same mediocre Michelin Primacy HP 215/45R17 tires mounted on alloy rims.
What distinguishes the BRZ is the excessive attention to detail Subaru has invested in the optional $2,545 Series Blue Edition. This racing oriented company turned to its competition based STI parts bin for exotic looking front, side, rear and underside spoilers which cumulatively distinguish this special model from any previous FRS or BRZ. The frontal aspect is particularly daunting, with its sculpted under tray and discreet STI logo. Full length side skirting finished in black looks especially good against the complex Crystal White Pearl exterior color of our sample. Again, you discover discreet STI badges just forward of the rear wheel well strakes. At the back, a large single element wing does a great job of providing down force to match the beefed up front spoiler while managing to stay out of your aft line of sight in the mirror. These aerodynamic tweaks not only increase the BRZ's ability to stay glued to the road at high speed, but also enhance gas mileage to a figure of 25MPG overall.
As you might expect, the interior decor of the Blue Edition harmonizes a purple shade of blue with black Alcantara to enhance the look and feel of the ultra supportive racing style seats. Carbon fiber patterned dash board facing sets affords nice detailing to an area that looks like bleak plastic in the base model car. The black pseudo-suede headliner looks and feels rich, and ribbed aluminum race style pedals grab the soles of your feet with authority. This businesslike cockpit reeks of racing functionality. In fact the BRZ has already proven itself to be one of the best and most affordable track day/autocross cars you can buy for just $30,000.
This Subaru is endearingly responsive to both throttle and steering input. It will change direction like a go-kart, and keep you happily absorbed in swapping its 6 gears for maximum thrust. At 200hp, and just 151lb.-ft. of torque, you'll find yourself constantly recalibrating gear choice to keep this engine on full boil. The exercise provides intoxicating fun. But in reality, the BRZ could do with at least another half liter of motor and another 50lb.-ft. of torque.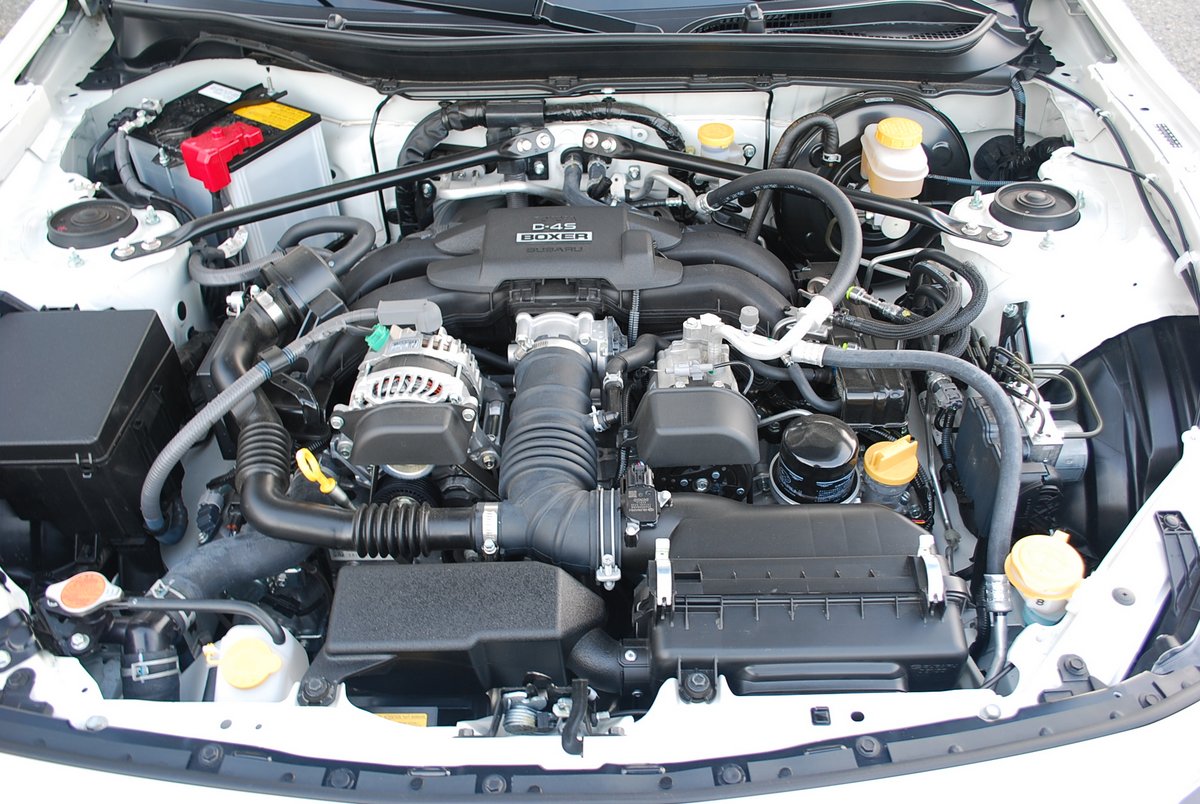 Do not dismiss this ride as impractical. The wide and deep trunk opening surprised me with its ability to digest two large, nested Christmas ornament lockers from Orchard Supply without drama. You've got a generous 7 cubic feet of storage to play with back there. There's also a wealth of space aft of the front seats, but getting to use it can be problematic since the front seats must always be tilted forward to access this area.
Just because the BRZ is a cutting edge sports coupe does not mean you need to sacrifice comfort or luxury to use it daily. Subaru softened its harsh ride for 2015, so it no longer clangs off potholes or gets airborne over speed bumps. The list of interior refinements is long and comforting. Subaru's standard list includes dual sided climate control that works exceptionally well, front fog lights, three stage heated seats, very effective rear window defrost, keyless access and start, and a tilt and telescoping leather wrapped steering wheel with fat grips.
The Blue Edition features gloss black alloy rims which look particularly sharp set against red finished front and rear brake calipers. If you intend to turn your BRZ into a part time track day ride, however, you'll want to remove the 17 inch rims and all-season Michelins in favor of a set of 18 inch wheels with Bridgestone RE 11 tires. This is the hot set up that Toyota utilizes on its fleet of FRS Celebrity Challenge cars at the Long Beach Grand Prix. But no matter what rubber your BRZ rolls on, you'll have the blast of your life everyday you climb behind the wheel of this affordable gem.
2015 Subaru BRZ Series Blue
Engine: 2.0 liter Horizontally-Opposed 4 Cylinder, DOHC
Horsepower: 200hp
Torque: 151lb.-ft.
Fuel Consumption: 22MPG City/30MPG Highway
Price as Tested: $30,285
Star Rating: 10 out of 10 Stars
Related posts: