Hypes: Scintillating Value, Fully Equipped Base Price Vehicle
Gripes: Front Seats Overstuffed, A-Pillar Vision Cluttered
Of all the new cars I drove in model year 2017, the Genesis line from South Korea proved the most unforgettable. While recognition of this new marque remains limited compared to long standing luxury stalwarts like Lexus, Infiniti and Acura, don't be quick to rule out Genesis if you're in the market for a luxury vehicle. You can certainly spend more for a Japanese big three product, but you'll probably be wasting your money. Because Genesis has hit the bulls eye with both of their model lines – the G80 and the G90. The company explains that their rational take on luxury is called "Luxury, Evolved." They explain that somewhat mysterious concept by saying, "Most luxury automotive brands share the view that luxury is all about status. An excessive price tag just to claim exclusivity. What sets Genesis apart is the belief that traditional ideas can be shaped in dynamic new ways."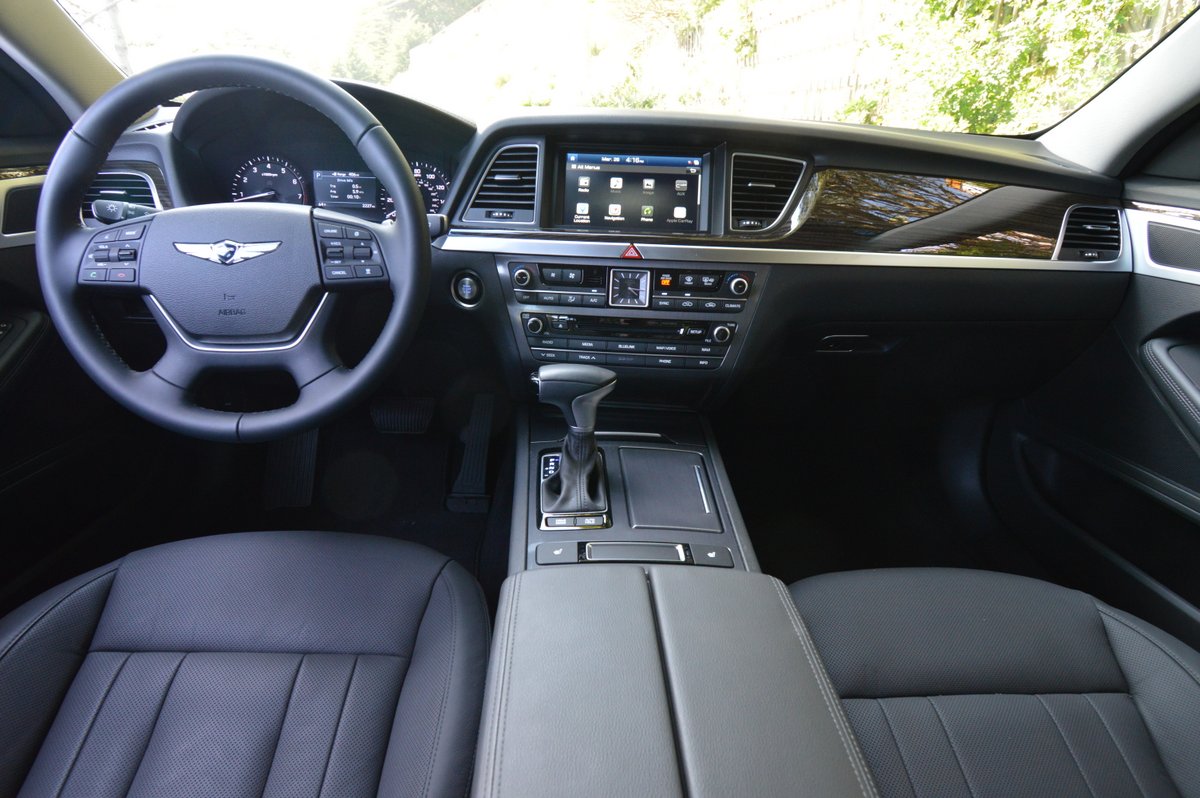 The first new dynamic you encounter in a 2018 Genesis G80 is the comparative affordability of this rear-wheel-drive, V6-powered four-door sedan which lists for $41,750. As if to prove the point about how completely equipped the base G80 is as delivered, our test car carried not a single additional charge beyond a delivery fee of $925. That means this exceptionally well equipped sedan sells for $42,725 out the dealer door. If this Genesis carried a BMW nameplate, it would also burden you with a pack sticker of at least $10,000 on top of the base price to cover all the ancillaries Genesis throws in for free: Bi-Xenon HID headlights, Proximity key with push button start, Leather seating surfaces, Dual automatic temperature control, 8″ Touchscreen navigation system, AM/FM HD radio and CD MP3 Audio system with 7 speakers. The list goes on and on, with a 5 year, 60,000 mile warranty, a complete complement of the latest safety controls and accident avoidance technology, and to top it all off, the top safety rating of 5 stars from the NHTSA. So in terms of value for the buck, this entry level Genesis is a steal.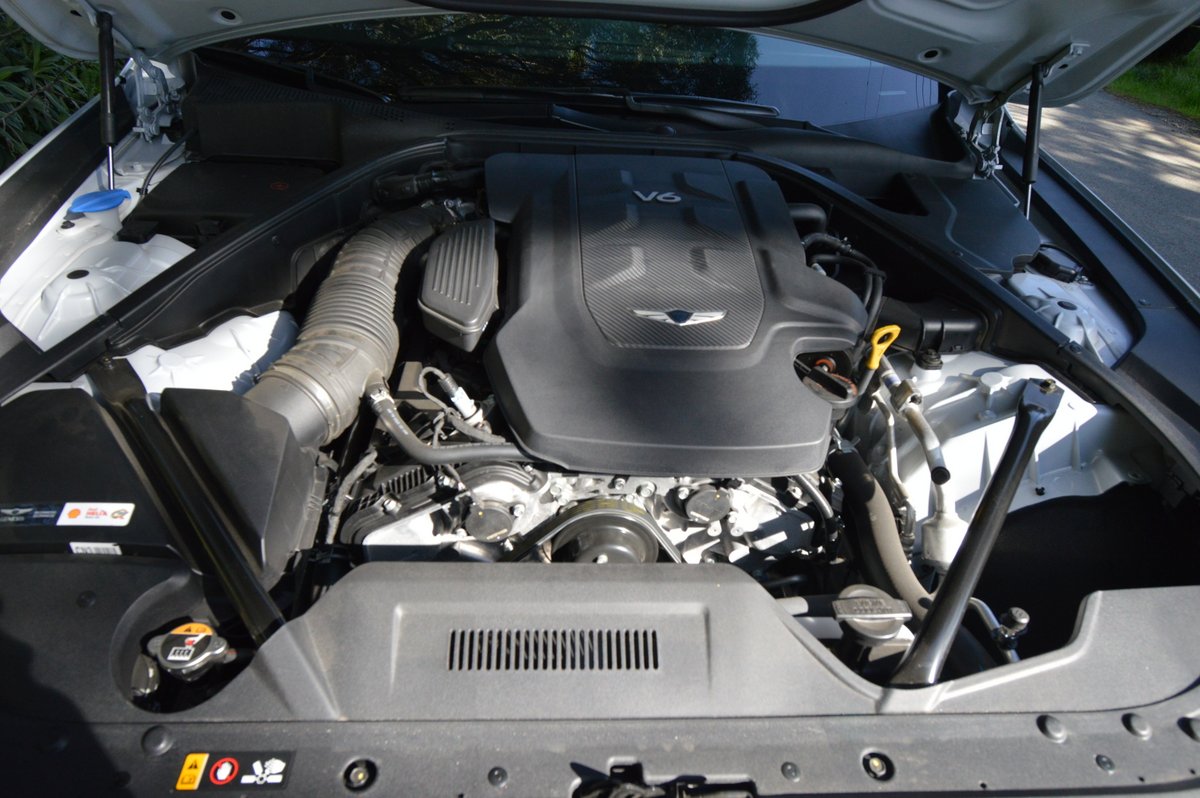 But does the driving experience match the car's economic allure? Most definitely. Unlike so many of the fiendishly complicated products I drive these days, the cockpit of the G80 seems to have descended from a kinder, gentler period of human/machine interface. Most basic driving chores – wipers, seats, defrost, temperature setting – are easily handled by the uninitiated thanks to smart button placement. Almost anyone can climb into the driver's seat of a G80 and get with the program without a second thought. Such utter freedom from operational confusion is due to the linear, intuitive nature of the dashboard. If you feel the need to busy yourself exploring a host of command menus, find yourself another car. When the G80 arrived, a previous driver had selected the valet setting for seat and steering wheel, which slides the seat backwards and tilts the wheel up when you turn the ignition off. Since I find this song and dance routine quite annoying, I reprogrammed the car to muzzle the wheel and seat on shut down. The reprogramming took less than 60 seconds to accomplish, thanks to a small keypad on the right spoke of the steering wheel that lets you toggle through essential settings in an instant. On other luxury cars, this operation can take forever as you cycle through endless maps and options. On some cars, the dealer has to "perform" the change for you at shop rates.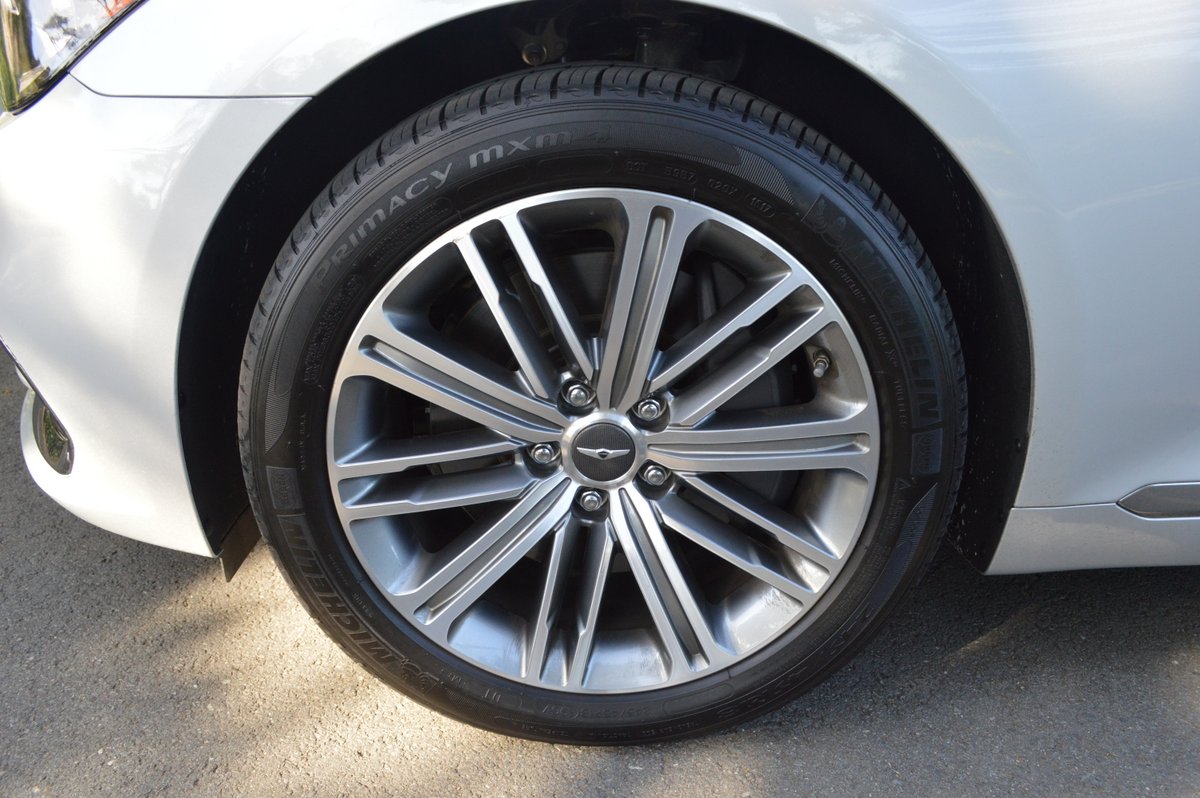 This 4,500lb. sedan is so luxuriously appointed that it makes no pretense at sport performance. Besides, there's a new twin-trubo Sport version of the G80 for that need. But the base model is certainly no slouch at the drag strip, nor on a back road. The large displacement (3.8 liter) V6 is creamier than a Boston clam chowder, with enough horsepower (311hp) and torque (293lb.-ft.) to meet any passing/merging eventuality that may arise. The handling is predictable, and well programmed, with 18 inch alloys fitted with chunky Michelin Primacy MXM4 radials (245/45R18) at each corner. You can chose from 3 available driving modes via a button next to the console shift lever. In "Normal" mode, the G80 feels a bit pitchy around sweeping turns, but if you select "Sport" mode, the comfy sedan hunkers down on its Michelins and really gets with the program. An "Eco" mode completes the trio, and will help you achieve 22MPG in overall driving – albeit at the expense of an annoyingly lethargic throttle pedal.
All in all, this base model G80, which is also available in all-wheel-drive configuration, remains a value revelation well into its second year of production.
2018 Genesis G80 RWD 3.8
Engine: 3.8 liter V6 with GDI
Horsepower: 311hp
Torque: 293lb.-ft.
Fuel Consumption: 19MPG City/27MPG Highway
Price as Tested: $42,725
Star Rating: 10 out of 10 Stars
Related posts: