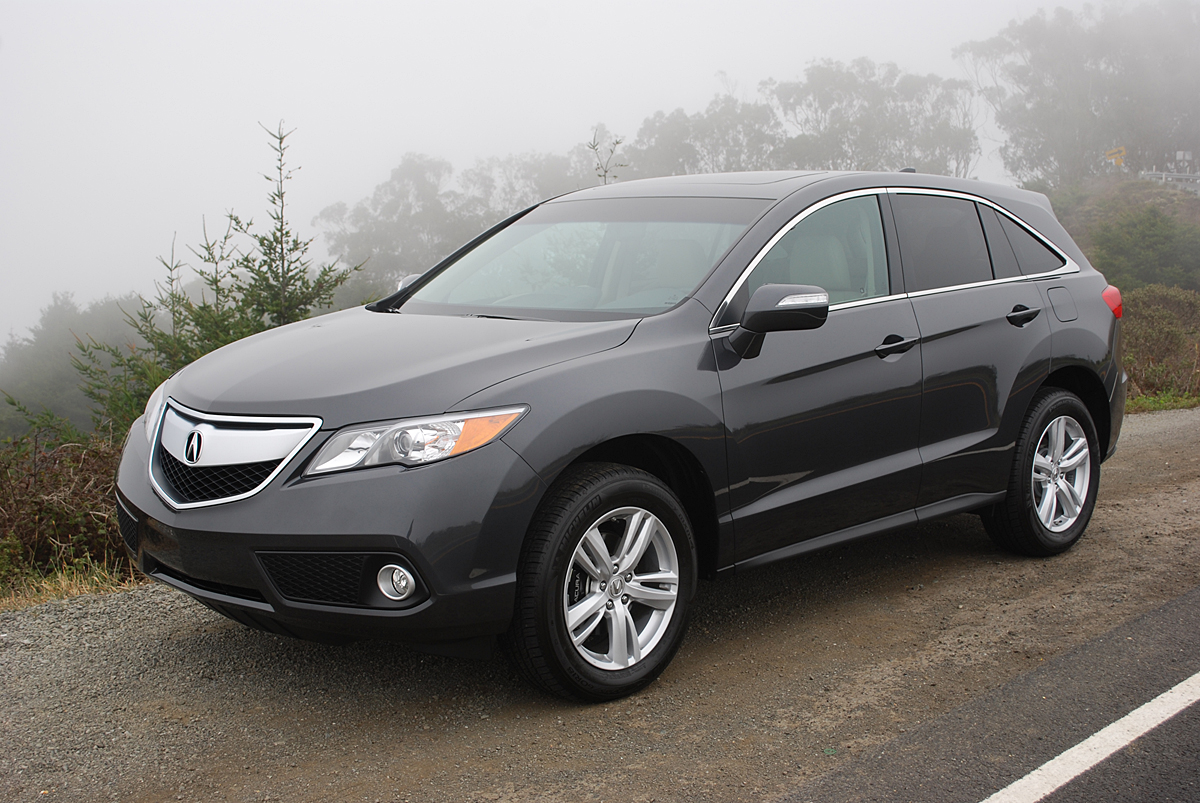 By David Colman
Hypes: More Computing Power Than Apollo, Slick Quick Handler
Gripes: Manual Hood Prop on a Forty Grand SUV?
The latest 2014 RDX builds on the positive changes accomplished for 2013, when Acura redid the RDX by installing a 3.5 liter V-6 instead of the previous version's 2.5 liter turbocharged inline 4. This engine compartment transplant makes a compelling case for giving the formerly underpowered RDX another look. Instead of the turbo motor's peaky power band and inadequate torque, you'll revel in the V6′ 273hp and 251 lb.-ft. of torque. There's more than enough grunt to spin the wheels from a standing start, and you'll never be disappointed in this engine's passing lane performance. Connected to the transversely mounted V6 is a 6-speed automatic with well-staged gear sets designed to optimize performance of this 6,800rpm redline engine. You can select your own gear of choice by popping the floor stick into its manual gate, or accomplish the same task by blipping up shift and downshift pads adjacent to the steering wheel. The all-wheel-drive technology RDX, which carries a base price of $39,420, extracts a premium of $1,400 over a similarly equipped two wheel drive model. The upgrade is well worth the additional outlay for the extra grip and security afforded by driving all four wheels. We had a tough time finding the cornering limits of this SUV on dry pavement. Its Michelin Primacy MXM4 tires (235/60R18) hardly ever issued a squeal of discomfort, despite the fact that their tall 60 series sidewall height is far from optimal for sporting assignments.
Over the past several years, Acura has remade this premium Honda brand into a feast for technology lovers. The latest RDX is crammed with features that will delight demanding technocrats. For example, you never need to fumble your key into the ignition slot because a cinnamon red metallic "Stop/Start" button next to the steering wheel forever relieves you of insertion duties. When you engage reverse gear a real time view of the area behind your MDX illuminates the standard Navigation screen, complete with yellow parking guidelines to assist you in judging distance. By pressing "Enter" on the center console's beefy control knob, you can even toggle the rear display to switch between wide angle, overhead or standard rear views. Moreover, should you wish to remove the yellow guidelines from the picture, simply press the "Cancel" button on the console and hold it down for 3 seconds. You can also program the outside rear view mirrors to tilt down when reverse gear is engaged to improve your view of the curb for parallel parking. This feature can also be engaged or disengaged at will. Talk about customization!
The interior design of the RDX cabin is soothing and spacious. Our "graphite luster metallic" example featured expensive looking mocha leather seats and door panels that contrasted subtly with the chocolate tinted dash and center console. A matte finished pewter molding separated the two interior tone zones. Each front seat features a "Driving Position Memory System" which allows you to retain two favorite seat and mirror positions. Both front seats include standard 2-stage heat settings.
Although the large central Navigation screen, which is shielded by a Visigoth-like hood, looks rather intimidating at first, the cavernous design serves its purpose well by screening out errant light during daytime driving. You can enter a destination into the system by using voice commands (say "Display Destination") or instruct the data base to search for an ATM, gas station, restaurant or movie theater by saying "Find Nearest…" The Navigation unit also provides you with AcuraLink Real Time Traffic and Real Time Weather, to help you avoid unexpected jams or inclement weather. You can use verbal commands to instruct the system to "Avoid" specific routes, or say "Display Traffic List" to garner a report of nearby incidents to circumvent. Likewise, by saying "Weather Forecast" you can check on the 1-3 day picture, or say "Radar Map" to elicit the kind of color-coded forecast you see on your nightly newscast.
This all encompassing technology package requires you to exert judicious restraint while driving. It's all too easy to issue verbal commands while ignoring the demands of traffic. If you can keep your mind on your driving while playing the system intelligently at stoplights, your RDX experience will be rich and rewarding, because this SUV is as much fun to drive as it is to command.
2014 Acura RDX AWD with Technology
Engine: 3.5 liter DOHC, 24 Valve V-6
Horsepower: 273 hp
Torque: 251 lb.-ft.
Fuel Consumption: 19 MPG City/27 MPG Highway
Price as Tested: $40,315
Star Rating: 9 out of 10 Stars
Related posts: