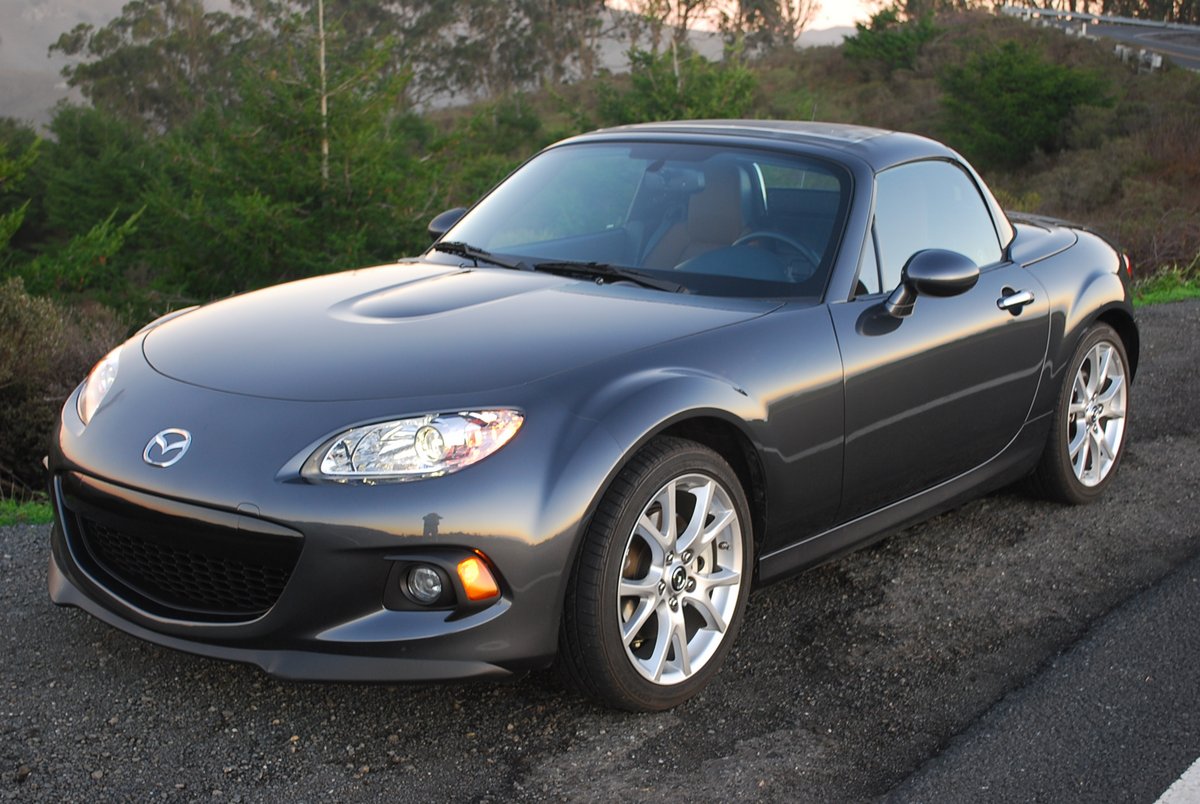 By David Colman
Hypes: Handles Like an Open Wheel Race Car
Gripes: Slippery Steering Wheel
25 Years ago, Mazda introduced their Miata sports car, a concept so radically right that it has hardly changed over the intervening two and a half decades. Miata means "little pearl" in Japanese, and the oyster that nurtured this gem of a car could not have been more perfect. In an automotive world increasingly concerned with devising mnemonics to help you avoid accidents, the Miata takes care of safety business the old fashioned way: through agility. In this diminutive two seat dervish, you won't need buzzers to alert you to side or cross traffic because you can simply see everything you need from the driver's seat. Lots of cars used to offer such impeccable, decision-making vision in all directions, but lithe road toys like the MG and Triumph are long gone from our marketplace. However, they've bequeathed the mantle of true sports car to the sole survivor of the breed, today's Mazda's Miata.
I just completed a joyous 50 minute drive from Petaluma to Stinson Beach along Coast Route 1 in the latest Miata. Thanks to the storm induced closure of Route 1 south of Stinson, there was almost no traffic on the Coast Route. With a clear road empty of cars, the trip unfolded like a television commercial's dream car sequence. Mazda has the foresight to equip the Miata with the best high performance street tires available today – Bridgestone Potenza RE 050A radials (205/45R17). These premium grabbers adhere to post storm wet pavement with leech like security. Of course, the Miata's inherent balance is responsible for its accurate handling. This car's configuration is based on the front engine/rear drive platform of the classic British sports car. Our test MX-5 gained further improvement from its $850 optional 1SP Suspension Package" which includes sport tuned suspension, Bilstein shock absorbers, and a limited slip differential (LSD). Stiffer springs and more resistant dampers flatten ride through corners, while the LSD improves propulsion on corner exit. A Miata with the 1SP refinement is your ticket to slot car handling.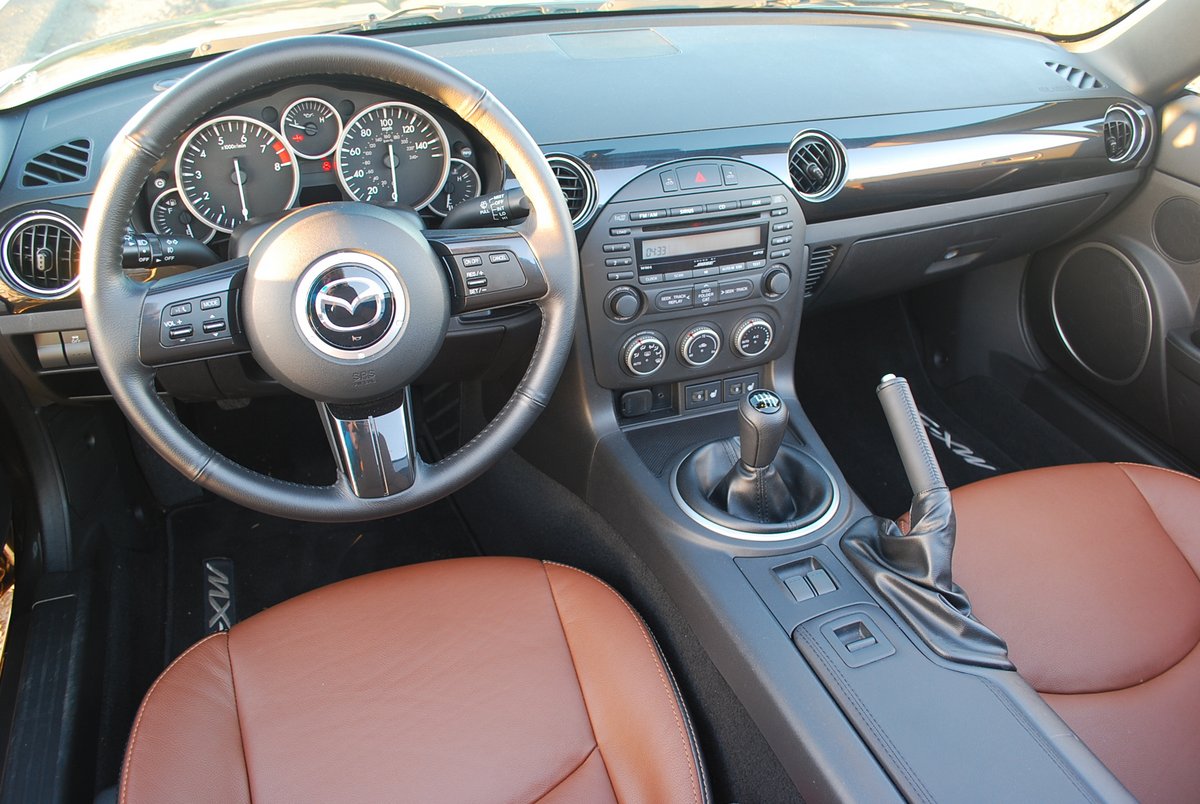 The Miata is still a tiny package. At a curb weight of just 2,610 lb., the MX-5 is one of the lightest cars on the market, a bonus that helps account for its nimble maneuverability. But the downside of downsize is a cramped interior. Inside the cockpit, there's absolutely no room behind the seats to store any gear. A small cubby between the seats, a double beverage holder between the seats, and a couple of bottle holders in the doors constitute the limit of storage Mazda gives you. Anything else either fits in the 5 cubic foot trunk or else stays home. Although the Miata is available with a manually operated cloth roof, our test sample was equipped with a power-retractable hard top (PRHT) that behaves like a fixed roof when up. A simple latching procedure on the windshield header is required for operation. If safety, security and cockpit quiet are important, than opt for this PRHT.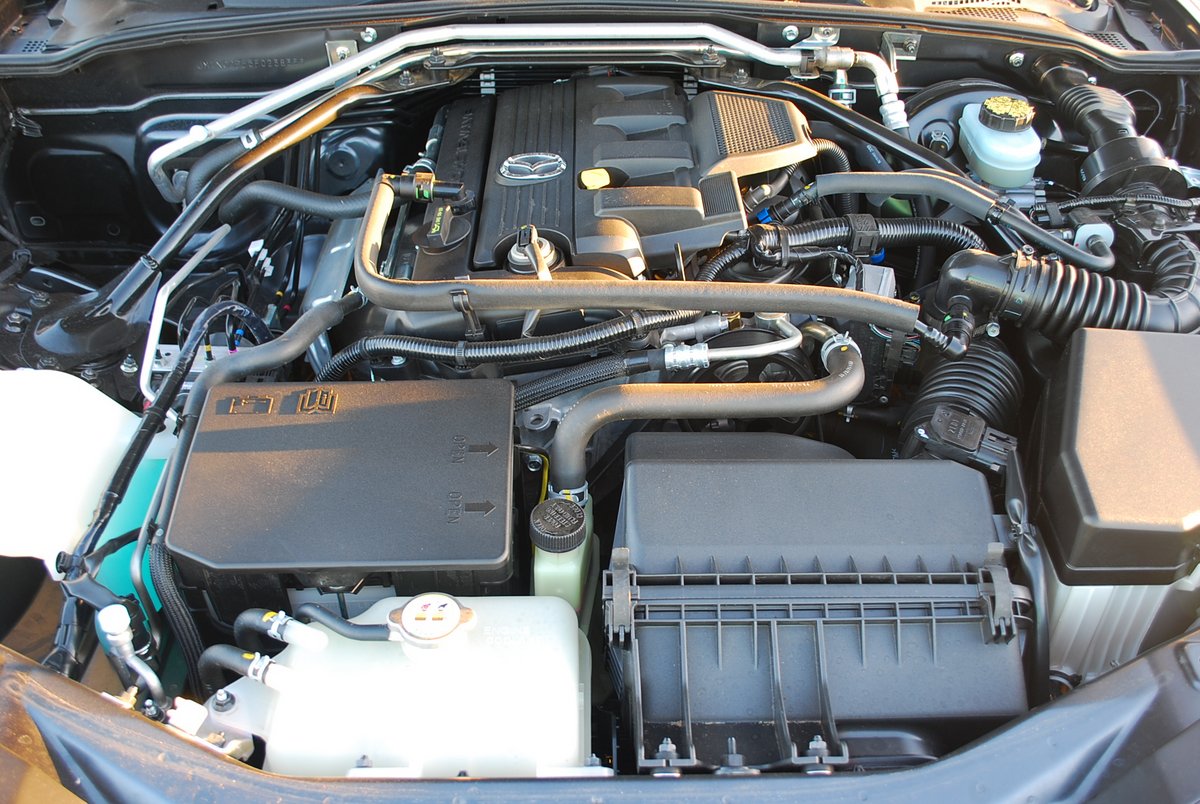 Powering the Miata is a 2 liter engine good for 167hp and 140lb.-ft. of torque. This double overhead camshaft, 16 valve engine features variable valve timing (VVT) and drives through an excellent 6-speed manual gearbox. The transmission ratios are so closely spaced that the engine hardly ever loses momentum on up shifts. The stick's throws are close and tight, and the sheer pleasure of shifting becomes a major attraction of driving a Miata. During passing maneuvers, however, you become aware that the 167hp motor quickly runs out of zip. An extra 20 hp would be a welcome addition to the Miata equation.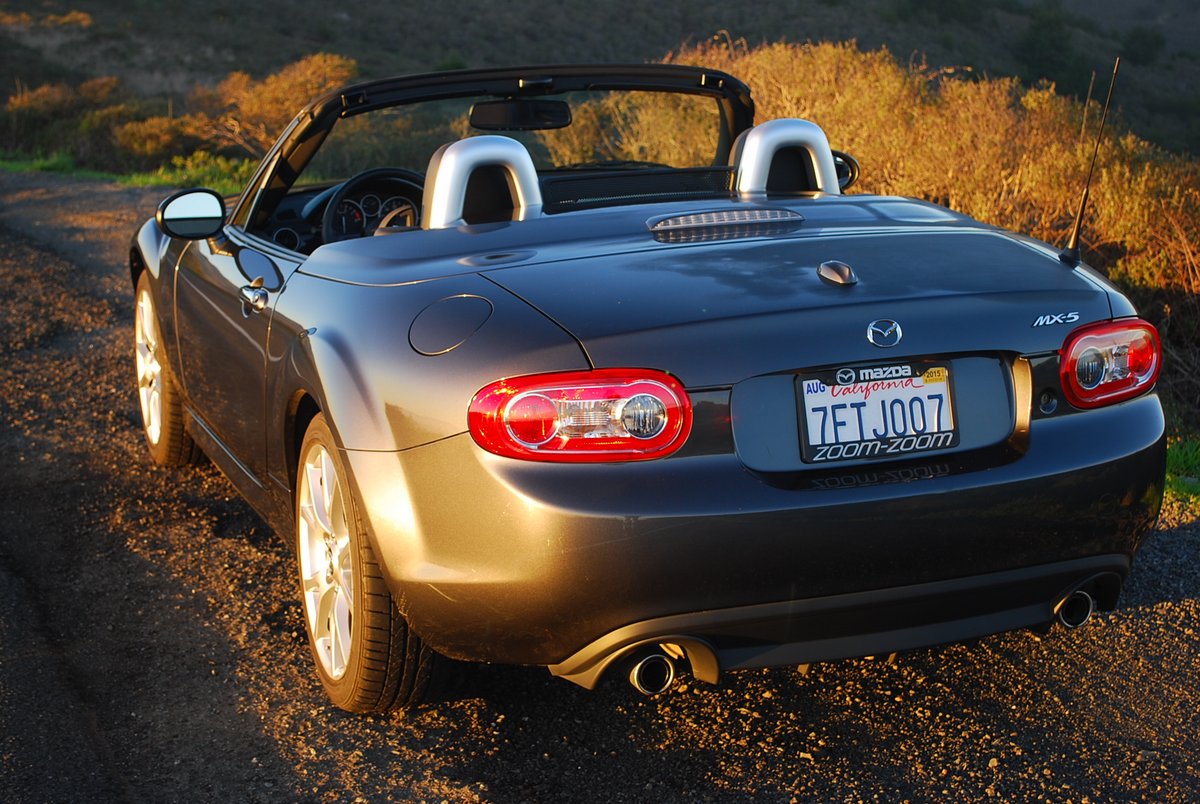 Early in 2015, Mazda will introduce the successor to the current model. While it will undoubtedly be bigger and faster than today's MX-5, it will just as surely lose some of the charm and finesse of the original package. Since its introduction in 1990, this petit sports car has become the perpetual performance yardstick for the sports car fraternity. Currently, more Miatas race each other in club racing than any other single make of car. When the last of the current crop is sold in 2015, the first Zoom-Zoom era of unforgettable motoring will draw to a close.
2015 Mazda MX-5 Miata Grand Touring
Engine: 2.0 liter DOHC, 16 valve inline 4 with VVT
Horsepower: 167hp
Torque: 140lb.-ft.
Fuel Consumption: 21 MPG City/28 MPG Highway
Price as Tested: $32,935
Star Rating: 9 out of 10 Stars
Related posts: