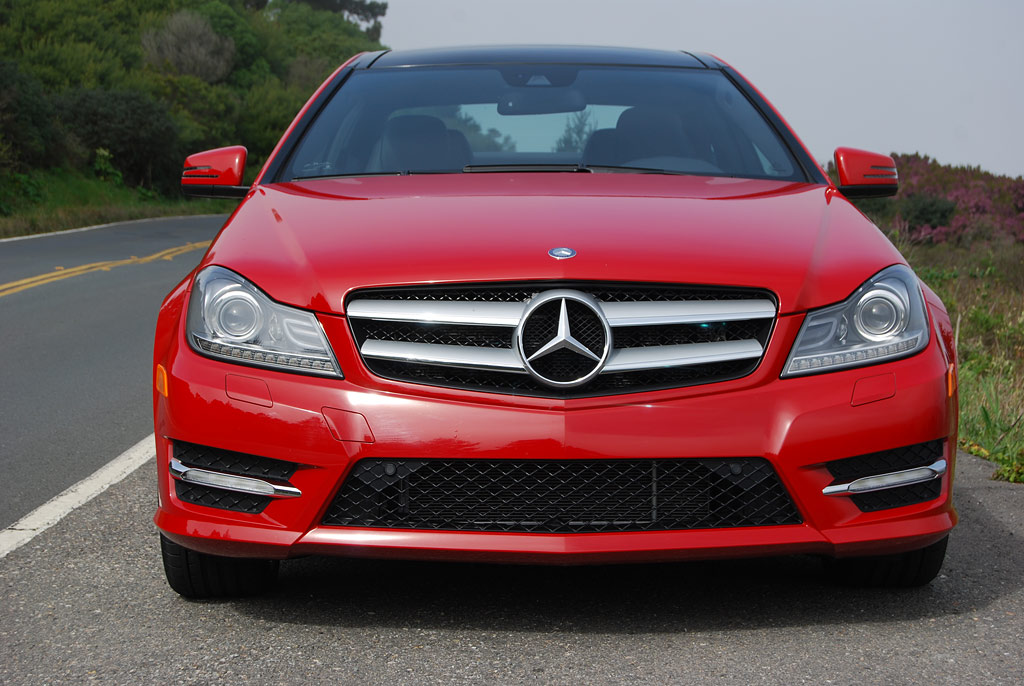 By David Colman
For: Epic Redesign, New Sporting Tack for MB
Against: Steering Wheel Obscures Speedo, Imprecise Throttle Tip-In From Standing Start
Historically, Mercedes products have enjoyed genetic markers that distinguish the brand. Bank vault construction, sumptuous seats and Baroque trim flourishes are descriptors that come to mind. Even blindfolded, you could climb into any Mercedes and tell that you weren't in a BMW or a Lexus. But along with the Mercedes positives tagged a number of negatives, like weightiness, complexity, and dulled reflexes that drove potential customers into competitors' showrooms. Mercedes has answered many of those issues by redesigning their C Class Coupe for 2012.
From the outside, the new Coupe is distinguished by the deftness of its visual language. Mercedes stylists have concocted a benchmark treat, with swooping roofline and crisp flank creases emphasizing the car's low 55.8 inch height. There's a delicacy inherent in the new coupe's design that has been absent from Mercedes products since the SL 230 debuted nearly half a century ago. The lighter touch is also evident once you slip inside the cabin. The standard front sports seats are less monumental than before, more cosseting than ever. Though reduced in visual mass, the driver's seat offers 10-way power adjustment, 4 modes of lumbar support, and 3 memory settings (for seat, mirror and steering wheel position).
In keeping with the airiness of the Coupe's redesign, the standard Panorama Sunroof adds immeasurably to the livability of the interior. It stretches from the windshield header nearly to the rear window frame. The front portion slides back or tilts open, while the rear part remains fixed. From the outside, the black glass expanse adds dynamic interest to the lines of the Coupe by visually diminishing height. From the inside, the Panorama Sunroof is a breezeless delight when open, a welcome window when closed.
Although you may select a number of engine options for the Coupe, from a 201hp inline-4 to a 481hp V8, the 302hp V-6 in our test car provides a perfect compromise between decent urge and good fuel economy (19 MPG City/28 MPG Highway). One reason for the immediate snap of the V-6 is the standard 7-speed Driver Adaptive Automatic Transmission, which keeps the relatively small displacement 3.5 liter engine in the sweet spot of its power range at all times. You can rely on the gearbox to kick down to a lower gear without hesitation when you need passing power. But I enjoyed selecting the manual setting from the floor mounted lever, and assuming shift duties via the paddle-equipped steering wheel.
Be sure to purchase the optional "315 Advanced Agility Package" which consists of 18 inch twin-spoke AMG alloy wheels shod with Continental's latest SportContact 3 tires (225/35R18 front, 255/35R18 rear), shift paddles on the steering wheel (left side for upshifts, right side for downshifts), and heightened feedback steering that Mercedes calls "Parameter Steering." This 315 Package is a stellar deal at $1,400, converting the Coupe into a real driver's machine.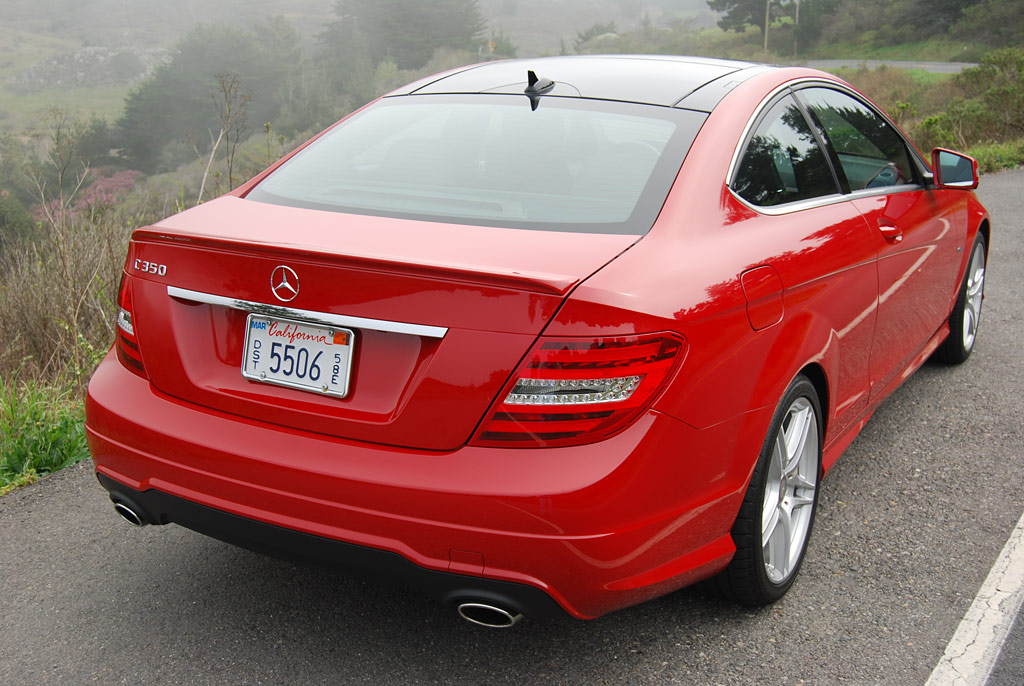 Your first clue about the Coupe's morphed personality comes when you settle behind its redesigned steering wheel. It now sports a flat bottom, and sculpted, perforated leather grips at 9 and 12 o'clock. These grips are severely indented like the fluted handholds invented 30 years ago by Emerson Fittipaldi for his line of aftermarket "Fitti" steering wheels. Finding this ergonomic brilliance on a production Mercedes comes as something of a shock, but indicates that this company is no longer willing to settle for stodgy in a world of super sporty competitors.
2012 Mercedes-Benz C350
Engine: 3.5 liter DOHC, 24-Valve V-6
Horsepower: 302hp
Torque: 273 lb.-ft.
Fuel Consumption: 19 MPG City/28 MPG Highway
Price as Tested: $50,835
Star Rating: 9 out of 10 Stars
Related posts: