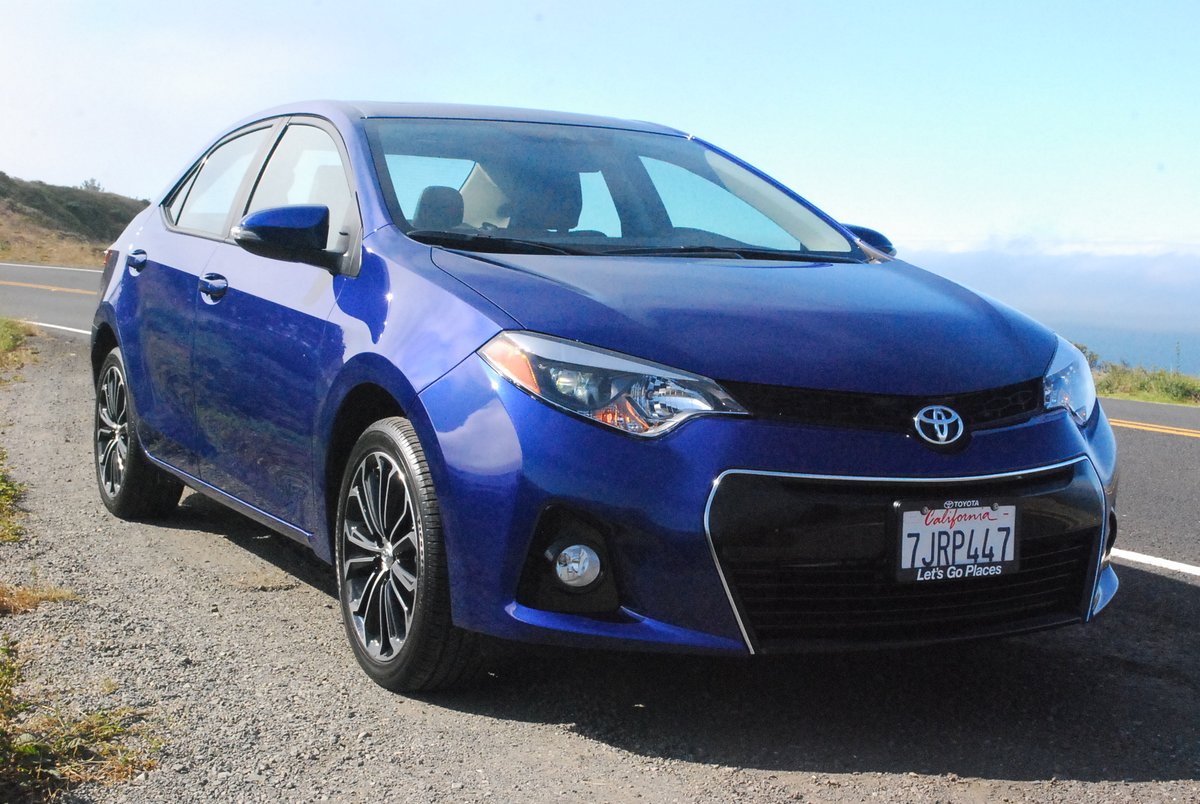 By David Colman
Hypes: Gas Miser, Interior Belies Price
Gripes: Paltry Torque Rating
My local Toyota dealer is offering a 2015 Corolla S for just $158/month. That amounts to $5.26 per day. If you commute from Marin to San Francisco, the daily toll on the Golden Gate Bridge ($6) will cost more than your Corolla does. Of course, if you chose to pay cash rather than finance your purchase, the Corolla S retails for $22,905. Add $395 for paint protection film, $309 for illuminated door sill emblems, $225 for carpeted floor and trunk mats, and $825 for delivery, and the Toyota Corolla S can be yours for $24,659. Not only is this price affordable, but long range ownership promises to be impecunious as well. The EPA estimates annual fuel cost will be just $1,650, thanks to an overall fuel consumption figure of 32 MPG. On the "Fuel Economy and Greenhouse Gas Rating" scale, this model scores an 8 out of 10, and a 5 out of 10 on the "Smog Rating" scale. All in all, the Corolla is the very model of inconspicuous civility.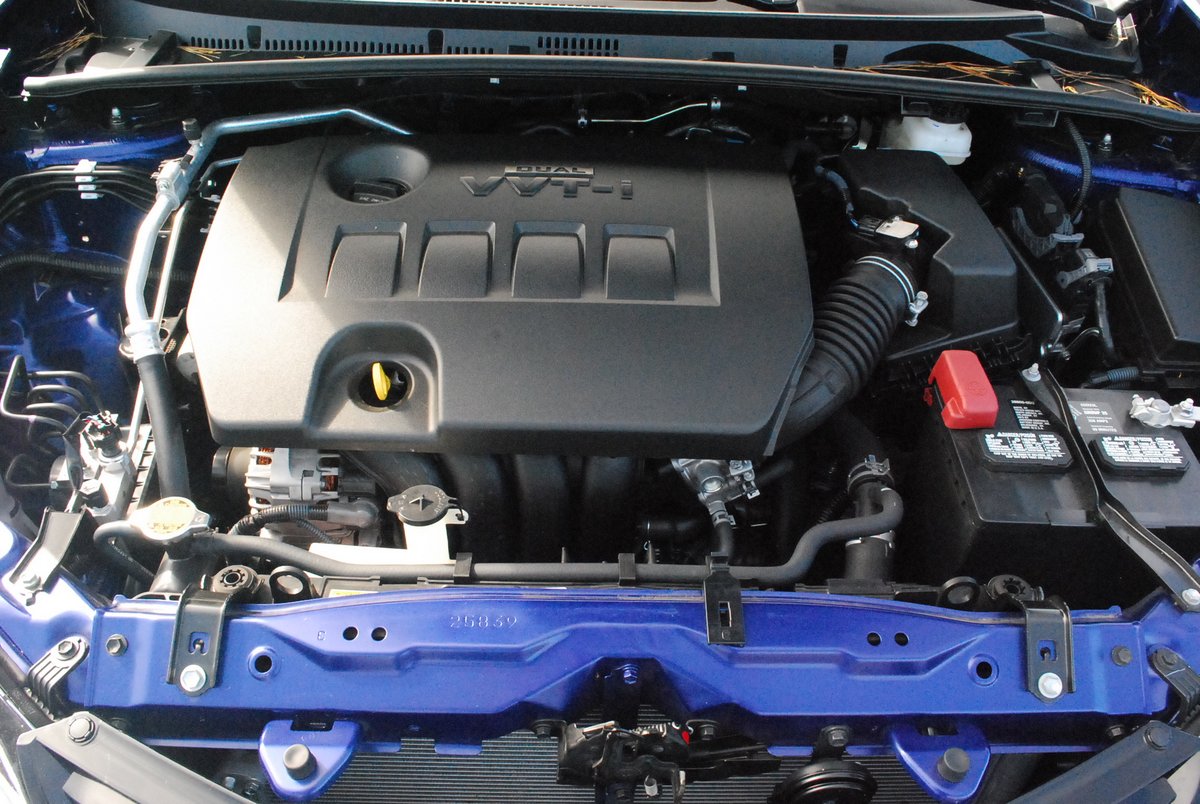 But is it a blast to drive? Not exactly. Although the "S" designation makes a significant step up in performance from the base Corolla, you'll never mistake it for a BMW, or a Mazda 3 for that matter. Two important items distinguish the S model from the base Corolla. The first is the substitution of rear disc brakes for the base model's rear drum brakes. Disc brakes are superior in every way to drums, so your Corolla S will stop better in all weather conditions than the drum brake equipped base model. Secondly, the S features hugely improved front seats, with perfectly contoured lumbar support, plus retentive side bolstering. But these pluses can't compensate for the Corolla's lack of grunt. Its 1.8 liter engine makes just 140hp, and 126lb.-ft. of torque, no match for the car's 2,900lb. curb weight. Do the math and you come up with a horsepower-to-weight ratio of 20.7lb./hp. That compares unfavorably to competitors like Honda's Civic (19.7), Kia's Forte (19.4), and Mazda's 3 (18.5). It should come as no surprise, then, that the Toyota is the slowest of the bunch in quarter mile tests, with a time of 17.1 seconds at 82.7mph, and a 0-60mph time of 9.3 seconds.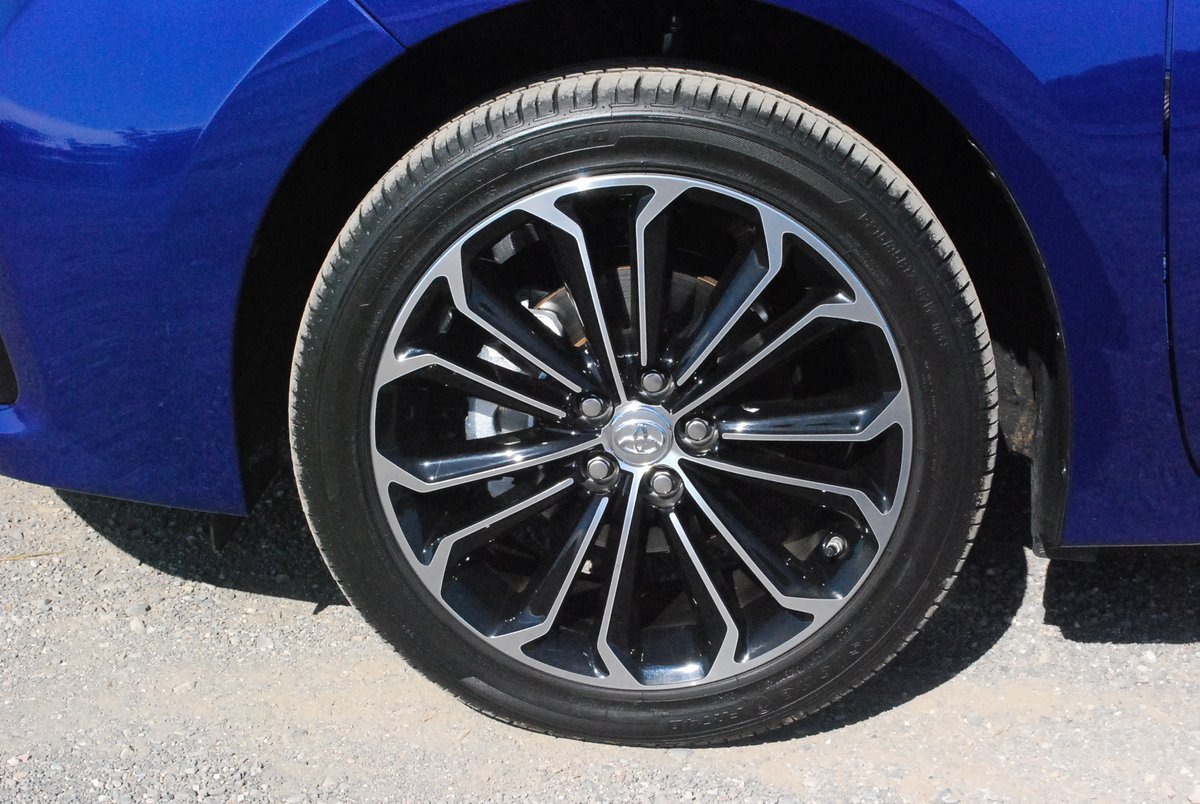 But the Corolla S handles well enough to redeem its horsepower shortfall. Toyota supplies the S with snazzy looking Op Art 17 inch alloy wheels that replace the base model's 16 inch rims. Firestone FR 740 radials (215/45R17) get the job done at each contact patch, and the Corolla skittles through curves with precision and dispatch. The S' lovely leather rimmed steering wheel aids in positioning the stable chassis with accuracy. The CVT transmission offers paddle shifting in the S, giving you another driving dynamic absent in the base Corolla. Inside the cabin, you would be hard pressed to conclude that this is an economy sedan. The furnishings merit high praise, from the fit and finish of the SofTex seats to the tailoring of the rugs and mats. Toyota has done a first class job of making the Corolla look more expensive than it is. Particularly impressive is the long list of standard features you'd normally expect to pay extra to acquire: automatic climate control, 8-way power adjustable driver's seat, heated front seats, and a smart key system with push button start. That smart key is intelligent enough to unlock the car as you approach, eliminating the need to button hunt the key fob remote. Best feature of all for rear seat passengers is the abundance of leg room. The Corolla offers a class leading 41.4 inches of aft kick space. Along with its low beltline and tall side windows, the interior remains bathed in light. The standard power tilt/slide moon roof contributes yet another source of daytime interior illumination. The Corolla interior is remarkably habitable for 4 adults especially considering that this chassis makes do with just 106 inches of wheelbase. That's 3 inches less than Toyota's Camry offers.
The Corolla S is unquestionably handsome this year, with a pugnacious front architecture that distinguishes it from lesser Corollas. Although its performance falls short of matching its impertinent look, the Corolla S' many other virtues make up for that shortfall. This is a practical, safe and inexpensive way for a family to travel in style if not great swiftness.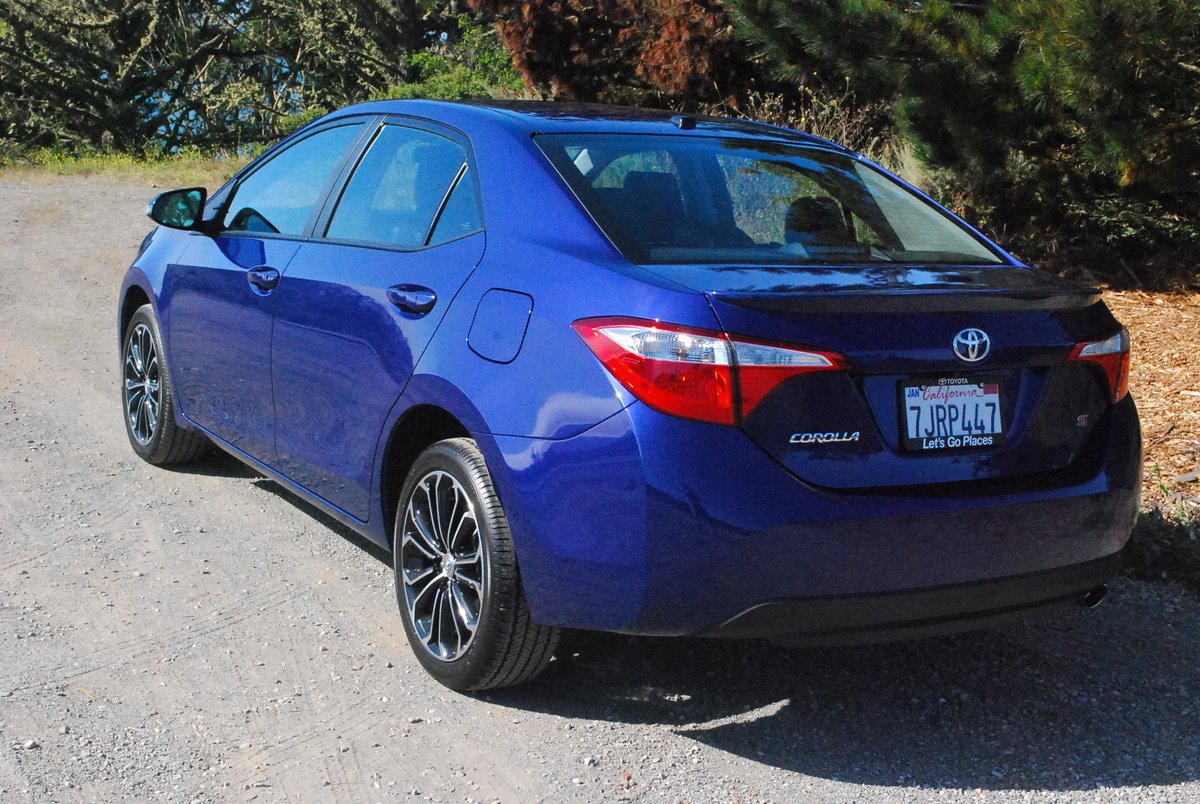 2015 Toyota Corolla S
Engine: 1.8 liter, 4 cylinder inline DOHC, 16 Valves with VVT-i
Horsepower: 140hp
Torque: 126lb.-ft.
Fuel Consumption: 29MPG City/37MPG Highway
Price as Tested: $24,659
Star Rating: 8.5 out of 10 Stars
Related posts: