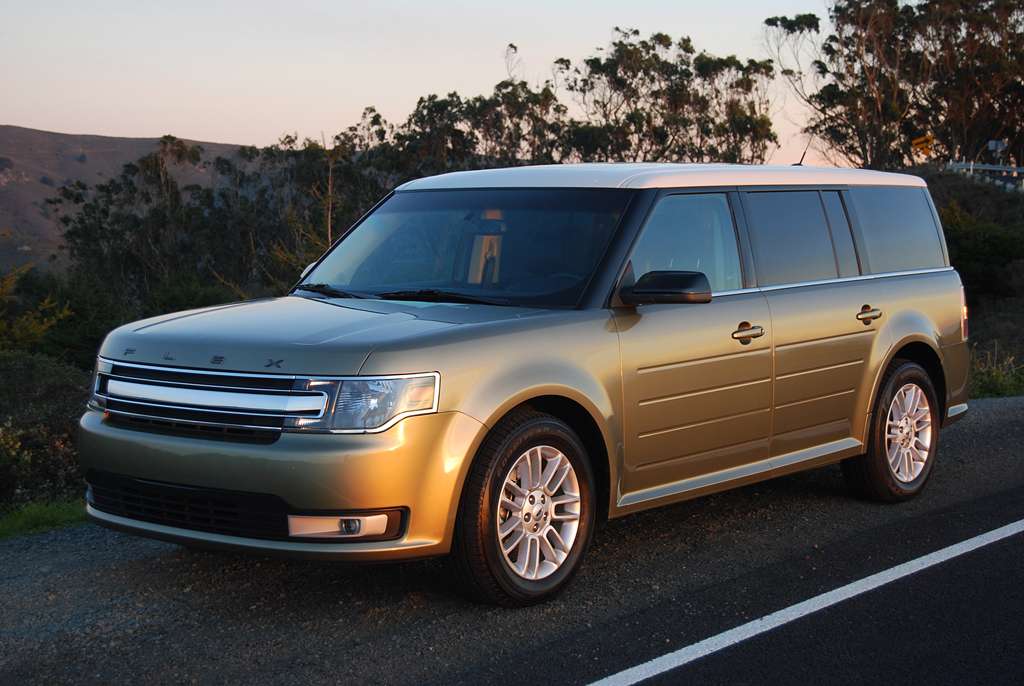 By David Colman
Hypes: Spacious, Handsome, Comfy
Gripes: Irascible Dash Controls, Parking Woes
It's not often I lose a fight with a turn signal indicator, but the stalk on this Flex had me flummoxed. So much pressure is required to move the lever, that half the time it wouldn't budge until after the window of need had shut. In a microcosm, that recalcitrance is emblematic of the Flex' testy driver/vehicle interface. For example, if you want to turn the seat heaters on, you can only do so if the proper screen is displayed on the driver information center. No physical buttons for this task are present. If it's really cold and you're wearing gloves, you can't activate the touch screen without first removing your gloves, since the screen is sensitive to heat rather than just pressure. Also, if you want to change interior temperature settings, the dash provides poorly differentiated receptor spots that issue a barely audible click when touched. So you need to look at the display screen to confirm any temperature change you think you've made. It's an unsatisfying, time consuming and attention diverting procedure.
Ergonomic transgressions aside, the Flex is a true family warrior, with easy seating for 6 spread over 3 rows. If you delete the 2nd row console ($100 option) you could easily squeeze 7 into this sizeable bus. The rearmost pair of seats fold flat but must be removed for access to the sunken load floor. The 2nd row seats are auto-folders which facilitate quick conversion from bus to truck. Interior room is vast, thanks to a stretch limo wheelbase of 117.1 inches and a cargo hold of 83.2 cubic feet with all rear seats folded. The price you pay for this interior convenience is measured in size and weight. The Flex is a road giant with a length of 201.8 inches and a curb weight of 4,471 pounds. Given those figures, it's nothing short of amazing that this behemoth manages to return 19 MPG in overall mileage.
What's even more surprising is this big boy's spunk and agility. The base engine, a 287hp, 3.5 liter V-6, is 25hp more powerful than last year's standard offering. But the base V-6, with 255 lb.-ft. of torque, is good for towing just 2,000 pounds of trailer. If you plan to tow a 4,000 pound load, however, you'll want to opt for the 3.5 liter twin-turbo V-6 which ups horsepower to 365 and makes 350 lb.-ft. of torque. Outside of the towing limitation, the base V-6 is plenty punchy in normal driving. This engine parses power through a 6-speed "Selectshift" automatic transmission with manual gear selection available through a floor-console mounted lever. Steering response is more communicative than you might expect. It's never difficult to place the front wheels directly on an apex, and the all-wheel-drive system keeps the 18 inch Goodyear Assurance tires (235/60R18) churning relentlessly through each and every switchback. You won't mistake the Flex for a sports agility vehicle, but considering its size, it gets down the road with alacrity. To this end, Ford has retuned Flex's 2013 chassis components for better road feel. Passing power is good, handling is commendable, and outward vision through the vast glass acreage is superb.
The downside to the Flex' size comes in city driving, where you need to plan each parking maneuver and lane change with extra foresight. In a tight restaurant parking lot in Walnut Creek, I ended up spotting the Flex in a slot that proved unexpectedly difficult when extraction time arrived. Despite the standard "Reverse Sensing System" and associated camera, it was no fun trying to figure out where each corner was, without doing the bump and run. What you really need in tight city confines is an experienced bar pilot to help clear your path.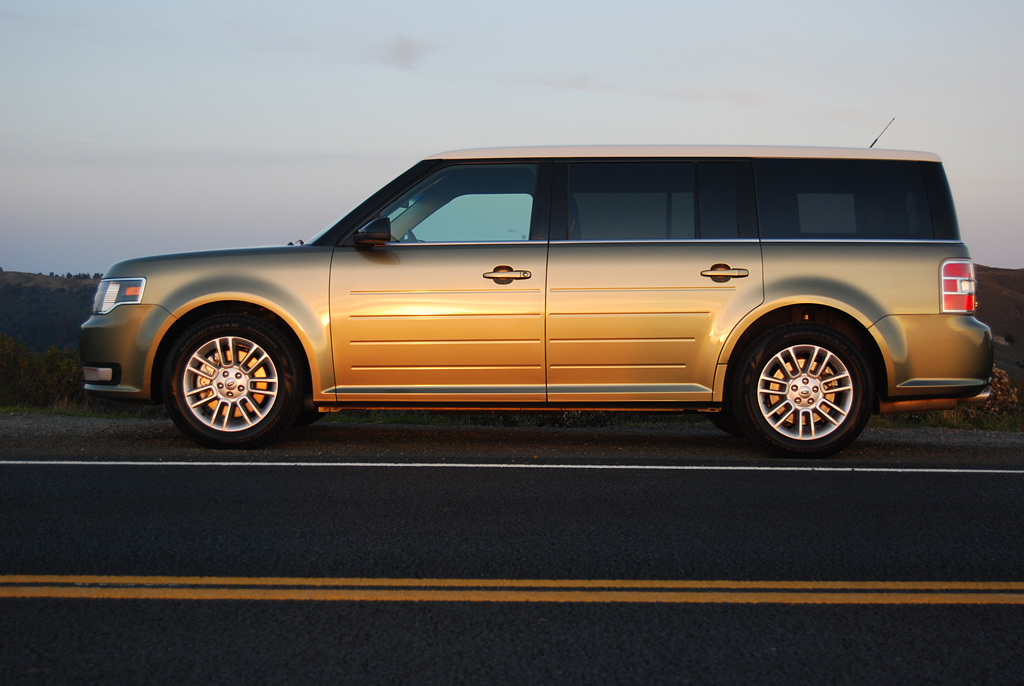 Unlike most family buses of this ilk, the Flex is stunningly attractive, especially when finished in Ginger Ale Metallic and topped with a white roof panel. Stridently ribbed body panels invigorate its slab sided shape, imparting a defiant look unlike anything else on the road. If you're willing to put up with a few hiccups from the Microsoft Synch interface, and retain a seasoned parking guide for city jaunts, then Flex will fill your large family transportation bill.
2013 Ford Flex-SEL AWD
Engine: 3.5 Liter, 24 Valve, DOHC V-6
Horsepower: 287hp @ 6,500rpm
Torque: 255 lb.-ft. @ 4,000rpm
Fuel Consumption: 17 MPG City/23 MPG Highway
Price as Tested: $41,935
Star Rating: 8.5 out of 10 Stars
Related posts: